Browsing articles tagged with " lovelorn"
Label : Alfa Matrix
Review by Davide Torresan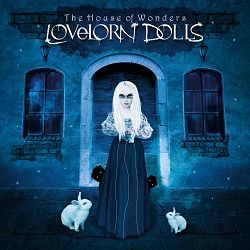 "The House of Wonders" is the debut album of Belgian Lovelorn Dolls, or rather the follow-up of the well received EP  "An Intense Feeling of Affection". Their music is the main result of the work of Ladyhell on vocals and Corpus Christi with music and the instruments. Their musical style can be described as a mix of alternative, rock and electronics and with this release they hope to make themselves known to the fans of this particular musical genre.
As the band stated, the listening of " The House of Wonders" will carry you within an old manor where, between dark and fairy atmospheres, sweet and sick melodies, the listener will ride on a sort of rollercoaster. It's a pity that I couldn't get my hands on the graphic work done for this CD by Gogo Melone, singer and graphic designer for To-Mera and Plague of Stars. It was like to do a half-assed job, but it's better than nothing, right? So here we go. I watched the artwork of theCD thinking that this could give me some clues about the general sound. I immediately assumed that there were some gothic influences and so it was. I heard also some other influences from other bands like Depeche Mode, Oomph and The Birthday Massacre. The first song that I appreciated was "After Dark" with its catchy chorus and heavy guitar riffs. Continue reading »
Interview by Si Smith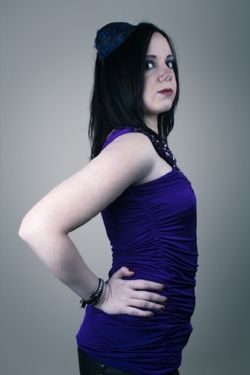 Flying the flag for Belgian metal are dedicated rockers Lovelorn, fronted by the attractively named Ladyhell (Kristell Lowagie). Melodic and passionate, they are determined to put Belgium in the centre of the map for quality metal. Links to groups such as Eve's Apple (formed by Lisa Middlehauve) only serve to solidify their rock and metal credentials. Femme Metal cornered singer Ladyhell to probe deeper….
First thanks for talking to us, and welcome from all at Femme Metal. It seems that are a lady with many faces, as you are also active in other ventures. I believe you and Corpus Christi met for "The Road to Consciousness" project in 2009. Could you tell us a little about this?
Corpus Christi had composed all the tracks of his concept album "The Road to Consciousness" and he was in search for male and female voices. He contacted me, I listened to the songs, and I said yes, I thought the tracks were great ! Later on, we met at the studio to record the songs, and we had lots of fun. We had the same view and ideas about music, we both had no band at that time and we decided to start Lovelorn.
You are also an active member in the Eve's Apple community. For those who are not yet aware, how does Eve's Apple work, and what role do you play in it?
Eve's Apple is a community founded by Lisa Middelhauve. The goal is to join together professional female singers, so they can communicate, but also to help newcomers. We also write articles, express our ideas, give some hints, interact with fans. We don't have a specific role, but we are all working in areas that we like or know better. For example, I'm better at promotion, so I'm trying to help as much as I can in that field.
Your singing career has taken many turns too, from Skeptical Minds to Valkyre to guest vocals for Psy'Aviah. Have you come to a place where you know for sure what your voice is and how it should sound for Lovelorn?
I learned that I cannot sing the songs composed by others. I really need to sing my own songs. Because I wrote it, they perfectly fit to my voice. I have a voice that fits rock, gothic rock, but certainly not symphonic metal ! Yes, I think I know exactly how it should sound.  In Lovelorn, I just make it sound like me, myself and I, and no one else !
Put simply Lovelorn tells stories about love; what is it about love that makes it great material for such a wide variety of songs do you think?
Love rules the world ! It's a subject that everybody can experience, you can tell 1000 different stories about love ! Love is not only about passion between a man and a woman, it can also be love for a god, for your family, for your friends, for nature…. anything is possible.
A track of yours was included on the World of Glass Compilation. Do you think these compilations are important in these days of downloading? Do you feel it gained you any publicity?
Yes I think it helped us, I'm sure some people who listened to the compilation discovered Lovelorn. There are still some people curious about new bands, new projects and who are not brainwashed by commercial radios and TV stations. As a band, we also made friends with other bands on the compilation, yes that compilation was not made for nothing !
I love your definition of your genre on your Facebook page – "alternative, rock, metal, electro, ambient" – well, that suitably walks over such a wide range of genres, how on earth do you decide what to record for any particular track when it comes to composing?
I can't find a good definition for our music style, that's why I've put so many !! ah ah !! If you have any opinion about which style we actually make, be my guest ! We don't decide, it just comes naturally. I couldn't really explain the composing process. Corpus Christi is coming with ideas, I put my voice on top then, we make adjustements. Sometimes we decide we want to put some electronic. It's usually because I want to give a mysterious « atmosphere ».
Why is it important to you that the band members have pseudonyms – the other two being "Hindi Rose" and "Gabriel Arkangel"?
It's not important ! It's just for the fun !! Playing music, going on stage … it's another part of you, another side of your everyday life, … so why not have other names ?

So the EP "An Intense Feeling of Attraction" is now out. The first track is "Save Me". There are a number of songs (even in the female-fronted genre) called "Save Me" or "Save Us". What do you think your song has to separate it from all the others?
I can't remember any other song called "Save Me" but I'm sure it exists, you're right. Everything has been done and said in music, it's kinda difficult to not repeat it, and find something new. This song "Save Me" could be different because of the voice, of the atmosphere, and the nice melody…
Track two is a more laid back affair with minimal backing at certain points. What is the story behind the title "Sagarmatha"?
It sounds different, because I came with the vocal line first, and Christi had to adapt behind it. I also composed all the electronic parts, to make it sound a bit oriental like the title of the song. "Sagarmatha" is sanskrit for "mother of the Earth". This song is about the damages we've done to the Earth and the end of the world.
"Cold" has quite a distinctive choral line. Where do all the ideas come from for a Lovelorn song – the musical and the lyrical ones? Do the ideas come from any specific band member or does everybody contribute?
It depends, it comes from me or from Corpus. We take what's best ! "Cold" is coming from me. I had that whole singing line since years in my head and I already tried to make it sound nice, but it was not possible, but Corpus made it possible! Thank you !!! During rehearsals, the other members become active for the live parts; they also suggest bass lines, drums, we are very open, the purpose is not our ego, but to make the best song possible.
The electronic side comes out more in the drumbeat to "Something Wrong".Was it difficult to agree on how this song should sound, or do all band members have a clear vision of where the band is going at any one time?
We are a new band; so I would lie if I'd say we have a clear vision of where we're going. We are new so we try things, if it works, that's great, if it doesn't we leave it behind. We are composing a lot and we are getting more and more certain about what we want to hear and what we don't, so that's good. "Something Wrong" has many fans, it's touching a broader audience and it still fits the EP, so we are more than happy with the result !
By contrast your final song "Little Princess Euphoria" has a more guitar driven basis, and sounds like it would be great live. Have you had many live performances of your material yet?
Live performances is the next step. We had some and we are still working on getting more. We are lucky and we have booking agencies that are helping us in the process. "Little Princess Euphoria" is great live, we experienced it on stage and every week at rehearsals, we have loads of fun with it !
Flight of the Valkyries festival is upcoming in the US for this year and I believe you have a chance to play there. How can readers vote for you if they would like to? What would it mean for Lovelorn to be a part of such a festival?
Yes, we were surprised to be on the list of the nominees, it was unexpected, so we are doing our best to get more chances to go there. People can vote for us here . It would be nice to be part of that fest, i don't know how big it is, but we will play if we are invited to !
Finally, thanks so much for talking to us. Have you any final words of wisdom for us? Anything from your heart?
No wise words, just enjoy life !
Links

Interview by Erwin van Dijk
An interview with Liv Kristine from Leaves' Eyes. This interview is all dedicated to the forthcoming album "Njord".
"Njord" is the third full length Leaves' Eyes album. (the other two were "Lovelorn" and "Vinland Saga").
I am absolutely happy and satisfied with the album. We've never worked this hard before with a production, but we've reached our goal. I would even say, we even went further than we thought was possible, technically seen. It has always been important to me that our sound and art is authentic, i.e. that you can hear from the very first tunes that this is Leaves' Eyes! We also want that our audience really get the feeling of being on a wonderful journey. I feel that our music needs a special well-written and interesting concept which is just as important as the sound, and "Njord" gives you all this.
"Vinland Saga" introduced the Viking elements in Leaves'Eyes. But "Njord" also seems to have some Irish themes, like the songs "Emerald Island" and "Irish Rain" . With "Njord" comes the EP "My Destiny", which contains besides the song "My Destiny" in two versons also an acoustic version of "Scarborough Fair" and two non album tracks.
"My Destiny" is a song you can easily "tune into". It's a good way to introduce the album (out 28.08.), although you will of course have less commercial songs on the record, too. On "My Destiny" is actually an EP, for the price of a single, with four non-album tracks, and one extra album song.

"Vinland Saga" was a concept album. Is "Njord" written with the idea to tell a story or are it twelve individual songs?
The lyrics mainly deal with characters from northern mythology (e.g. "Njord", "Fröya's Theme", "Nine Wave Maidens", "Ragnarok"), or with places and historical happenings (e.g. "Scarborough Fair", "The Battle of Maldon", "Emerald Island","Irish Rain", "Les Champs de Lavande"). This is why I found it necessary to deal with all these different languages. "Vinland Saga" is based on Leif Eirikssons discovery of America, even the EP, "Legend Land", which followed soon thereafter. "Njord" has a much broader concept, travelling through history, and into Nordic mythology. It has always been important to me that our sound and art is authentic, and that our audience really get the feeling of being on a wonderful journey.The lyrics are written in 8 languages (english, middle-high german, old-english, gaelic, norwegian, icelandic, french and one "self-made" linguistic fictional phonetic sequence)… I even sat down to study a bit French to be able to write one French lyric. I did study Old-English and Middle-high German, so it was really nice to be able to use this knowledge. Gaelic is completely new to me, though, but fortunately I found a wonderful person who helped me. "Njord" is an album that demands an expansion in linguistic terms.
This is your third album. What are the differences between "Njord" and "Lovelorn" and "Vinland Saga"?
Our debut "Lovelorn" was very refreshing and a wonderful start for the band, also the press and the audience were surprised. However, you shouldn't forget that we all have a huge experience and knowledge as musicians of Atrocity and former ToT (Theatre of Tragedy) to rely on. This brings Leaves' Eyes a wide step forward, so we were really no newcomers in our genre. Moreover, I really have to say that Atrocity + Liv Kristine is a magic formula! I took my experience from my favourite ToT releases "Velvet Darkness They Fear" and "Aegis" as a basis for Leaves' Eyes music. Our second album "Vinland Saga" was a manifistation of the music of Leaves' Eyes – we had "settled" in the genre gothic metal with female vocals. "Njord" is the perfection of both our 2 former albums. Since the first demo recordings for "Njord" we have been able to achieve goals that we thought back in 2007 after the "Vinland Saga" release would be quite impossible. I am so proud of my band members – "Njord" is a dream coming true, and all the hundreds of sleepless nights were worth it. We all have developed as musicians and technicians and this is experience that is unpayable. "Njord" (producer: my husband Alexander Krull) has a power to it that even is more intense than any previous production I've been part of. Technically, we constantly have new ideas and aims. We have our own studio and therefore we have the opurtunity to specialize in technical tasks concerning album and DVD productions. "Njord" has even a more bombastic but delicate sound that "Vinland Saga", because techniques allows it. We recorded the classical parts in Minsk (Lingua Mortis, supervised by Victor Smolski), we had a complete local choir (Al Dente) singing the choir parts, moreover, a special artist playing solos on special instruments like the uillian pipe and the whistle. All this makes this album a multilayered and highly interesting experience for our listeners, for your ears, hearts and minds. If I should describe "Njord" in four words I would say bombastic, emotional, contrastive, and pure.
Where do you get the inspiration for the songs. Some sources are clear, like Ireland and the Norse mythology but what really inspires you to write a song?
It's first of all my love for my homecountry, the Norwegian Nature, history, my family, the culture – everything I grew up with! I feel that our music needs a special well-written and interesting concept, and I want to travel through time and space. For me history has always been extremely interesting, and even when I left my homecountry Norway and moved to Germany 12 years ago, I had more books about the Vikings with me than clothes and shoes. I have travelled a lot and been able to see a lot of the world. History, languages, and geography has always interested me. Thorsten is the main composer of Leaves' Eyes, he works out his ideas on his guitar. "Irish Rain", however, was an idea I had one early morning. I hurried to the studio and worked out the tunes with him. Sometimes, ideas just appear to my mind, like a complete "song".

And can you tell us something about the songs on "Njord" and "My Destiny"?
We recorded 18 (eighteen!) songs, and all of them are placed on the single "My Destiny" (out now) or the album "Njord" (out late August). Our listeners will get a lot for the money. That's a way for us saying "thankyou" to our fans and friends all over the world. To mention a few examples, "Fröya's Theme" is one of my favourites on the album, too, next to "Irish Rain". "Fröya's Theme" is about eight minutes long, it includes five languages, inclusive two "speaking" parts done by Alex and myself respectively. It tells the story about Fröya, the Goddess of sex with her extreme power of beauty. However, her lover Od leaves her as he has "wandering eyes" for other beautiful women. Fröya travels around and through the worlds in Northern Mythology to find him. Her tears are made of gold and they heavily strike the earth. This song is an epic masterpiece composed by Tosso, our guitarist.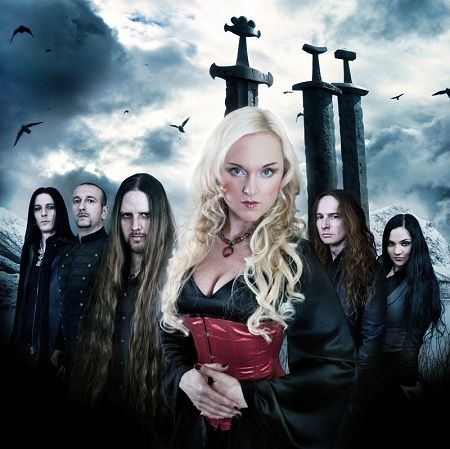 Is "Scarborough Fair" a Simon and Garfunkel cover and if it is, why did you choose this song?
I was an exchange student in the English town Scarborough, and I got very interested in their culture. This song is a folk song sung in the middle ages, also by the Vikings, on a trading market, in Scarborough. I wanted to rewrite the tune into a more heavy version and I am very happy with the result!

"Les Champs de Lavande" is a French title. Lavande means Lavender and the South of France (the Provance) is famous for its wide fields (champs) of lavender.
Can you tell us something about this song and why is it a bonus track?
As we had composed the instruments for this song, I thought about France immediately! I immediately sensed the smell of my favourite flower and scent, lavender! The Provance Lavender was famous already in the Middle Ages. I sat down and tried to put together a Franch lyric, and a friend of mine in France corrected it. This song just had to be about Lavender, and it sounds more authentic and special when it is sung in French.
While recording "Njord" you were supported by The Lingua Mortis Orchestra under the aegis of Victor Smolski and a classical choir. Most people will know Victor Smolski from his work with Rage. And this band does not exactly belongs to the same genre as Leaves'Eyes.
How did you find him and what was his influence on "Njord"?
We met Victor during a Rage/Leaves' Eyes' show in Greece in 2007. We are so happy that he liked the idea of working with us. It adds the important depth and bombastic character in our music.
The Special Edition will have a Drakkar (viking ship). What can we expect?
This is a way for us saying thank you to our fans and friends. Remember, many of them are collectors. I used to collect Madonna and Black Sabbath/Ozzy special merchendise objects.

One of the things that would make a lot of fans happy is a duet between the Espenæs sisters. (think of Beyonce and Solange Knowless doing a duet). Have you ever considered this for "Njord"?
It's not that easy since my sister moved back to Norway a couple of years ago, however, I am planning a duet on our fourth album, which will be a folk-oriented album, planned to be released in summer/fall 2010.

Do you already have some details about an upcoming tour?
Europe in November 2009, USA/Canada December 2009, then Europe and Russia in the beginning of 2010, and another long tour in the Autumn of 2010. Moreover, we have planned an acoustic tour between 28.08.-02.09 (please check the news!). We will play a capella in some of the Media Markets, for free for our fans, and we will have a lot of time to make photos with everybody, have a chat with our fans and friends and write some autographs. I enjoy acoustic tours. It's a nice way to keep up our close relationship with our audience, moreover, we are able to show that we are good musicians and can play live without a huge stage with a huge technical plan behind everything.
And which songs can we expect live?
A set-list still has to be decided on.
Although I think you will be very busy with the promotion of "Njord" this year and 2010 I would like to ask when we can expect a new Atrocity album and a new Liv Kristine solo album?
It's been 3 years since "Enter My Religion", and it's always good to gain a different aspect of your own art after some time has passed by. Right now, I am just about to finish the final recordings of my third solo album, and I see things in a new perspective now. "Enter My Religion" was an expensive production on a major label, however I made the decision in 2008 to release my third solo album on a another label, with a smaller budget, but having more freedom about the whole process, from the very first demo track, until the final master. I am very proud of "Enter My Religion", however I have developed as an artist and technician and my third album will be a huge step forward. I have put my focus on sounding just like myself, recording songs in one take, so you "get" me with everything I am, my character, my emotional level, my breathing, sometimes perhaps perfect, sometimes maybe not. I just want the audience to hear ME, not some singing lady with a pretty nice voice. I want to creep up inside your hearts and senses. I wrote all the songs together with Torsten (guit. Leaves' Eyes), all the lyrics myself, and my husband Alex is the producer of the album. Atrocity are already finishing their next Atrocity feat. Yasmin "Calling the Rain", which will be out end of 2009/beginning of 2010.
Links
MySpace * Facebook * Twitter * Site
Latest Multimedia
Label : Fakto Records
Review by Tony Cannella
Road to Consciousness is the new project from mastermind Bernard Daubresse (ex-Free Launch, Lovelorn). The 13-song, 60-minute CD features a vast array of musicians and contributors from around the metal globe. It is amazing to see how many great musicians have lent their massive talents to this ambitious project. Road to Consciousness is a big melodic, symphonic metal project, that I am sure will appeal to fans of the genre. With around 20 musicians featured on the album, you may think that it would be difficult to find something for all of them to do, but that is not the case, as each musician adds their own unique stamp to the proceedings.There is a common theme running through each of the songs, based on the human condition and problems, thoughts that maybe the listener themselves has experienced. The epic 4 part track "Road to Consciousness" brings the album to a grandiose conclusion as the album just builds and builds up to that point and the four part closer really pushed it over the top for me. But there are many solid moments to be heard lead up to the finale. Songs like "The Middle Path", "Mirror Mirror", "I Am God" and "Jennifer" all display the passion and heart that went into this project. Road to Consciousness is everything that the symphonic metal fan should love. One has to wonder if this is only a one off, I certainly hope not because it would be cool to see where Road to Consciousness go from here.
Rating – 93/100
Tracklist
Renunciation

The Middle Path

Mirror Mirror

I Am God

The Wait

Jennifer

Starchild

In A War With My Best Friend

The Naked Ape

Road To Consciousness Part I – Even a Rose

Road To Consciousness Part II – The Limbo

Road To Consciousness Part III – The Choice

Road To Consciousness Part IV – Consciousness
Line Up
Vocalists
Kristell Lowagie (ex Skeptical Minds, Lovelorn, Joliet)

Marja Supponen (Rhinestone Lives)

Jamie-Lee Smit (Azylya)

Justine Daaé (Ellyose)

Lauryn Gaet (ex Aedden, classical solo artist)

Laura Crowet (ex Before Silence)

Dr Benja (Taboo for Tatoo, Captain Oats)

Pascal " Wan" Vanhoren (La Poupée Sanglante)

Serge Vandepoel (Crime 7)

Leny Andrieux (Scarin Myself)

Krys Denhez (Jarell)

Ville Laaksonen (singer and arranger)
Musicians
Bernard Daubresse (ex Free Launch, Lovelorn) – Songwriting, Guitar, Bass & Keyboards

Valery Granson (15 Reasons) – Solo Guitar

Eric Renwart (Pixelrace) – Solo Guitar

Nico Claus (Scarin Myself) – Solo Guitar

Olivier Van Houte aka Bronson Cuvelier (The Temple, The Moonshine Playboys) -Hammond Organ

Yves Huts (Epica) – Orchestral arrangements

Manu De Ros (The Temple) – Bass

Kris De Bie (Patriarch) – Drums
Links
MySpace * ReverbNation * Facebook * Site
Label : Napalm Records
Review By Erwin Van Dijk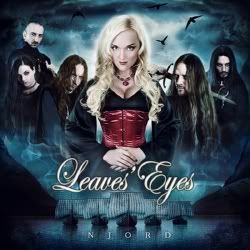 "Njord" is the new album from Leaves'Eyes, one of the most successful female fronted bands in Europe. In short, Leaves' Eyes is the sum of ex Theatre of Tragedy singer Liv Kristine and the German band Atrocity. She also has a sister, Carmen Elise who sings in German based folk metal band Midnattsol. Well, they are family after all. I did an interview with Liv Kristine some time ago, just before the release of "Njord". "Njord" is the logic next step from "Vinland Saga", their last album but with more choirs and more bombastic music. If you are a fan then you can buy/download this album without doubt. The limited edition will feature a model of a Viking boat (a Drakkar), follow here the Liv Kristine's comment about the Drakkar: "This is a way for us saying thank you to our fans and friends. Remember, many of them are collectors. I used to collect Madonna and Black Sabbath/Ozzy special merchendise objects". A highlight for me is the Simon & Garfunkel cover (I never imaged to feature those two in a metal review!). The song gives room to Liv's beautiful voice without being masked with all the goth bombast. Overall quality of the songs is high but it lacks the spontaneous feeling "Lovelorn" – the debut album – had. Thorsten Bauer, the guitar player and mastermind behind the music did a good job composing the songs and husband and supplier of the grunt vocals on the album Alex Krull did a solid job recording and mixing "Njord" at the Mastersound Studio – which is Liv and Alex' own studio. This album is for a romantic evening with your girlfriend in a log cabin somewhere deep in the forests of Norway. And do not forget to bring some good wine and fire wood.
Rating – 85/100
Tracklist
Njord

My Destiny


Emerald Island

Dagon

Take the Devil in Me

Scarborough Fair (Simon and Garfunkel cover)

Through Our Veins

Irish Rain

Northbound

Ragnarock

Morgenland

The Holy Bond

Frøya's Theme
Line Up
Liv Kristine Espenæs Krull – Vocals & Bass

Alexander Krull – Vocals, Keyboards, Programming

Thorsten Bauer – Guitars


Mathias Röderer – Guitars

Alla Fedynitch – Bass

Seven Antonopolous – Drums
Links
6 color styles available:

Style switcher only on this demo version. Theme styles can be changed from Options page.