Browsing articles tagged with " lunar"
Label : Cyclone Empire Records
Review by Luisa Mercier
Black Sun Aeon is the solo project of Tuomas Saukkonen, who is already involved in many other bands (Before The Dawn, Dawn of Solace, RoutaSielu). He used to keep this project to explore other sides of his music mixing gothic, death, doom never losing sight of melody. While the previous work "Routa" was mainly focused on instrumental music, "Blacklight Deliverance" has two guests singers that alternate in the seven tracks: Mikko Heikkilä and Janica Lönn (female singer from Lunar Path). The opener "Brothers" has powerful yet melodic riffing as only Finnish can craft, while Tuomas growls and Janica creates magical landscapes with her vocalising. Towards the end an acoustic interlude makes everything softer and sweeter. There is a real winter mood throughout the song that goes on with the following "Solitude". Continue reading »
Interview by Si Smith
"It exists a girl who lives on the moon, her name is… LUNAINFEA". So begins the Lunainfea biography and it is at this point that we greet the band in their creative process. Italy has produced many high-calibre bands recently and Lunainfea are the latest to hit the big time. Femme Metal had a word with Katla Hausmann, to find out more.
First of all thanks for making your EP, and thanks for this interview. Welcome to Femme Metal webzine. Lunainfea is a new band to many of us, please tell us how you formed and introduce the other band members to us?
The band was born in the 2005 from the intimate vision of the music by Julian Nardi and Kaio Karras, which began to create a background blues sound. After Alessandro Rubin gave a stoner boost, I became the Nymphet moon's Voice that completed the alchemy that burst into our best sound.
The moon is a very strong symbol on your album cover and CD. Where did the fascination with the moon begin?
Conceptually, the moon is a far away symbol from demeaning stereotypes that we are surrounded to this day: it's distant but present and strong. In this point of view research of sound and themes began.
The story concerns a girl who lives on the moon – what is her story, briefly?
The loneliness's Daughter, Lunainfea spent her childhood in the lunar desert where the scent of nothing enveloped and protected her. In this absolute silence she evolved in a shell where she could feed herself of her being, feeling the deepest and the most intimate emotions of human beings, coming to pick an unknown flower to many : the purity is the metaphor, the idea behind our music.
When you started putting music together for this release, did you always know that it would be a conceptual album or did that come later?
The music is without limits and we knew before starting our EP, that we don't know where it will lead us.. thankfully.
Musically your influences appear to be many, from blues to psychedelia to stoner. Are there any bands you as a band like to follow or style yourself like? What music do YOU appreciate?
I started singing in childhood and in this moment I needn't rely on a definitive style, what matters is to express the energy inside me.
Your voice is very soulful and expressive when you sing. How did you get into singing, and how has your voice changed over the years?
My voice is something connected to my Island homeland, to the deep of the volcano and the screaming earth, a lunar earth that tells stories. My voice is the same through the years but the essence has changed, today I breathe on a stone … while the moon shines.
There has already been quite considerable positive critical reaction to the album. How have the reviews been so far for you? Has the coverage spread much outside of Italy?
Once we were convinced of the potential of the songs, we needed to record with someone who knew how to model, not just digitalize, the disk and Giulio Ragno Favero was the ideal person to entrust this task. This choice allowed us to receive good reviews from both public and professionals.
The EP begins with a inviting guitar riff, a hello and the call to "follow us". How do you hope that fans old and new will react to this material?
The following sentence is "I am your secret mirror", and a mirror never lies to old and new fans.
"In the Cage" is one of the more soulful and jazzy numbers on the EP. What style do you prefer to sing? Are there any favorite songs of yours you would love to cover on a future release?
I let myself go, will you put me in a cage for this??? Now we are focused on the new songs since we have a lot to say. We'll think about a cover later on.
On "Letter to Hell" there are more discordant musical tones in there and it has a harsher feel to it. Were you happy with how these songs sounded in the final mix? Does any one member of the band have the final say as to when a track is complete and if there is more work that needs to be done?
Each of us is born and lives with a distinctive character. "Letter to Hell", like other songs, is a statement written by four hands. My smile so benevolent and evil at the same time is what is that now.. and in the future.
This song is followed by a short spoken interlude entitled "It has arrived". Does this track and the arrival of winter represent a particular part of the Lunainfea story?
The winter's coming is experienced not as a cold signal but as an opportunity to see things through another point of view.
The EP seems to end on a hopeful note, except that Lunainfea cannot forget the events of "Winter '85". What is your hope that a listener will feel by the end of the album? Do you think you have achieved this?
"Winter '85" speaks about a child who for the first time has seen snow. This EP contains , not only songs but also an album of old pictures where many people can recognize and find themselves.
The music sounds like it would be a blast live. Have you more songs to fill a live set? Is it your intention to play live soon?
Together we are developing our label Nomadism live-promotion but now we are focused on the disc to give visibility to the band.
Finally, are there any secrets about the band you would like to reveal for our enjoyment?
Lunainfea is a declaration of love for the music and emotional challenge to ignorance. A search with no stereotypes, with a broad creative. This closely inspires us to a symbol, free and pure as a girl in nothing consciously represented by the lunar desert, brings us to rediscover sensations and memories simple, but for us, essential.
Thanks again for the interview and the great music, we wish you well with the EP and future projects.
Thanks you! it was a pleasure.
Links
Interview by Ed MacLaren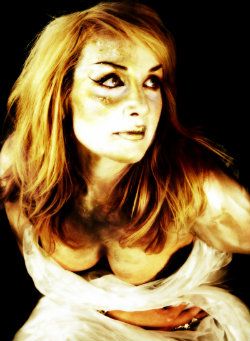 Since the mid-1990s, The Dreamside have entertained fans across the world with their unique musical vision: gothic, metal and dance music combined to create a singular sound and emotional point of view. With their new album "Lunar Nature", The Dreamside continues to push the musical envelope and prove without a doubt they're still as relevant and influential as ever. Vocalist/writer/producer Kemi Vita talks with Femme Metal about "Lunar Nature" and reflect on 15 years in music.
"Lunar Nature" retains many of the electronic elements of your previous efforts but the overall sound is more metal with a cleaner and a definitely more biting sound: much less ethereal. What was the evolution of "Lunar Nature" – especially when it comes after the "13th Chapter" CD of dance remixes?
The evolution of "Lunar Nature" took a time span of around four years and in that time a lot happened. It's a bit more rock than previous albums, also because we like the live feeling of the new material. Songs like "Higher Ground", for instance, are great to play live. However, if you get into the album as a whole you will experience much of our music in a more ethereal way. Songs such as "Hush" or "Willing to Learn" are good examples. The dance remixes of "13th Chapter" are a continuous thing of The Dreamside since we always collaborated with other bands and artists and released these kind of dance mixes in the past and most likely in the future. The Dreamside was and will always be a band full of diversity.
The cleaner production on "Lunar Nature" has brought your vocals much more up front in the mix. That vocal focus really benefits the overall feel of the music. How did you approach your vocals with this CD?
We always considered the voice as the most important instrument within our music. We did use different tube microphones and outboards for the various needs of the different songs but also my technique changes for different songs. Over the whole we tried to make the arrangements and the production clearer and leave out anything that would not feature the song as a whole. We usually record all ideas and do a selection in the final mix. Furthermore, I am as open as I can when singing and this intimacy is a red line though out the vocal recordings.
When you listen to the early CDs you can hear that your voice has changed dramatically. It's stronger with clear highs and a menacing and dark low end. Did your voice develop as you became more experienced or were you trying to vocally reflect the changes in the band's music?
I think that here you have already given the answers since it's a mixture of those two elements. With the years I gained a lot of experience and learned so much about the qualities and limitations of my voice. Nevertheless, I also still let my voice go free on the music; the tunes, songs and music trigger my inspiration and therefore my voice. Also, because Roman and I write the music together, music and voices go hand-in-hand from the start of each composition.
What do you think when you listen to your early vocal performances?
Well, I am very critical about myself so I always strive to improve. However, when you put things in perspective, I think my early performances in their own time and space always came from the core. I am proud of all of them.
Back in the mid-1990s when The Dreamside began there were comparatively fewer female singers in the genre than now. Who were your vocal inspirations? Are there any current vocalists that you admire right now?
Yes, there you are hitting a clear point – there were a lot less female singers indeed! I must admit that I listened more to bands with male vocalists but some of my female vocal inspirations were Stevie Nicks, Siouxie, Liz Frasier, Lisa Gerrard and Tori Amos. About your question of recent vocalists, I cannot see the voice without the content. This is one of the reasons that mostly I am not such a fan of highly studied voices. I like artists who are over the whole involved in their art, so I have a lot of respect for the innovation of Bjork; I like the rawnessand sincerity in the music and voices of PJ-Harvey and of Melissa Auf der Maur. Amy Lee has also done some great stuff.
The Dreamside has been going strong for 15 years and the music keeps improving with each release. To what do you owe your longevity?
It's the fact that our music comes from deep within and has to find its way out in the open! In the past, we got ripped off far too often and the fact that The Dreamside survived its hardships is actually something "supernatural" as a matter of speech.
Musically, the band has also changed dramatically over the years. How important is it to develop your sound? Is there a need to stay "current" or is it more important to stay true to your musical vision?
To us it's truly remarkable that a great majority of our fans feel and see a clear line in the diversity of our music. They dance on a remix, are romantic with the love songs, are letting go their tears at some ballads and rock with the heavier songs. They call it The Dreamside and after 15 years they know what they can expect from us. Critics and journalists always seem to question the evolution we were going through and in a way I certainly understand that since purely listening to music differs from reviewing and categorizing music. However I believe that our sound became better through the years and we are grateful that this is appreciated. We stay true to our belief in the naturally growing of our musical vision, the challenges that come along and the development of what we create – like we do in many aspects of our lives.
The Dreamside has leaned much more in the metal direction with "Spin Moon Magic" and "Lunar Nature" but split the time between CDs with a collection of dance remixes on "Chapter 13th". The band definitely has a love for both metal and dance music. How do you reconcile the differences between the two genres?
The Dreamside always was a band full of diversity and we are always looking to improve our sound and be open for new inspirations. It's not common in the metal scene to do remixes and we are lucky with The Dreamside that we have the opportunity to combine the best of all styles and create our very own thing. We consider this as a pillar of what we do.
The Dreamside is one of the standard-bearing gothic metal bands. What do you think of the current scene and how has it progressed since The Dreamside debuted in the mid-1990s?
Well, we plan to play some festivals this season and we got some invitations from overseas. But I think that this year we mainly play in Europe, Germany and Holland.
What can we expect to see on stage?
The Dreamside loves to play live and it's always an explosion of energy. I am happy to introduce a new band member who comes in with the guitar section, Louis Buurman. Although he helps to underline the heaviness of the songs when playing live, we include some very sensitive moments in our shows. There is always a sense of magic when we play live and I am very proud of our audience, the crew and our band. We like to give the people always something "extra" with the performance, the sound, the light and our outfits, etc. I would say, just come and find out.
How do your long-time fans respond to The Dreamside's evolution over the years? Do you see many of your original fans at your current shows?
The Dreamside fans respond very positive to the development we've been through. They also know that we will keep on making different songs so whatever they prefer about The Dreamside will be something with a similar vibe and hopefully even better. Yes, we get many reactions and visitors who followed us since the early days. It warms my heart to know that they come along for our long trip. Many let me know that our music really touched their being and helped to make a change for the better in their lives. That is a beautiful thing so we keep the dream alive and rocking along the way.
Latest Multimedia
Links
MySpace * Facebook * Twitter * Site
Interview by Marc "Peston" Sels
Another band from Finland is Lunar Path. They call their music "Epic metal with a hard hitting rock edge". They released a demo (2007), a single (2008) and a EP (2009) so far, so it's time to have an interview with Janica, leadvocalist of the band.
What the hell do you mean with "epic metal with a hard hitting rock edge"?
Well, it's of course really hard to describe music in general, to its full rights. The "epic" part comes from the atmosphere in it, our music gives room for hope and maybe to escape to an other place in the songs, there is more to it, than you may see/hear at first notice. The "hard hitting rock edge" we use to describe the attitude in it. We're strong and firm in our music and still catchy enough to get to your deepest core.
By the way, have you found a new bassplayer yet?
The search is still open, but we have some really good candidates on our hands.
Can you introduce the members of Lunar Path to us?
Ok. Lunar Path is Jonas, the music writing, stay-at-home-dad with a huge knowledge about music. He is also always on top of things and has always got new ideas for the band. Tuukka is our beautiful adonis, hard working, strong and owning a big passion for the music and especially for the stage. Pete is the entrepreneur, who is always (and seemingly often the only one) on time, like a klicktrack. Pete is really passionate about his playing as well and with him nothing is ever impossible, he will always fix it somehow. Me, I'm the organizing, fixing, glueing, calling, making all the practicall arrangements one and I try to make it my point to always know everything that is going on in the band. I'm also the bitching, mean one who always is late and always yell at the others but in between I have time to be very loving, warm and huging as well.
The concurrence must be enormous in Finland. How do you manage to stay alive and get a record deal?
I believe we stay alive cause of the will to do this. It really is the core and the essence of us all and we always come back to it, no matter how many other things there is on the way. For me it's an escape and a must, it comes naturally and whenever something is fucked up its music I turn to. It has also been a joke between us that music is the only thing we know, so we can't really do anything else.. hehh.. and so far all of our recordings have been released by our own company…
How would you present Lunar Path to a person who has never heard of you?
Lunar Path is a melodic metal band with female vocals. We have a great deal of balls and fire and attitude, on stage in particular. Lunar Path's music is something you can sing along too but bang your head to at the same time. The orcestrations play a really big role in creating the atmosphere, depth and flow, while the guitar wall knocks you down and keep you grounded.
Do you read the reviews/critics of your CD's and shows? If no, why not? If yes, what do they mean to you?
Yes I do. I wanna know what is thought about the creations I've made with my own blood sweat and tears. Since I'm also very eager to learn I try to get as much inspiration and new ideas as possible. Of course I don't blindly do all the things that they suggest should be done in the reviews, then we would have a deathmetal band rapping about magic swords and I would be a transvestite by now, but all constructive criticism is always welcome and even prefered.
If you could take just five cd's to a deserted island, wich five would it be? And why of course.
Hmm.. hard one! If it's a warm and tropical island I would probbably take something suiteing for that. Ulver – "A Quick Fix of Melancholy" is a brilliant record, and always makes me peacefull and creative, so that would be good for coming up with fresh ideas to get food. Rammstein – "Mutter" is a workout record for me, so that I would take to stay in shape. Velcra – "Hadal" is also a brilliant piece, that one I would take to prevent myself from dying of boredome. Shpongle – "Ineffable Mysteries from Shpongleland" would be my party/island explooring music. And then I would take Within Temptation – "Heart of Everything" to have some good sing-along music as well.
Which band(s)/singer(s) do you admire?
I really like Loreena McKennit, to mention one, but there is so much and many brilliant ones out there that it's impossible to list them all.
Is there a song you wish you had written?
Umm, not really, but if there had to be one, I wish I'd written Nightwish – "Bye Bye Beautiful", because it's a great hit and cause the girls in the video look so cool that I would really have loved to star in the musicvideo. Hehee…
What are the plans for 2010?
The recording of our first full-lenght album is gonna be the main thing of the year. We should have started already, but since Jonas broke hes leg really badly in the arson at our rehersal place earlier this year, we´re forced to reschedule the recordings with a couple of months, and since we want to make it something really special, we do not want to rush into it either.
And last but not least, any "famous last words"?
Excuse me for the mess – Hunter S. Thompson
Links
Label : Lion Music
Review By Tony Cannella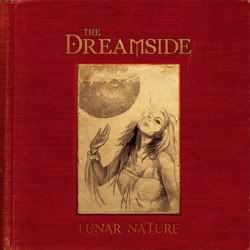 Holland's The Dreamside have been at it since 1994. In that period they have released four albums and on December 4, 2009, their sixth, "Lunar Nature" will be unleashed via Lion Music. The bands music can be described as dark, Gothic metal, with electronic and alternative elements thrown in – all of that and more can be heard on this 15-song opus that lasts just over an hour. Probably one of the most appealing things about The Dreamside is the darkly romantic atmosphere that the songs display on "Lunar Nature", and their ability to incorporate different styles and influences into their sound. The vocals of Kemi Vita are quite impressive as well and a good fit for the music that is being performed throughout "Lunar Nature". For a release that is so packed with so much material, "Lunar Nature" features plenty of good music and diversity, making it a thoroughly enjoyable listen all the way through with very few weak moments. Some of the highlights include: the great opener "Everlasting", the moody "Silently Awake", "When Stars Fall", "Hush", "In Longing" and probably my favorite track "Sternenkind". The short closer "Vlindertke" ends things on a melancholic note and is a great finale.These days for a band to last as long as fifteen years is quite an achievement. You must have perserverance, dedication and most of all good songs which The Dreamside have in abundance – "Lunar Nature" is proof of that fact.
Rating – 88/100
Tracklist
Everlasting

Silently Awake

When Stars Fall

Higher Ground

Sticks and Stones

Carry On

Lunar Nature

Hush

In Longing

Sternenkind

Serpents Kiss

Seeds of Pain

Willing to Learn

Unspoken

Vlindertke
Line Up
Kemi Vita – Vocals

Fried Bruggink – Guitar

Cees Viset – Guitar

Roman Schoensee – Bass

Merijn Mol – Drums
Links
MySpace * ReverbNation * Facebook * Twitter * Site
6 color styles available:

Style switcher only on this demo version. Theme styles can be changed from Options page.