Browsing articles tagged with " lyricist"

Interview by Erwin van Dijk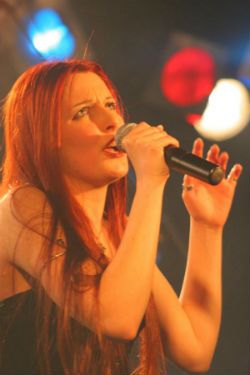 An in-depth chat with Chiara, the soprano singer of the well-promising Italian Gothic Metal band Lust for Oblivion about their debut demo "Black Moon" and their musical future.
Did you always want to become a singer?
I've always loved music and my first experience with it was at the age of nine, when I started playing the piano, but I've always loved singing, too, since when I was a child, so, some years ago, I started taking opera singing lessons.
And to what kind of music do you listen yourself?
I listen to classical music, especially opera and piano compositions and also to metal music.
And who are your favorite bands and musicians?
Bands like Dark Tranquillity, Moonspell, Within Temptation, Lacuna Coil, Tristania are my favorite, but I've surely forgotten some…obviously I adore Tarja Turunen!!!! My favorite classical musicians are W.A.Mozart, F.Chopin and K.Orff.

Interview by Danny Robertson
We caught up with Maledia's singer Loo to discuss their background, their current album "She and Her Darkness" (released in January 2009) and future plans.
What themes/ideas inspired your lyrics on these songs?
Firstly thanks for this interview. Each song for me is a new journey, when the melody is ready usually I listen to her a lot of times thinking of where it leads for me. On this album I also wrote about some things which happened in our and my life, maybe in some hidden words, using some ideas and symbols which reminded me of some particular sensations. But, I have to say that everytime I have to write new words for a new song, it's always a new challenge and a new journey through feelings.
How would your describe your sound?
Our sound is very powerful but very, very melodic and emotional. It's full of our influences, we are five musicians very different to each other, but in love with the same thing – Music .
Which other vocalists do you admire, past and present? Would you say any of them have inspired your own style?
I love a lot of vocalists, but I can say that any of them have inspired my own style. I think that a real artist has to give their personal and own touch to their style, this is the only way to be truly appreciated, judged and loved, not only compared to someone else. However, my favourite vocalist (in the gothic metal scene) is surely Tarja Turunen, she is the biggest voice and personality I have ever seen on a stage.
Who/what are the band's main influences as a whole?
Many. As I said, our influences are various; in fact each Maledia member has got favourite bands and music background inspirations, very different from each other. But the main influences are Nightwish (Old Style), Cradle of Filth, and many songs coming from the horror dark projects of a lot of movies' soundtracks.
What normally gets written first – the music or the lyrics?
Usually we write the music first. This part is often "addictive" to the band (except me). I contribute obviously to the creation of the music, but very less in this part, because my real work is the creation of the lyrics and their melody. But this is not the only way we use. I can say that the creation of each newborn song is always different from the past one.
Tell us about the production behind the current album – how long did it take to write and record? Did you experience any difficulties in its' creation?
It was as difficult as fantastic. It took more than three months to record the complete album with voices and choirs. But unfortunately we met a lot of difficulties in the period after the creation, I mean production itself and in the coming out. It took more than one year to make "She and Her Darkness" available for all our fans. We still apologize for this to all our fans. We hope that the long wait was rewarded for each one of them, I will thank them forever.
MySpace * ReverbNation * Facebook * Site
Label : Prophecy Productions
Review by Andrea "Disgraced"

September and its last thoughts. Fursy Teyssier brings finally to the calm and sweet light of autumn twilight the long awaited and – by its creator – desired debut album. Thank god or whoever in its place he didn't give up since he created the project in 2003! Now let's make a brief prologue for those of you out there who aren't familiar with this particular scene, born some years ago but only now coming to the attention of bigger audiences – relatively speaking, of course. Bigger audiences are always after something not even half close to the art delivered here but… you know, de gustibus. And, just to spam you with another ol' saying, we could say that "every genre has the hero it deserves".

So, lately France has been a fantastic cauldron for these kind of bands, born in the cold and deadly riffing of extreme black metal, who chose to go beyond usual and old stereotypes still typical of many bands (see above: anyone's free to do what he/she/they want) and not just add new elements to their music but, directly blending and mixin it in a promiscuous relationship with (dark but not necessarily) ambient, new wave and shoegaze above all. Recognizing certain soundscapes reminiscent of Joy Division, Cocteau Twins, The Cure (mostly "Disintegration" and "Wish"-era), Slowdive, Jesus and Mary Chain is extremely easy and pleasant. Pleasant for lovers of that kind of music of course but also for those open-minded metalheads (or simply good music-lovers, which should be the only important category) who like to sink in a music full of emotion, deeply heart-moving, that didn't lose any aggressiveness at all but on the opposite just gained in sheer beauty.
Of course we might make a similar speech for other musical genres, even remaining inside of the metal field, that were born in the last 20 years and that bring a big handful of contaminations with them – just think of those dear, I'm sure about that, to the readers of this webzine like gothic metal, symphonic metal, and so on. But here the situation is slightly different: I still have to understand, and leave the matter open to every listener out there, if it's the inner world of the musician(s) which serves well to the designated musical style or… or is it the music a good servant, the perfect means for the artist(s)'s emotions to come out hre into our so-called real world? Or maybe both? I don't have an answer right now.

So let's dive into the music of this album. Here the black metal elements are even more hidden that what did and does his friend Neige in Alcest or Teyssier himself in his other projects; one of the heaviest tracks is the long and epic "Chanson D'Automne" (Autumn Song), always walking on the edge of metal, post-rock and neo-folk. Another heavy song that will make you clap at these musicians for their skills in blending together many styles without losing a clear idea of what they want to do – you know, many would end up just creating a ridiculous mess – is the wonderful "Les Feuilles De L´Olivier" (The Leaves of the Olive). Its central part, let's say from 2:05 on will bring you on the border of a forest together with the two children of the cover artwork (more on this later), with the darkness behind your shoulders in the shape of a soft pillow ready to take you in and the sun keeping its distance on a wasteland in front of you… but still, there's hope. I hope most of you won't be disappointed by the overall lack of female vocals, provided there and then by the good Audrey Hadorn, who anyway contributes with lyrics as well. Teyssier's vocals are very good, though he just chants out with lots of emotion and few technique but who cares?

His vocals don't reach the immense poetry of such untouchable masters like Brendan Perry or Peter Murphy but they flow very well with the music, just like they're expected to do I guess. "Effet De Nuit" (Effect of Night) shows us a very good rythmic section with an increasing tension finding a glimpse of peace only towards the end, where the guitar finally traces space to take a little breath. Final song "Une Matinée D'Hiver" is the tiny but strong, not weak at all, well deserved light but not at the end of the usual gallery, there are no obscure and frightening galleries in this record; that light, granted by the guitars and vocals which climb on each other, is like the smile I imagine the two children of the cover will have in the end, something like, after all we made it to here, we're alive in front a beauty that can be scary and we're aware there's a lot of horror going around. But, we'll keep on going on. Before I finish my review an important note must be done, that is about the artwork and Teyssier's incredible talent in painting and drawing. He actually is a renowned artist also doing cover artworks for other bands but apart from that a great, great painter able to depict sceneries of calmness, innocence and sadness without looking banal or ridiculous but always with that sense of being on the edge of two worlds, and you can't decide if and which one is better than the other. Teyssier possesses a great technique, maybe even greater than the musical one; from the depth of my ignorance, it reminds me of Renoir's warm strokes, not to mention Turner's light and Constable's love for certain landscapes. At this point, just let me tell you there's a limited edition of this album (1000 copies) that consists of CD, DVD (with Fursy Teyssier's award-winning short film "Tir Nan Og") and a stunning 56 pages art book. What are you waiting for?!
Rating – 85/100
Tracklist
L'Envol des Corbeaux
L'Echappée
Les Feuilles de l'Olivier
Song for Mountains
Sur le Quais
Effet de Nuit
Septembre Et Ses Derniéres Pensées
Chanson d'Automne
Svipdagr & Freyja
Une Matinée d'Hiver
Line Up
Fursy Teyssier – Vocals, Guitar, Bass
Audrey Hadorn – Vocals
Winterhalter – Drums
Links
Label : Napalm Records

Review by Tony Cannella
Liv Kristine has become more prominent as a solo artist these days. Of course her main gig is still Leaves' Eyes, but she has managed to release a few solo albums in that bands downtime. The material is different and goes in a more pop direction than Leaves' Eyes, but that's okay, I mean what would be the point of doing a solo album if it is a carbon copy of your regular band? On her fourth solo album "Libertine", Liv continues to explore her pop music side. Liv has always been an excellent lyricist but with her solo career she writes from more of a personal perspective rather than about Vikings, history and telling complex stories. "Libertine" has a playing time of about 40-minutes and the songs have a relatively immediate impact, starting with the soft opener "Interlude" which leads into the more rocking "Solve Me". "Vanilla Skin Delight" is a great up-tempo song that sees Liv performing a magical duet with German singer Tobias Regner. This is definitely one of the finest moments that "Libertine" has to offer. In contrast, the next song "Panic" is a piano driven ballad that builds as the song progresses but it never strays too far from ballad territory. One thing "Libertine" does so well is shift from softer moments to more up-tempo songs. Other highlights include: "Paris Paris" (one of the more rock oriented songs), "Love Crime", "Libertine" and the closing cover of the Kate Bush song "The Man with the Child in His Eyes". There is good pop and then there is bad pop. With "Libertine" Liv has recorded a good, spirited, pop rock album, with a lot of soul, heart and passion.
Rating – 90/100
Tracklist
Interlude
Solve Me
Silence
Vanilla Skin Delight
Panic
Paris Paris
Wait for Rain
Love Crime
Libertine
Meet Me in the Red Sky
The Man With the Child in His Eyes
Line Up
Liv Kristine – Vocals
JB van der Wal – Electric and Acoustic Guitars, Bass, Keys & Programming
Thorsten Bauer – Electric and Acoustic Guitars, Bass & Keys
Alessandro Panto – Piano
Christoph Kutzer – Cello
Felix Born – Drums and Percussion
Links
MySpace * Facebook * Twitter * Site
Interview by Erwin van Dijk

On June 1st the compilation double cd "Demonic and Divine" is released by Femme Metal Records. The cd is to support the Macmillan Cancer support and Cancer research UK. Godyva appears with the song "My Inner" on this album. Godyva is a Gothic Metal band from Bari, Italy. The band was formed in the year 2000 and has released two albums and a demo cd. Godyva's latest album was released last year and this album also includes the song "My Inner" that also will be featured on the "Demonic and Divine" album. Lady Godyva was a noble woman from England who lived a thousand years ago (c. 997 – 1067) in the city of Coventry. She is most notable for riding naked through the streets of Coventry. By doing this she gained a tax remission from the high taxation imposed by her husband Leofric, the earl of Mercia. And with success. "Godiva" or "Godgyfu" means "God Gift" in Old English. This interview is with Lady Godyva, the singer of Godyva.
For starters: what is your real name?
My real name is Cristina Argese, my surname sounds like the river Arges where Dracula's wife died, this is what the legend of Dracula tells. His wife killed herself throwing in the waters of the river Arges and subsequently the river was called the Princess River. Cool!
Did you always wanted to become a singer?
Yes! When I was a child I always dreamed to sing with David Bowie or Freddie Mercury! I wished to be their chorist on tour, hehe!
Who are your favourite singers and musicians?
My favourite singers and musicians of my childhood were the White Duke and Mr. Mercury and his band Queen as I said before; when I was a girl I loved Maria Callas, Dead Can Dance and Lisa Gerrard, Peter Murphy, The 3rd and The Mortal, Katatonia, Sarah Brightman, Sade, Kate Bush, Tori Amos, Paradise Lost, Metallica, Korn, Slayer, Queensryche and more but now in this moment of my life I'm really in love with the voice of Nevermore, Warrel Dane (his last solist album is fantastic), I like Porcupine Tree too, Avantasia, Scar Symmetry, Soilwork, In Flames, Entwine, Samael… But Paradise Lost and the voice of Nick Holmes will be forever my favourite.
And to what kind of music do you listen yourself?
Death, Thrash, Metal and Gothic Metal very often but sometimes I like to listen to ambient or new age music to relax myself.
Did you sing in any other bands before Godyva and do you any other bands right now?
Before Godyva I sang with a band called Aragon. The line-up included two singers, male and female and I used to sing like the Opera. Now I would like to dedicate myself only to my band Godyva, but maybe in the future it could be possible.
Speaking of side projects: you have recorded a song with the Thrash Metal band Methedras (also from Italy) for their latest album "Katarsis". This song is called "Nightmare". How did you got in touch with this band and what have you learned from this experience?
Methedras are friends for me. They asked me to sing on their latest album after their listening to the song I sang with Necrodeath, on their "Draculea" album. They stayed impressed and so they asked me to sing the song "Nightmare" on their new album. A link to the band.

Why did you choose Godyva as the name for the band?
I was a young girl when I decided to choose this name for my project and I remember that I was reading the story of Lady Godiva during a reading of an old book of my grandmother. I was spellbound of this heroin so brave that used her naked body to win against her unfair husband. She was the first feminist! She was a woman with no shame! She embodied Eva before the original sin. I would like to be naked all time, especially in this warm period (sometimes I really hate dresses and all accessories I must wear!) but I cannot do it, what a pity! hehehe!
How would you describe Godyva's music? Because a lot of people will assume you will sound like Lacuna Coil because Godyva is Gothic oriented with female vocals.
I think that Godyva are similar to Lacuna Coil because the female voice but there are a lot of bands in the world with a front woman that could be similar too. I like Lacuna Coil, they are a great band and I'm really happy for their worldwide success and fame, but we are different, we use to play and to compose in a personal way in my opinion. It's easy to say "You are like Lacuna Coil!" because we play metal with a front woman and we are Italian but we don't want to be a copy of an other band, we want to be Godyva and "nothing else matters"!
And what makes Godyva different compared to all the other female fronted bands in the world?
I think every voice is personal and unique in the world, also your voice is unique! It is scientifically shown that the voice is as unique as the iride of the eye and the digital imprints. And every voice has its own ability to transmit emotions, so the ear of the listener decides what it is or it is not pleasant. Also the personality of a singer and of a musician makes the difference, but i don't like to compare myself or my band to the others.
Who are the other members of Godyva?
Botyz Beezart – keyboards
Botys is the principal composer of the band, he mixes melodies of the keyboards to all guitar's riffs really in a particular and special way. Maybe it's his work the real difference in our band.
Anto – guitars
Anto is the aggressive characteristic of Godyva, he is the guitar that I have always desired to mix aggressiveness with romanticism.
Nick Barrah – bass
For a long time he does his beautiful job for this band. He is an essential musician with a great personality.
Enyo – drums
A drummer precise and progressive from years he is the rock of hour sound.
Why did Godyva choose the song "My Inner" for the "Demonic and Divine" album?
We have chosen this song because in that period we released the video of "My Inner" and we wanted to promote this song one more time in a compilation but we are sure "My Inner" is a song that younger fans appreciate and we believe in them.
And how did you (the band) got in touch with Femme Metal?
Femme Metal is a fantastic store managed by serious people that sell our cds, and so they asked me to take part to this compilation and i said "Why not?". I really hope this compilation could help this cancer research in UK.
Is song writing teamwork in Godyva or is there a mastermind behind the music?
As I said before Botys is the principal composer, so I can say that he is the mastermind about the music but also with all our help. In our latest album Anto has composed with him some songs among which "My Inner" and I have written with him "On the Floor of Ice" and "Mary in Blood". All vocals and lyrics are only my work.
Can you tell us something about the songs on "Planetarium" ?
"W.A.I.H.T.L.I.H" is the intro and it's the same music of the outro but you can listen to this intro in the opposite verse with the sound of tears that fall. Because of this you read the title like an image in the mirror. "The Ark" is The first song we have composed for this album and so we chosen it for the opening track. Instead "Innocent" is one of the two songs that sees the collaboration with Mike Tarantino (Natron). Here you can ear how the new guitarist Anto makes the difference with his style and his composition support. "Mary in Blood" is a romantic song that speaks about Maria Magdalena and her love. "Deep Inside" can be deceitful because it seems an happy song instead it speaks about one love that wants to last up to the end, together, both in the same grave. "Planetarium", it's simply the title track; we adore this song. It's the second one composed for this album and we think it is a complete and refined song. "My Inner" :I like it, I like it, I like it. The most powerful song of the album and the most appreciated by the metal kids. We released the video of this song. You can watch it on our MySpace page, YouTube official page, official website and on Rock Tv. "Black Door" also is one of the most difficult song to sing on this album. The ninth song is "On the Floor of Ice" I like to call this one "the liquid song", because it speaks of water (our life), deep blue sea (I love swimming) and ice. "No Fault" sees again for the second time Mike Tarantino as special guest! I like so much this song for that style typical of the Eighties, and we feel nostalgic for these years. Back to romaticism with "God Is Fallen" that speaks about our own fallen idol. And here we're at the end with "H.I.L.T.H.I.A.W." (outro) : a yearning and suggestive closing recited. This is an outro, but we use it as the intro for all our shows. As a treat for our fans we've decided to include a special version of "Innocence" as an acoustic version like happened the last time in "In Good & Evil".
And what is your favourite song on this album?
My favourite song on "Planetarium"? The title track! In reality I have two or three favourite songs on this album: "Planetarium", "Innocent" and "My Inner".
And what are the differences between "Planetarium" and "In Good and Evil" ?
The difference is the guitarist and obviously all guitars you can listen to. Our ex guitarist Frahn left the band some months before the recording of "Planetarium" so we chosen Anto as our new guitarist and we were sure that he would have done a good work in the studio giving more aggressive sounds to the songs of Planetarium. The other difference is that we are grown now as musicians and composers so we can offer an album more mature and enjoyable than "In Good and Evil".
What are Godyva's plans for the future?
We want to play music all over the world, there is a booking agency in USA that wants Godyva there, so I hope it could be happen very very soon. But at the same time we love our country so we will continue to show in Italy. We will be in Czech Republic on the 11th July to play on the stage of Prestenice Open Air Music Fest and the headliner of the event will be The Rasmus. We are working on new songs now but we don't want to say more about a new album now. We have to still promote "Planetarium" now.
And the last question: Is there anything the reader should know that I have not asked?
I think you have done all good questions. Thank you for this funny interview and I hope to see you again. Cheers

Links
Latest Multimedia
6 color styles available:

Style switcher only on this demo version. Theme styles can be changed from Options page.