Browsing articles tagged with " magica"
Label : AFM Records
Review by Tony Cannella
Is it overstating things when I say that the new album from Romania's Magica is the best album of their career? That's rhetorical of course and to say something is the best is purely subjective. In my opinion the new Magica album "Center of the Great Unknown" is the best of their career which began in 2002 and their debut album "The Scroll of Stone". Following the release of their last album "Dark Diary", Magica replaced their keyboardist with a second guitarist and has begun to shift more towards power metal than symphonic metal.
"Center of the Great Unknown" is pure power metal and the most focused album in Magica's career. Lead singer Ana Mladinovici is sounding great and is one of the best female vocalists in the power metal genre. The spoken intro leads us into the opener "Center of the Great Unknown" as the listener is met with rapid fire riffing, guitar harmonies and Ana's powerful vocals. Continue reading »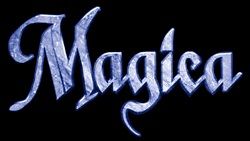 Interview by Vard Aman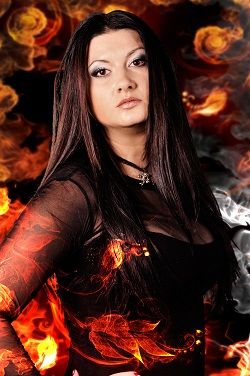 We've already interview Romania's Power Metal band Magica  during the promo of their fifth album "Dark Diary", now it's time for an update and we've asked few questions to the leading lady Ana Mladinovici about the new album "Center of the Great Unknown". What will be this center of the great unknown? Well, let's read it from her words….
Hi Ana, welcome back to Femme Metal Webzine. Robin interviewed you in 2010 about your previous album, "Dark Diary". So, I hope you've been happy and going from strength to strength since…. To start off, did "Dark Diary" do as well as you had hoped?
Hello FMW! It's good to be back! I think that "Dark Diary" was the Magica album that pleased the greatest number of people. All the reviews were great and many fans congratulated us for it. But that's that. We hope that it helped getting Magica noticed around the world.
For those who are new to Magica, and for those who are yet to discover you; how would you describe the Magica sound?
We always think (and tell everyone) that our music is power metal, even though there are a lot of people that call us symphonic, or even gothic as well. The mere fact that we use a lyrical voice is not enough to categorise a genre. Continue reading »
Label : Femme Metal Records
Review by Tony Cannella
Here we are again. This is the latest compilation album put out by Femme Metal Records and like the ones before it, this is as comprehensive a look into the Femme Metal scene that you are going to find anywhere. "Melody and Malice" features 32-songs and over two hours worth of music spread out over two discs, in short, this compilation is packed to capacity with some great music. The beauty of compilations such as this is that it displays how wide and varied the Femme Metal genre is. All styles are well represented here, from power metal to symphonic metal to goth metal to prog metal to thrash metal, well you get the point. CD 1 begins with the modernized metal warfare of Deadlock with the track "Virus Jones". Exoterik is next with the great track "Revive", another modern metal song with some great moments of melody. Kittie is ferocious as ever with "Cut Throat" and In This Moment are on hand with the ultra melodic "A Star Crossed Wasteland". Mongrel contributes the chugging, marching vibe of "Zombie War". This compilation does a great job in mixing the well known bands such as Kittie, Lacuna Coil and Arch Enemy with some of the more obscure acts like Regardless of Me, Katra and Alerion and it all flows together quite nicely. The first disc is completed by the raucous hard rock of Jaggedy Anne (who also gets my vote for the best band name). It would be difficult to go track-by-track (not to mention long), but suffice it to say there is something for everyone here. Some other highlights that can be found on disc one are: the great classic metal outfit from Poland, Crystal Viper with "Blood of the Heroes", "And Their Eulogies Sang Me to Sleep" by the Canadian metalcore troupe The Agonist and the UK's Sarah Jezebel Deva with "The Corruption of Mercy". Disc 2 begins with the Romanian Power Metal band Magica with "Wait for Me", which is one of their very best songs (in my opinion). With compilations such as this, it is possible to find those gems that otherwise you might not be privy to. One such band for me, would have to be Witchburn from the U.S. I was completely blown away by this band and their down tuned contribution "Bleed the Stone", just excellent. After that, we get the more familiar with Austria's Edenbridge and The Mariana Hollow. Luna Mortis contributes "Ash", sadly this band is no longer with us, but "Ash" is a pretty good representation of what this band from Wisconsin had to offer, which is a lot. Two of my current favorites Triosphere (with "The Anger and the Silent Remorse") and Solsikk ("Relish in Nervous Delights") are two more highlights. Other highlights that can be found on the second disc are: Achilla (another revelation as I had never heard them before), Amberian Dawn, Evil's Desire and Rising Dream. I can't imagine the work that goes into compiling a compilation such as this. It must be a daunting task, but the end result is a resounding success. Like the compilations before it, this is a great place to start if you would like to investigate some great Femme Metal bands.

Rating – 95/100
Tracklist
Disc 1
Deadlock – "Virus Jones"

Exoterik – "Revive"

Regardless of Me – "Until I Die"

Kittie – "Cut Throat"

In This Moment – "A Star Crossed Wasteland"

Mongrel – "Zombies of War"

hAND – "Fate Sewn On"

Decadence – "Vulture"

UnSun – "Whispers"

Katra – "One Wish Away"

Crystal Viper – "Blood of the Heroes"

Winter Storm – "The Embrace"

The Agonist – "And Their Eulogies Sang Me to Sleep"

Alerion – "Turn of Fate"

Sarah Jezebel Deva – "The Corruption of Mercy"

Jaggedy Ann – "Skin of Your Teeth"
Disc 2
Magica – "Wait for Me"

Witchburn – "Bleed the Stone"

Edenbridge – "Higher"

The Mariana Hollow – "Your Halo"

Luna Mortis – "Ash"

Beneath the Stares – "Guilty Bystander"

Achilla – "Mirrors"

Amberian Dawn – "Talisman"

Lacuna Coil – "Spellbound"

Triosphere – "The Anger and the Silent Remorse"

Solsikk – "Relish in Nervous Delights"

Noctis Notus – "Scarlet Storm"

Arch Enemy – "I Will Live Again"

Further From The Truth – "Drifter"

Evil's Desire – "Touched by Insanity"

Rising Dream – "Religion for the Weak"
Label : AFM Records
Review by Tony Cannella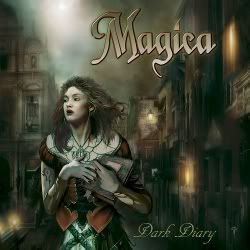 From Romania, Magica have previously released 4-albums with their last one being the excellent "Wolves & Witches" effort in 2008. Now the band are back with their fifth CD titled, "Dark Diary" a CD that sees Magica continuing on in their symphonic Power Metal direction with all the confidence of a veteran outfit – which they now are. Magica waste little time in getting to it, as the opening track, "Anywhere but Home" begins with a powerful guitar riff and a high energy that announces to the listener that Magica are back. "Dark Diary" is true Magica as the following songs, "Tonight", "Never Like You" and "Wait for Me" can attest to. Their level of musicianship and songwriting continues to grow from album-to-album and, "Dark Diary" continues the trend. Probably my two favorite tracks are, "Release My Demons", and the bordering-on-thrash heavy-ness of "We Are Horde". These two songs really help to shape, "Dark Diary" into one of the best Magica releases to date. I have always admired Magica's ability to inject healthy doses of melody into their songs, while not forgoing their classic riff-heavy metal style. The final track, "Dear Diary" is only about two minutes long, but it offers the listener something a little different to close out the CD. This song is just Ana singing accompanied by some serene sounding piano, and it creates the perfect outro for, "Dark Diary". Magica doesn't stray too far from their chosen style of music, but each new release always has a fresh sound and quality to them, and that continues with, "Dark Diary". Fans of Magica should be well please with the finished result of, "Dark Diary", and hopefully they will pick up some new fans along the way.
Rating – 90/100
Tracklist
Anywhere but Home
Tonight
Never Like You
Wait for Me
Need
Release My Demons
On the Side of Evil
My Kin My Enemy
Used to Be An Angel
We Are Horde
Dear Diary
Line Up
Ana Mladinovici – Vocals
Bogdan Costea – Guitar
Sorin Vlad – Bass
6Fingers – Keyboards
Hertz – Drums
Links
MySpace * ReverbNation * Facebook * Site
Label : AFM Records
Review by Tony Cannella
From Romania come the powerhouse 5-piece band known as Magica. The band line up consists of Ana Mladinovici (vocals), Bogdan Costea (guitar), Vali Zechiu (bass), 6Fingers (keyboards) and Cristi Barla (drums). The band have just issued their third album titled "Hereafter" and following their previous two releases "The Scroll of Stone" and "Lightbringer" the band continues to progress. The band plays what can be described as mix of classic and melodic power metal with elements of the progressive thrown in as well. The opening track "All Waters Have the Colour of Drowning" begins with a nice piano intro before really getting down to it. This song is also incidentally the first video of the album and it definitely was a good choice as it is a nice indication of what Magica is all about. Some really great vocals are supplied by Ana and the track also features some great musicianship and orchestration – and a nice guitar solo by Bogdan Costea deserves mention here. Next up is "Turn to Stone". This song keeps the pace going forward. It features a nice rock-solid guitar riff throughout and a great melody. Once again Ana's vocals really soar. She really does have an excellent voice and is truly a star in the making. Next is "Through Wine". This is just a straight forward power metal track and definitely one of the highlights here. "No Matter What" keeps things going with its message of optimism and is followed by "Entangled". This is a dramatic sounding song that Ana really sings her heart out on. This starts off as if it is going to be a ballad before it kicks in and maintains a steady, melodic mid-tempo throughout. Other highlights include: "This Is Who I Am", "Weight of the World" and "Shallow Grave". "Energy for the Gods" is another favorite. Possibly the heaviest song here it also features some cool male vocals to go alongside Ana's. I'm not sure who it is supplying the male vocals since it is not listed on the CD but it's still a nice touch. The final two songs "I Remember a Day" and the beautiful piano-laden ballad "Into Silence" are a nice way to close things out here. While their previous two albums were still very good they only hinted at the potential of this band. With "Hereafter" Magica have put it all together and delivered a CD that features 11 songs and 50 minutes worth of high quality melodic metal. There is not one bad song in the bunch. From the album cover art work, to the musicianship, songwriting and of course the songs, Magica are indeed the total package. This is one of my favorite albums of 2008. Definitely in my top three.
Rating – 100/100
Tracklist
All Waters Have the Colour of Drowning

Turn to Stone

Through Wine


No Matter What

Entangled

This Is Who I Am

The Weight of the World


Energy for the Gods

Shallow Grave

I Remember a Day

Into Silence

H.I.L.T.H.I.A.W. (Outro)

Maida Vale – "Remote Control" (New 2008 Version)

Submerged – "This Thing of Darkenss"

Temujin – "Let You Go"
Line Up
Ana Mladinovici – Vocals

Bogdan "Bat" Costea – Guitars

Emilian Costea – Guitar


6Fingers – Keyboards

Valentin "IngerAlb" Zechiu – Bass

Cristi "Beavis" Barla – Drums

Spencer Prewett – Drums (Session Musician)
Links
MySpace * http://www.facebook.com/metalmagica " target="_blank">Facebook * Site
6 color styles available:

Style switcher only on this demo version. Theme styles can be changed from Options page.