Browsing articles tagged with " mario"
Label : Napalm Records
Review by Tony Cannella
It's been a long road for the Austrian Symphonic power metal band Visions of Atlantis. They are true survivors of the genre. They've survived numerous line-up changes and yet still they remain as strong as ever. As a testament to VoA's lasting endurance and strength the band have just released their 5th full-length album "Ethera".
"The Ark" starts things off with male vocalist Mario Plank beginning the song before Maxi Nil joins in. This is pure Visions of Atlantis and an excellent way to begin things. This is now the second album to feature Maxi Nil (not including the EP "Maria Magdalena") and she continues to be a great fit for this band. Continue reading »

Interview by Matteo Bussotti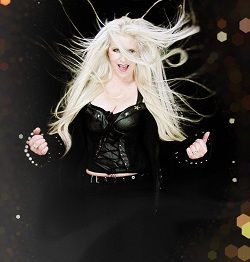 WildeStarr second release, "A Tell Tale Heart", came out not so long ago, so we decided to ask the band's founder and frontwoman, London Wilde, some questions. Being an extremely experienced musician, and having worked in pretty much all the fields related to music, we had the chance to ask her about pretty much anything which came to our mind; and her answers were very satisfying, it has to be said. So, here we present you the interview with London Wilde, from WildeStarr! Enjoy!
Hi London, welcome to Femme Metal! We are very pleased to have you with us here. My first question is: you pretty much did everything regarding to music, you composed the soundtrack for an independent movie, you were a sound technician, and now you sing with WildeStarr. How do these aspects of music differ from each other, and, on the other hand, are they similar in some way?
Thank you Matteo, it's great to be speaking with you! When someone hires you for a specific task, the goal is to present their vision to the best of your ability. In WildeStarr I am presenting my own vision, which is far more satisfying for me. It is also more challenging.  ALL my musical skills are required in the band because I sing, write melodies and lyrics, play keyboards, record, produce and mix. WildeStarr is the amalgamation of all my experience in music, and is much more personal.
Why did you choose to dedicate "A Tell Tale Heart" to E.A. Poe? Has Poe played an important role in your personal and artistic life, maybe?
The album is about a broken heart, and the journey it takes. The Edgar Allen Poe influenced stories are used as a metaphor for that journey and tells a new story. My writing in this theme happened organically without specific intent.  It could have been Tennyson, or Saki, other writers/poets I admire, but the subconscious creative mind chooses it's own muse. Horror and macabre themes really lent themselves to what I was feeling at the time. Continue reading »
Interview by Lindz Riot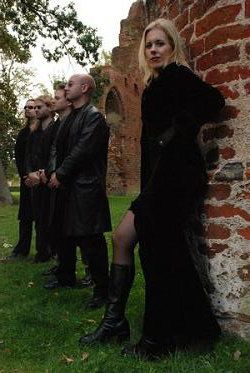 Finally after all the years of hard work the gothic metal band from Germany known as Katanga is getting the recognition they deserve. Recently signed to Massacre Records and also with the release of their debut "Moonchild" they are making waves in the femme metal community. Their lead singer Doreen has joined us here at Femme Metal to talk more about Katanga and their current successes.
Hello Doreen! I first off want to say thank you so much for doing this Interview with us at Femme Metal Webzine!
Not at all, it's a pleasure.
So congratulations on signing with Massacre Records! How has that experience been for you and the band so far?
Thank you, we are all very pleased with our new record deal. Cooperation has been as perfect as we expected of the good name of Massacre Records up to now.
How and when did Katanga form? When did you join the band?
Katanga was formed in 1999, I joined in 2004 and thus completed the current line-up.
For you CD "Moonchild" what was recording the album like? Did you enjoy being in the studio?
To work on our album "Moonchild" with producer Ron Thiele was a blast! I enjoyed being in the studio very much. Working with Ron was very professional indeed. Being in Berlin gave me the opportunity of enjoying some of Germany's finest nightlife into the bargain [smirks].
How has the response to your music been since you have released "Moonchild"?
There are mixed responses, to tell you the truth, but that is to be expected. We always try to challenge expectations and try to avoid being pigeon holed easily – that can put some people off, others are delighted.
What is the live experience like for your band? How would you describe the chemistry on stage?
We tend to be very energetic on stage, it is really a metal performance crossed with some nods toward the Gothic scene. We try to communicate to the people in the audience how much fun we have with our music – we live and die to play live.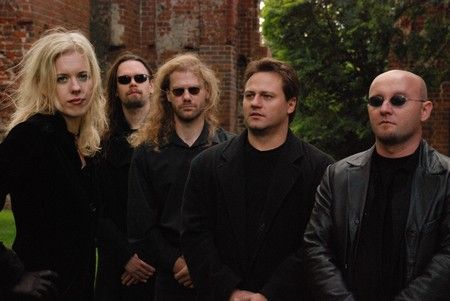 Who are some of the bands biggest influences? Who writes the music and lyrics in Katanga?
Katanga's music is almost exclusively written by our lead-singer Mario, the lyrics are a collaborative effort between him and myself. We tend to be heavily influenced by bands like Metallica, The 69 Eyes and Depeche Mode.
At what age did you start singing?
I started singing in 2001 for real; I tend not to count the nursery rhymes and stuff, though I have been known to sing prior to 2001.
What vocal training do you have?
I started working with a vocal coach in 2001 and have been working with her ever since.
Do you play any instruments?
Yes, I recently started to play the guitar.
Who are some of your favourite singers and artists?
Personally, I like bands like Dreadful Shadows, Zeraphine, Evanescence and The Cranberries.
What can we expect for the future of Katanga? What are some of your plans for the future of the band?
Our immediate future will be devoted to promoting our new material from "Moonchild", we have some shows in Northern Germany in April and Mai; stay tuned to our online presences for more news.
Thanks so much for your time and for doing this interview! I wish you all the best in the future of Katanga.
Thank you very much, I thoroughly enjoyed it.
Links
Review & Photos by Erwin Van Dijk
Mario's Metal Meeting is a festival organized by the Mario's Metal Mania webzine. This edition is the third festival and the first I've attended. The reason why? Holy Moses of course! Holy Moses does not need an introduction. You thought Arch Enemy was brutal? Think again! Holy Moses started in the Eighties as the first female fronted thrash metal band. And, more important, in an era where women were supposed to be Eye Candy in glam rock video's or groupies back stage Sabina Classen sounded more brutal than a lot of other thrash bands from the eighties. With Girlschool and Warlock (Doro´s first band) Holy Moses was one of the very few bands with women in the line up that sounded like the boy bands and not as a gimmick or boy fantasy. Because Mario's Metal Mania is oriented at the brutal underground stuff this Sunday evening is all about Thrash. Yep, it is Thrash time! Many things from the eighties have become popular again the last few years, including the Next wave of Eighties Thrash Metal. The first two are the girl less younglings from this decennium while Acrostichon and Holy Moses are veterans from the last millennium. Hyades is a band apart with more experience than Hatchery and Sanity's Rage. Acrostichon is a female fronted thrash band from Tilburg (Killburg). They broke up a long time ago and this is a reunion gig. You can compare Corinne a bit with Marloes from Izegrim who is also responsible for the grunts and bass. Another thing: patches are mandatory! This was the second largest concentration of Denim jackets with lots of heavy metal patches I've seen this year (although I think the Heavy Metal Maniacs Festival will break the record) Sabina is the queen of denim with patches by the way but she left hers home today. (like me – the cats had used it as a mattress) I missed first band due to hangover the size of the Andromeda galaxy. The second band was rather boring and I did not like the style of the singer. I did not waste space on my memory cards either for this band. Hyades did a lot better. The name Hyades is derived from the Greek Mythology (Ὑάδες) and means "The rainy ones". They are a sisterhood of nymphs that bring rain in the autumn. Well, we did not see any chicks on stage nor it was raining outside. What we got was a band from Italy who clearly had much more experience than Sanity's Rage. The music itself is maybe not that special but like bands such as Municipal Waste it works live. To satisfy al the wearers of denim with patches Hyades did a nice version of the Beastie Boys "(You Gotta) Fight for Your Right (to Party!)" The Beastie Boys haven't done this song live since 1987 so this it the closest you can get! (and Holy Moses has covered this song ages ago).
Acrostichon – Singer Corinne Van Den Brand here on the left- was founded some twenty years ago and disbanded 10 years ago. I've never seen them live during the nineties. Back in those days Acrostichon was the first female fronted death metal band from the Netherlands. Today Acrostichon has returned for a single reunion gig (although I suspect the lady and gentlemen of Acrostichon simply have missed being onstage). Suddenly the floor was filled with family, fans in faded Acrostichon shirts and small kids. One of them was very good in crushing plastic beer cups like the way my hero Dirk Jan crushes gnomes in the Dirk Jan Comic. Compared to the thrash of Hyades Acrostichon's death metal was slow and sluggish. No music for a moshpit but a vast wall of sound. Like many death metal bands the musicians were doing their thing without much show. Singer Corinne was clearly enjoying herself. A good gig but maybe a bit outdated qua music and presentation. This is the second Holy Moses – Singer Sabine Classen pictured here on right – gig at the 013 in two years. Last year (2008) this band was the opener for Obituary at the main hall of this venue and now they are the headliner in the small hall. Is this bad? Not really. It is better to rule in hell than to serve in heaven. Take Lacuna Coil. In 2006 this band was the headliner on the main stage of this venue and last year they were the opener for some crappy band named Bullet for my Valentine. How low can you go? And Sabina still has a large ring binder for all the song texts. And it took (traditionally a while) to build the drum kit. The current gigs are still based upon the album "Agony of Death" from 2008, which is one of my favourites of that year. And what can I say about the gig? For starters, my hangover did not bother me the moment the band started. As usual Holy Moses did a great gig. Sabina also gave some young kids at the front row some extra attention (must be her mother instinct I suppose) Unlike many other musicians on stage you always get the feeling that Sabina is one with the fans instead of a performer at work. I like that.
Links
Holy Moses : MySpace * Facebook * Site
Label : Napalm Records
Review by Tony Cannella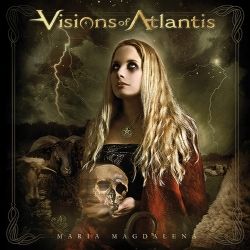 It's only been a few months since Austria's Visions of Atlantis returned with their new singer Maxi Nil and the excellent "Delta" album. There is no doubt that all eyes were watching to see what VOA would come up with after such a lengthy absence, and I think it is safe to say that that they delivered. Now they return with a new 6-song EP called "Maria Magdalena", and VOA continues to ride the momentum that they established with "Delta". I was not aware that the song "Maria Magdalena" is actually a cover of a song by a German pop singer named Sandra, but damn it still sounds like a Visions of Atlantis song to me. It is an up-tempo catchy number that features some great vocal work from Maxi and Mario who have great chemistry together. "Melancholia" is next and is arguably the best track among the six included here. It starts off with a slower tempo, piano and Mario Plank's vocals before the song picks up in heaviness and turns into a powerful track. Mario handles a large portion of the vocals while Maxi joins in on harmonies and the chorus. "Change of Tides" begins with a heavy symphony vibe and soon develops into a melodic track that sees Maxi and Mario trading off vocals and the song itself is so catchy and has a memorable hook that just reels the listener in. Maxi takes center stage on the ultra melodic "Distant Shores" as the EP is completed by a re-working of "Last Shut of Your Eyes" (originally on the "Cast Away" album), and "Beyond Horizon – The Poem Part II". "Beyond Horizon" in particular is a beautiful ballad and after the thunderous melodic metal that comprises the EP, I can't think of a better way to end things. It has been well documented that VOA have undergone a number of line-up changes over the years, but let's hope that this is the one that sticks. In my opinion Visions of Atlantis have become one of the top bands in the Symphonic Metal genre and "Maria Magdalena" is further proof of this.
Rating – 90/100
Tracklist
Maria Magdalena
Melancholia

Change of Tides

Distant Shores

Last Shut of Your Eyes

Beyond Horizon – The Poem Part II
Line Up
Maxi Nil – Vocals

Mario Plank – Vocals

Cris Tian – Guitars

Werner Fielder – Guitars

Martin Harb – Keys

Thomas Caser – Drums
Links
6 color styles available:

Style switcher only on this demo version. Theme styles can be changed from Options page.