Browsing articles tagged with " massacre"
Label : Massacre Records
Review by Tony Cannella
The Munich, Germany based melodic metal outfit Envinya formed in 2006. After releasing a demo in 2007 they released their debut EP "Beyond the Dark" in 2010. Envinya now returns with their full-length debut via Massacre records entitled, "Inner Silence".
Lead vocalist Natalie Perreira dos Santos has got a pretty diverse voice – that's the first thing that struck me. She sings in mostly a clean style but she also adds the odd bit of growly vocals too, which are quite impressive, especially when you consider that she is capable of such different styles. The band adds touches of symphonic, power and prog metal sprinkled throughout the album but is always maintain a great melodic base on the 10-songs offered here. The opener "Faceless" comes out of the gate like a shot of adrenalin. A fast up-tempo riff works hand-in-hand with some solid vocals and it is a great opener. The next track "Forlorn" has a heavy, rumbling riff and the first appearance of the growly vocal style is heard. This is another good one. Continue reading »
Label : Massacre Records
Review by Tony Cannella
The excellent double female fronted Symphonic Metal band Coronatus has previously released four full length albums – with their first one being released in 2007. Now they have released a digital only best of album titled, "Best of 2007-2011". Featuring 16-songs and over an hour's worth of music, "Best Of…" serves as a comprehensive overview of Coronatus' career thus far.
The track-listing on "Best Of 2007-2011" features a fair cross section of the bands best material taken from each of their albums. The songs are in reverse chronological order beginning with four songs from Coronatus' latest album "Terra Incognita" which was released in 2011. The two female singers each brings something interesting and unique to the table. The current duo consists of Mareike Makosch who provides more of a rock style and Ada Flechtner who gives us a soprano voice. The melding of the two different styles is one of the best things about Coronatus and gives the songs a huge boost. The bands lyrics are sung in German and English with a touch of Latin as well. The musicianship is also played on a high level and is a perfect complement to the two vocalists and another check in the plus column for Coronatus.
For fans who already own everything that Coronatus has put out, this may not be of much interest, but anyone who would like to sample what this great band has done so far, than "Best of 2007-2011″ is well worth the time. Continue reading »
Label : Massacre Records
Review by Tony Cannella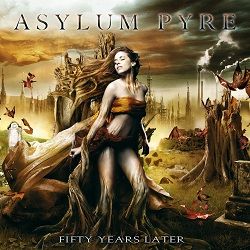 From France, the melodic metal band Asylum Pyre already made one hell of a first impression with their 2009 debut, "Natural Instinct?", now they have returned with their follow-up album "Fifty Years Later". Since their debut, Asylum Pyre has changed female vocals with Chaos Heidi stepping in and proving to be a great choice.
Everything about Asylum Pyre screams class, from the song writing to the musicianship and overall presentation, "Fifty Years Later" has really kicked it up several notches from their debut. The band does a great job in mixing songs with epic arrangements with shorter songs while still maintaining a melodic base – everything is just so solid. Lead vocalist Chaos Heidi has a strong and diverse voice. She is equally adept at straight forward metal singing as she is at singing the more epic stuff. Guitarist Johann Cadot helps out with male vocals, but the majority of the singing is handled by Heidi. The opener "Will You Believe Me?" is a nice, peaceful and pretty opener as that leads into the bombastic "Dead in Copenhagen". The riffs come hard and fast and this song definitely gets the blood pumping. It was at this moment that I realized "Fifty Years Later" could be something special and I was not disappointed. "The Frozen Will" keeps the power and momentum going. "The Fisherman's Day" reminded me a bit of "The Islander" by Nightwish and is a nice change of pace. Other highlights include: "These Trees", the 9 ½ minute "Any Hypothesis" and the closing 7 ½ minute "Fifty Years Later" which is ends things on a beautiful note.
The Femme Metal scene has never looked brighter, but it has become increasingly difficult to stand out from the pack, Asylum Pyre has managed to do just that with "Fifty Years Later". Asylum Pyre should become one of the top bands in the melodic power metal genre. I wrestled with whether or not I should give "Fifty Years Later" a perfect score, but after listening, how could I not? Continue reading »
Madrid, Spain-based female-fronted dark gothic metallers TEARS OF MARTYR have inked a deal with Germany's Massacre Records. The band's second album, "Tales", will be released on April 26th. The CD was recorded in August 2012 at the New Sin Studios in Loria, Italy, with Enrik Garcia and Luigi Stefanini.
Commented TEARS OF MARTYR: "We are happy and excited to work with Massacre Records. We are looking forward to the release of 'Tales' and we hope you'll enjoy it!". Connect at Facebook for more updates.

Interview by Ed MacLaren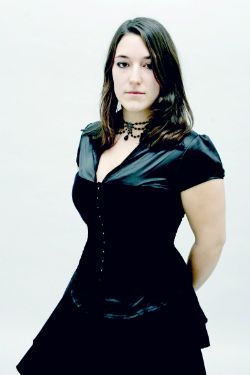 Barely into their 20s, Germany's Voices of Destiny has a musical maturity that belies their young years. With their shining debut, "From the Ashes", Voices of Destiny is packed with massive chops and soaring vocals that match many of the premier symphonic metal bands you're listening to right now. Vocalist Maike Holzmann joined Femme Metal to talk about the creation of "From the Ashes".
Congratulations on the new album! With Massacre Records no less. How are you and the band enjoying the ride so far? The feedback must be excellent.
Working with Massacre and all the great people we met during the recording process is awesome. Of course, we got some positive reviews and comments on our homepage, but we can't tell how often the album is sold by now. We will know better in a few weeks.
"From the Ashes" is a very multi-textured album that draws you in deeper each time you listen to it. There's a lot of detail happening musically. What's the key to maximizing the "From the Ashes" listening experience?
Maybe just sitting down and listening to the album carefully and consciously. If you read the lyrics while listening this might also maximize the experience. You can interpret them and find out how they fit into your life.
What's really impressive about "From the Ashes" is the number of potential singles: "Ray of Hope", "Return from the Ashes", "Apathy" and "All Eyes on Me" are all standout tracks. Each song on the album can stand on its own as well as a cohesive part of the whole album. Was that the band's approach during the songwriting process?
Yes, indeed. We didn't write the album as a concept album. Some songs already existed for 2 years or longer. But we thought they'd fit the album as well. Every single song is good on its own but concerning the whole album they reach another level somehow.
6 color styles available:

Style switcher only on this demo version. Theme styles can be changed from Options page.