Browsing articles tagged with " mastermind"
Label : Trisol Music Group GmbH
Review by Luisa Mercier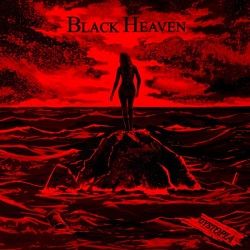 Black Heaven is the side project of mastermind Martin Schindler, which tried to complete the gothic rock played with Mantus through this electronic project. After the release of their last record in 2009, Black Heaven completed their fifth album and in no way they have lost the dark mood of the founder main band. "Das Tor Zu Welt", the opener, is an up-tempo song full of keyboards and completely sung by Martin while the following "Lächelnd geht die Welt zugrunde" is haunting and the vocals are delivered by Thalia. More slow-paced, it will find its place in the gothic clubs all over Europe.
"Die Zeit Die Bleibt" is more gothic, decadent and romantic with strings and its piano break that seems coming out of a movie soundtrack. Going back to danceable rhytm, "Mensch" is maybe the fastest song on the album and once again the keyboards have a main role. Continue reading »
Interview by Lindz Riot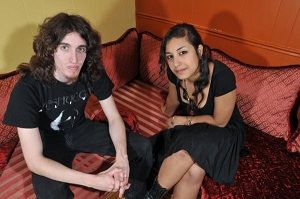 When people hear of Quebec, Canada they immediately think of Montreal, but to the east lays Quebec City where many good things are happening for Metal and Ambient experimental music alike. There you will find a gem, a diamond in the rough by the name of Manahil. Arabic for "The Sources" they are a duo that describes themselves as "Ambient music for Metal Heads" and from listening to them you can hear the concept. It is very refreshing! Fronted by the soulful and exotic voice of Hind Fazazi alongside piano wiz and musical visionist Mathieu Fiset, they are definitely adding something new to the music world. During their Ontario, Canada tour I have had the privilege to house them and sit down with them to get into their minds about what Manahil is and what they are doing that is so different.
Welcome to Femme Metal guys! Thank you so much for doing this interview with us. It's a real pleasure. So how are you two liking your Ontario tour so far?
Mathieu: Great ! So far only one show down, but we played here last October with Stream of Passion and Unexpect and that was great. I can't wait to play Toronto tonight and Oshawa next week with Mary and the Black Lamb and Modified.
Hind: I cannot judge for the moment! But at least, people here are friendly …let's see if the Toronto gig tonight will be as nice!
How did you two meet?
Mathieu : Through a friend of ours. I asked Hind to come up to record a Steven Wilson cover song just for fun, but we ended creating music with an ambient instrumental track I had. This first song is the opening track of our first album.
Hind: I was fifteen years old at that time, and I already knew Mathieu was a great piano and keyboard player. We tried some covers together, in English first, but then we rapidly decided to experiment something new in Arabic, because we both were curious, open-minded and tired of traditional music!
How did you decide on your sound? Was it a vision or something that just came out through jamming together?
Mathieu: We never planned anything really, but of course with the knowledge that she could sing in Arabic and the fact that I love exotic music, we just ended up doing lots of oriental stuff in the beginning. But later we added the pop, rock, electronic and progressive stuff.
Hind: We just ….let ourselves do whatever we wanted to. We knew that our two energies were going to give something unique. We jammed a lot in the beginning to see what we could create together, and then just continued that way until now!
What are your musical backgrounds?
Mathieu: As a kid I was in love with the soundtracks of my favourite movies and then the music of Alegria from Cirque du Soleil really had an impact on me when I was 5 or 6. I took some piano lessons then stopped because the lessons were not what I imagined it would be. Later on, when I was 14, I started listening to metal so my interest in music came back. At 15 I joined my first metal band and slowly became a professional musician.
Hind: When I was a young little girl living in Morocco, I loved…Celine Dion! Then, when I moved to Quebec, I switched radically to thrash metal, Nu Metal and female fronted metal bands! Slayer, Sepultura, Korn, Within Temptation, Evanescence…afterward, I began to listen to Opeth and opened my mind to non-purely metal music, such as Nine Inch Nail, The Cure and Indian music.
What artists have really influenced Manahil?
Mathieu: That would be a long list! But I can say that my favourite bands are Tool, Nine Inch Nails, Porcupine Tree, Opeth but also some other artists have had a major impact like Peter Gabriel, Rachid Taha and Hans Zimmer.
Hind: For me, singers like Amy Lee, Tori Amos, Norah Jones and Susheela Raman, a folk-indian artist, influenced my interpretation.
You say you are ambient music for metal heads, what do you mean by this statement? Are you both heavily into metal?
Mathieu: Yeah, as you might guess by now, we both listen to a lot of rock and metal music, but we need something to balance it all, so we create kind of an ambient or electronic version of the metal music we want to hear.
Hind: As I have already said, we LOVE metal and listen to metal bands, but we hate to categorize ourselves as metal heads. Also, we don't want to get bored by doing the same old style all the time and we absolutely adore oriental music and mixing styles that every open-minded metal head should appreciate.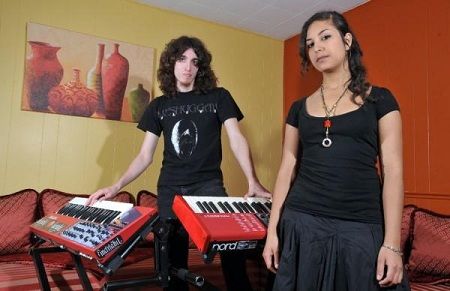 Would you ever consider making Manahil a full band project?
Mathieu: No, because from the beginning we decided Manahil was the two of us, the creative force we are, and not a musical style.So even if we often have collaborators and live musicians, we prefer to keep the basic of Manahil as the two us.
Hind: Manahil, in Arabic, means The Sources, it's only us two and we are the sources of the music we create!
What has the respond to your music been like in the Province of Quebec?
Mathieu: I don't really know, to be honest. It's a positive response for sure, but since it's a really personal music, everyone feels different to it.
Hind: It's particular! Manahil is a very introspective music and in a show context, where people are used to scream, it's weird. It's as if the crowd finds it special to just listen and let the music enter in their hearts.
Do you think you will be well received in Europe?
Mathieu: I guess!
Hind: I really think so. The North American audience is definitely different. The expectations are different, and I think, honestly, that the cultural aspect will be positive for us. We are a non-typical band, and maybe, I say maybe, it will be fully understood in Europe.
Why do you feel the metal scene in Quebec has been progressing so rapidly as of late compared to the rest of North America? Do you agree with this statement?
Mathieu: I guess it's mainly because there's a lot more metal heads in Quebec so with a bigger crowd, you can have more bands, more shows…but I mostly feel there's too much of the same thing. We certainly have some of the best extreme metal bands in the world.
Hind: I agree with Mathieu on that, particularly in Quebec City…Quebec, metal city! But yeah, there is too much of the same: too much black metal bands, classic Hardcore bands… it's not very diversified!
Tell me a bit about your new album, where did you record it? Who produced it? What can we expect to hear?
Mathieu: I produced, recorded and mixed it myself, mostly in my home studio but you'll like to know that we recorded the vocals in Cardinal, Ontario. Musically, it's a new experiment, more than a new direction. As much as we love the new album, we won't do the same for the next album, just like every recording we've done and will do. It's even more "Ambient music for Metal heads" than the first album. It's a deeper, more sophisticated production which I'm really proud of and we went in musical areas that we never dared to explore yet, opening the door for more experiments in the future. We're growing up I'd say!
Hind: Yeah, the composition of this album was a nice and refreshing experience. First, Mathieu sent me what he had done…the musical tracks sounded less melodic and more electronic to me… I didn't know, at first, what I could sing on that! Then I experimented to write my melodies in a totally different way, and the result is amazing: a mix of very melodic vocals mixed with dark-electro-industrial-oriental music!
I noticed a hint of a Jazz influence on your most recent EP, can we expect to hear something like that on your next album?
Hind: No, or maybe inconsistently in a few back vocals. We both love jazz, but we already explored what we could do with that on "From Roots to Clouds", "Alouanou Sama" is totally something else!
Last question: Outside of music, what are your lives like from day to day living?
Mathieu: Music is my day job, but I'd say I don't play as much as I'd like to. Doing lots of planning, booking, promotion, paper work, I don't take much time off, but I like to change my mind from time to time playing games and watching stuff on YouTube. I'm a complete nerd, so I don't have of a much social life.
Hind: I'm going to University, studying philosophy and politics. Those subjects are my main passions with music. I am involved in my community, and I try to be active to promote a provincial political party by the name of Quebec Solidaire. I'm a part time musician, but a full time good citizen, I think. I read a lot and love to party with friends!
Photo Credit
All the photos by Fred Laroche
Links

Interview by Si Smith
They say that two is always better than one, and this is definitely the case with Julian's Lullaby. The dynamic frontispiece of this band involves TWO female vocalists, equally enchanting and providing the band with a double dose of femme metal magic.The bonus is that the music is also as enchanting, involving romanticism but also a dose of heaviness and mystique. Femme Metal had the pleasure of the company of both Julian's Lullaby vocalists, so we asked them to spill the beans on the true nature of the band….
First thanks so much for joining us at femme metal for this interview, and welcome from all of us. The band formed back in 2004, were you both there at the start? How did the band build up to what we see today?
Margina:
Well, when I joined back in 2009 the band was already focused on "Sand on Your Hands" using male – female vocals. Then Elias thought it would be really fascinating as well as interesting, to experiment using 2 front female vocalists. So a few months later Aprilia joined us, and since then we all stick together successfully.
Aprilia:
I also joined the band in 2009, after a series of coincidences… The band was already formed as it is now at that time and they were recording "Sand on Your Hands". Elias had the idea that a second female voice would be interesting, so I joined in.

In the four years before the first demo release, you must have spent much time working on material and practicing together. How did the band go about building up its profile "out in the world" at this time?
Aprilia:
Most of the material is composed by our rhythm guitarist Elias. When a new idea comes in, all of us work together, through rehearsing, and everyone puts his own touch on the piece. In the end, though the initial idea is there, the result is something new, reflecting the whole band in it.
Margina:
The original ideas mostly come from our guitarist Elias as Aprilia already said. He composes and gives "life" to the songs. Good thing is we all work together as a team and each one of us has always some sort of a new idea to propose/add. So with Elias's implementation, team work and the personal touch, the final project is unique, and it certainly represents the whole team's expectations.
On your Facebook page you quote differing bands such as Slipknot, Epica and Queen as your influences. What elements would you say go into making a great Julian's Lullaby song?
Aprilia:
As I mentioned earlier, the major element of making a great song is the involvement of the whole band. Since each of us has different influences and likings as far as music is concerned, putting them all together, in the right amount, makes our songs what they are.
Margina:
Differing bands is because each one of us has a different musical background and that's what practically helps us in proposing new ideas and keeping experimenting on them. Now the exciting thing about teamwork is that we somehow manage to mix and match all these ideas/influences yet retain a balance, without having to "sacrifice" our original idea of the project. The basic elements are: the fact that we seem to interact in the best possible way and of course the fact that we are friends besides being Julian's Lullaby.
Your first demo "I Can Hear You Thinking" was released in 2008 – and then Julian's Lullaby tracks appeared on a number of compilations. How did these opportunities come about? Did it all come on the strength of the demo release?
Aprilia:
At first, the demo was the reason for our appearance in these compilations; we approached MNR guys initially and really jumped into this opportunity. Then Elias saw an ad placed by "Kiss Army" fan club and Rock-Hard magazine (GR) recruiting bands for an upcoming Kiss tribute CD, we recorded "Beth" they liked it so also joined! After that we were asked to join again on MNR's next volume CD with a song, this was the time when the whole line-up changed; so we decided to go on with something new, a song outside the demo and "Sand on Your Hands" came to be.
You guys seem quite "romantic" in your approach to music – from the artwork of the latest album cover to the quote on your website, "no angels, demons or dark desire can keep us apart". Where does that come from? Is this something you all share?
Margina:
This quote is from "Sand on Your Hands" and I must admit I really love this song probably 'cause it was my 1st song to record as a Julian's member. Well we all certainly have our "romantic" side and the artwork also proves that, still not all of our songs share this orientation. We try to keep a balance between "hard" and "soft" and our album proves that!
Aprilia:
Well, we all have our lyrical parts. And the combination of the compositions with the female voices brings out something "romantic". But don't be fooled. Not all of the songs are "gentle".
It must be a great support for each other to have TWO vocalists on stage together. Do you girls spend much time together outside of the band – get up to any mischief when no-one's looking…do you get time to work on your rapport outside of just live performances?
Aprilia:
The fact is that we do spend time together outside of the band – but no mischief done! Especially this past year we got closer, and we combine working out for the songs and having fun.
Margina:
Of course we share moments and have fun besides singing together, since we are good friends. Actually even on rehearsing we are having fun. On stage things are not different for us I guess, since we do share a nice chemistry and we fully interact. We generally combine practice with having a good time.
I notice from your videos that one of you moves around a lot more onstage whilst the other sings – does this represent quite different personalities for you both, or you both similar kinds of people and singers?
Margina:
Different personalities and music backgrounds I would say, yet the same goals. We both seek the best vocal output. I just go on stage and do the things I feel like doing (things I would probably do when rehearsing as well), while at the same time focusing on the best possible singing performance. Feeling "free" on stage is what good chemistry and interaction does like I mentioned before.
Aprilia:
We are different personalities but the "secret" of our performances lies elsewhere… I am very self-conscious about my singing performance onstage. So I prefer to sacrifice some movements to have the best result on the singing part…
Hailing from Greece must seem like a bonus, as the Greeks are well known for their classical and romantic traditions. Is there a particular Greek element to your music or lyrics would you say?
Aprilia:
I don't think there is anything in particular that connects us to the Greek classical and romantic traditions, apart from their being in our DNA of course.
Margina:
Classical and romantic traditions are part of our history and they are somehow in our nature. I have the impression though, that besides some romantic "stigmas" that you already discovered in our music, there is no other particular element.
Signing with STF Records must have been a great boost to the band's morale. Has it changed the way you work at all?
Aprilia:
Having a label deal is a good PR and really wonderful in the sense of additional promotion – guys at STF work right and serious – but I believe that with hard work and focus you can live up to your standards.
And so the new album is out now, "Dreaming of Your Fears". What is the significance behind the title?
Margina:
"Dreaming of Your Fears", just came to us naturally as we were deciding about the title. We all liked the idea since it had some sort of relevance with some lyrics and song titles in our album.
Aprilia:
There isn't any hidden meaning behind the title. It was just a brainstorming of what would sound "appropriate" as an album title. And like "I Can Hear You Thinking", "Dreaming of Your Fears" reflects the concept of the album in a beautiful manner.
You seem to manage to keep a balance on the album between the heavy and the melodic. Is this a hard balance to keep? Are there any in the band that would pull more in one direction than the other?
Aprilia:
You bet they are. But since we know our style the balance is easily preserved. In the end we all get to be happy with the outcome, whether it is heavier or more melodic.
Margina:
Keeping balance is never easy when it comes to different people with different opinions, preferences etc. Our intension was to compose the songs in a way so that any of us would be satisfied with the outcome no matter what. Since we are fully aware of what we want from our project we just collaborate and exchange ideas. This leads us to a more "heavy" or "romantic" aspect, but what matters is that we all like it.
For me "Would It Be" is one of the finest moments of the album, where all the elements come together in just the right way to create the perfect alchemy. What are the best and worst moments of the album for you? Were any of the songs particularly problematic in the recording process?
Margina:
Glad you like it! I love this song as well and I bet many people under certain circumstances have come to wonder… would it be that hard…I never had the chance to study music as much as I wanted to or take any vocal lessons thus I cannot say that I encountered problems during the recording sessions. It is well known that one cannot have the very same performance every day and of course there will always be songs that do require more focusing and effort. Actually recording sessions have been really fun, because Elias and Aprilia were always there to help when necessary so everything turned out to be ok.
Aprilia:
There were some difficulties, I admit that. But with the help and persistence of Margina and Elias in particular I overcame the obstacles, and I want to thank them for that. I wouldn't say there was a song that was particularly problematic. We all had our ups and downs during the recording sessions but everything came out just fine.
I have to ask why you have included two versions of the last song, is there something special about that song that needed emphasizing?
Aprilia:
The reason is that we all like the acoustic version as much as the original one. So we wanted to share this emotion with our audience.
Margina:
Oh I guess we all liked acoustic as much as the original one and we could not easily decide, so we thought it would be really nice to include both versions in our album. I believe listeners will like the idea.
Now that the new album is well out there, what are the next aims of the band? What are your next targets as creative individuals and as a band?
Margina
:
We will definitely need time to promote our album the best way we can. In the meantime we are already working on new songs and ideas…
Aprilia:
Once the recordings for the first album were finished we started working on new ideas and developing new songs. We have to work on the promotion of our album and after that, who knows?
Finally, thanks for talking to us. Are there any final messages to the world you would like to get out there?
Aprilia:
We would like to thank you too. And a thank you to everyone for their support: the audience, our label and the other members of the band for making this happen.
Margina:
It's been a pleasure talking to you, thank you for this interview. A big "thank you" goes to our friends, fans and our label for all the support so far. Thanks to the people who contributed to the album and every single member of Julian's for making this dream come true!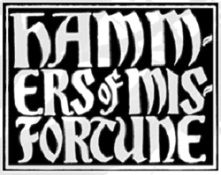 Interview by Luisa Mercier
After listening to their latest release, Femme Metal Webzine had the chance to have a quite interesting chat with John Cobbett, mastermind of Hammers of Misfortune. He has explained us a lot about what lies behind the complex lyrical content and musical content of the record!

Hi John, first of all congratulations for your new album. I enjoyed it a lot! Unfortunately, there might be folks out there who have never heard of you before. Could you introduce yourselves to our readers?
Hello, my name is John Cobbett and our band is called Hammers Of Misfortune. We are a band from San Francisco, California, USA. We began as Unholy Cadaver in 1997 and became Hammers of Misfortune in 1999. Our first album came out in 2001. I'm glad you liked our new record!
May you talk us a little bit about the concept that underlines the album?
Each song has its own concept. Some of them tell stories, some of them describe situations, some of them can be taken on several different levels at once. Many of the songs deal with common people dealing with hard times, a few of them deal with the people that created the hard times. There is a thread of lost innocence and disillusionment in the songs, but each one has its own story to tell. I was doing a lot of research about chronic unemployment, foreclosure, student debt, the credit crisis, the bailouts, bankruptcy etc. Not just the facts and allegations but the stories of real people who are going through these things, including myself and several of my friends. It's interesting that the #ows movement (Occupy Wall Street) sprung to life right around the time this album came out. I guess I wasn't alone in my concerns. This is a real crisis with real victims. At the same time, the lyrics could be about any situation of loss, heartbreak, resignation in the face of impossible odds, I could go on. I should reiterate that it's not accurate to put all the lyrics under one thematic umbrella. Some are more specific, some are purposely so vague that they could describe almost any situation.

This cover artwork is quite different from the previous ones. Is it somehow related to the concept?

The photo on the cover is a long exposure shot of us standing on Bernal Heights, overlooking the Mission District of San Francisco, where 5 out of 6 of us live. It's us in our natural environment. I guess if so many metal bands are taking pictures of themselves in the woods behind their house, we could do it too!
Your album is a unique one. It blends many of the genres in heavy metal. How do you incorporate so many influences in the music? Is it programmed or they just flow freely?
We really don't make any effort blend influences. We write songs. It's a very natural process. The key is to ignore influence, genre, trends etc. We simply don't think about it in those terms. It's all about the song.
That's not to say that I'm not influenced by anything. As a songwriter, I'm influenced by songs. Any great song will do. A great song is timeless, it could be the Beatles or Bob Dylan, it could be Discharge, Bowie or Cole Porter. I think most bands decide what genre they want to be before they even play their first note. Why get caught up in the endless parade of trends and genres? We want the songs to be good, and the albums to be good. Whatever tools or ideas we have at our disposal are put toward that goal.
Since we are a female fronted music-themed webzine, would you introduce us the two female members of Hammers of Misfortune? How did you get in touch with them?
I was introduced to Sigrid Sheie at a punk show in 2002. She was originally playing bass with us (she can play almost anything). When we realized that she was a classically trained pianist, we saw the opportunity to add piano and Hammond B3 organ to our sound. I've always loved those instruments. It's been quite a learning experience, writing and arranging with keyboards in a metal band. Sigrid showed up to her first rehearsal with a binder full of sheet music – she had transcribed our songs! We were quite impressed. She is now an adjunct professor of piano at University San Francisco.
Leila Abdul Rauf, along with Sigrid, also plays in a band called Amber Asylum. It was Sigrid who suggested we invite Leila to join the band. We were big fans of Leila's band Saros. We saw them many times and played some gigs with them, so I was already a fan of her guitar playing, and she was already part of the family, so to speak. She's also pretty good on keyboards and a fine singer, but mainly it's her detail-oriented, technical approach to guitar that I'm a fan of. She can also bust out a soulful guitar solo. It's a privilege to work with both of Leila and Sigrid.

You've been in at least three other bands before Hammers of Misfortune, did the experience with them influence the work with HoM in any way?

Hammers has always been my number one. The other bands were much less complex, more of a release for me. Mainly because I didn't have to write any lyrics. It was fun to just sling riffs and play the guitar. You learn something every time you go on tour or make a record, regardless of what band you're with. Hopefully, you learn from your mistakes, especially in the studio. Making an album is a massive undertaking and the lessons learned in the studio are the ones that you bring to the next session. Those experiences and lessons definitely come into play every time you make a new album.
I've read about previous difficulties with labels and such. How's Metal Blade treating you since last year?
We haven't had too much trouble with record labels. There's very little money left in this business, so there's not that much to argue about, haha! So far our dealings with Metal Blade have been very professional and fair. They stayed out of the way when we were making the album and now they have stepped up to help promote it. They've done a great job so far.
Do you have any idea yet on what the future might bring for Hammers of Misfortune? Any thoughts on a tour or a new album?
There will be 4 shows in the Pacific Northwest US in December, then we're playing Roadburn 2012! After that, who knows? The next album is always on my mind but it's just forming right now. Once this new line-up gets our "stage legs", we'll have more chemistry as a group. I'm looking forward to that. Thanks!
Links
John Cobbett : Twitter
Label : Svart Records/The Ajna Offensive
Review by Luisa Mercier
Four are the entities of God: Christ, Jehova, Satan and Lucifer and each of them can be found in human nature shaped as hate, love, joy and pain. This vision, that reminds me of the Manichean Church of the origins of Christianity, was typical of the Process Church of the Final Judgement, one of the most unique and controversial cults of the latest decades. It was rumored to be linked to Charles Manson and Satanism, but now it is dissolved and what remains are its rites. Sabbath Asssembly have put in music the most sacred texts of the Church and also have revamped some of their most revered hymns, stuff reserved to the most important members. The songwriting is quite simple, mostly based on acoustic music, to be played in church and it is also background to reading of sacred texts. The overall experience is quite alienating as all good cults should be while Jamie Myers vocals are sweet, versatile, really beautiful, I appreciated that are so different from the vocals usually found in occult acts. Genesis P-Orridge delivers readings throughout the album, giving the effect of call-and-response between priest and flock. I do not know the exact aim of this album, maybe it is just a tribute to the Church, but it is powerfully effective.
Rating – 80/100
Tracklist
Let Us All Give Praise and Validation

We Come From the One

Bless Our Lord and Master

We Give Our Lives

Exit

Christ You Bring the End

And the Clarion Calls

In the Time of Abaddon II

Transcendence

For the Love of the Gods
Line Up
Jamie Myers – vocals

Dave Nuss – guitars
Links
6 color styles available:

Style switcher only on this demo version. Theme styles can be changed from Options page.