Browsing articles tagged with " max"
Interview by Robin Stryker
Good things come to those who wait. In this case, a thirteen-year wait has brought the metal scene a lovely slab of eclectic tunes from Italian speed/progressive metal band, Darksky. Femme Metal chatted with Alis Bos to learn what happens when musicians with interests in classical, power, progressive, thrash, rock and pop come together.
Hello Alis, and congratulations on Darksky's full-length debut album "Where Angels Hide"! Is the album everything you hoped it would be?
Hello Robin, first of all I want to thank you for the opportunity of giving this interview. Concerning "Where Angels Hide" I can say I'm really satisfied … Even if it's already time for us to think about our next release!
Why did Darksky choose "Where Angels Hide" for the album's title?
We have chosen this title because it well reflects the concepts we talk about in our lyrics. These ideas are also emphasized by the cover of the album. The lyrics deal with important themes like sin, salvation, decadence and love. We liked the idea that even the purest being (an angel) could be attracted to human weaknesses, escaping from Heaven in order to hide in an unknown place. The listener should find this secret place!
The album includes a lot of different musical styles — progressive metal, speed metal, symphonic metal, gothic rock, and even a bit of electronica. What three words do you think best describe Darksky's sound?
Innovative, dynamic and… romantic!
What were the challenges of self-releasing an album like, "Where Angels Hide"?
Well, working on an album is not so easy and we made a lot of efforts (for executive production too!). Before the release, you can't even know if the people would appreciate it!
I can listen to "The Last Rose" again and again without ever getting tired of it. Which song means the most to you, and why? Do you have a favourite song to perform live?
The song which is nearest to my personality is "The Colour of Dreams" because at the beginning it is sweet like a ballad then there is a "strange" break and finally it explodes with a Metal ending. And I am like that!! My favourite song to perform on stage is "Lightstorm"!
The band was formed in 1997 by brothers, Francesco (guitar) and Max Diblasio (keyboards), as a male-fronted band. How did you become the vocalist for Darksky?
I have been part of Darksky since 2001, after the ending of my collaboration with Thy Sirma. I felt like doing something new, but always related with the Metal sphere. I liked Darksky's new compositions ("Crimson Butterfly") very much because they combined the power of Metal with melodic parts. We made some rehearsals and… here I am!
Did you always know you wanted to be a singer, or did you consider other paths for your life?
I would like to be a professional singer but… no strings pulled! (laugh) I think that my voice is my best quality; I was born with music in my own blood and I have always been quite in tune. But I started studying music late, at age sixteen.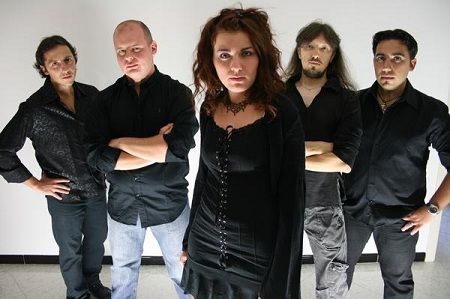 Would you please tell us a bit about your musical background and the backgrounds of the other band members?
My greatest luck was to meet a very special singing teacher: Carola Caruso. She built my voice, my own personality, and I want to thank her for this. I am still studying with Carola! The Diblasio brothers (Guitars and Keyboards) have a Classical/Power/Progressive Metal background. Davide Martinelli (Drums) comes from Thrash and Progressive Metal and our bass player Paolo Sciaresa loves Pop, Rock, and Metal in general.
Comparing the versions of "Lux Aeterna" on the mini-CD "Crimson Butterfly" (2005) and on "Where Angels Hide", the two versions sound quite different, particularly with the growling male vocals on the earlier version. Why did Darksky pick this song to re-record for the new album?
"Lux Aeterna" was the "Crimson Butterfly" song that obtained the best success. In the meantime, our line-up changed and musical evolution brought us to release it again in a lighter and more particular version.
In what ways did Darksky's music evolve between "Crimson Butterfly" and "Where Angels Hide"?
I think there is a big difference between the two works. "Where Angels Hide" is surely the result of a work done with higher maturity and consciousness. "Crimson Butterfly" is a "sharper" work in which we all were in the quest of our personality. In the new album we added some electronics and more catchy melodies. Moreover, the instrumental parts have been designed expressly for my voice.
When Alessandro Bertagna left the band, did Darksky consider getting another male growler?
In the beginning, we thought about it, but then, we understood that my voice was enough!
Having been in a couple of bands (S.K.A. and Thy Sirma) and provided vocals on Monumentum's "Ad Nauseam" album, how has your experience with Darksky compared?
They are all different experiences, but Darksky is the most gratifying one! In my past bands, I have always felt myself like a performer of somebody else's ideas … With Darksky, I can sing what my soul wants to express; so I can show how I really am and, in my opinion, this is the best union!
Andrea Stefanelli is a guest vocalist on the song "A Way Out for the Sinner". Did you know him from when you both recorded vocals for "Ad Nauseam" or some other way?
Andrea and me, we are old friends. We have known each other before the duet on Monumentum's "Ad Nauseam" album. I think our voices are on a pretty wavelength, so I like to sing with him very much. I hope we will have other common projects in the future!
You have been part of Italy's music scene for more than 15 years now. What are the biggest changes you have noticed during that time, whether good or bad?
There were not big changes in Italian scene… here in our country, you always have to fight. Abroad, the "Metal woman" role has had a big success in these years, so I hope we will get positive feedback and success in another country, sooner or later. In other countries, like England or the U.S.A., people are more into going to live shows, even if a band is not that famous. Sometimes, here in Italy you have to pay if you want to play live, and nobody cares about new and promising bands, overall if they come from Italy. There is a sort of xenophilia.
What are your goals for the future of Darksky?
We are already composing new tracks for the next album that will be a concept about man's multiple personality. The new thing is that, for the first time, I will write all the lyrics. And I am really excited!
Thank you for talking with us today, Alis! Do you have any parting words for your fans at Femme Metal?
I want to thank everyone who supports Darksky and listens to our music. I want them to know this is really important for me and the band. And thanks to Femme Metal for this opportunity and for the nice interview!
Links
MySpace * ReverbNation * Facebook * Twitter * Site
Label : AFM Records
Review by Tony Cannella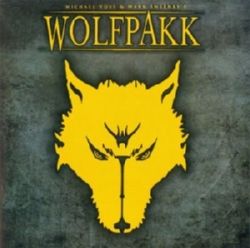 The talent assembled on the debut album from Wolfpakk is a virtual who's who of metal royalty. Wolfpakk is the brainchild of Michael Voss (ex-Casanova & Mad Max) and Mark Sweeney (ex-Crystal Ball) and for their debut they have lined up a serious array of talent. For 52-minutes you get straight-forward full-on power metal euphoria on Wolfpakk. The majority of the vocals are performed by Michael Voss and Mark Sweeney with contributions from the all star cast of singers and musicians. The opener "Sirens" sets the tempo with its high powered metal assault. The only female singer is Michaela Schober from Tanz der Vampire. She is featured prominently on the 3rd track "Lost" and does an outstanding job, in conjunction with the male singer. Other highlights include, the pounding "Dark Horizons","Slam Down the Hammer", "Let Me Die" and the epic "Wolfony" which closes the album. For the most part, the songs maintain a powerful melodic base and solid songwriting and musicianship. Even though you have so many big names on board, it doesn't automatically guarantee success, but fortunately, the material is pretty strong and on full display on Wolfpakk.
Rating – 83/100
Tracklist
Sirens
Dark Horizons
Lost
Slam Down the Hammer
The Crow
Wolfpup
Let Me Die
Reptiles Kiss
Ride the Bullet
Wolfony
Line Up
Michael Voss – Vocals
Mark Sweeney – Vocals
Paul Di'Anno – Vocals
Tony Martin – Vocals
Jeff Scott Soto – Vocals
Rob Rock – Vocals
Mark Boals – Vocals
Tim Ripper Owens – Vocals
Paul Shortino – Vocals
Mark Fox – Vocals
Michaela Schober – Vocals
Jean-Marc Viller – Vocals
Pearl & Molly Duncan – Vocals
Jgor Gianola – Guitars
Andy Midgeley – Guitars
Ira Black – Guitars
Torsten Koehne – Guitars
Doc Heyne – Guitars
Tommy Denander – Guitars
Nadja Kossinskaja – Guitars
Freddy Scherer – Guitars
Olaf Lenk – Guitars
George Solonos- Guitars
Alessandro Delvecchio – Keyboards
Ferdy Doernberg – Keyboards
Tony Franklin – Bass
Mat Sinner – Bass
Matthias Rethmann – Bass
Nils Middelhauve – Bass
Neil Murray – Bass
Barend Courbois – Bass
Gereon Homann – Drums
Links
Independent Release
Review by Luisa Mercier
I already knew Eilera and had appreciated their second album "Fusion". The following "Darker Chapters and Stars…" features the characteristics that made this band quite known in female fronted metal. A nice blend of prog, gothic, folk and extreme metal that you can hear since the beginning "Marching Towards Dawn". The drums are very martial as if they were really marching and spoken vocals plus synth make the atmosphere quite gloomy. "Don't Go Fight" has a powerful bass line which mixes with violin, guitars and Eilera vocals. She is quite unique in metal scene, since her voice would be more suitable for pop/electronica but once you get used to it, it is quite easy to enjoy it. In the end folk suggestions take the lead. "Fly" is a real prog track full of tempo changes and a cello can be heard in the backgoround, courtesy of Max Lilja, former Apocalyptica member. "Passport Please" is a short track but full of rhythm too: it starts gently to become much more energetic. Definetely pop/folk is "Lucie After War" and it fits perfectly Eilera vocals, while "Celtic" is indeed a celtic tinged song. It would have not sounded bad on an Enya album. Back to metal with "Slow Down Metal". The intro is very heavy and the song reveals itself as a gothic metal track with some atmospheric moments. Really creepy. "Rob My Soul" is again gothic metal with a lot of keyboards that acquires a symphonic, epic twist in the ending. "So What?!" is a song with a strong focus on vocals. Eilera is very expressive here and it is accompanied by powerful riffs and strings. The sample at the beginning of "At a +- Roads" seems coming out a Western movie and the song that follows is a mid-tempo with folk-symphonic elements. Last song is "From Pink to Black" is a power ballad with a nice solo in the middle. It gets heavier in the second half, never losing his emotional feeling. This album is definetely very, very varied. It spans from pop to celtic to gothic metal and I can say that it can be enjoyed by almost everybody out there.

Rating – 80/100
Tracklist
Marching Towards Dawn

Don't Go Fight

Fly

Passport Please

Lucie After War

Celtic

Slow Down Time

Rob My Soul

So What?!

At a +-Roads

From Pink to Black
Line Up
Eilera – Vocals

Loïc Tézénas – Guitar

Jan Sormo – Bass

Max Lilja – Cello (Additional Musician)

Laura Airola – Fiddle (Additional Musician)

Tony Canton – Fiddle (Additional Musician)

Yoann Le Gall – Drums (Additional Musician)

Jean Ferry – Drums (Additional Musician)
Links
Label : Profound Lore Records
Review by Luisa Merciwe
Grayceon is a three-piece progressive metal band from California that has just released its third album. To define them is quite difficult since their sound is quite unique: guitars, electric cello, drums and female vocals (sometimes screams) are the basics of their music style. You can think of something quite neoclassical, but it is not; they are quite heavy indeed. The guitar sound is close to doom metal since they are tuned down and create an interesting dissonance with the classical sound of cello. It is very apparent in the opener "Dreamer, Deceived" and in the 17 minutes-long "We Can". Softer moments are also present, "2 Shellmounds" for example, which features an acoustic opening and then goes on in a continuous mixing of instruments. Absolutely fantastic are the last two minutes with Jackie Perez Gratz vocals soaring over the song. She can be harsh or sweeter but her alto vocals will always retain a certain edge, they are deep, dark. Overall the album is pure sound, a ongoing metaphorsis of instruments that chase each other following scores written with an apparent taste for challenge and creative adventure without losing sight on good songwriting. Now we can try to label their music as epic heavy metal, decadent sludge, chamber prog metal, as everything you want to, but we must state that are Grayceon skills that make great this record, heavyness and sweetness combined.

Rating – 80/100
Tracklist
Dreamer Deceived

Shellmounds

We Can

Once a Shadow

Road Less Travelled

War's End
Line Up
Max Doyle – Guitar & vocals

Jackie Perez Gratz – Cello & vocals

Zack Farwell – Drums & vocals
Links
6 color styles available:

Style switcher only on this demo version. Theme styles can be changed from Options page.