Browsing articles tagged with " melodic"
Label: S7S Records
Review by Tony Cannella
On their 2010 debut album "Perversion LTD.", the Dutch melodic Gothic metal band Sin7sinS hit the mark with an impressive debut, now with their sophomore album "Carnival of No Tomorrow", the band has reached another gear.
The ominous intro to the opening track "Brimstone Ignition" gives way to some slamming guitars as the clean vocals of Lotus joins in. She is accompanied by some male vocals on this opening track. In addition to Lotus – who is the focal point of the band – she is surrounded by some solid musicians. The next track "Sick of You" is brimming with attitude and a killer melody; this instantly became a favorite. "Pornstar Love" keeps things on course and has an electronic vibe to it on parts of the song. Continue reading »
Interview by Ary R. and Miriam C.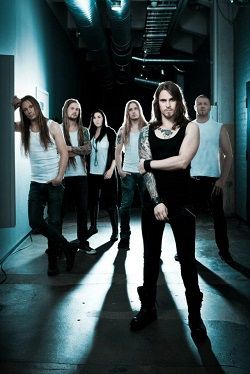 MyGRAIN is a melodic-death band from Finland. In these recent years, this 6-piece esemble gained more celebrity thanks to a few tours in Japan, Asia and especially Europe. After a long delay, the guys were able to release their 4th album via Spinefarm Records and in this exclusive interview, the singer Tuomas and the keyboard player Eve give us a few more details about the new record!
Hi Tuomas, hi Eve. Welcome to Femme Metal! First of all, I'd like to tell you that it's a great pleasure to have you here today! How are you doing there in Finland? 
Eve: Nice to have a chat with you as well! The leaves are falling to the ground here in Finland and the autumn seems to evoke a serious creativity boost… So we're working with the new songs already!
Tuomas: Hi there and thanks for having us! We're living exciting times as we're at the moment starting the Finnish shows with the new album "Planetary Breathing". And at the same time we've already made arrangements for yet newer stuff!
Interview by Laura Medina
What do you get when you mix five female musicians, one male drummer, heavy guitar riffs, and enchanting, mesmerizing beautiful melodies, you get Arven! Arven is the female-fronted melodic-metal band from Frankfurt, Germany that just released their sophomore album, "Black is the Colour" that is out now via Massacre Records. I had the complete and absolute pleasure and honor to chat with Carina Hanselmann of Arven to discuss Arven's new album, her memorable moments on tour, her three wishes for Arven and much more.
Hi Carina and welcome to Femme Metal Webzine! Thank you so much for allowing us to interview you today! I hope you are doing well today.
Hi Laura, thanks a lot for this interview. I´m fine, thanks !
Would you mind telling our readers a little about yourself and your band, Arven?
Continue reading »
Label: Secret Quarters
Review by Davide Torresan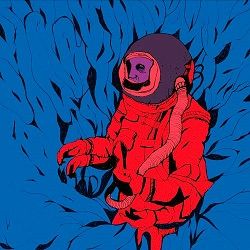 I have to say that it was a surprise to rediscover the duo Tom Simonsen and Cecilie Langlie in another musical project. Havnatt, Omit, Skumring…I have lost count! The most interesting thing is that each one offers a different sound thanks also to the contribution, in the case of Vagrant God, of another musician. In fact Kjetil Ottersen plays the guitar and the keyboard which definitely abound in this debut album. His name should not pass by unnoticed to the lovers of doom metal since he was  the guitarist of the metal band Funeral. And the name of our Norwegian band comes from the 5th track of their album "From These Wounds": Vagrant God.
Listening to Havnatt I wondered how Cecilie's voice could be in a metal band. Continue reading »
Label: Endless Winter
Review by Vard Aman
I have waxed lyrical before about well played Doom Metal, but as it's been a while let me remind you. Doom Metal is one of the most extreme forms of music around; slow, powerful, stirring, epic and dark. Doom Metal is usually associated with scenarios of despair, sombreness, emptiness and grief; but when played well, it creates an uplifting release through these scenarios: a blissful oneness with the despair and the emptiness. It opens the darkness up so that you may own it and rule it: the powerful, yet haunting atmospheric and melodic sound of desolation consumes you, and as it does so it lifts you up above it as its master and holds you there for as long as you are willing to be ruler of the darkened depths, instead of a mere overlooked unit in the overcrowded shallows.
"Farewell, your life erases me. Forever fail. Forever die…" Continue reading »
6 color styles available:

Style switcher only on this demo version. Theme styles can be changed from Options page.