Browsing articles tagged with " metal"

Interview by Tony Cannella
I suspect that in a few months I suspect that Diemonds will need no introduction. For now however let's present the members of this amazing band: Priya Panda (vocals), C.C. Diemond & Daniel Dekay (guitars), Adam Zlotnik (bass) and Aiden Tranquada (drums) comprise this hard rock outfit from Toronto. After releasing an EP ("In The Rough") and a full-length ("The Bad Pack"), the band found themselves with a well-deserved record deal with Napalm Records and have released their Napalm debut, entitled "Never Wanna Die". In my opinion this is THE hard rock album of 2015. It is loaded with great hooks, melodies and head banging anthems. Recently it was a pleasure to speak to lead vocalist Priya and discuss all things Diemonds.
First of all, thank you for doing this. I love the record "Never Wanna Die". Continue reading »
Interview by Tony Cannella
Hailing from Chile, Caterina Nix is a phenomenal vocalist. All the proof you need is on the debut album from Chaos Magic. The band also features none other then Timo Tolkki. It is the collaboration between Tolkki and Nix which truly makes Chaos Magic 'magical'. Recently Caterina Nix took some time to answer some questions for Femme Metal. It was a pleasure to give the spotlight to such an amazing up-and-coming talent. Here is what she had to say…
Welcome to Femme Metal Caterina and congratulations on the great debut album with Chaos Magic.
Thank you for having me!
How did you first meet Timo Tolkki and what led you to record an album together?
We met many years ago at a Stratovarius meet and greet here in Chile. I was always knocking on doors with my material and my music so I sent him a few songs and he liked my voice very much. Continue reading »
Interview by Miriam C.
I'll admit that this time was a demanding task but if you haven't understood I like to challenge myself and propose something out of the ordinary, well, first and foremost I must thank the guys over at Resonance Media especially Mr.Dave Cirone for make it happen for endless time and being so patient with me. Now, how I can introduce YOUSEI TEIKOKU to the ones that aren't familiar with this band? The anime aficionados (or J-Rock fans, anyway the lovers of the Japanese musical scene) already know that a lot of their songs are featured in many Japanese anime/videogames soundtracks and the easiest way to explain who they are is directly quoting the press release: "YOUSEI TEIKOKU is a heavy metal band whose music mixes gothic rock, metal, electronic, and classical music with themes of fantasy and power" but I think it's not thorough this definition because YOUSEI TEIKOKU is something more, it's a parallel world where dreams and fairytales live so, at this point, I prefer let speak the Empress of the Fairy Empire herself for present their 6th album "SHADOW CORPS[e]" out on Lantis now. Join us in this magical Japanese journey… Continue reading »

Interview by Tony Cannella
If people think that life on the road is all glamor and fun and no worries, you will think differently after reading about the plight of Conquer Divide. The band is currently on the All-Stars tour, a tour that the band almost saw derailed due to van and financial difficulties, but Conquer Divide soldiered on and managed to continue with the tour. Their self-titled debut is out now and is one the most ferocious and relentless debut's I've heard in quite some time. Not only that, but the band proved to be an excellent live band as I found out when the tour stopped in Worcester, Mass. At the famous Palladium. Following their (all too brief) set I had a chance to talk to the two singers Kiarely (clean vocals) and Janel (screams) – the band is completed by guitarists Kristen and Izzy, bassist Sarah and drummer Tamara – and that in and of itself was an experience. The two vocalists gave a great interview and were a lot of fun to talk to, they also gave great insight into what life is like on such a high profile tour. Continue reading »

Interview by Miriam C.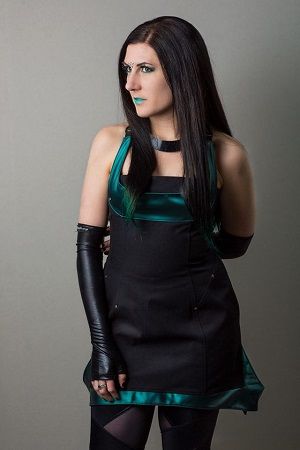 Three years later the release of "Manticore and Other Horrors", Cradle of Filth comes back with a brand new effort that, music-wise, brought us to the golden age of the band and it introduces us this "Hammer of the Witches". For the occasion, Femme Metal wants to offer you an exclusive interview with Lindsay Schoolcraft, the brand new keyboardist of the English combo and she reveals us something about the genesis of this new, dark record.
Hi Lindsay and welcome (back) to Femme Metal. It's a great pleasure for us to host you here today. How are you doing?
Hey! Thanks so much for having me. I'm ok thanks. Just getting ready for our dates.
Let's talk about the brand new Cradle of Filth album, called "Hammer of the Witches". Would you mind giving us a little, short description of this record?
Well, we started working on it early 2014 just before the European tour with did with Behemoth. It took us about 14 months between tours and we did it mostly over the internet, but we made it work. Continue reading »
6 color styles available:

Style switcher only on this demo version. Theme styles can be changed from Options page.