Browsing articles tagged with " metal"
Label: Rise Above Records
Review by Warren Mayocchi
Big riff laden heavy seventies sound. This album is awesome. I love listening to bands that I have not heard from before, will it be a sonic surprise? At best the discovery of new artists is an experience of absolute joy. Lucifer have pleased me greatly with what they have done on their debut album. They have called their first album, in what may be a small tribute to Led Zeppelin, "Lucifer I". On their Facebook page the band give themselves a genre of "Heavy Magic Rock", in other places they are labeled as heavy/doom rock. I think the former is more appropriate, though there is a sense of doom in the band's name and some of their lyrical imagery. There is also a haunting element to the vocal style of their lead singer Johanna Sadonis, but together the band are simply playing up a musical masterpiece. However you classify them, this is a band that plays heavy rock extremely well. So compliments to Dino Gollnick on bass and Andrew Prestidge on drums with Garry Jennings co-songwriter/studio guitarist. Continue reading »
Label: Spinefarm Records
Review by CriX
"Legacy 1998-2014″ is the swansong of the Finnish band Lullacry. For me it's still hard to think that this band ended its career, they had an important role in the female-fronted heavy metal and the fans will never forget them.
This 2-CD compilation was released back on May 2014 via Spinefarm Records and the set include lots of special material like previously unreleased tracks and live recording. In this article we have only reviewed the first CD, although the review can result somewhat partial we've tried with all the efforts to offer you a nice point of view of what this release can be. So after this clarification, let's  start with the single "Hell on High Heels", a catchy track with true heavy metal riffs. "Don't Touch the Flames" is probably one of Lullacry's most famous songs , great guitar lines, captivating voice and everything else work just perfectly. Continue reading »
Independent Release
Review by Warren Mayocchi
"Obscure Illusions" is an album that has been incubating for a long time. Ethernity was formed by brothers Julien and Nicolas Spreutels and their cousin François Spreutels in the year 2000. Since then some of the songs on "Obscure Illusions" were released on demos produced in 2005, 2008 and 2010. So, even though this is a debut album, the band have been together and performing at gigs, music festivals, and supporting other bands for literally years. According to the band, they spent four years to find their lead vocalist in 2005 – Julie Colin. The final two members of the band are Thomas Henry who joined in the early days and Gregory Discensa who joined in 2007. It is obvious that Ethernity like to play powerful metal, and I can imagine them playing in front of large enthusiastic audiences. Perhaps it has been their live music fans that have kept them from the studio all these years. Continue reading »

Interview by Ary G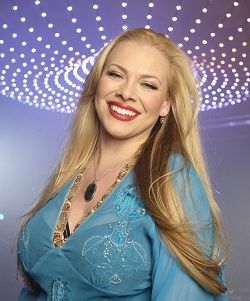 The corresponding commitments seem not to stop the couple (only in professional terms) Kiske/Somerville, that, after almost five years of silence, comes back with the second album of this project. On the occasion of the upcoming release of "City of Heroes", we had the opportunity to have a chat with the beautiful Amanda Somerville about future plans and this brand new, highly anticipated record.
Ciao Amanda

Ary's here! Welcome back to Femme Metal.net! First of all, I'd like to congratulate with you and your husband and I'd like to congratulate for the baby!

We've discovered that you'll be a great mom so congrats, really I guess you're super happy!
Ciao Ary! Thank you for having me once again.

And thank you for the well wishes! Yes, Sander and I are very happy. Continue reading »
Label: Napalm Records
Review by Warren Mayocchi
Kamelot have a distinct sound and on their second album with their new singer Tommy Karevik the sound remains. This is the third time that I have attempted to write this review. I have been having problems because the individually the songs sound better than when listening to the entire album. After some thought, I think that with the removal of a few songs the album would be stronger and allow the greatness that is present to shine. Too many of the songs are too similar and lyrically there are some awkward lines both in how they are sung and in content. To my ears there are also moments where the transition between symphonic and metal elements seems forced. So as an experiment, which songs to remove? I remove "Liar Liar", "Veil of Elysium", and "End of Innocence" and listen again. This took out the sameness and the lyrical content that did not work for me. Continue reading »
6 color styles available:

Style switcher only on this demo version. Theme styles can be changed from Options page.