Browsing articles tagged with " metal"
Interview by Tony Cannella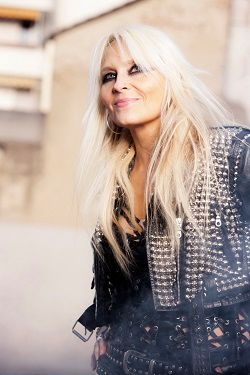 Doro Pesch
is a true rock warrior. For over 30-years she has navigated the often bumpy terrain that is the music business. As the world of hard rock and metal came in and out (and in again) of vogue she has never wavered and never stopped battling for what she believed, and perhaps more importantly she has remained one of the most grounded, down-to-earth, approachable and nicest people in the music business. As she prepares for a North American jaunt Doro was kind enough to take a break from her busy schedule and talk about the past, present and future. I want to thank Doro for taking the time to talk on such short notice.
Let's start by talking about your upcoming U.S. shows. What can you tell us about it and what can the fans expect?
I'm super excited to come back to the U.S. again and Canada! We will be performing a highlight set and actually we will let the fans choose our set-list. We have a poll on our web site so the fans can decide which songs they want to hear. It's entirely up to the fans. The highlights, I would say like "All We Are", "Burning the Witches", "Raise Your Fist" will of course be played, but maybe some rare songs or songs we haven't played in a long time will maybe pop up in the wish list, so I'm excited about that. Continue reading »
Label: Bakerteam Records
Review by Vard Aman
Tantal was formed in 2004 in Moscow by guitarist, Dmitriy Ignatiev. A year later they were joined by vocalist, Sofia Raykova who took care of both clean vocals and growls. In 2007, the released their highly acclaimed debut album "The Beginning of the End"… and the rest, as they say, is history. Well, not quite: Sofia left in 2011 and was replaced in 2013 by Milana Solovitskaya, who now takes care of the clean vocals. Oh, yes… and after 3 years in the making, they have now recently released their new album, "Expectancy". They play a intricate fusion of Melodic Death Metal and Progressive Metal and have mastered it in a way that few bands have. Their sound has also evolved: "The Beginning of the End" was a more brutal Death + Thrash + Melodic Death + Progressive fusion, while "Expectancy" is more refined, less brutal, with the Melodic Death Metal + Progressive edge coming to the fore. Continue reading »
Independent Release
Review by Tony Cannella
Sacred Groove is a melodic hard rock band from Germany. They were formed in 2006 and released their first demo in 2009. In 2011 the band released their debut album entitled, "Needful Things". Sacred Groove offers up a debut of 10-songs and 52-minutes worth of guitar oriented hard rock with vocalist Isabel Willenberg out front with her angelic vocal delivery.
"Needful Things" gets off to a great start with the two best songs. "Angel in the Sky" and "Waking Dream" is both excellent. They are powered by some fantastic guitar work from Dennis Meivogel and he does an excellent job throughout the CD. "Unholy House" keeps things going in a positive direction. Songs like "Nature of the Beast", "She Braves the Storm" and "Needful Things" are well written, produced and performed. Continue reading »
Interview by Miriam C.
It's written Death Penalty but it's pronunced Cathedral. No, peeps you're not misreading 'cause in DP's ranks hides Mr.Gaz Jennings, one of the former members from the doomsters UK's maestros Cathedral. Well, time ago Jennings declared to the media that he "didn't have any intention of getting another band together" but apparently it seems that he doesn't want to give up for real. Supported by his Belgian companions, the band published on September 16th, 2014 via Rise Above Records their selftitled debut, so the frontlady Michelle, took some time to reply to our question!
Hi Michelle, first of all, welcome to Femme Metal Webzine, how are you?
Hey there! Thanks for having me. I'm doing pretty well.
So, on 16th September 2014 Death Penalty is debuting with its selftitled album, how do you feel (probably) to have accomplished a major goal in you life and how the press is reacting? "Death Penalty" is already gaining some fantastic reviews.
Continue reading »
Interview by Vard Aman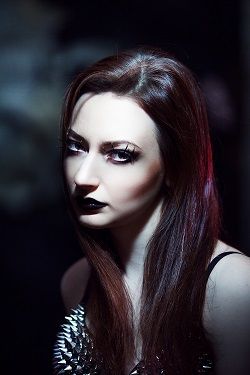 Well crafted, with superb songwriting, arrangement and lyrical skills, Sanctorium is a band whose art has grown and matured with time and patience (not unlike, as the saying goes, "a fine wine"). Having recently released their debut full length album "The Depths Inside", I caught up with Sanctorium's vocalist, Daria Zhukova.
Hi Daria, welcome to Femme Metal Webzine! To start off, how and when did Sanctorium start and how did you all meet?
Hello! Well, Sanctorium was founded in 2005 by guitarist Victor and drummer Andrew. They had been already played together, and after previous project decided to form a new band. I joined to band in November, and guys have started in July. We had met with Victor for 2 years before on guitar courses. The funniest thing was that fact, that I've started to sing seriously only since September 2005! Nevertheless I was accepted into band, and I'm still grateful for that. Continue reading »
6 color styles available:

Style switcher only on this demo version. Theme styles can be changed from Options page.
Archives