Browsing articles tagged with " mfvf"
Interview by Marc "Peston" Sels

Kivimetsän Druidi is a Finnish band that plays folk/gothic metal. The name means The Druid of the Stone Forest. In 2008 Leeni-Maria Hovila (ex-Exsecratus) joined the band and they recorded their first full cd, "Shadowheart". At this moment (November 2009) the band is on tour in the States and Canada, together with Eluveitie (Swiss), Belphegor (Austria), Alestorm(UK) and Vreid (Norway). Normally the new cd will be released in April by Century media. I had a short interview with the beautiful lead vocalist Leeni-Maria.
Hello Leeni-Maria. How is the American Tour going?
So far so good. We seem to have been a success allthough we had to make several shows without Joni – he's got the swine flu or something. Since we have been selling an increasing number of CD's and shirts regardless of his absence, he has said something on the lines that he's "never coming back, you guys do just fine without me. I'm going to be your manager or something". D, not likely, heh. OK. He'll be back on stage in San Antonio.
Can you tell us how you became the singer of Kivimetsän Druidi?
They called me. I was currently the vocalist of Exsecratus and Kivimetsän Druidi's manager had made a review of exce's first album so when Druidi wound up needing a new female lead, they basically called me at work. This was, I recall, spring 2008.
The first cd was mostly in Finnish. Don't you fear this may be an obstacle for fans outside Finland ?
So, one would think but no one has ever actually bothered to tell us so. It doesn't seem to be any problem to anyone. Record company has said nothing on the matter, quite the contrary. I remember them being supportive about the matter. Fans mostly come to tell us that they've self-studying Finnish to understand the lyrics first hand.
I saw you at the Metal Female Voices Fest this year and I found Kivimetsän Druidi one of the most impressive bands of the festival. How did you experienced it?
MFVF was certainly one of the biggest and best organized festivals we have ever been toand it felt like the perfect audience to us although we felt we were definitely heavier and more extreme than most acts there. And Brussels was a great city – we had a day off there afterwards because of flight arrangements.
A whole lot of bands are from Finland. Is there a reasonable explanation for it?
It has to be that dark nordic mentality.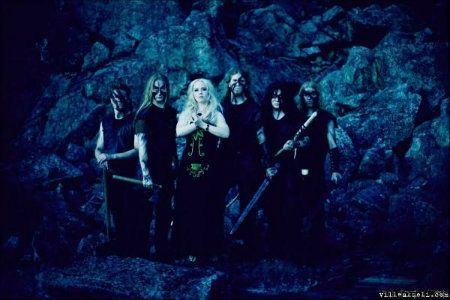 In your bio you mention Floor Jansen as one of your influences. What is your favorite cd of After Forever, and why?
"Invisible Circles", which is a great performance of switching between the styles.
Women are more and more placed as the face of a band. Doesn't that divert from the music?
It depends what they're there for. It depends on whether they go there to divert from the music or make it. There's nothing wrong with having a great rack and a pretty face. You still don't have to sell with them.
Can you tell us someting about the upcoming album, or is it top secret?
Well, it's going to better than the first.There's going to be songs composed and lyrics written by more members of the band than before. It's going to have so much variety it's actually a little horrifying. It's hopefully going to be out sometime late next spring, I think in April. It's going to kick ass!
Do you prefer to sing live on stage, or recording songs in the studio?
Augh!! Sometimes I hate them both, other times I love them. They are so different situations with such different sides that you really can't even compare.
At last, what are the plans for 2008?
Release the album. Promote the album like our lives depend on it. Tourish-kinda-things would be nice. Another Europe, maybe? Start making new songs for so far hypothetical number three, early enough so we won't be slightly buggered with it, as usual.
Thanx, and give my regards to Santa Claus!!!
I'll tell him to be nice to you this year. All the best, Leeni-Maria.
Latest Multimedia
Links
MySpace * Facebook * Twitter * Site
Interview by Marc "Peston" Sels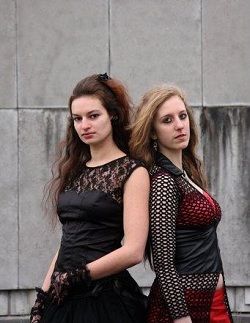 Sad Siberia is a gothic metal band from the French speaking part of Belgium. In November 2008 they had a serious change of bandmembers. Singer Laetitia, Jean (Bass) and second guitarplayer Nico left the band and were replaced by Jamie Lee on vocals, Christophe on guitar and Gaelle, new on keyboards. She's with her that I had this interview.
Sad Siberia has changed a lot. Did the change of musicians had any influence on the music? (Do you play harder, softer, more keyboards-orientated?)
Yes, of course! Each person has her own way of playing and has different influences. On the new songs we have written the last months I write my melodies, and I bring my own sound to the band. With three new members it's logical that we can notice some changes in the interpretation of the old songs, but also in the music itself.
How did you become a member of Sad Siberia?
I'm always looking for new experiences, and as the band was looking for a keyboardplayer, I've contacted them. And here I am, in Sad Siberia.
You also play keyboards in Valkyre. Isn't that hard to combine?
Not really. Valkyre has made a break for one year, looking for a new singer and a new drummer, so I had all my time to give to Sad Siberia. Now Valkyre is back on stage again, I still manage without problems to combine the two bands. I live for music, so two bands is not too much.
Can we expect a new cd in 2010?
A CD I don't know, but an EP, I think so. It's time in 2010 that the audience can hear the voice of the new singer, Jamie Lee and our new songs, but the priority of Sad Siberia is first to perform live and to compose in order to present some good material.
You're taking part in the Metal Female Contest at the Biebob. If you could play at the Metal Female Voices Fest in October 2010, would you see that as a step forward?
I've played there in 2007 with Valkyre (and they weren't bad at all, M.S.), and it really was a great experience. I would be glad to play there again in 2010 with Sad Siberia. Yeah, I think, for a band it would be a step forward. 2009 has already been a new beginning for the band : we've played at Raismes Fest in september, and the band has progressed a lot after this event. The Belgian scene now offers more and more good metal bands, and, in my opinion, Sad Siberia is one of them. So if MFVF could be on our road in 2010, that would be a fantastic opportunity.
Are there any plans on touring or playing some festivals in 2010? If yes, which festivals?
Yes of course, we love being on stage and many shows will be announced soon. As festival, we'll be playing at the Anthinoises in April 2010. Our next show will be in the north of France, on the fifth of december with Rozz, and we'll perform in Antwerp on februari 6 with Amartia and Skeptikal Mind. But check our MySpace to see all the events!
How did you find of the first Sad Siberia cd?
Difficult to answer…I really like the strong voice of the former singer who was singing on it. Today we play 5 songs of this album live and I like them! Sorry, I can't tell you more about this CD.
Links
Interview by Marc "Peston" Sels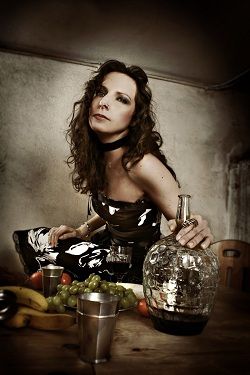 Elis is a band from Liechtenstein and was formed in 2003 after the split from Erben Der Schöpfung. In 2006, on July 8, their vocalist Sabine Dünser died of a celebral hemorrhage. She was replaced by Sandra Scheleret, well known as guest-singer on some Samael-cd's and ex-vocalist of Dreams of Sanity. It is with this Austrian musician that I had this interview.
How is the Beauty and the Beast tour going?
The tour was really nice! I think it is very rarely that you have so many nice people together without any exception. We enjoyed it a lot. I even had the chance to join Atrocity for the tour as a guest vocalist. This came very surprising as it was a spontaneous idea, but I had lots of fun.
Can you tell us something about the new album "Catharsis"? Some favourite numbers?
"Catharsis" is very important for me, the reason is that it is like a new chapter, a new beginning for me. About a year and a half before I joined Elis I got the diagnosis Morbus Hodgkin which is a kind of lymph node cancer. In the months that followed I had to go through chemo- and radiotherapy, and it was a very hard and harrowing time for me. I completely changed my way of living, and since then I see things totally different. When I started working on the vocals for "Catharsis" all these feelings broke their way to the surface, and so most of the lyrics are very closely connected to what I experienced at that time. All songs are very dear to me but I guess my favourite numbers are "Firefly", "Mothre's Fire" and "Das kleine Ungeheuer".
Was it hard to replace Sabine, emotionally and musically talking?
Yes it was hard, I think for all of us. When somebody passes away so young and so unexpected it is hard to continue. Although we really liked eachother a lot from the beginning on, for me it was difficult to find my own place in the band, and for the guys it was hard to start a new chapter. We took some time to find together. Musically wise it was not that difficult because Sabine's lines are nice to sing and her lyrics touched me a lot, so I feld connection to the songs very quickly.
Is it easy to produce the same sound on stage as on the albums?
No, I wouldn't say so. In the end it is very difficult to get a good live-sound. Mainly it depends on the sound engineer, and we are not often able to bring our own one.
"Griefshire" was a concept CD. Isn't it difficult to play some songs live, or don't you use these songs on stage?
We are playing the "Griefshire" songs life, but never in the context of the concept. It is not so difficult because we see each of them as an indipendent individual, with it's own message. For example "Show Me the Way" has a great statement.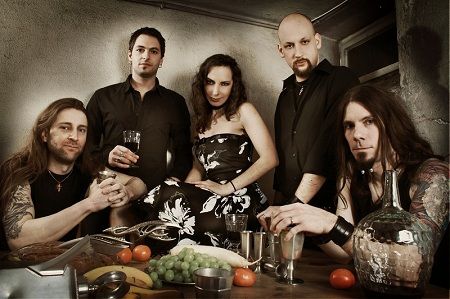 With the digipack edition of "Catharsis" comes a DVD from the gig at the MFVF 2007. What memories you have of that festival?
It was very touching because the audience welcomed us so well. The were happy with us that Elis is back on stage again, and we felt very comfortable that evening. I'm happy that this was the concert that was recorded for the live-DVD!
The band keeps the tradition of putting a few German songs on the album? Do you think non-German fans can enjoy this?
We hope so! Just see how people can enjoy Rammstein…hehe In the end the German language simply has a very different sound than English and it is tempting to use it as a stylistic device.
You also sing in Siegfried. How do you keep both bands apart?
As Siegfried was not so active in the last years there was never any problem for me. It is just coincidence that both albums were released at the same time. I do not do the lyrics for Siegfried and just contribute some vocal lines, so there is no "creative problem";). It is very nice to have the chance to show also another side of my voice, and the guys from Siegfried are really cool people, we have lots of fun when we are working together!
Is Elis, like a red somewhere, from the Greek Elis, land of Helia, or is there another explanation?
The name comes from the poem from an Austrian poet (Georg Trakl) "An den Knaben Elis" (to the boy Elis). Sabine made a successful song about this when she and the guys still were calling their band Erben der Schöpfung. They then decided to rename the band after this song.
What are the plans for 2010? Touring? A new cd? Etc…
So far nothing concrete but we are working on this! Touring would be very nice and of course we have to work on new material.
Links
Interview by Erwin Van Dijk
Forget all those Cristina Scabbia & Lacuna Coil look-alikes from Italy. If you want to hear some old sckool metal from that country that would make Doro or Sabina Classen proud you should give the band White Skull a try. No soprano vocals or sweet elven maidens onstage with this band. I saw White Skull a few years ago at the Metal Female Voices Fest and they were one of the highlights today (the others were Girlschool and Izegrim).
Did you always wanted to become a singer?
Well, from what I can remember, when I started listening to heavy metal music I was about 16 years and I imagined myself running on a stage like Bruce Dickinson, hehe! That's probably the dream of many young metal heads. Btw, then I started learning guitar and I found my own style on vocals just many years later.
Did you have any other bands before White Skull?
Yes, but as I said before, I was playing guitar. I played in some underground bands of my town, sometimes on guitar, later on vocals, and sometimes both on guitar and voice. Everything is good to make experience!
Who are your favourite singers?
Bruce Dickinson, Bobby Blitz and Ronny James Dio.
And to what kind of music do you listen yourself?
I love and listen mostly to thrash metal ('80s Bay Area bands) and classic heavy metal like Iron Maiden and Scorpions.
What are your other passions besides music?
I love reading books and watching horror films. I like being scared!
And is it difficult to combine White Skull with your personal life?
No, luckily my job gives me the chance to plan my time in an independent way.
Besides White Skull you are also busy with your mail-order shop (see www.over-zone.com). What made you decide to start your own mail order shop specialized in old school metal stuff from the eighties?
Thanks for the question about it. I'm into the '80s style since I was young and I also worked with a business partner in a rock-metal shop for several years. After making enough experience in it, I was in need of independence and I also found out that she wasn't the right person to share my work with. So I opened my own on-line shop and finally I could put my own style in it! It's been a great satisfaction and I hope to support the old school style as long as possible, also for the young generations.
Do you think that metal as genre and life style was better in the eighties than today?
Surely it was better in the eighties. Everything was new, and you had to make sacrifices for your passion in Metal. Now everything is much more simple, you can find everything on-line, Mp3, information, shops… So it's also less strong than before. And then, today many pubs and clubs are closing or just stopping to let bands play. It's very sad!!
Unlike most female singers today (who try to be the next Sharon den Adel or Cristina Scabbia) the way you sing is more in the style of Sabina Classen from Holy Moses. Since this is not the most gentle way to tread your vocal cords, what do you do to keep your voice in top condition?
Yes it's not a gentle way at all, haha. I'll be honest I'm doing very few things for it: just concentrating in the right breathing and rehearsing at home to find the best position of the sound in my mouth or head, or nose.. I'm sorry, I haven't got time for vocal lessons at the moment.
How did you became a member of White Skull?
Oh, totally by accident! I wasn't following the band in the last times, so I didn't know that they were searching for a new vocalist. One night I met Danilo in a pub and he just asked me what I was making in music now. He only knew that I was playing guitar in some local bands but he didn't know that I was singing too. So he simply asked me to make the proof with them.. I did it one week later and here I am.
And since you are not White Skull's first singer, was it necessary to adapt the songs to your voice?
Of course it always happens, when one vocalist comes after another (or two!!) and he has to perform songs that he hasn't composed. That's a old story! I've tried to do my best, but it's natural that I prefer singing my own songs, I haven't got problems in telling it.
What are the most memorable moments for you with White Skull?
We are a band and a family as well, so every time we go out and play, we have very good time together, in total harmony and fun. I can remember when we played at the MFVF in Belgium. We arrived to the place the day before playing, so we had all the day and night to relax and touring around Bruxelles. It was like a little holiday and we really had fun (especially with food and beers!!)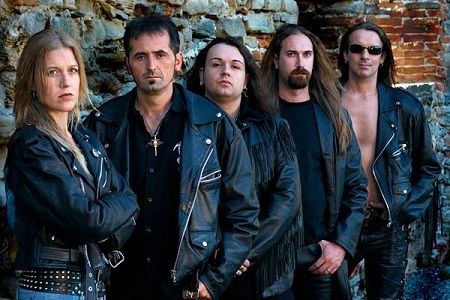 I have seen White Skull only once, at the Metal Female Voices Fest of 2008. How do you look back at that festival?
Oh, I didn't read this question when I told you about it in the previous one!
No problem

As I told you, we really enjoyed that little tour and also the organisation of the Festival has been good and kind with us. I only have to say that we were the only True Metal band, that day. The other bands played mostly gothic or doom or some new metal, that's not my genre. It seems difficult to find female metal bands in classic heavy metal! Luckily at the end came the Girlschool with their funny and old school rock'n roll, hehe.
Can you introduce us to the other members of White Skull?
Tony Mad (Rhythm Guitar) and Alex (Drums) are the founder members of the band. Later, after other mambers, came Danilo Bar on the solo guitar and me on voice and finally Jo on bass. During the story of the band there have been several line up changes. For example, Alessio Lucatti (Keyboards) has just left the band due to employment purposes. It's not easy to find the right people to play with, sometime for personal reasons, other times for a different style in composing ad taste in music, or simply for problems in the job. Now we hope to last many and many years like this!
Who is responsible for the music and lyrics in White Skull?
The music is composed by all of us, sometimes all together, other times working on one's idea or riff. When each song is ready I write the lyrics and the melody for the voice.
And were do you and the band get the inspiration for the songs?
We all listen to metal since years and years, so I think that our inspiration comes in a natural way from all the bands we love. Though, 'cause we have different taste in music (I'm mostly into thrash metal, for example), at the end everything mixes together and that's the way how the White Skull current style was born.
"Forever Fight" is White Skull's latest album. Is "Forever Fight" a concept album or are it thirteen individual songs?
I'd better say that they are 13 different songs, linked together by the same historical period (the end of the Roman Empire of Occident). Some of the songs tell about the same story (for example, "Boudicca's Speech" is the prologue of "A Mother's Revenge" and other songs talk about Attle and the Huns). But in the end it's not a real concept album.
How did the press and the fans received the album?
Well, I can honestly say in a good way. I'm happy about the result. Of course there will always be who prefers the old WS style or members, but it's natural and it's not a problem. Everyone has his own taste in music and you can't say anything, everybody is right. The important thing is that fans come to our shows and at the end they are really happy and come to talk with us with much excitement. And this is the biggest satisfaction for us!
Since "Forever Fight" was released in 2009, are you already working on a new album?
We've been busy with the live shows since now, so we're planning to start the new album around this summer but with no hurry. There's nothing worst for a musician than being late and having to write songs as quick as possible. We also live in different and also far cities, so it's not easy to meet each others and play together, so the times are a little longer than normally.
If you look back at "Forever Fight", are there things on the album you would have done different now?
This is my first album with WS and I'm much attached to it. So, even if nothing is always "perfect" and you could always improve it, now I wouldn't change a single note in it.
And what are White Skull plans for the future?
Going on with the live shows and starting the composition of the new songs as well.
And the last question: is there anything the reader should know that I have not asked?
Oh you've already asked a lot, hehehe!

One can never ask enough questions

I can only add that WS is a band with a strong passion for the true heavy metal and we do nothing if we don't like it in that moment. We've done sacrifices like many other Italian bands to have the chance to play around, in a bad period for heavy metal music. Our only interest is passion and not business! Keep the Metal alive, guys.
Links
MySpace * ReverbNation * Facebook * Site
Latest Multimedia
Interview by Marc "Peston" Sels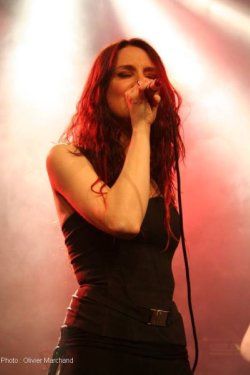 Anachronia is a Melodic Progressive Metal band from the north of France (Lilles) and they just released the second album called "One Second Before". Following now is an interview with leadsinger Fay.
Can you give us a short history of the band, and introduce the current members to us?
The story of AnachroniA begins some 8 years ago with a male singer, then a female singer.
Thanks to an ad at the university, I enter the band in 2004 when the 4 childhood buddies were about to register the first album.
The band was composed of a bassist, a drummer, two guitarists, a keyboardist and me, joined for a while by a male singer.
Because of musical disagreements, the bassist and the keyboardist followed their own way.
Today, we are six members : a "shouting" singer Zwayn, me, two fresh new guitarists Adrien and Ben, the same drummer Djp and Fab the new player.
Your first CD, "The Endless Agony", was released in 2004. Is 6 years not a long time between the two cd's?
These last 6 years, many changements happen. In our lives – end of our studies, first job,- and in the band – different lines up, new will. It's sure a long time for the audience in a world where new bands appear every day. However, we're still surprised to see that some people wait for us and are ready to accept the evolution of our style.

You've played already at the MFVF in Wieze, wouldn't you like to come back once more?
We already played twice in MFVF and it was a great pleasure. Nethertheless, we'd like to play in festivals where we would be considered not like a "female" fronted band (I'm the only girl among five boys!) but simply as a metal band.
What was the weirdest place you have ever performed?

In a big plane shed! A plane was suspended right above us and I was always watching it as it was about to fall on us! I was in a ridiculously short shirt (in middle of winter!) and it was freezing like hell! I was crying because i wanted to keep my coat and scarf on me and my nose was red! Really sexy!
How is the new cd selling? Is there a difference between the American, the Asian and the European market?
It sells really well considering we haven't been onstage yet, we've waited 6 years and it doesn't benefit of a lot of promotion outside of the French market. But our label Great Dane does a great work with the network of Season of Mist to distribute it in Europe. Moreover, MySpace and the internet bring us new fans all over the world.
I think that asian, american and european market are more opened than French market. France is not really in metal, not rock n'roll you know.
How's the metal-scene in France? Any interesting new bands we have to keep an eye on?
French metal bands are not really well received inside our frontiers. Indeed, as we are near Belgium, metal fans prefer to go and see the concert in there. Most of the bands play in bar.
There's a rising of gothic/female fronted bands who meets success in France. I think that they make people dream. But i'd keep an eye on "male" bands like Klang who propose a more energetic and "fresh" music.
A more macabre question : wich band would you like to play at your funeral? And why?
The Birthday Massacre! LOL. I love their music and world. I want something funny, energetic, i don't want something sad where everybody cries. People should think of the funny red hair girl.
Are there any singers/musicians/writers/filmmakers you admire?
Not in order: Tory Amos, Sharon Den Adel, Howard Jones (Killswitch Engage), Benjamin Burnley (Breaking Benjamin); Marc Lévy, Dan Brown, Laurell K. Hamilton, Patricia Briggs; Christopher Nolan, Tim Burton, Luc Besson, Disney … There are new ones every day!

This year it is 40 years ago Jimi Hendrix and Janis Joplin died. Have you got some heroes who didn't survive the "rock-life"?

I'm not the "groupie" kind, so I wouldn't talk about "heroes" but i'm always sad to see gifted artists and so many others who burns their life so early.
The paradoxe is that their madness or addictions were part of their talent.
Do i dream of the same life? Dying in glory days?

Not at all. I'm not a "Achille", I prefer to live a long Time without glory than being famous and die fast. But I understand well what means passion for art or music and the solitude and depression it can brings.

British tabloids are paying people to tell false stories about the stars. Are there any stories about you going 'round that are completely untrue?

Fortunately, we're not at this level! Smile. It's a good thing. Moreover there are enough evil people who like to bad mouth. Whatever i accept the critics about my work but it's never cool to hear someone treat your work like s*** just because it's not their style or because it's not like something or something else. The best I heard is "AnachroniA is like a tuna mayonnaise sandwich with too much mayonnaise". Well ok…, I love mayonnaise!

What are the plans for the future? Can we see you on stage soon?

Make the promo of the album, of course. We are going to make a video clip or two for the new songs. Some concerts are planned from November in the north of France (one with Benighted Soul) and our label plans to organise several ones in France in 2011.
We hope to participate to some festivals this summer. For the rest, we're ready to any offer!
Any "famous last words"?

First of all, thank you for your attention! Hope that fans and new comers will like this new album. Prepare your ears, AnachroniA is back. See you soon!
Links
6 color styles available:

Style switcher only on this demo version. Theme styles can be changed from Options page.