Browsing articles tagged with " miriam"
Label: Anko Music
Review by Tony Cannella
The Italian aggressive metal band Viper Venom has been in existence since 1999. After a few demos they released their debut EP in 2009 and now finally have issued their full-length debut "In Venom Veritas". Musically and lyrically Viper Venom are not known for their subtlety and "In Venom Veritas" is just a powerful and uncompromising release that mixes heavy metal with thrash and hardcore grooves.
With song titles like "Soul Embolism", "Venereal Disease", "Schizophrenia", "Coma", "Infected Scar" and "Angina" I am beginning to sense a theme with the lyrics. I'm not sure if this would be considered a full blown concept album, but a lot of the lyrics seem to deal with different types of sickness and diseases. Musically, Viper Venom – which is now a trio – delivers some aggressive music to go along with their lyrical subject matter. Continue reading »
Interview by Miriam C.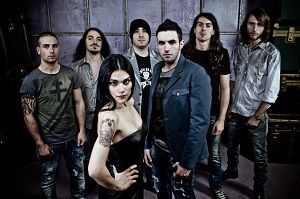 Commercial choices sometimes are a little pandering and they cannot and must not be discussed, as it's necessary for the success of a whole project. Pursuing The End from Italy is the perfect example of this, due to the change in the music sound, now based on the metalcore genre. We had the pleasure to exchange some chats with Giacomo and Chiara, the singers, that explained us the latest news about their band.
Hi Chiara, hi Giacomo, welcome to Femme Metal. Let's begin our chat talking about your debut album. It's called "Symmetry Of Scorn" and it'll be out soon. Would you mind sharing some details with us? Let's start from the album title… Continue reading »

Interview by Ary R. & Miriam C.
After almost two years, a lot of gigs worldwide and some personal satisfaction, Serenity finally comes back with a new album, great news and a lot of passion for music itself. We got the chance to talk with the mastermind of this Austrian band and with the new permanent bandmember Clementine Delauney about this release, which also reached a new goal in the music career.
Hi Georg, hi Clemi. Welcome to Femmemetal.net. How are you doing?
Clementine: I'm fine thanks! Still so happy about how our first headlining tour went! I'm also very glad about all the highly positive reviews and reactions we're getting about our last record "War of Ages"! Continue reading »
Interview by Miriam C.
Straight from OC [Orange County, yeah like that eponymous The CW's series], California, comes the alternative rock band New Years Day. Although their proved live experience on the 11th June 2013, the band will debut on Century Media Records with their second album "Victim to Villain". Read some thoughts from Ashley, the singer, about the album's genesis.
Hi Ashley, first of all. How are you? I hope everything's fine.
Hi there! I'm doing great! Very busy planning our upcoming music video for the song "Angel Eyes" and our upcoming tour with the Vans Warped Tour. So busy!
Would you mind presenting the band with some biography?
Well…. Ah. Well… We attended Juilliard… We're graduates of the Harvard business school. We travel quite extensively. We lived through the Black Plague and had a pretty good time during that. Continue reading »
Interview by Miriam C.
"As The Truth Appears" marked, in 2011, the debut of this Melbourne-based progressive metal band, even if some time is passed (precisely 2 years) it was nice to know more about this band and the debut's reaction from the press. Seems also that the band recently undergone into a line up change (Jason Meracis is now the new bass player) and they are prepping up for the album #2. In the meantime, enjoy this interview….
Today Femme Metal introduces you Divine Ascension from Australia. Let's welcome Jennifer Borg, the lead singer of the band

Thanks, I appreciate the opportunity.
Welcome Jennifer. Let's immediately break the ice, talking about Divine Ascension, a "small" Australian music reality that slowly is moving its first steps in the metal music scene. What could you tell us about this? We're really curious to know the origin of this project…
The band now known as Divine Ascension was semi formed and looking for a lead vocalist, and I was looking for something interesting and challenging to keep me on my toes. As soon as I heard one of the instrumental demos "Garden on Evil", I knew that this was the right project for me. A whole new world of 'underground' music known as melodic metal opened up to me, and Robb and Luke commenced my education feeding me with Metal music from all over the world. Once we established our line up, we did our first gig in Melbourne in November 2007 and have kept moving forward ever since. Continue reading »
6 color styles available:

Style switcher only on this demo version. Theme styles can be changed from Options page.