Browsing articles tagged with " moments"
Interview by Danny Robertson
We spoke to vocalist Gogo Melone from Greek metal act Luna Obscura, to get an insight into the band's history and influences.
How and when did the band first get together?
It was in 2000. In the beginning there wasn't any major plan on creating LO, we just wanted to experiment with our musical preferences. I met Dimitris and Aris and I joined the band in the recordings of the demo "Darcanda". The idea to have male and female vocals came easily, I guess that we all loved this combination at that time and somehow we felt it was the right direction for our music.
Who first influenced you to become a vocalist?
As I've already said in the past, my first moment with the metal scene was when I bought the "Black Album" by Metallica, so I have the feeling that everything started then. I took vocal lessons, I was in chorus at school, in high school I started to sing in different bands…the usual stuff.
Who/what are the band's main influences as a whole?
Lyrically we're inspired by human psychology, moments in everyday life, our feelings and thoughts, sometimes by poetry and books!
How would you describe your sound to those unfamiliar with the band?
Our sound has atmospheric, death, gothic elements with harsh male and clean female vocals.
How long did it take to write and record "Feltia"? Had your sound changed at all since the early demo days?
I guess it's more mature now, has many dark elements, better balance in the vocal lines, better production but we are still in the same genre with our previous releases. The whole approach with this album was always so serious and important for us because we wanted to do everything in the right time, with the right people. After a small break and the release of the EP "Evilyn", we've started to work again. The problem was that we had already enough songs ready, recorded in different periods and so much new stuff. It took us 5-6 months to refresh and make the old songs to fit with the new. We've spent nearly a year with the recordings and the mixing of the album. It was a really tough period for all, especially for our guitarist Dimitris who is responsible for the most parts of our music and he did the whole work with the producers of this album.
What would you say has been your biggest non-musical influence?
Red wine and candles…. are killer inspiration

)).
What's your local scene like back in Greece? Is it easy for bands like yourself to get noticed?
Without the internet and the press, it couldn't be easy for anyone, you need everything…good music and good promotion as well. The Greek Metal scene is growing and many bands have started to act in a more professional way…this is really good. Of course the metal music industry has the normal ups and downs but people are always interested to discover new bands and artists.
Which other bands/acts, past or present, do you feel you share the most common ground with?
Maybe Draconian, Trail of Tears, Tristania, Theatre of Tragedy, Crematory and every band with death and gothic elements.
What have been your career highlights so far? What are your main goals and ambitions?
This album gave us everything and it's the start for our career. As for the goals and ambitions, we just want to share our music with the people, be creative and record another good album! Sometimes it's good to have a low profile and not expect so much.
What's next for the band?
Well, we just got signed with Casket Music/Copro Records, so the next plans are new album and gigs!
Any last messages for people?
A big hello and thanks to all of our fans! For those who don't know us please listen to "Feltia" and hope it gives you something good to remember!
Links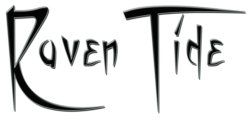 Interview by Connie Bach
Raven Tide offers an energizing, yet soothing blend of driving guitars with a strong bass line, and balanced orchestra. The result is dark, warm, dreamy, and flowing.
Hello, Cheryl. "Ever Rain" is an awesome EP. I can't wait to check out the new album.
Hi Connie! I'm very glad that you gave me the chance to talk about raven tide and it's awesome to hear such good words about our songs!
What's going on with the band these days?
Good question Connie!! This is a very intensive period for us. We're trying to find the better way to promote "Ever Rain", choosing few but relevant events where we can show what raven tide really is. We're also working for new songs and our days are full of studio sessions and writing. It's not easy, in fact, to spend energies in the right way, especially when you have so much to do in so little time!!!

Raven Tide has been featured on several compilations. "Doom Revealed" will appear on "Beauty and Brutality" and "Lucifer Bliss" appears on "Rock for Haiti". I love the charity aspects to these two compilations. What made Raven Tide decide to contribute?
It's wonderful. I think the idea of creating compilations of good music and use the cash to charity is a wonderful initiative. In fact, you get a double benefit. For the bands is certainly an excellent opportunity for visibility and expression, while using the music and its power, you bring more people to a social problem, making them participate by simply listening to a song.
in the past we have often thought of organizing lives and events for a charitable purpose but it is not easy for band to be able to set up this type of event…so when the opportunity to participate in this initiative came, we didn't think twice!! Especially when it comes to a quality product like "Beauty and Brutality".
Raven Tide is such a young band, yet has such a polished sound. What brought the members and their various skills, together?
Indeed, although the moniker Raven Tide is dated 2009, all of us for many years were part of a previous musical project, a tribute band that has enabled us to acquire over time a deep musical and personal understanding and improving through long live experience. Over time, of course, came the need to express ourselves with original music and create something where everyone could put their ideas and influences.

Turning to the recent release of your EP, it is a lovely taste of what is to come in the future. The name Ever Rain suits it. Where did the name come from?
Ever Rain was, in truth, the first moniker of the band, replaced with Raven Tide for reasons of homonymy with another band. After this, we decided to use it anyway, as the title of our first EP, maintaining continuity with our first idea. The reason for both names is, however, to evoke a particular image that remains a feature of all our work.

MySpace says that "Ever Rain" is a preview of a full-length album in the works. Why did the band decide to release a "preview"? I love when bands do that, it is kind of like the smell of baking before the bread comes out of the oven.
To be honest, we've never thought of "Ever Rain" as a preview…. it was simply a demo cd to present what we are. Then, he started receiving more and more confirmations becoming an EP and with the precious support of our promotion agency (Alkemist Fanatix Europe) was distributed in most of Europe and the major online music sites overseas. It was a good surprise!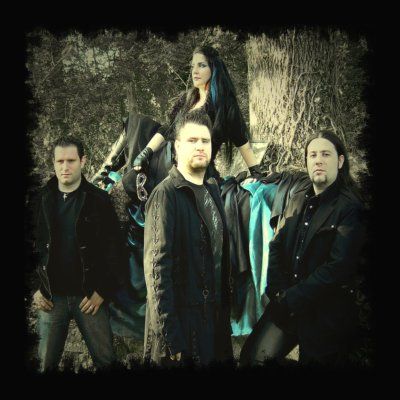 I love the song "Lucifer Bliss". What is the story behind the lyrics?
The message of "Lucifer Bliss" is that everyone in this life hae to face bad moments and suffering and sometimes, when the pain get deeper, there's an instant in which we wish to get heartless and we're tempted to lose ourselves denying the good we have inside. I guess is another way to describe the fragile nature of humanity, and the constant danger to fall down to Lucifer. Especially in these violent days, it seems easier for us to forget what's important in our existances. Sometimes lucifer may seem enchanting but if we look inside ourselves, love is always the better way… How did it come about that you and Joe Bardazzi worked together? His growls and clean vocals are demonic in feel, perfect for "Lucifer Bliss".
This sounds like "the answer is in the question" Connie!! Since the writing of this song, Lucifer was a sort of dialogue between good and evil. We were looking for a voice that was deep and strong enough to play the "lord of night" part. So, during a live show in a pub of our town, we listened Joe's performance and we just undesrtood he was perfect! We talked with him right that night and he was immediately ready to go! Amazing!

"Stillness" is purely orchestral and is a nice opening. Why did Raven Tide decide to include a bag pipe solo in this song?
It gives it a lovely celtic feel. We really think that bagpipe sounds are extremely powerful and absolutely perfect for an "ouverture". "Stillness" in a sort of hymn, where we've tried to mix our gothic inluences with the idea we have to create something new using electro samples and movies soundtrak effects. We're really happy you like it!! I have the feeling that live shows are pretty explosive. What is one experience you will carry with you from performing for the rest of your time?
Well…thinking about it, I can't really say which of my live shows I will carry with me forever…
each one have won a special place in my heart, ' cause everytime there's a different mix of sensations and everytime you get back home with a different vision…
What I know is that I've always done my best to reach the heart of people, no matter if i was on a little stage of a little town or in front of the crowd of a great location.
I must admit that I'll always remember our shows at Alcatraz in Milan. We performed there before Raven Tide's birth with the tribute band and it was exciting, I was scared to death before my entry on stage!!! Now i'd be very happy to back there and present Raven Tide…who knows??? Where is the one place you dream of performing at? What makes it special in your mind?
Oh …I really adore big festivals like Rock Am Ring, Wacken etc…
I think it's a common dream for rockers to sing in front of such a crowd but personally I also think that nothing is more evocative than an acoustic set with an elegant design, soft lights and contact with the people. We'll try to provide both experiences with our music, just keep on follow us!!!
Cheryl, you have considerable talent. Where did you learn the skills you have?
I've always been music addicted. I've always "needed" music. At fourteen I completed piano and composition studies privately, then i've been part of a poliphonic choir as half soprano for 8 years. During that period i've always had experiences in rock bands, as singer or playing piano then it came the tribute band and finally… Raven Tide.

"Ever Rain" brings amazing images to mind. I'd like everyone in the band to contribute to this one if possible. What is the symbolic value of music? Why is it so valuable?
I think it is undeniable that music is an indispensable element in the lives of everyone. It's like a constant soundtrack that follows us even if we don't pay attention or are busy in our business. It has the great power to communicate with our intimate and it does so without barriers, nothing can stop it. I think this is the great magic of music. Shark: Hello Connie, is a pleasure to talk with you! Well, I agree with Cheryl about the importance of music, personally I could not think of my life without music, is simply a great form of expression, perhaps the most universal. Mark: …and even more understandable. Only listening it can give strong emotions but even more amazing is when you can create music! Fred: …especially when you realize that what you wanted to convey through your work came straight to the heart of someone. This is fantastic.

"Ever Rain" is a great taste of what is to come and I'm definitely excited. Cheryl, thanks for your time. It's been wonderful talking with you.
Thank you so much for this special occasion Connie!! It was great to share with you part of our world! Thanks to femme metal for the wonderful work and for believing in us! The Raven Tides promise you all big news shortly! Keep on following us and…stay metal!!!
Links
MySpace * Facebook * ReverbNation * Google Plus * Twitter * Site
Label : Firedoom Records
Review by Tony Cannella
From France, Remembrance play funeral death/doom metal and have previously released two full-length albums. Their third and latest is called, "Fall, Obsidian Night" and it is their first one to feature new drummer Norman Muller. "Fall, Obsidian Night" also features some of the heaviest and doom-filled riffs I have heard in recent memory – well, since their last one, "Silencing the Moments…". Remembrance features two vocalists, Carline Van Roos is the female singer, her vocals are clean sounding and sometimes operatic. The male grunt vocals are performed by Mathieu Sachs and this is what you hear on the majority of the CD.There are only 7-songs on, "Fall, Obsidian Night" but the album clocks-in at 51-minutes worth of high calibre Doom metal, with the majority of songs being in the 7-9 minute range, the only exception being the almost 5-minute (mostly) instrumental track, "Our Memories Are Made of Stones". Album opener, "Ageless Fever" begins with eerie keyboard music as the tune kicks in. The guttural, grunt style of Mathieu are on display for most of the track as the angelic female vocals of Carline adds a bit of a contrast to the song. Remembrance gets even slower and doomier on the next track, "Stone Mirrors". The heaviness just keeps on coming with, "The Omen", "Ice-Cold Conscience" and album closer, "Obsidian". The overall vibe on, "Fall, Obsidian Night" is dark, bleak and foreboding with a wall of sound that is just massive. If you like slow, deliberate and heavy riffing, then Remembrance are the band for you. With, "Fall, Obsidian Night" Remembrance have released a solid and worthy follow-up to "Silencing the Moments…" that fans of that album should love.
Rating – 73/100
Tracklist
Ageless Fever
Stone Mirrors
The Omen
Our Memories Are Made of Stones
Ice-Cold Conscience
Winter Tides
Obsidian

Line Up
Carline Van Roos – Keyboards, Vocals, Bass
Mathieu Sachs – Guitars, Vocals
Norman Muller – Drums
Links
Label : Firedoom Records
Review By Tony Cannella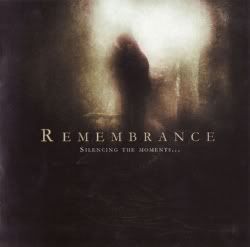 Carline Van Roos and Mathieu Sachs are very busy people these days. Not only are they part of the French Doom Metal band Lethian Dreams but they also front the band Remembrance also from France. The band describe themselves as funeral doom/death metal, so that should tell you all you need to know about where this band is coming from. Joining Carline (Keyboards, Vocals and Bass) and Mathieu (Guitars and Vocals) in the band is Norman Muller (Drums). The band has just issued their album "Silencing The Moments…" and it is a brilliant slice of down-tuned, doom metal of the finest and fiercest order. Like Lethian Dreams, Remembrance's "Silencing The Moments…" contains only 6-songs, yet clocks in at 56-minutes long. Most of the songs are between 9 and 12-minutes long. There is a lot of music hear. The song "Thief of Light" starts the doom. With it's eerie intro that builds to a crescendo as the track kicks in. The majority of the vocals are handled by Mathieu on this song and his style is of the more extreme nature. Carline joins in near the end of the song. The song builds nicely and it really is a great indicator of what Remembrance is all about. "Death Diaries" is next and it begins with a nice keyboard intro before the heaviness kicks in. This song is just out-and-out down tuned heaviness. Once again Mathieu handles most of the vocal duties with Carline providing background and harmony support. This song is very atmospheric and a definite highlight. Track 3 is the title song. "Silencing The Moments…" begins with a nice piano intro and Carline's vocals coming in over it. As the heaviness picks up the pace, the vocals of Mathieu comes in and really take over the song. This track is another highlight and it is obvious that Mathieu and Carline have great chemistry together. The next song "These Hallways Are Eternal" is also the shortest at almost 3-minutes long. It features some eery keyboard music with Carline's soft voice spoken over it. It creates a cool vibe and offers a bit of a change of pace. The final two songs "Fragments" and "One Reckless Sleep" end things on a heavy, doomy note and are two more highlights and a solid way to bring things to a close.What can I say? With "Silencing The Moments…" Remembrance have put out a solid release that is another fine statement in the doom genre. The songs are well written, well produced and the CD as a whole is very impressive and a great accomplishment for this trio of musicians.
Rating – 75/100
Tracklist
Thief of Light

Death Diaries

Silencing the Moments

These Hallways Are Eternal

Fragments

One Reckless Sleep
Line Up
Matthieu Sachs – Guitars, Vocals

Carline Van Roos – Keyboards, Bass, Backing Vocals, Drum Programming

Norman Müller – Drums
Links
6 color styles available:

Style switcher only on this demo version. Theme styles can be changed from Options page.