Browsing articles tagged with " moon"
Interview by Alessandra Cognetta
This interview's guest is someone who surely needs no introduction. We had the pleasure to ask a few questions to the lovely Candice Night, lead singer and founding member of Blackmore's Night. Their latest album, "Dance and the Moon", was released in June through Frontiers Records and from amazing folk tunes to carefully crafted covers it features everything one could expect from a Blackmore's Night album and more. Candice told us about the band and their music, but she also had some interesting things to say about art in general and our relationship with Nature and how we can improve it, plus some special recommendations for Medieval music you should definitely listen to if you love the genre.
Hello and welcome to the 'zine, Candice! It's a pleasure and a honour to have you with us. How are you and how's it going for Blackmore's Night? The new album has been release a couple months ago, with amazing response from the press. I wonder how has the public reacted, instead? What did you hear from the fans?
Continue reading »
Label: Wohone Records
Review by Tony Cannella
Grace Solero is a talented singer and in 2010 has released her debut album, "New Moon". Musically her style falls somewhere between classic hard rock and alternative. I was really surprised when I heard this since it is not at all what I am used to reviewing, but once the initial shock wore off I found myself head bobbing and thinking, "hey, this is pretty cool."
"Apartheid" is the strong opener and is followed by "I Don't". Vocally, Grace's style falls in the similar to Alanis Morissette category with a touch of Anouk thrown in there as well and musically the songs have that same kind of vibe. "Troops" is a laid back rocker with a trippy atmospheric style. The album veers off in different directions but still maintains a hard rocking base on songs such as, "Diary", "Star" and "If U Feel". Continue reading »
Label: Frontiers Records
Review by Luisa Mercier
Ninth record for the band led by legend Ritchie Blackmore and his wife Candice Night. If I should sum up in a few words the new album I might say that there is nothing really new apart from a more present electric guitar and a couple songs that recall the past of Mr Blackmore. I am talking about "The Moon Is Shining (Somewhere Over the Sea)" where you can actually hear an interesting guitar solo and the closing track "Carry On… Jon" that clear is a rock attempt. I especially liked the electronic intro to the first of the aforementioned tracks. The rest of the album is what all Blackmore's Night fans love: folk acoustic music with a Medievil atmosphere, costumes and the enchanting voice of Candice fronting everything. I want to mention the single, the title track that is really lively and the melody is very catchy! Continue reading »
Label : Alfa Matrix
Review by Luisa Mercier
The Greek duo Siva Six is back on the scene after five years of absence. Their latest release was the their second album "Black Will" and now "The Twin Moons" comes to fill the void they had left. What is peculiar about this record is that a real orchestra has been hired, the one directed by Chris Antoniou, who may be already known to our readers because of his work with Septic Flesh and Chaostar. The basic concept revolves around ancient human tribes, destruction of the earth, alien race. Quite apocalyptic, indeed. The music highlights this aspect since it is quite harsh, the beats are restless as Z 'svocals are. There is not much space for moody songs or melody pieces in this record. Continue reading »
Interview by Alessandra Cognetta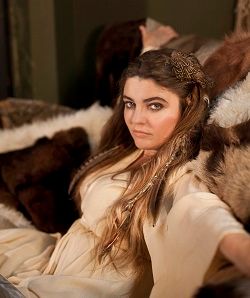 I know we're a primarily metal-based webzine, but I'm sure all of you are going to appreciate this little detour with the astonishing Mediæval Bæbes. An all-female group of talented artists from the UK, the Bæbes are a must for everyone of you out there who's even just mildly interested in folk, classical and choral music. Haunting voices and beautiful arrangements supported by lyrics in (not only!) Middle English will take you back to the times of courtly love and ancestral symbolisms. In this interview we meet the founder and core of the group, Katharine, who kindly shared with us insights on their latest (double) album "The Huntress", singing in different languages, visual elements, dances and much more!
Hello and welcome to Femme Metal, Katharine! It's a pleasure to have you here and to be able to feature such a gem as the Mediæval Bæbes. How are you and how's it going for the "Bæbes", lately?
We had a very exciting year last year. Many years of hard work finally paid off with the release of our epic double album "The Huntress".  Continue reading »
6 color styles available:

Style switcher only on this demo version. Theme styles can be changed from Options page.