Browsing articles tagged with " munich"
ENVINYA were founded in 2006 and play metal with catchy melodies and groovy guitar riffs. They released a 5-track EP, "Beyond The Dawn", in 2010 which received great reviews.
The band's statement about the signing: "Signing with Massacre Records was an important step for us. To work with people who believe in us and support us helps us to keep moving forward and to spread our music worldwide!"
The band's former vocalist Natalie Pereira dos Santos unfortunately decided to leave the band in late October 2012. Meanwhile the band has found a new vocalist which is going to be presented soon.
ENVINYA's debut album "Inner Silence" is going to be released on January 25, 2013 via Massacre Records.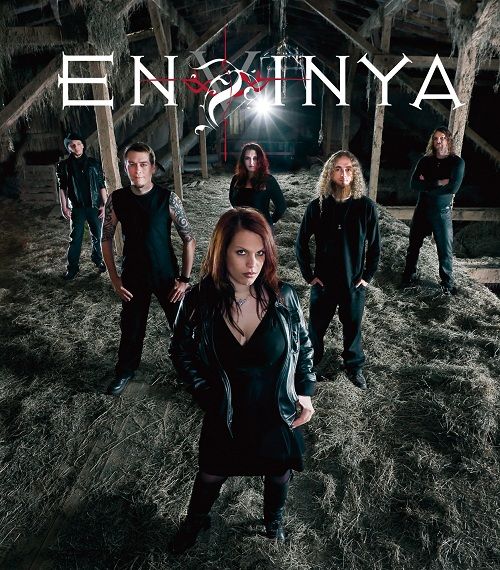 Monika Strobl – Keyboard
Natalie Pereira dos Santos – Vocals
Markus Herz – Lead Guitar
Thomas Knauer – Rhythm Guitar
Lorenz Henger – Bass
Enrico Jung – Drums
Interview by Miriam C.
And here we're for the second time promoting Evenoire. This time we have talked with Lisy about their debut album "Vitriol" that was published some months ago. I gladly invite you to enter this magical world made of ancient stories and legends. They are in need to be protected and chanted, as I call them Evenoire are the guardians of the last legends.
Hi dear Lisy, how are you? A lot of time passed since the last time we spoke.
Hello dear Miriam!! Thank you for giving me the opportunity to introduce you the debut album of Evenoire, it's a pleasure to be again on Femme Metal Webzine!
And about time that's passed, I would like to ask you what's happened between the release of "I Will Stay" EP and "Vitriol", sounds first of all a lot of line up changes and why "Vitriol" took so much time to be released?
Between the first EP "I will stay" and "Vitriol" we just played a lot of concerts in North of Italy and composed: we took all the time we needed to create our debut album and take care about each single song, with no pressure, because the deal with Scarlet Records came once we had already recorded. About the line up changes, after some bad experiences with keyboards players, we decided to collaborate with external musicians for "Vitriol": they composed and arranged for us keyboards parts. And after the recording of "Vitriol" we decided also to have a second guitarist in the band to strengthen the sound: so Toshiro Brunelli joined the family!
"Vitriol" is your first album released thru Scarlet Records on 26 March 2012, what you can share about its genesis and can you explain me the curious title??
The composition of "Vitriol" took us more that 2 years, we worked a lot in order to record a good debut album: everything came in a very natural way and the result is a sound full of influences relying from our different musical backgrounds. You find gothic atmospheres, oriental melodies, prog parts, symphonic keys, heavy guitars and a very distinctive medieval/folk approach. V.I.T.R.I.O.L. (Visita Interiora Terrae Rectificando Invenies Occultum Lapidem) is an acronym from alchemical literature that means a deep travel into ourselves, in order to discover a deeper dimension and purify our psyche from negativities, and the element is water, symbol of the unconscious and element of life. In fact, water and alchemy are the main themes of our lyrics. This kind of journey was obliged for alchemists: they had to purify themselves like also metals have to be purified. Vitriol is also an acid, its colour is a deep blue: alchemists used it in their formulas and magical practices and they recognized this element like a part of some magical creatures.
As stated before "Vitriol" is out on Scarlet Records, now I want to focus a little about the deal. When you signed the deal and how you manage to get it? Sounds a huge goal reached for a young band like Evenoire, I mean with the times we are passing…. so double congratulations from me and the webzine…
Thank you so much Miriam! In December 2011 I took part in the organisation of an event dedicated to Italian underground bands, and as a member of the staff I had the opportunity to meet Filippo and Enzo from Scarlet Records, they were in the jury. I talked to Filippo about Evenoire and he liked the project and the music, so he offered us a deal, and we are so happy about that!
For what I get "Vitriol" was recorded in Germany with Mario Lochert at Dreamsound Studios (Vision of Atlantis, Emergency Gate). First of all why choose this studio outside Italy and how was work with this team? And sorry for asking but what are the differences, in your vision, between an Italian and a German recording studio?
I met Mario at Metal Female Voices Fest in 2010, he told me about Dreamsound Studios in Munich where he works as sound engineer. I thought it could be very interesting to record in Germany together with him and Jan Vacik (Dreamscape), because they worked with band such Graveworm, Evergrey, Edenbridge, Leaves' Eyes, Visions of Atlantis etc. We had a lot of fun together in Munich, we found a very friendly ambience and a professional and great way of working. We also have good studios in Italy, but I think that in German you can find the best in recording a metal album and also it's a very interesting experience to collaborate with people outside Italy, it's a good opportunity to grow also as musician.
The cover of "Vitriol" in its essentiality totally got me. You have this tree coloured clear blue and the sky and rock grey. What you wanted to express with this cover? Any particular meaning and who's the cover's author?
The cover represents tree of life in a waterscape: it's an image of the travel I described to you, a deep journey into the unconscious where water is the key, in order to rebirth to an higher state of life. Blue is the colour of skies, lakes, rivers where our legends are set, and it's also the colour of one of our first songs, "Azzurrina" (in English "Blue Girl"), about the story of the ghost of Montebello Castle, near Rimini. The author of the cover is Francesco Bonetti, a graphic designer from our town Cremona.
On "Misleading Paradise" you sing along with the amazing Gaby Koss (Nota Profana, Haggard). When you've met her for the first time and how's born this duet?
We met on Facebook, she liked our music so we decided to collaborate: we were looking for a guest singer and what better than wonderful Gaby's voice? She also lives in Munich were we recorded "Vitriol" so everything was perfect! I enjoyed so much the experience, we became friends and had also a great Indian dinner at restaurant; when she comes in Italy we usually meet, it's great what music can do sometimes!
The curious fact that I've discovered reading a press article is about your lyrical themes present on "Vitriol" based on local popular legends, can you tell us more?
Yes, lyrics are about Italian legends, history and literature and we try to give life to these stories. For example "Minstrel of Dolomites" is about a legend from the beautiful mountains Dolomites and it talks about the mythical born of the small glacial Lake of Antermoia and about how Oswald von Wolkenstein became the most famous minstrel of that area. The single "Days of the Blackbird" is about a legend from Cremona called "The Three Days of the Blackbird", the coldest days of the year at the end of January. Lyrics explain one of the legends that originated this kind of folklore. It talks about a young couple that had to marry and reach the small town to the other side of the Po River. They crossed the icy river on foot, it was the end of January. After some days of celebration they had to come back home but this time the ice broke and they died, and during the next three days a blackbird cried to call the attention of the people. "Girl by the Lake" talks about a legend of Iseo Lake and explains how the terrible storm called Sarneghera originated: from a sad story of love and death. Italy is full of art and folklore and we like to rediscover forgotten legends, you know, here everything has got a legend: lakes, rivers, valleys, castles, buildings, foods, everything! And it's a piety that some of them are disappearing, so we keep them alive!
According to the latest line up, you are orphan of a keyboardist. What's happened to Michele Cattadori, your last keyboardist? I assume your still searching for a replacement for it, right? And who recorded the keys on the album?
He was simply not in line with our way of work; at the moment we are not looking for a replacement, the line up it's perfect now with one more guitar. We are a little unlucky with keyboards players so we decided to not loose time again and collaborate with external musicians Davide Bislenghi (solo artist), Simone Giorgini (Dark End, Hollow Haze), Marco Garau (Derdian) for the recording of the keys parts in "Vitriol".
Can you talk more about your other projects that you have : guest vocalist in Derdian (for what I've seen on your Facebook profile you have been in Romania and Maldives too) and The Whisper acoustic trio?
I was a guest in the last album of Derdian in 2009, "New Era Parts 3 – The Apocalypse", I recorded choirs and a duet with the singer Joe, called "Forevermore" plus a new version of one of their most popular song "I Don't Wanna Die". I also took part at several concerts with them like the festival "Rockin' Transilvania" in Romania and a private concert for a rich Ukrainian man in Maldives: it was an incredible experience because he paid us a whole week of holiday in a wonderful atoll and we could not believe that it was true…we had a lot of fun!! About The Whisper Acoustic Trio it was a little acoustic project made by me, Alessandro (guitarist of Evenoire) and a male singer: we played rock covers, it was just for fun. We kept it for many years but now we quit, too much work with Evenoire!
Instead what you can share about the recording session of new Secret Sphere album?
I took part in the recording of choirs for the new album of Secret Sphere in February 2012, it was a really positive experience, but after this unfortunately the singer Roberto Messina left the band and he was replaced by Michele Luppi that wrote from the beginning new vocal lines and recorded all again. So I think they won't kept nothing of the old choirs and this is really a piety because me and other 2 female singers worked a whole day and the result was amazing.
You happen to be part of the international project Eve's Apple, to who maybe don't know about this can you explain a little?
Eve's Apple is a worldwide community of professional female singers, designed to be a platform that informs about women's work in the world of music, supports new female fronted bands, and offers advice for navigating the music business world. It's formed from famous female metal singers like Lisa Middelhauve, Carmen Elise Espenaes, Marcela Bovio, Maxi Nil, Charlotte Wessels, Heidi Parviainen, Mariangela Demurtas and many more: I'm really proud to be part of it, it's like a music family where we can share our experiences and problems, in the name of our common passion: music. I can really say that I found musical sisters!! You can follow us on Facebook here.
Now when I interview an Italian artist I ask always about our musical situations about how is hard to playing live and do some promotion. What's in your idea that in Italy doesn't work? What's the first difficulty that a young band like you meet? It's the wrong mentality or is because the media don't care about metal (except in your case because I've seen that local newspapers support you really well and really care about Evenoire)? Well, just show us your idea about this topic…
Both I think: TV and radios don't give spaces to this kind of music, web is the only way to promote for a band now,and it's not easy because there are a lot of bands! Yes, our town Cremona support us and local newspapers give us space but usually it's hard even because in Italy there are few places where you can play: pubs prefer cover and tribute bands because it's easier to earn money and I think this is the first problem for young bands: the difficult to play live!
Well, my dear, we're at end just greet your fans as you want and horn up!!
Just keep to follow us, we are already working at the second album, so stay tuned and see you live somewhere! And for the ones that don't know us you can listen to our single here.
Links
MySpace * ReverbNation * Facebook * Twitter * Site
Label : Artoffact Records
Review by Tony Cannella
Germany's Haggard are not so much a band as they are an orchestra. They utilize an endless array of musicians to create, beautiful and complex songs that definitely has the feel of a big orchestra sound – combined with all of the great elements of symphonic metal, of course. They quite simply are like no other metal band out there, the only band that I can really think of in a similar vein is Sweden's Therion. Haggard are led by Asis Nasseri and have been in existence since 1991 and even though they have been around for a long period of time, the band has only issued four full-length albums, so far. Fortunately, for us, Artoffact Records has decided to re-issue two of Haggard releases, for those of us who have missed them the first time around. We'll start with "Awaking the Centuries" which was originally released way back in the year 2000. The first thing that struck me on "Awaking the Centuries", is the complexity of the songs and broad range of styles that the band delve into. It really makes for some fascinating listening as the band take us through a sort of musical journey. The CD is divided up into an "Intro" which encompasses the first two tracks and then five chapters. The whole thing lasts for 12-songs about 37-minutes worth of playing time. "Awaking the Centuries" features a number of Intros and shorter tracks, that set up for what is to follow, but the band are at their best when the songs are longer and more developed. The 9 and-a-half minute title song is a good example of this and was a huge highlight for me. Haggard also enlisted the New Moscow Radio Choir and they can be heard through the CD. Asis Nasseri does a great job in keeping this all together, as well as providing Grunt Vocals and Guitars with Karin Bodenmüller joining in on Soprano vocals. Probably my favorite track is "In a Full Moon Procession" which goes from piano to acoustic to heavy and some great vocal chemistry between Asis and the female vocalist really make this a great song. Even with a relatively short playing time "Awaking the Centuries" has the feel a full-blown big production. Everything mixes together nicely and has the feeling of a night out at the symphony. After listening to "Awaking the Centuries" it is easy to see why Haggard have become so influential and developed quite a cult following. The band is really interesting to listen to and for me, one of the great things about listening to this CD was waiting to see what would come next.
Rating – 88/100
Tracklist
Rachmaninov: Choir

Pestilencia

Heavenly Damnation

The Final Victory

Saltorella La Manuelina

Awaking the Centuries

Statement Zur Lage der Musica

In a Fullmoon Procession

Menuett

(Part I) Prophecy Fullfilled / (Part II) And the Dark Night Enterered

Courante

Rachmaninov: Choir
Line Up
Asis Nasseri – Grunt Vocals, Guitars, Kettle-Drums

Luz Marsen – Drums & Percussion

Andi Nad – Bass

Danny Klupp – Guitars

Karin Bodenmüller – Soprano

Hans Wolf – Grand Piano, Piano, Church-Organ, Keyboards

Kathrin Pechlof – Concert Harp

Fiffi Fuhrmann – Tenore, Scholar

Christian – Tenore

Thomas Rosato – Bass

Christoph v. Zastrow – Flute

Florian Bartl – Oboe

Robert Müller – Clarinet

Andrea Sterr – Violin

Michael Stapf – Violin

Steffi Hertz – Viola

Kathrin Hertz – Violoncello

Georg Uttenthaler – Doublebass

Florian Schnellinger – Percussion

Peter Prysch – French Horn
Links
MySpace * ReverbNation * Facebook * Twitter * Site
Label : E-Wave Records/Drakkar Records
Review by Tony Cannella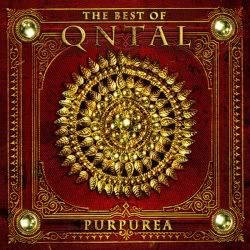 To say that Germany's Qntal are a difficult band to describe is an understatement to say the least. The band have been around since the early 90′s and they play electronic, dark wave, ambient, Celtic, folk, avant-garde music, whew, that's a mouthful. Actually, different people may have different ideas about what genre Qntal lies in. Who's to say, but I do know that they are a definitely unique band and listening to them is quite the experience. The band have already released six studio albums and with this release "Purpurea" Qntal have put out a compilation of their previous releases, but this is so much more than just a normal compilation. This collection features plenty of music – over 2-hours of music to be precise – spread out over 2-discs. The first disc features 14-tracks of some of the bands best, most groundbreaking songs and the disc 2 is 13-songs worth of various re-mixes and alternate versions of some of their songs. Let's begin… "All For One" kicks things off and right away the listener is swept away with the pretty vocals of Syrah. It is also quite obvious that there is something different going on with this band musically. There is a certain aura and atmosphere about this track that makes it an immediate favorite. "Sumer" continues where the first track left off and is a strong continuation. The beat here is a little bit more up-tempo and (dare I say) danceable, but this is another strong track. The next two "Palastinalied" and "Ad Mortem Festinamus" add to the already strong material that can be heard on this collection. "Flamma", "Nihil" and "Levis" are some more highlights, with the excellent track "Unter Den Linden" bringing disc one to a close. As you can tell by the song titles, many of the Qntal's lyrics are sung in their native German language. Disc 2 is an excellent companion to disc 1. It features 13-tracks worth of rare, unreleased and re-mixed material from this ground breaking band. It is really a must for this bands die-hard fans. Some of the tracks featured on disc 2 are: "292 (A Darker Shape Mix)", "Lasse Grand Doucer", "Unmaere", "Rose In The Mor" and "Rot". Overall disc 2 features over 70-minutes worth of music. When you come right down to it Qntal are a band that may be an acquired taste for some, to be honest, but there is no denying that the band are quite innovative and adventurous. The band have also become quite influential over the years, as evidenced by some of the quotes from their peers that can be found in the CD booklet. Qntal have become an inspiration for musicians who are not afraid to think outside the box when it comes to creating music that is both interesting and different. If nothing else, Qntal are a band to be admired and respected. It is easy to see why they have endured for this one and have acquired such a dedicated fan base.
Rating – 75/100
Tracklist
CD 1
All for One

Sumer

Palästinalied


Ad Mortem Festinamus

Flamma

Nihil

Am Morgen Fruo

Altaz Undaz


Cupido

Departir

Von Der Elben

Entre Moi et Mon Amin

Levis

Under der Linden
CD 2
292 (A Darker Shape Mix)

Lasse, Grant Doucor

La Froidor (Version Noir)

Glacies (Obscurus Mix)

Veni (Filthy Floor Mix)

Rose in the Mor

Noit et Dia (Candidus Mix)

Unmaere

Rot


Ecce Gratum (Norus Mix)

Ludus


Levis (Half Light Mix)

Slahte Wille (Version Blue)
Line Up
Syrah (Sigrid Hausen) – Vocals

Micheal Popp –Vocals, Fidel, Saz, Shalmei, Ud & Tar

Philipp "Fil" Groth – Keyboards, Vocals, Guitars & Programming
Links
MySpace * Facebook * Twitter * Site
6 color styles available:

Style switcher only on this demo version. Theme styles can be changed from Options page.