Browsing articles tagged with " musical"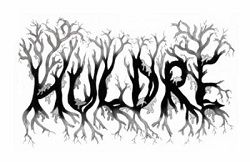 Interview by Matteo Bussotti
We're extremely proud to have here today Nanna Barslev, the singer from Huldre, a Denmark folk-metal new band. I listened to their first Album, "Intet Menneskebarn"…and I was simply stunned by the songs, the melodies, Nanna's voice and the general atmosphere it manages to create. Everyone of you should listen to it at least one time. This said…how could I not ask Nanna for an interview? I'd be crazy! And…here it is! Enjoy it!
Hi Nanna! Welcome to Femme Metal, we are very pleased to have you here with us! How does it feel, after 6 six years, to have your first full-length released?
Thanks a lot Matteo. I am happy to be invited to your awesome zine. We are very proud to present our debut album "Intet Menneskebarn". I feel things are making sense, when we finally share our songs and strange folklore universe with people worldwide and we are honored that so many like our debut album.
Your live performances are been compared to Korpiklaani's ones, for the energy of your audience. From your point of view, what do you try to convey to your audience in your exhibitions? I bet you're really happy when you see a reaction from the "other side" of the stage!
We are trying to give people a whole experience, and like the huldres from the folklore do, luring the audience into our music and world, with dance and song, making them forget everyday life.We balance between seriousness and irony. My mission is to be present and interact with the audience, bring them through many emotions, fun, sadness, tragedy, brutality, love etc. Our songs are all in different moods, so we can go from a tragic song to the next song where we invite to folk dance. And yes, that's makes me very happy, when I see the audience respond with energy to our concerts, and of course we have fun on stage as well. Continue reading »
Interview by Vard Aman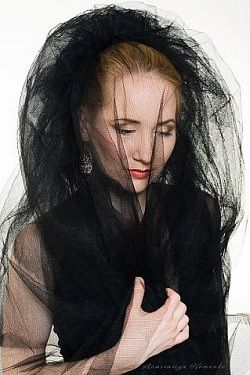 Vocalist, Olga Salikhova, has over the years become a familiar name and face (and voice) in Russian Female-fronted Metal, having fronted bands such as Slavery, Oktagon and Luna Aeterna. Currently, she is singing for one of the pioneering bands of Russian-based Doom Metal, Voiceless Void, as well as her own project, Core. I caught up with her for a chat about her musical career to date.
Hi Olga! Welcome to Femme Metal Webzine. So, to start off with: when did you start singing?
When I was a little girl my granny used to take me a long way to our summer cottage on a bike on the rear seat, and I used to sing all the way to entertain both of us. Later when I was 7 I went to music school and joined a choir, and I liked being part of it.
Did you have any special training?
Yes, I did! When I was a teenager, I felt a great desire to get a Grammy and to conquer the world, and I was quite sure it won't take me more than, say, 5 years, so I started attending some weekend classes at a musical studio. There I experienced my first individual vocal classes. After that all my training was mostly with different private vocal coaches.
What was your first band?
I was 17 then, it was a very nice band called Slavery, they lived in a different city in the Moscow Region, so I had to commute to our rehearsals twice a week and my parents had to meet me really late at night coming back. Slavery was kind of melodic power metal with dark lyrics and kind of gothic image. They were really nice guys and the founders of the band are still my friends.  There are only a couple of live audio recordings from our gigs and a demo. Unfortunately, even though they existed for 10 years, they didn't release any albums, even after I left the band.
According to Metal Archives, Slavery split up for the second time in 2010. When was the first time? Was that also when you left?
No, when I left the band, they found another female leader, also named Olga (Mashkina), also a blonde, there were kind jokes about that in the group and among our fans that the band attracts such front girls. I know after Olga Mashkina they had another blonde singer, Nastya. I actually don't know much about their first splitting-up, I know about the second one in 2010, I was involved then.
How were you involved?
I took a break in my musical career after I left Luna Aeterna. I didn't sing at all for about 4 or 5 years. I communicated with my ex-music colleagues very seldom, only occasionally. Then one day I met with the bass-player of Slavery, Irina, and she suggested that I join them again because their singer, Nastya, was leaving the band for personal reasons. I agreed with enthusiasm, we started rehearsing together, it all was nice and we were discussing recording an album, but after a month of rehearsals the guys decided that they felt exhausted and lacked creative inspiration and new ideas for our music. That's how we split up, basically.
Interview by Alessandra Cognetta
Anaè is the lead singer of the French metal band Adrana, a combination of progressive metal, heavy metal and classical music, enriched by a strong literary component. The mix of different influences as well as forms of art makes Adrana a unique musical experience and we're here to find more about them.
First of all, welcome and thanks for taking the time to answer our questions, Anaè. How has 2012 been for Adrana so far?
Thank you for giving us the opportunity to present our music and artistic work! I am really thrilled! The year 2012 has been fairly quiet so far. After the release of "The Ancient Realms" and the first part of the French tour we were given a little time to work on new songs, work toward a movie clip and prepare a surprise regarding our future gigs to all of our fans!
One of the things I enjoy the most about your music is the "story" (I won't dare to call it a concept because in my opinion it's far more than that) behind your whole production. Can you describe for us the main themes of Adrana's adventures?
We would like that it becomes much more than a concept. We are working on it, but we are still far from what I wish to do in terms of total art (featuring theater, music, stories, dance, and a whole fantasy world). Our music tells the adventures of the warrior princess Adrana desperate to reclaim her fallen kingdom. It contains many elements of heroic fantasy like the character's actions or places in a rather dark atmosphere, darkening progressively with each new album. Although the story revolves around a princess, this one is more gloomy and sanguine. There are many battles, betrayals, murders and unmentionable secrets that punctuate the epic story of Adrana. Adrana talks about the difficulty of bringing people together in their diversity, and the difficulty to win the trust of others. Adrana shows us that very often we find ourselves alone with our destiny. Finally, this quest leads the Princess to ask the recursive question as to whether the pursuit of a right cause, right as it is, justifies having to kill thousands of human and nonhuman creatures to get there?
We know what influenced your music, but what influenced your lyrics? How were Adrana and her Ancient Realms born?
The band name was invented, without special intention by Ludo and Maxime (guitarist and drummer, the founders of the band). They then included Grhyll, our keyboard player, and me to write the story. The first songs whose lyrics had no relationship between them (stories of vampires, putrefied nymphs, or warrior princess), have become the pillar of the epic story of Adrana. Now, Grhyll has taken charge of the story and I work exclusively on writing lyrics around the story created by Grhyll.
Interview by Ed MacLaren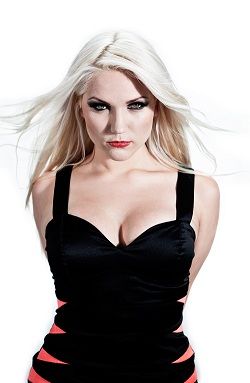 Hearing a band's debut album for the first time is like digging up a treasure chest. You have no idea what's in it but you're hoping that, whatever it is, it's going to make you rich. Uncovering "Breaking the Stillness" – the powerful debut album from Finland's  Shear – is a treasure in its own right – a refreshing and engaging listen that will reward your ears again and again. The album is built on catchy melodies and progressive arrangements but what really raises the eyebrows are the balls-out voice of singer Alexa Leroux. On each track, her vocals cut loose adding some grit to the polished music underneath. Femme Metal Webzine got the inside scoop from vocalist Alexa Leroux on the new album, her powerhouse vocals and how classical training works well in the metal world.
Welcome to Femme Metal Webzine, Alexa! Congratulations to you and the rest of Shear on "Breaking the Stillness". An excellent debut album!
Thank you very much! Glad you like it!
Shear brings a sonic cornucopia to the ears – crunching riffs, swirling keyboards and powerhouse vocals. This album will definitely appeal to fans of power and symphonic metal not to mention the progressive metal faction.
Well, thank you, once again. Our album is a little more melodic mixed with progressive, than symphonic, but I hope it reaches fans of different metal styles also. I believe it's diverse enough, so even if people don't like all the songs they might find some elements they really like.
Are you excited? What are your expectations for the album? The prediction here is that even though it's early in the year, you could be seeing "Breaking the Stillness" on some best of lists at the end of the year.
I am very excited about having an album finally come out. I can't really predict anything and in a way I think it's better I don't even try to, but it would be totally awesome to see it succeed.
Track for track, "Breaking the Stillness" is a powerful listen from start to finish. What's the secret to maintaining that kind of momentum over a whole album?
We really took our time writing the songs. Every song was written with a purpose and they all come from a very personal space, so that is probably what helped the most.
Interview by Miriam C.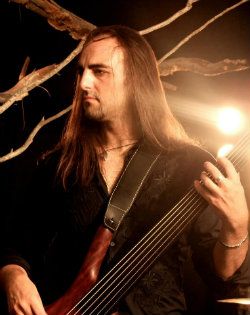 Soon I've have heard that Maltese Gothic Doom Metal Weeping Silence band have had a major line up change I've contacted the band and write down like hell this interview. I'm proud to offer the first exclusive interview the new singer Diane Camenzuli but beside this I've haven't forgotten to investigate more about the third album "For the Unsung" that sees the guest starring of Draconian singer Anders Jacobsson. To know more simply scroll down. Enjoy!
Hi Sean, first of all welcome to Femme Metal Webzine, how are you?
Thank you for the interview Miriam. I'm fine, hope the same for you and the reader of Femme Metal webzine.
Sean, would you mind giving me some biography infos for the users that don't know Weeping Silence?
Weeping Silence was formed in the late 90s and developed from a slow tempo doom female fronted band with the release of "End of an Era" (2008), then symphonic/gothic metal with the release of "Theatre of Life" to a present gothic/doom metal band with the latest full length album "For the Unsung".  As is expected with a band that has been around for some time, we have gone through some line-up changes, the latest being a vocal replacement. Weeping Silence is currently signed to Ravenheart Music Records and operates with Limelight Productions for non-exclusive concert booking in Europe.
So, your third album is out on Ravenheart Music and is called "For the Unsung". Can you tell us more its genesis?
The album is a reflection of the members' thirst to play gothic/doom with an aggressive edge. The insertion of male growling is an obvious indicator, but the riffs just sound heavier and more powerful, with several slow tempo passages. We wanted to do something that hits the core of the music we like and at the same time sounds modern.
"For the Unsung", it gives me an impression like something obscure and unfinished. What does the title mean for you, what did the band want to express?
The album is dedicated to all contemporary heroes that go unnoticed in the world. They do not have monuments erected in their honour or wear medals. They are the everyday people who comes to a cross roads and chooses the path they feel is right with courage. This idea can be transposed to many life situations, and the idea is for everyone to see it from their own perspective.
Also what infos can you reveal about the album cover? It's enigmatic…..
The artwork captures the theme of "For the Unsung" in the form of the Greek myth of the Coronides who in self-sacrifice saved the people from their doom. The Coronides are the two comets on the artwork, who are the daughters of the god Orion. They offered their lives in sacrifice to save their people from the plague. The gods were so touched with their humanity that they transformed them into comets to shed their eternal light. It is not a very popular myth when compared to others but it is a good representation of 'the unsung'. This artwork was done by Jan of Darkgrove, and we feel it looks very nice, especially on the digi-pack edition.
On "Love Lies Bleeding" Draconian's Anders Jacobsson participates as a guest star, when was the first contact with him and how's working with him?
Anders appears as guest singer on "Love Lies Bleeding" and "The Search Within". Joe knew him through Facebook, then I got to know him over the internet. He's a great guy really. To be honest, he could have easily said no to our request for him to feature, but he chose to do it even though we are not as famous as Draconian. This shows he loves the metal scene and is not a big-headed person. We respect him a lot. He did his vocal parts at Dead Dog Farm Studio in Sweden.
Also for "Love Lies Bleeding" you have shot your first videoclip, can you tell us more about it? How's was this experience?
This was a great experience. We did not have a great budget, and between us and the label we thought of shooting this video because we know how powerful YouTube has become. The experience was a blast! It was shot in summer, so you can imagine the heat. As a band, it really brought us together, and individually we realised how far we want to go in this scene. It was an eye-opener as well as a good experience.
Between "Theatre of Life" and "For the Unsung" passed only 1 year from the publication, do you notice (or better) are you able to notice any differences?
The difference is noticeable to anyone who has both albums. It is true that the release dates are close, but "Theatre of Life" was recorded in 2006 and released in 2011. So the music is much older than the release date. "For the Unsung" was composed between 2007 and 2011, and released in 2012. So the difference in composition time is more obvious to us!
Joseph and Rachel have recently left the band. And on Facebook you have already announced t
hat you have found a new female singer, mind you give the honours and present her?
We wish Rachel and Joe all the best with their future projects. The new female vocalist is Diane Camenzuli. She is 24 years old and ready for your questions!
Diane, welcome, I assume that this is your first interview that you ever made, how do you feel? Excited? Do you have any curiosity to share about yourself rather you prefer doing a detailed presentation of yourself?
Hi Miriam, thank you for the interview. Actually, I had some interviews about my music career in general, but this is my first interview regarding Weeping Silence. Yes, I am very excited about this new phase in my life. I have been into rock and metal for many years but never managed to settle down, the main reason being the difficulty to find musicians who are truly into the genre. Joining Weeping Silence is a challenge that has energized me like never before. All the band mates are on the same wavelength as I am, and I can feel a lot of positive energy between us – something I haven't felt for a very long time since my involvements in bands. The teamwork is fantastic and I can already sense the need & the will to create music & performing on stage with such great people.
How do you feel replacing Rachel after so many years that she was in the band? Do you feel any pressure?
I know how much Rachel is loved and have only respect for her achievements.  At first it was overwhelming and I cannot deny that it took me sometime to absorb what just happened to me. I had to make several adjustments to my new life such as cutting down on working hours. Having said all this, I can finally say that now, I have summoned the strength and courage to deliver at this new level of me.
A little bird told me that you have musical training, can you tell us more about your musical background?
To become a band member of a gothic metal band was a plan that had been in my mind for many years. Whilst awaiting the right opportunity to come my way, I used the time I had to learn more about music in general, to take piano and voice lessons, find my natural voice timbre and write a lot of lyrics. This was crucial and it is how I got to know myself better musically. It was the many rehearsals, auditions, live showcases, music courses and music lessons I attended, that helped me develop my voice & that thought me how to take care of it as much as possible.
How did you come across Weeping Silence? Did you know before someone from the band or did you simply apply for the position?
Being a fan of Weeping Silence myself, I saw their post on facebook and thus applied for the position.
For what the little bird  told me you're really enthusiastic and you are already doing rehearsals with the band: how hard is it to get started in a band that already has an "internal" equilibrium?
I am getting along extremely well with them. I had never experienced such teamwork. They are all committed, hard-working and open-minded. Their support has also been very encouraging.  I feel that my life is finally falling into place.
Instead let's talk about your personal tastes, what are your private passions?
I have always been interested in make-up and costumes. I love dark photography and gothic culture. Having said this, my greatest passion still remains that of being a singer-songwriter. It is a great way of expressing my feelings to the extent I want to, without harming anyone or anything.
Sean, what are the future project for Weeping Silence?
The future projects are definately composing a new album, that we hope will see the light of day in 2014. Between then and now, we will also be playing as many concerts and festivals as we can! All this should keep us busy!
So, Sean & Diane, we're at the end of the interview, please greet freely our user on Femme Metal Webzine and speak you soon!
We would like to thank the fans, Femme Metal Webzine and its readers who have always been behind the band giving us much support. We will be hitting the stage in 2013 and maybe we'll get the opportunity to meet some of you. Until then, visit our FB page, see what's brewing, and hit the like button: www.facebook.com/weepingsilence
The new album and earlier releases are available from the band's e-store on the website www.weepingsilence.com . Thank you for the support!Thank you very much Femme Metal readers, fans of female-fronted metal and metalheads in general all over the world! Keep it metal and hope to see you around someday! Thanks Miriam for this interview – Cheers to all!! Sean & Diane
Latest Multimedia
Links
6 color styles available:

Style switcher only on this demo version. Theme styles can be changed from Options page.