Browsing articles tagged with " musician"
Label : Yidneth
Review by Luisa Mercier
Second release from the fairy Priscilla, from Spain. I already had the privilege to listen to her 2006 release "Ancient Shadow" which became quite known among the lovers of female fronted, ethereal, Celtic tinged music. She also had the chance to support the legend Qntal in the USA, letting her gathering new elements and further developing her sound.
"The Underliving" is her second concept and it comes with a beautiful artwork and package, showing us her her skills are not only music-related.  She brings us in her world suspended between magic and reality alternating moments of serenity as in "Through the Long Way" and creepier ones as in the title-track. Continue reading »
Interview by Miriam C.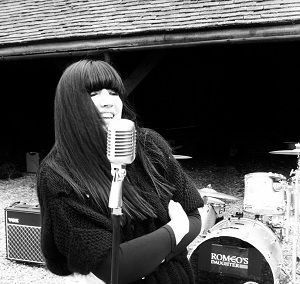 In the late 80s as Tony (our reviewer) said in the reviews " it was impossible to pick up an issue of Kerrang! Magazine without seeing something about the band gorgeous front woman Leigh Matty" – they were destined to be huge stars in the AOR/Melodic Rock panorama but something in the 90s changed, the grunge come and in a blaze crushed  and destroyed everything was good of the 80s and as a lot of AOR acts (including Romeo's Daughter) were facing difficulties in promote their music and the only solution was put an end to a band. Only the brave survived to that infamous period. At this moment, the international AOR scene seems safe and sound, for sure we have some comebacks (see UK's Fiona Flanagan and Dante Fox) but also some new rising stars (see Norway's Issa or Sweden's Nubian Rose); but talking about comebacks, after 19 years of stop and a successful comeback in 2009 at the Firefest festival, London based Romeo's Daughter are back with a new self-released album called "Rapture" and seems that RSD are ready to rule the world. So, after this short intro, I think, it's time to give some space and let Leigh Matty speaks herself.
Hi Leigh, first of all Happy Christmas and Happy New Year, welcome to Femme Metal Webzine and thanks for the interview. How are you? Would you mind share some details about the origins of Romeo's Daughter? How the whole story started and when?
Dear Miriam – a very happy New Year to you too! Sorry about the delay in me getting this back to you! Well, the Romeo's Daughter story really started in 1984/85 when I answered an advert in a well known music magazine – they were looking for a singer to front their band and I called the number and got through to Craig ( the guitarist and song writer). We got on very well on the phone and I ended up being the 1st singer they saw out of around 70 – I got the job! We worked on songs and getting the right band members for a couple of years and after a lot of blood, sweat and tears, we released our 1st album in 1988. We were named after a line in "Cry Myself to Sleep" as no one could agree on a name – I don't think we could have been called anything else though – it was perfect for us! Continue reading »
AYREON mastermind Arjen Lucassen (also ex-BODINE, VENGEANCE) has been confirmed as one of the guest musicians who will appear on "The Mystery Of Time", the new album from EDGUY frontman Tobias Sammet's AVANTASIA project. Also scheduled to make appearances on the CD are Michael Kiske (UNISONIC, HELLOWEEN), SAXON frontman Biff Byford, former KISS guitarist Bruce Kulick and drummer Russell Gilbrook of URIAH HEEP.
Commented Sammet: "To me, he used to be what John D. Rockerduck is to Scrooge McDuck: an adamant longtime rival; in our case, when it comes to producing rock operas. Well, if you can't beat your enemy, make him your ally! And so I opened the door and literally invited pestilence into my world, ha!
"Seriously, the truth is that the 'pestilence' I'm talking about is really one of the nicest, coolest and loveliest plagues I've ever come to know, an ambitious artist through and through and a real great guitar player. So, having just come back from a shopping tour in 2912 — where apparently he found himself a brand new pair of bad-ass pants and boots — he went into the studio to record some additional lead guitar for the forthcoming AVANTASIA album, 'The Mystery Of Time': AYREON mastermind Arjen Anthony Lucassen!"
Interview by Andy Axworthy
When you read that a band is by turns described as epic, symphonic, power, progressive and classic metal all in the space of a few paragraphs you might be left wondering whether such a broad approach could dilute the end result. Ivory Moon is one such band, however one listen to their latest album and it's easy to hear why in this case, the whole is greater than the sum of those descriptive parts. To find out more about this promising Italian band we caught up with new vocalist Gabriella Aleo to find out a little about her and about the rocking new release, "Dark Time".
Hi Gabriella and greetings from all of us at Femme Metal. How are you today?
Hello! Thanks for this interview, I welcome the opportunity to talk about me and the music I was involved from yesterday to today.
You've recently taken over female vocals for Ivory Moon. Can you tell us a bit about your background and of how you became a singer?
I have always supported my singing talent, heading for perfection in this art that is very complex today. I've been singing since I was a child but my serious studies began at age of 20. I studied opera singing at the Conservatory of Music and I have never stopped since then. I teach singing to children. Singing is an integral part of my life, I could not deny it.
You've come from the more classical side of singing. To us it seems like a world of difference between an aria like Habanera and full-on rock song like Apocalypse. How do you adapt to mixing up these vocal styles?
Opera and gothic are different, but they live parallel inside me. You have to know well the two musical paths from their technical point of view, and above all you'd be thinking wider than just those who sing only classical or rock. I have always been living with two musical souls. The mixing of the two genres should be done with care. I tried to be not too opera singer using a language more suitable for "Dark Time" and his genre.
You've also indulged your inner Electra, recording "Tutte nel cor si vento…" from Mozart's Idomeneo. How did that experience differ from working with Cristian Ice at Temple of Noise on the new album "Dark Time"?
There were two different experiences but both constructive. Music is what really matters, if it makes you feel good.
You share voice duties with Sandro Manicone. Do you both bring different ideas to the vocal parts or do you work together and adapt the style and harmony as the song writing and recording progresses?
Me and rocker Sandro Manicone are also friends in everyday life. We met even more by sharing this experience together. He is a great musician, composer, arranger and good singer. Along the way he helped me a lot on the side. In the past I had a brief stint with a heavy metal band: Zero Kelvin. I then absorbed part of the language back in this new project after so many years. We have given our voices to the songs of "Dark Time", we have not dealt with the processing of the texts. Sandro is a complete musician and also took part in the arrangements and musical choices.
We've mentioned Sandro. Could you also introduce is to the rest of the band and tell us a little bit more about each of them?
I've been knowing the band for a very short time, so I can say very little about them. What is sure is that I am sharing this experience with veterans for the fans of this genre. I am a newcomer, they instead go way back so they had plenty of time to design and create this music.
"Dark Time" had its digital release on the 1st October. How do you feel now it's out there and how do you feel it has been received by your fans?
I was very pleased and surprised by the performance of "Dark Time". "Dark Time" is my first record, so I'm glad to have left traces of me in music. The fans do not even know us, but they will be able to do it very soon.
The album itself is a blend of classic metal styles from power through to operatic yet it still has its delicate moments. It is consistently good throughout with tracks like "Soul Disguised" and "The Merchant of Venice" especially standing out. What was it like for you to go from recording and putting down your parts to actually hearing the finished songs? Was there a defining moment for you?
Certainly for me it was a challenge to face this genre. I loved this genre for a long time so I tried to absorb all possible shades. Recording for us means converting our ideas into music. The most important moment was when we heard all the mastering, and we listened to all of our work, all our dreams and our thoughts.
How about sing-writing duties? Do you all get a say in how the song ideas develop? How does a song like, for instance, "Out of Control" come together?
I'm just a performer who sings with passion and love for music, and then a popularizer. I never ventured to write texts. Everyone has their own role. Ivory Moon lyrics are written by the other members of the band.
Is there a story or theme to the song writing on the album? Where do you and the band draw your inspiration for the songs?
We took inspiration on actual topics of today's life: The crisis, rupture, rebirth. These were the pillars of "Dark Time".
The album launch gig is on the 7th December. How does it feel to get "Dark Time" out there in front of alive audience and what are you looking forward to the most on the night?
"Dark Time" will debut on Dec. 7 at the Jailbreak in Rome. We'll expect a good audience who can give us the right boost within this new work. I hope it could bring so much magic in everyone's hearts.
What about your own personal soundtrack? Who or what do you listen to when you've got some time to yourself?
My soundtrack is "Nemo" from Nightwish. I put this song as a ringtone in the phone : ) When I have time I use to listen to different musical Opera, Loreena McKennitt, Epica etc.
What would you be doing if you did not sing? What hobbies, passions or ambitions do you have when you are away from the microphone?
I can not see myself without music… I have several passions: I like to paint, I'm not an intellectual but I'm reading a literary work of Proust, sometimes I play games with Sandro Manicone and I love to walk my French Bulldog Morgana and take long walks in nature. I like to meet up with a few true friends and my family. I would love to travel every year….
Now you've taken this step from the light of opera to the dark side of metal what would you say are the main differences for you between the two styles of music? Does either genre have something that can be used and sits comfortably with the other?
The difference in the two genres is absolutely singing style. I think mainly you need to have a good voice, educated in classical singing and in the modern one, in order to obtain a good result. I always followed both the roads. In vocal symphonic rock you have to play a lot with the expression and sometimes the listener can be confused by a hybrid between an opera and a metal singer!
What can we look forward to beyond the launch gig? Are there any plans to tour with the new album? What next for you and Ivory Moon?
We're busy with this every single day. It is not an easy time for music here in Italy. We hope that we may get some specialized major label interested… it would be a dream.
Thanks for takin­e to chat with us Gabriella. Is there anything else you would like to say to the fans and readers to wind this up?
Ivory Moon strongly hope "Dark Time" can be appreciated both in Italy and abroad. Greetings to all!
Links
MySpace * Facebook * Twitter * Site
Latest Multimedia
Label : Pias/Agua Recordings
Review by Luisa Mercier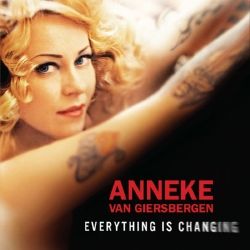 After releasing "In Your Room" I was a bit sceptic about Anneke's new record. Beware: I was not sceptic about her vocals (never been and never will, she is always amazing), but I did not like tracks like "Hey Ok!" or "Sunny Side Up" which I found way too much cheesy. On the other hand, I loved songs like "Wonder", so I had sort of mixed up feelings about her previous album. For "Everything Is Changing" she teamed up with the Portuguese producer Daniel Cardoso (also live musician for Anathema) and the result is very, very satisfying. She abandoned the easy pop atmospheres and embraced a rock sound which is explored in all of its nuances, but it is always present. The opening track is "I Feel Alive", the first single. Lively, happy, sweet, romantic, this song is the perfect tune to cheer you up. Guitars are heard, but they' re not overwhelming. A very nice pop-rock that can be enjoyed while walking or driving. In the same vein there is "You Want to Be Free", which is a little bit heavier, but always catchy and very positive. Of course, Anneke's vocals are the main focus, but the surrounding music context is equally interesting. The title-track is an atmospheric ballad with a soft electronic background, keyboards and quiet mood. Maybe not the highlight of the album, but it is worth more than a listening. "Take Me Home" starts with a dance beat that soon turns into a rock, up-tempo song. Guitars and electronics mix creating a modern, melodic track that all of you will love. Definetely electronic, but more ambient/world music sounding is "I Wake Up" which has a certain pathos, an uplifting feeling. One of my favourite off "Everything Is Changing". I had already listened to "Circles" in a live video and I appreciated the sweetness of the piano and voice arrangement. The voice of Anneke that brings everything to an upper level is the real treat of this song. "My Boy" is a nice mid-tempo that becomes faster in the chorus. Electronic again blends with rock tunes creating a track that maybe is little bit more melancholic than the others, but the real rock comes with "Stay". The beginning is almost metal but it becomes more melodic when vocals kick in. Definitely the heaviest and angry track on the album. Let's go back to pop-rock territories with "Hope, Pray, Dance, Play". The arrangement slightly recalled me Depeche Mode; maybe because of the 80′s sounding keyboards. Another up-tempo song is "Slow Me Down" which slows down only in the title, I believe. The song is very fast and it will be great to play live. Metal again with "Too Late", which is darker than the rest of the record but very enjoyable for me. I mean, I love positive atmospheres, but heavyness is also a pleasant surprise in Anneke solo record given the acoustic style of the first and the pop songs of the second album. "1000 Miles Away from You" is an interesting track that mixes a lot of genres: pop, rock, post-rock, electronics. A very beautiful way to end "Everything Is Changing". I have no doubt this is her best solo release: it contains a variety of music styles, you never get tired of it and of course there is Anneke. How can you get tired of her?
Rating – 85/100
Tracklist
Feel Alive

You Want to Be Free

Everything Is Changing

Take Me Home

I Wake Up

Circles

My Boy

Stay

Hope, Pray, Dance, Play

Slow Me Down

Too Late

1000 Miles Away From You
Line Up
Anneke Van Giersbergen – vocals

Daniel Cardoso – producer, composer, multi-instrumentalist
Links
6 color styles available:

Style switcher only on this demo version. Theme styles can be changed from Options page.