Browsing articles tagged with " name"
Interview by Vard Aman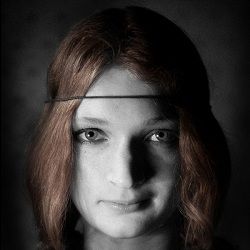 Near Manaus in Brazil the dark clear Rio Negro joins the muddy Amazon and the water from two rivers flow beside one another without mixing, distinctly separate for a distance of about 6 km in the same river bed. It is known as the "Meeting of Water", and such an unusual natural phenomenon has made it one of the main tourist attractions in Manaus. In Moscow, Russia, the beautiful melodic vocals of Slavic Folk joins the heavy, powerful guitars; pounding drums; and electronic elements of Industrial / Industrial Metal without mixing, distinctly separate from each other in the same band, and throughout an entire album and 3 track maxi-single. They are known as Risha, and such an unusual and unique blend has made them one of the hottest new prospects around. I spoke to two of those responsible: vocalist and bassist, Rishafox (also known as Risha, and sometimes, on the odd occasion, as Irina Lvova), and guitarist and programmer, Andrey Ostrav.
Hi, welcome to FMW. Nice to be able to talk to you!
Risha & Ostrav:  Zdravstvujte!
So, how did the three of you meet and when did you decide to start Risha?
Risha: We met a long ago. I was 17 then and it was probably my first time on stage, exactly with the musicians who play in Risha now. After that we were scattered about different music projects but 2 years ago we met again. I and Ostrav have created the idea of Risha and Alex, the drummer, joined us thereafter.
Tell us a little about your musical background, previous bands, and your session work.
Risha: Oh… During my not-that-long rock'n'roll life I played with about 20 bands, went on a European tour with Arkona, performed at big venues in Moscow, St. Petersburg and other cities, as well as in small underground clubs all over Russia. I always played in bands that differed a lot by style.
Оstrav: For about 8 years with the drummer Sasha we made part of one of the cult Russian industrial gothic bands of the 00's – Deform. We toured over our endless country from side to side, shared stage with famous Russian and foreign bands like Korn, Papa Roach, Marilyn Manson, Eisbrecher, Deathstars, etc. This was fantastic! Continue reading »
Interview by Vard Aman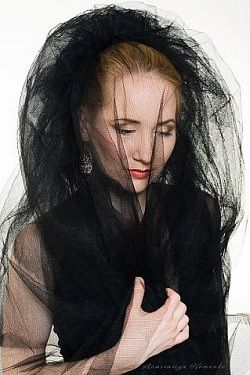 Vocalist, Olga Salikhova, has over the years become a familiar name and face (and voice) in Russian Female-fronted Metal, having fronted bands such as Slavery, Oktagon and Luna Aeterna. Currently, she is singing for one of the pioneering bands of Russian-based Doom Metal, Voiceless Void, as well as her own project, Core. I caught up with her for a chat about her musical career to date.
Hi Olga! Welcome to Femme Metal Webzine. So, to start off with: when did you start singing?
When I was a little girl my granny used to take me a long way to our summer cottage on a bike on the rear seat, and I used to sing all the way to entertain both of us. Later when I was 7 I went to music school and joined a choir, and I liked being part of it.
Did you have any special training?
Yes, I did! When I was a teenager, I felt a great desire to get a Grammy and to conquer the world, and I was quite sure it won't take me more than, say, 5 years, so I started attending some weekend classes at a musical studio. There I experienced my first individual vocal classes. After that all my training was mostly with different private vocal coaches.
What was your first band?
I was 17 then, it was a very nice band called Slavery, they lived in a different city in the Moscow Region, so I had to commute to our rehearsals twice a week and my parents had to meet me really late at night coming back. Slavery was kind of melodic power metal with dark lyrics and kind of gothic image. They were really nice guys and the founders of the band are still my friends.  There are only a couple of live audio recordings from our gigs and a demo. Unfortunately, even though they existed for 10 years, they didn't release any albums, even after I left the band.
According to Metal Archives, Slavery split up for the second time in 2010. When was the first time? Was that also when you left?
No, when I left the band, they found another female leader, also named Olga (Mashkina), also a blonde, there were kind jokes about that in the group and among our fans that the band attracts such front girls. I know after Olga Mashkina they had another blonde singer, Nastya. I actually don't know much about their first splitting-up, I know about the second one in 2010, I was involved then.
How were you involved?
I took a break in my musical career after I left Luna Aeterna. I didn't sing at all for about 4 or 5 years. I communicated with my ex-music colleagues very seldom, only occasionally. Then one day I met with the bass-player of Slavery, Irina, and she suggested that I join them again because their singer, Nastya, was leaving the band for personal reasons. I agreed with enthusiasm, we started rehearsing together, it all was nice and we were discussing recording an album, but after a month of rehearsals the guys decided that they felt exhausted and lacked creative inspiration and new ideas for our music. That's how we split up, basically.
Interview by Si Smith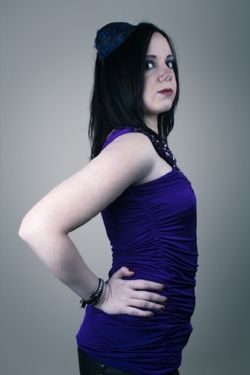 Flying the flag for Belgian metal are dedicated rockers Lovelorn, fronted by the attractively named Ladyhell (Kristell Lowagie). Melodic and passionate, they are determined to put Belgium in the centre of the map for quality metal. Links to groups such as Eve's Apple (formed by Lisa Middlehauve) only serve to solidify their rock and metal credentials. Femme Metal cornered singer Ladyhell to probe deeper….
First thanks for talking to us, and welcome from all at Femme Metal. It seems that are a lady with many faces, as you are also active in other ventures. I believe you and Corpus Christi met for "The Road to Consciousness" project in 2009. Could you tell us a little about this?
Corpus Christi had composed all the tracks of his concept album "The Road to Consciousness" and he was in search for male and female voices. He contacted me, I listened to the songs, and I said yes, I thought the tracks were great ! Later on, we met at the studio to record the songs, and we had lots of fun. We had the same view and ideas about music, we both had no band at that time and we decided to start Lovelorn.
You are also an active member in the Eve's Apple community. For those who are not yet aware, how does Eve's Apple work, and what role do you play in it?
Eve's Apple is a community founded by Lisa Middelhauve. The goal is to join together professional female singers, so they can communicate, but also to help newcomers. We also write articles, express our ideas, give some hints, interact with fans. We don't have a specific role, but we are all working in areas that we like or know better. For example, I'm better at promotion, so I'm trying to help as much as I can in that field.
Your singing career has taken many turns too, from Skeptical Minds to Valkyre to guest vocals for Psy'Aviah. Have you come to a place where you know for sure what your voice is and how it should sound for Lovelorn?
I learned that I cannot sing the songs composed by others. I really need to sing my own songs. Because I wrote it, they perfectly fit to my voice. I have a voice that fits rock, gothic rock, but certainly not symphonic metal ! Yes, I think I know exactly how it should sound.  In Lovelorn, I just make it sound like me, myself and I, and no one else !
Put simply Lovelorn tells stories about love; what is it about love that makes it great material for such a wide variety of songs do you think?
Love rules the world ! It's a subject that everybody can experience, you can tell 1000 different stories about love ! Love is not only about passion between a man and a woman, it can also be love for a god, for your family, for your friends, for nature…. anything is possible.
A track of yours was included on the World of Glass Compilation. Do you think these compilations are important in these days of downloading? Do you feel it gained you any publicity?
Yes I think it helped us, I'm sure some people who listened to the compilation discovered Lovelorn. There are still some people curious about new bands, new projects and who are not brainwashed by commercial radios and TV stations. As a band, we also made friends with other bands on the compilation, yes that compilation was not made for nothing !
I love your definition of your genre on your Facebook page – "alternative, rock, metal, electro, ambient" – well, that suitably walks over such a wide range of genres, how on earth do you decide what to record for any particular track when it comes to composing?
I can't find a good definition for our music style, that's why I've put so many !! ah ah !! If you have any opinion about which style we actually make, be my guest ! We don't decide, it just comes naturally. I couldn't really explain the composing process. Corpus Christi is coming with ideas, I put my voice on top then, we make adjustements. Sometimes we decide we want to put some electronic. It's usually because I want to give a mysterious « atmosphere ».
Why is it important to you that the band members have pseudonyms – the other two being "Hindi Rose" and "Gabriel Arkangel"?
It's not important ! It's just for the fun !! Playing music, going on stage … it's another part of you, another side of your everyday life, … so why not have other names ? 😉
So the EP "An Intense Feeling of Attraction" is now out. The first track is "Save Me". There are a number of songs (even in the female-fronted genre) called "Save Me" or "Save Us". What do you think your song has to separate it from all the others?
I can't remember any other song called "Save Me" but I'm sure it exists, you're right. Everything has been done and said in music, it's kinda difficult to not repeat it, and find something new. This song "Save Me" could be different because of the voice, of the atmosphere, and the nice melody…
Track two is a more laid back affair with minimal backing at certain points. What is the story behind the title "Sagarmatha"?
It sounds different, because I came with the vocal line first, and Christi had to adapt behind it. I also composed all the electronic parts, to make it sound a bit oriental like the title of the song. "Sagarmatha" is sanskrit for "mother of the Earth". This song is about the damages we've done to the Earth and the end of the world.
"Cold" has quite a distinctive choral line. Where do all the ideas come from for a Lovelorn song – the musical and the lyrical ones? Do the ideas come from any specific band member or does everybody contribute?
It depends, it comes from me or from Corpus. We take what's best ! "Cold" is coming from me. I had that whole singing line since years in my head and I already tried to make it sound nice, but it was not possible, but Corpus made it possible! Thank you !!! During rehearsals, the other members become active for the live parts; they also suggest bass lines, drums, we are very open, the purpose is not our ego, but to make the best song possible.
The electronic side comes out more in the drumbeat to "Something Wrong".Was it difficult to agree on how this song should sound, or do all band members have a clear vision of where the band is going at any one time?
We are a new band; so I would lie if I'd say we have a clear vision of where we're going. We are new so we try things, if it works, that's great, if it doesn't we leave it behind. We are composing a lot and we are getting more and more certain about what we want to hear and what we don't, so that's good. "Something Wrong" has many fans, it's touching a broader audience and it still fits the EP, so we are more than happy with the result !
By contrast your final song "Little Princess Euphoria" has a more guitar driven basis, and sounds like it would be great live. Have you had many live performances of your material yet?
Live performances is the next step. We had some and we are still working on getting more. We are lucky and we have booking agencies that are helping us in the process. "Little Princess Euphoria" is great live, we experienced it on stage and every week at rehearsals, we have loads of fun with it !
Flight of the Valkyries festival is upcoming in the US for this year and I believe you have a chance to play there. How can readers vote for you if they would like to? What would it mean for Lovelorn to be a part of such a festival?
Yes, we were surprised to be on the list of the nominees, it was unexpected, so we are doing our best to get more chances to go there. People can vote for us here . It would be nice to be part of that fest, i don't know how big it is, but we will play if we are invited to !
Finally, thanks so much for talking to us. Have you any final words of wisdom for us? Anything from your heart?
No wise words, just enjoy life !
Links
Interview by Vard Aman
In my opinion, well played Doom Metal is one of the ultimate and most extreme forms of music, second to none when it comes to creating and unleashing powerful, dark and stirring soundscapes of emptiness, despair and (yet), total awe. Some people may disagree with me, depending on their personal tastes; but if you agree with me, you might want to do yourself a huge favour and check out an Australian band called Lycanthia. Lycanthia have recently released their second full-length album, entitled "Oligarchy", and on it Lycanthia produces all the soundscapes to which my above description applies. Founded in 1996, they have provided one of the sturdiest pillars of Australian Doom Metal, and have since become a household name – OK, maybe a name in one of the less frequented corners of the Doom Metal household (where you might find a Funnel-Web Spider perhaps), but they're rightfully and deservedly there none the less. Lycanthia is fronted by three vocalists, one male (Lee Tassaker, also the bassist) and two female (Vanessa Black, also on violin; and Megan Tassaker, also on keyboards). I chatted to Megan recently.
Hi! Welcome to Femme Metal Webzine.
Thanks for having me.
Let's start off with a bit of history: Tell us a bit about Lycanthia's formation and early years.
In the early days, Lycanthia started out as just a recording band made up of a group of friends. The main inspiration at the time -without naming names- was that many of their favourite parts of certain songs would be orchestral sections, or parts with female vocals but when you would see the bands live, those elements wouldn't exist. Lycanthia wanted to make a band that would be able to zone in on these elements AND reproduce them live. Once a demo was made, the next step was making it a live act.
What inspired the name?
The name was taken from the book Lycanthia, by Tanith Lee.
There have been quite a lot of line up changes over the years. How much of a hampering effect has this had on Lycanthia? (I'm assuming it has).
It has had an effect, as far as holding back recordings goes. Although we do try to take our time with recordings and make sure they are right, the last album "Oligarchy", would have been recorded much earlier if it weren't for those kind of hiccups. It's a shame that people hold it against you or try to judge your band when that happens as well, for the most part we have remained friends with ex-members. There have been many reasons people have left, from wanting to go in different creative directions, to having family or work commitments that have restricted their time. Having said that though, we are all very happy with our current line-up, it has definitely helped us step up and refine our sound further into what we want it to be. So as much as these things can hold thing's back, they can also push you further.
What other projects have you been/are you involved in?
I (Megan) am also in Avrigus, Lee is currently playing Bass for Cruciform and plays session bass for Avrigus. Mat is in Bleakwood and Blatherskite.
Tell us a bit more about Avrigus.
Avrigus is a recording band featuring myself and Simon Gruer. I would describe the music as atmospheric doom/gothic metal. The band was founded by Simon and the previous vocalist/keyboardist/composer Judy Chiara. I met Simon at a Lycanthia gig (before I was in the band), at the time I hadn't heard any Avrigus. He mentioned that he was wanting to keep Avrigus going but Judy was not longer wanting to be a part of it and he was searching for a new vocalist. He had tried to get it going with a few other people but it hadn't really worked out. So I checked out the music the next day and expressed my interest, he had heard demo tracks that I had sung on and was very enthusiastic. We met up and I dropped down some demo vocals for "Banquet of Souls", Simon was very happy with how it sounded. I think he wasn't 100% sure until he heard me play an original song though. I played "Beauty and Pain" on keyboard and sung it for him, he loved it immediately and we set out creating a bunch of songs that became the "Beauty and Pain" EP, available for digital download only at the moment on our website: www.avrigus.com. At the moment we are recording an album that was mainly written by Simon before I joined the band, most of the songs were written in the time between "The Secret Kingdom" – the last album with Judy, and the time that I joined the band. One original written by me will also appear on the album. At this time we don't have a sure release date as we are still in the process of finishing writing vocal lines and perfecting the orchestrations.
How would you describe Lycanthia's sound to those who haven't heard it?
A blend of old-school Death/Doom riffs, complimented by counter melodies on violin, harsh grim vocals and dual Female harmonies.
What is the significance of Doom Metal and the attraction to it, both as a musician and as a fan?
Doom is about creating an atmosphere and a mood, many other genres are just about technicality. For me music is art and a creation of expression, not that there isn't merit to being technically proficient, just that I prefer song writing to move me and hopefully move others.
Tell us a bit about your previous releases, "Myriad" and "Within the Walls".
"Myriad" was a first attempt at writing songs as a group for Lycanthia. A fairly collaborative effort, the majority of members were teenagers when this album was made and the sound was not as clearly defined as it is today. At the heart of it though, it was just made for fun. In between "Myriad" and "Within the Walls", we put out a single called "Inferno" which we recorded specifically for a compilation CD. By the time we came to "Within the Walls", Lycanthia had many other songs written – including some that ended up on "Oligarchy" (which obviously weren't in their current state then) – the songs that were chosen were the ones the band felt were ready for putting out into the world, that had been worked on and reworked until they were to the bands liking.
How has your sound changed over the years leading up to "Oligarchy"?
Some of the songs were written – in a much basic form – before "Within the Walls" and we were still working on them. As a band, having new members join allowed Lycanthia to be more diverse and imaginative, a lot of parts of songs we weren't so happy with were able to be brought to life in ways we had only imagined before.
Is there a possibility of re-working/re-recording and re-releasing some older Lycanthia material in the future? (Such as "Hope Lingers Yet" – it was a snippet of that song that introduced me to Lycanthia and left a lasting impression).
No, we have no plans to re-record "Myriad".
What has the response been to the new album so far?
The response has been fantastic. A lot of people have told us that we have brought the band into a new place with this release, and obviously it helped get us attention from Hypnotic Dirge Records who signed with us. It has also helped us score several endorsements.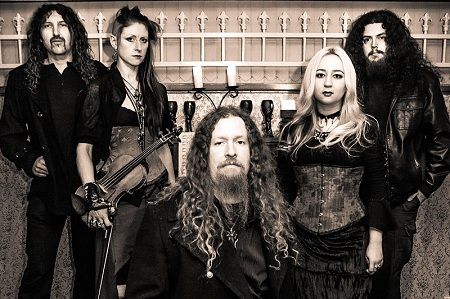 What inspires your lyrics and what are your general lyrical topics? I'm particularly curious about the stories behind "The Essential Components of Misery" and "Forgone".
"The Essential Components of Misery" is lyrically about the way we see the world around us. Although we are lead to believe we have freedom, we do not. We are lead to believe that we have choices, but the choices are really just to conform or be left behind. So in a way, it's a bleak reaction to the harsh reality of the world as we see it. "Forgone", this song is like a part 2, part 1 being "Eternity". So in the title of the two songs there is a hint to what the song is about… "Eternity… Forgone". It is probably our only song that is lyrically a fictional story rather than a story that comes from personal experiences or feelings. It is about a deity that falls in love with a mortal, and has to be stripped of eternity to embrace their lover. Although it is fictional, I think it is something that everyone can relate to, forbidden love.
Would it be true to say that "Forgone" is written as a poem first and foremost and that the song's lyrics are based on it? If so, does that apply as a general rule to most of the lyric writing process?
Sometimes that happens and other times if a lyric idea comes to mind, we will just write them down and set them aside until a song comes along that it suits. With all our songs, it's not so much lyrics to a song, as it is a poem to accompany the music. Once the poem is written, we arrange it melodically to suit.
How regularly do you play live and what is the response like at your shows?
When we aren't recording, we play live probably once every couple of months. The response is always great. We heavily advertise our shows to build up hype and we always enjoy playing live because that's when we get to experience crowd reaction to the music.
Have you done any international tours?
As of yet, we have not. We do plan to in the future though; it's something we all really wanting to do.
How healthy is the Doom Metal scene in Australia currently?
There has been increased enthusiasm for the genre lately. We have Mournful Congregation from South Australia, they play Funeral Doom. Okera from Melbourne, and Futility from Canberra are just some of the amazing doom bands that are also playing in Australia at the moment.
I've noticed a few ex-Lycanthia members around in Doom Metal bands, like Rise of Avernus (Andrew Craig), Rituals of the Oak (Sabine Hamad-Linfoot), and Murkrat and The Slow Death (Mandy Andresen). Can you tell us anything about them?
Firstly we'd like to mention that we are great friends with all these people. We are big supporters of all of these bands and love their music. In the case of Mandy, she begun Murkrat after leaving Lycanthia, it was a direction of music she had been heading towards for a while and we love it, but it isn't the sound for Lycanthia. The same can be said for Sabine, she found her tastes leaning towards a different direction, and you have to follow what you want to do musically, otherwise there's no fun to it. Andrew Craig is one of those guys who is always filling his time up with heaps of projects, we loved our time with Andy but in the end, he didn't have the time to put towards us along with all of his other commitments.
What do you all do when not playing music?
Steve is a car fanatic, always going to old car shows etc, he is also a heavily into ninjitsu. Mat is an armature photographer. Lee likes to do a lot of painting, he actually painted the cover of "Oligarchy", though it had editing and arrangement done to it, music and literature are big interests of his too. I go in and out of phases but always creating things, whether its poetry/lyrics, drawings or clothing, I also love to read. Vanessa takes part in many arts projects, creating and designing spaces.
Australia has always been one of my favourite countries. I like the people (well, more than I like most people at least) and the idea of clean first world cities in a country with so much open space and nature – the best of both worlds. But that's just my opinion. What is it like living in Australia for you? What do you like and what don't like about it? And is +40C really just "a tad on the warm side today, mate"? And have you ever seen one of those famous Sydney Funnel-web Spiders?
I am very much an Autumn person. In Australia, summer is a humid hell of heat, sweat and flies. In winter, I freeze, although I do enjoy the scenery of winter, the cold feels like pain to me and my sinuses suffer. The same sinus suffering happens to me in Spring-time, Autumn is perfect in-between weather to me. I do love that we have nature and cities in Australia, one of the thing's I dislike is probably that in general, the music industry in Australia is not very big at all. To be honest with you, I probably have seen a Funnel-web but if I have I didn't recognise it. I don't even think I know what they look like, which is probably really bad hahaha. Living in the city, I don't really see that many spiders and have to travel to see the wilderness.
Back on topic again, one final question: What is next for Lycanthia?
Next, I'm not sure I'm able to announce the very next thing that will happen, but it's coming in November. We should be able to announce soon. I'll keep you posted.
Thanks for chatting with us, good luck, we'll be watching and listening closely!
Thank you.
Links
MySpace * ReverbNation * Facebook * Twitter * Site
Interview by Erwin van Dijk

On June 1st the compilation double cd "Demonic and Divine" is released by Femme Metal Records. The cd is to support the Macmillan Cancer support and Cancer research UK. Godyva appears with the song "My Inner" on this album. Godyva is a Gothic Metal band from Bari, Italy. The band was formed in the year 2000 and has released two albums and a demo cd. Godyva's latest album was released last year and this album also includes the song "My Inner" that also will be featured on the "Demonic and Divine" album. Lady Godyva was a noble woman from England who lived a thousand years ago (c. 997 – 1067) in the city of Coventry. She is most notable for riding naked through the streets of Coventry. By doing this she gained a tax remission from the high taxation imposed by her husband Leofric, the earl of Mercia. And with success. "Godiva" or "Godgyfu" means "God Gift" in Old English. This interview is with Lady Godyva, the singer of Godyva.
For starters: what is your real name?
My real name is Cristina Argese, my surname sounds like the river Arges where Dracula's wife died, this is what the legend of Dracula tells. His wife killed herself throwing in the waters of the river Arges and subsequently the river was called the Princess River. Cool!
Did you always wanted to become a singer?
Yes! When I was a child I always dreamed to sing with David Bowie or Freddie Mercury! I wished to be their chorist on tour, hehe!
Who are your favourite singers and musicians?
My favourite singers and musicians of my childhood were the White Duke and Mr. Mercury and his band Queen as I said before; when I was a girl I loved Maria Callas, Dead Can Dance and Lisa Gerrard, Peter Murphy, The 3rd and The Mortal, Katatonia, Sarah Brightman, Sade, Kate Bush, Tori Amos, Paradise Lost, Metallica, Korn, Slayer, Queensryche and more but now in this moment of my life I'm really in love with the voice of Nevermore, Warrel Dane (his last solist album is fantastic), I like Porcupine Tree too, Avantasia, Scar Symmetry, Soilwork, In Flames, Entwine, Samael… But Paradise Lost and the voice of Nick Holmes will be forever my favourite.
And to what kind of music do you listen yourself?
Death, Thrash, Metal and Gothic Metal very often but sometimes I like to listen to ambient or new age music to relax myself.
Did you sing in any other bands before Godyva and do you any other bands right now?
Before Godyva I sang with a band called Aragon. The line-up included two singers, male and female and I used to sing like the Opera. Now I would like to dedicate myself only to my band Godyva, but maybe in the future it could be possible.
Speaking of side projects: you have recorded a song with the Thrash Metal band Methedras (also from Italy) for their latest album "Katarsis". This song is called "Nightmare". How did you got in touch with this band and what have you learned from this experience?
Methedras are friends for me. They asked me to sing on their latest album after their listening to the song I sang with Necrodeath, on their "Draculea" album. They stayed impressed and so they asked me to sing the song "Nightmare" on their new album. A link to the band.

Why did you choose Godyva as the name for the band?
I was a young girl when I decided to choose this name for my project and I remember that I was reading the story of Lady Godiva during a reading of an old book of my grandmother. I was spellbound of this heroin so brave that used her naked body to win against her unfair husband. She was the first feminist! She was a woman with no shame! She embodied Eva before the original sin. I would like to be naked all time, especially in this warm period (sometimes I really hate dresses and all accessories I must wear!) but I cannot do it, what a pity! hehehe!
How would you describe Godyva's music? Because a lot of people will assume you will sound like Lacuna Coil because Godyva is Gothic oriented with female vocals.
I think that Godyva are similar to Lacuna Coil because the female voice but there are a lot of bands in the world with a front woman that could be similar too. I like Lacuna Coil, they are a great band and I'm really happy for their worldwide success and fame, but we are different, we use to play and to compose in a personal way in my opinion. It's easy to say "You are like Lacuna Coil!" because we play metal with a front woman and we are Italian but we don't want to be a copy of an other band, we want to be Godyva and "nothing else matters"!
And what makes Godyva different compared to all the other female fronted bands in the world?
I think every voice is personal and unique in the world, also your voice is unique! It is scientifically shown that the voice is as unique as the iride of the eye and the digital imprints. And every voice has its own ability to transmit emotions, so the ear of the listener decides what it is or it is not pleasant. Also the personality of a singer and of a musician makes the difference, but i don't like to compare myself or my band to the others.
Who are the other members of Godyva?
Botyz Beezart – keyboards
Botys is the principal composer of the band, he mixes melodies of the keyboards to all guitar's riffs really in a particular and special way. Maybe it's his work the real difference in our band.
Anto – guitars
Anto is the aggressive characteristic of Godyva, he is the guitar that I have always desired to mix aggressiveness with romanticism.
Nick Barrah – bass
For a long time he does his beautiful job for this band. He is an essential musician with a great personality.
Enyo – drums
A drummer precise and progressive from years he is the rock of hour sound.
Why did Godyva choose the song "My Inner" for the "Demonic and Divine" album?
We have chosen this song because in that period we released the video of "My Inner" and we wanted to promote this song one more time in a compilation but we are sure "My Inner" is a song that younger fans appreciate and we believe in them.
And how did you (the band) got in touch with Femme Metal?
Femme Metal is a fantastic store managed by serious people that sell our cds, and so they asked me to take part to this compilation and i said "Why not?". I really hope this compilation could help this cancer research in UK.
Is song writing teamwork in Godyva or is there a mastermind behind the music?
As I said before Botys is the principal composer, so I can say that he is the mastermind about the music but also with all our help. In our latest album Anto has composed with him some songs among which "My Inner" and I have written with him "On the Floor of Ice" and "Mary in Blood". All vocals and lyrics are only my work.
Can you tell us something about the songs on "Planetarium" ?
"W.A.I.H.T.L.I.H" is the intro and it's the same music of the outro but you can listen to this intro in the opposite verse with the sound of tears that fall. Because of this you read the title like an image in the mirror. "The Ark" is The first song we have composed for this album and so we chosen it for the opening track. Instead "Innocent" is one of the two songs that sees the collaboration with Mike Tarantino (Natron). Here you can ear how the new guitarist Anto makes the difference with his style and his composition support. "Mary in Blood" is a romantic song that speaks about Maria Magdalena and her love. "Deep Inside" can be deceitful because it seems an happy song instead it speaks about one love that wants to last up to the end, together, both in the same grave. "Planetarium", it's simply the title track; we adore this song. It's the second one composed for this album and we think it is a complete and refined song. "My Inner" :I like it, I like it, I like it. The most powerful song of the album and the most appreciated by the metal kids. We released the video of this song. You can watch it on our MySpace page, YouTube official page, official website and on Rock Tv. "Black Door" also is one of the most difficult song to sing on this album. The ninth song is "On the Floor of Ice" I like to call this one "the liquid song", because it speaks of water (our life), deep blue sea (I love swimming) and ice. "No Fault" sees again for the second time Mike Tarantino as special guest! I like so much this song for that style typical of the Eighties, and we feel nostalgic for these years. Back to romaticism with "God Is Fallen" that speaks about our own fallen idol. And here we're at the end with "H.I.L.T.H.I.A.W." (outro) : a yearning and suggestive closing recited. This is an outro, but we use it as the intro for all our shows. As a treat for our fans we've decided to include a special version of "Innocence" as an acoustic version like happened the last time in "In Good & Evil".
And what is your favourite song on this album?
My favourite song on "Planetarium"? The title track! In reality I have two or three favourite songs on this album: "Planetarium", "Innocent" and "My Inner".
And what are the differences between "Planetarium" and "In Good and Evil" ?
The difference is the guitarist and obviously all guitars you can listen to. Our ex guitarist Frahn left the band some months before the recording of "Planetarium" so we chosen Anto as our new guitarist and we were sure that he would have done a good work in the studio giving more aggressive sounds to the songs of Planetarium. The other difference is that we are grown now as musicians and composers so we can offer an album more mature and enjoyable than "In Good and Evil".
What are Godyva's plans for the future?
We want to play music all over the world, there is a booking agency in USA that wants Godyva there, so I hope it could be happen very very soon. But at the same time we love our country so we will continue to show in Italy. We will be in Czech Republic on the 11th July to play on the stage of Prestenice Open Air Music Fest and the headliner of the event will be The Rasmus. We are working on new songs now but we don't want to say more about a new album now. We have to still promote "Planetarium" now.
And the last question: Is there anything the reader should know that I have not asked?
I think you have done all good questions. Thank you for this funny interview and I hope to see you again. Cheers 😉
Links
Latest Multimedia
6 color styles available:

Style switcher only on this demo version. Theme styles can be changed from Options page.