Browsing articles tagged with " napalm"
Label: Napalm Records
Review by Tony Cannella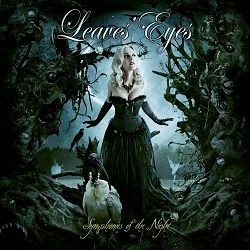 "Symphonies of the Night" is the title of the 4th full-length album from the German/Norwegian metal band Leaves' Eyes. The band – which is led by the duel vocals of Liv Kristine and her husband, Atrocity main man Alex Krull – has forged a pretty consistent and solid career for themselves based on an excellent body of work and "Symphonies of the Night" certainly rates right up there with their previous efforts.
The opening number "Hell to the Heavens" is simply awesome and my favorite track. What a great way to start things. Liv Kristine and Alexander Krull continue to be one of the most unique vocal tandems who use the "beauty and the beast" technique. Continue reading »
Label: Napalm Records
Review by Tony Cannella
With all of the talk about the 'true metal' movement, it is easy to forget that there are those bands who are making thrash metal fashionable again. One of those bands is Canada's Mortillery. They formed in 2009 and released their self-titled demo in 2010. It didn't take long for the folks at Napalm Records to come calling and hence we have their debut full-length "Murder Death Kill".
First of all with an album title like "Murder Death Kill", it pretty much says a lot what the band may be like. Suffice it to say, don't expect anything nice or cutesy. The first song "Murder Death Kill" begins the thrash fest with a potently intense opening number that sees the band firing on all cylinders led by the aggressive (somewhat high pitched) vocals of Cara McCutchen who delivers her lines in rapid fire fashion. Continue reading »

Interview by Tony Cannella
The Dutch metal band Delain recently embarked on their first extensive U.S. tour as the opener for Kamelot. The band has impressed the audiences with their high energy, powerhouse performance on each stop of the tour. I had the opportunity to see them live in Worcester and they did not disappoint. With their new EP "Interlude" available now, I had the chance to chat with lead vocalist Charlotte Wessels prior to their set in Worcester and we talked about a variety of subjects including their last album "We Are the Others". It was a nice conversation and this is what she had to say
…  
You've been on tour with Kamelot in North America for a few shows now. How has it been going so far?
It's been going well. This is our first ever U.S. tour. We've done Prog Power before, that was one show, we've done the 70,000 tons of Metal Cruise, but that was also just one gig, so this is actually the first time we are doing a full-fledged U.S. tour. It is really exciting for us to see the audience response, even though we are with a little bit of an adjusted band because we have some people who are expanding their families' right at the moment. It's going pretty well; especially yesterday in New York we had a really cool reception. It's been amazing. Continue reading »
Label: Napalm Records
Review by Tony Cannella
Ever since the California based melodic metal band Huntress released their debut album, "Spell Eater" the band has made quite a name for themselves, in large part due to their debut, but they have also been gaining a reputation for being a great live band. The band returns with their second album entitled "Starbound Beast" and while it may not be a radical departure from their debut, it is still packed with 10-songs and 48-minutes worth of ferocious material and follows the basic template set by their debut.
Opening with the intro "Enter the Exosphere" the band launches into the raucous "Blood Sisters". Throughout the course of the album the band knows only one direction and that is straight ahead metal. Lead vocalist Jill Janus is still the main focal point and her throaty vocals pack a huge presence. Continue reading »

Interview by Tony Cannella
To put it quite simply, Huntress killed at this year's Mayhem festival. I'm sure it wasn't an easy proposition to take the stage so early in the day (around 1pm) in the blazing summer heat and even though they had a set time of only about 30 minutes the band made the most of it and I'm sure came away with many new fans. Not long after the band left the stage, I had the pleasure to sit down with lead vocalist Jill Janus to discuss their excellent new album "Starbound Beast", the mayhem fest and a variety of other topics.
You are currently out on the Rockstar Energy Drink Mayhem Festival. How has it been going so far?
Well man, it's just been a dream come true to be part of Mayhem fest. It's like a family, a great learning experience, like a circus that travels by night, I feel like a gypsy. It's a really, really interesting time for Huntress, especially being the second band to go on every day and just seeing the fan base growing and growing. It's pretty cool. Continue reading »
6 color styles available:

Style switcher only on this demo version. Theme styles can be changed from Options page.