Browsing articles tagged with " narcissus"
Interview by Gaia Stella Rotondi
Transcription by Alessandro Narcissus
Intro by Miriam C.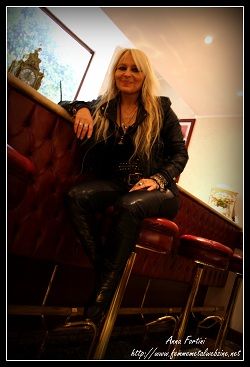 On a hot summer day (to be precise on the 12th September) we've met in a hotel in the centre of Milan during the promo day dedicated to "Raise Your Fist", the German metal queen Doro. Let's hear directly from her the latest news. Some words dedicated to the memoir of the late Mr Ronnie James Dio are present and we join with her to his memory publishing this interview.
Today Femme Metal is pleased to have the metal queen Doro Pesch as guest. Hi Doro, how are you?
Hi there, I'm very good! Thank you for the interview, it's great to be here in Italy!
We know that your new album, "Raise Your Fist", produced by Nuclear Blast Records, will be released on October 19. Could you tell us something about it?
We've worked for over half a year on it. We recordet it all over the world, from New York and New Jersey to Hamburg, we've mixed it in Danmark with Jacob Hansen, who'se the producer and engeneer for all of it. I wanted to make sure that the sound is hard, powerful and really, really good. The first song, "Raise Your Fist in the Air", I kind of had the feeling it might be the first single. So I sent it out to many people, everybody mixed it, and then it was hard to choose 'cause many were really good, but when I heard Jacob's work I said, "Okay, you're the one!". There are some special guests on the record: I sing a duet with Lemmy (Kilmister from Motörhead Ed.) on one of my favourite songs, "It Still Hurts", which is a very touching and emotional ballad, and I love it so much, and I also love Lemmy for the longest time, he's great! Then we have another guest, Gus G, the guitar player of Firewind, and he plays a solo on "Grab The Bull (Last Man Standing)". A good friend of mine made contract with Alex Krull from Atrocity and Leaves' Eyes, and he's a guest on that song as well. Then there is "Hero", which was the first song we wrote for the record, and it's a tribute to Ronnie James Dio: so many fans were totally heartbroken when he died – including myself, I was totally devastated and after all this time I still am! – so I really wanted to say thank you and pay respect to him.
Could you tell us something about the importance that Ronnie had in your life?
Yeah! Beside being an amazing singer, I think definitely one of the best, he was a great friend and my biggest inspiration! I had the chance to meet him many times, we toured together – actually my second big tour, back in 1987, it was with Ronnie James Dio and it was great because it was the peak of heavy metal with big venues and fans, it was unbelievable and really unforgettable! Then we had the chance to tour again a couple of times and one of the greatest experiences was the American tour in 2000, because, as you probably remember, in the Nineties grunge was big and heavy metal had a really difficult time; and then, in 1999 I felt it was coming back somehow and I did a song for Ronnie James Dio's new album, then he held a release party in New York and I was there and I went to say hi, and he was like "Hey, I like the song so much, it's magical!". And a couple of weeks later we had our record done – I was "Calling The Wild". We were in the middle of an interview with a radio station in Tennessee, and we were talking and they asked if we had any touring plans, I was like "Not yet, but of course we want either to open up for someone or do our own club tour", and then the lady said she was like "What about Ronnie James Dio?", and she was going to interview him in a hour so she suggested us to him! And a couple of weeks later we were on tour together and it was great! The last leg of the tour was in Florida and we always sang the encore together! He went to the monitor guy asking for a second microphone and came on stage. In 1987 I could not speak English that well, so we were just like "Hi, great show", but in 2000 we really got much closer and became really good friends.
In "Raise Your Fist" you had the chance to work with many other musicians. As you said, you collaborated with Gus G from Firewind and Lemmy from Motörhead. How did it feel to work with legendary and new generation artists at the same time?
It's great every time! It was a honour to work with somebody special like Lemmy. He's my hero, I love Lemmy! We played together in the very early 80′s and now we were on tour together two years ago, and it's great. He's very soulful and a total gentleman, a great talker, a great musician. With younger generations, when people love music there's always this common ground. With Alex Krull we always met in Wacken and he suggested that we do something together and his wife Liv Kristine, she was at my 25th Anniversary gig and performed on "Celebrate" along with all those great ladies that met on stage. And we all felt connected then. There is one song on the limited edition called "Strong And Proud" which I wrote to talk about this connection with all the female vocalists. I think it's pretty cool because we're all supporting each other and connected, there is a lot of unity.
An EP was released on August 3rd, to precede the upcoming album. The EP contains four songs and it includes also a French version of the single "Raise Your Fist in the Air". Would you like to talk about the reasons of this choice and about the EP in general?
After I recorded the demo of the song, I played it to some people involved with Wacken. When they heard it they were very enthusiastic about it and wanted me to play it at the festival. It was not finished yet, but they really wanted it, so I was like, ok, I can try. Then I played it and I got a great response. Everybody's fists were in the air. It was the first day and I played it in front of about 50,000 people, they all liked it, so I thought it could be a great single. Then I tried it out a couple of times when I played in Europe, in Moscow, and I also wanted to play it in Lyon, in France. I tried to say something in the native language, so I asked "How do you say 'Raise your fist in the air' in French?" and they told me "Lève Ton Poing Vers Le Ciel" and it was really cool! And then there is another story: one day I was introdued to a girl called Vanessa who really wanted to hear a song in her native language because she only speaks French. On my previous album I recorded several versions of "Herzblut", like in Spanish and in Portuguese, so I also made one in French and I dedicated it to Vanessa. She was really happy! She has two sons and said "When I have a girl, I will call her Doro!", which was really cool! I was very happy! So I decided to do another French version on this album.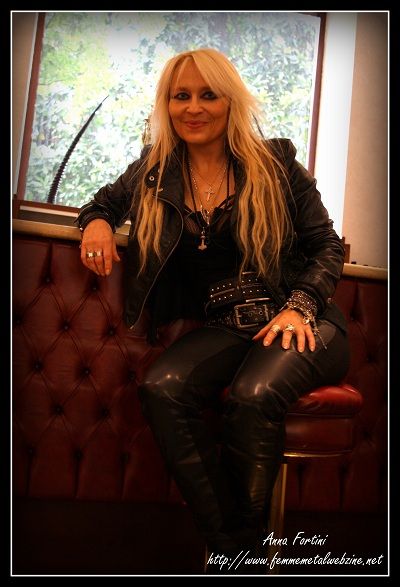 The guitar player on "Raise Your Fist" is Luca Princiotta, an italian musician. How did you meet him?
I met him a couple of years ago. I was in Italy doing a little appearance for Clairvoyance. There I met Luca and I knew he was a great musician. Then joined us for the keyboard when Oliver Palotai was busy touring with Kamelot. We really got along and played many gigs, so he joined in as guitarist for the new album.
You have released also a video for the single "Raise Your Fist in the Air". We know that you love the city of New York, but the video was shooted in the Bronx area. Why did you choose this place and how would you describe this experience?
It was quite an adventure, quite dangerous too! In New York it's very hard to fill in to get a permission and stuff. So we were like, okay, you know what? We just go there with our truck. We go everywhere we want and when the police comes we just get back on our truck and run away! We went all over and then elsewhere too. We went to all kinds of neibourghoods in the Bronx and in Harlem, and while I was singing, suddenly people were coming up to see what we were doing. At a certain point there was like a gang, and we were like, "Oh God, sorry, we were just shooting a little video!", but they liked the song although I think they were more into rap or that kind of music, so we asked them to join us and it was really cool! Everybody came in, we shot under a bridge, there were also some homeless people who showed up as well, even a guy who said he liked jazz but stopped all the same, and my band was in the video too, so… gang members, homeless people of New York, all united by music, it made all of it immediate. It was much fun!
You often play at metal festivals, such as the Wacken Open Air. What do you think about festivals and how is your relation with the fans during these events?
I love playing festivals. My first time playing in Wacken was in 1993 and there were maybe 2000 people. It was very small, just the area where now the bands' dressing rooms are. And since then every four or five years I came back, and a certain point there were 20,000 people and the whole thing was going bigger and bigger. What I love so much was that the organisers of the festival were two die-hard metal fans, because no one wanted to do metal festivals in the early 90′s, so it was a festival from fans to fans, you can still feel it today. And the village near it, everybody is very welcoming to all the metalheads, back then somebody even welcomed us to sleep, which is really great because, you know, all those guys with long hair and tattoos and stuff… So I specially love Wacken, but I also love Gods of Metal, Metalcamp… I love it all, every festival is special in its on way. People from everywhere come and enjoy so much music, you can see all your friends, all those bands, all the fans of other bands, everybody has stuff to do but you can reconnect with the fans.
In 2006 you made your cinematic debut in the film "Anuk". You returned to the set for the second part of this film that will be released at the end of 2013, and it is called "Anuk – The Path of the Warrior". Would you like to talk about this film and the shooting? Is it true that the soundtrack will contains music from the upcoming album?
Yes. The producer is called Luke Gasser. He asked me for the movie and then I did some more music for the film, very different in a way, for there is not only words. We were doing the music together and I just came back for shooting the movie. It was a little more difficult than usual because I also had to do the promotion then go on tour. This is the second part to end "The Path of the Warrior", it's an adventure, the good guys against the bad guys, it's set in 2000 BC. The first movie was a lot of fun! It's an independent movie, the budget is not big, it's just not like a Hollywood budget, but everybody put so much energy in it. It's very demanding, getting up every day in 5 o'clock in the morning, then working hard for 16-18 hours a day, there were 50 horses, many people who did the stunts, I was filming often in the water so I also hoped I would not get ill – but I didn't! On the last record, "I Lay My Head Upon My Sword" was for the movie.
You're on the metal scene since the early 80′s. Is it difficult to hold the crown of Metal Queen for such a long time? What is changed since the beginning of your career?
Well, it's so nice when people have good things to say about you, it makes me so happy! But actually I'm just a normal metalhead. I still love metal, I still love the fans. I just try to make the fans happy, which is the most important thing to me, it's my mission. For so many years it's been great and I owe much to the fans, they always support me in good and in bad times, like when grunge was big in music. I love my fans more than anything and it's my aim in life to make fans happy and to give them something they can believe in and enjoy, give them some positive power. Now, being called a "Metal Queen" is such a big word, I just work each day to make something nice, but it's only me, I still feel like when I started it all, when I was 22. It feels like 6-7 years ago, not certainly like 26 or 27!
Thank you so much for being here and replying our questions. Is there anything else you would like to say to your fans?
Yeah! The most important thing in this world to me, which will never ever change, is my love for them. I'm still there, I'm still giving 100%, and I want to say thank you to all of them! They give me all the energy and all the support, so… thank you so much, it's very important to love each other!
Credit Photos
Exclusive Photos shot by Anna Fortini
Links
MySpace * Facebook * Twitter * Site
Latest Multimedia
Label : Pias Recording
Review by Alessandro Narcissus
Dead Can Dance. Does Lisa Gerrard and Brendan Perry's iconic musical creature really need an introduction? Well, perhaps it does, as many of the people who may love their music or any of the genres that originated from their wake were barely kids or not even born during the heyday of one of the most established and respected acts of the Ethereal scene. Dead Can Dance were formed by partners Lisa Gerrard and Brendan Perry in Melbourne, Australia, in 1981. Soon they moved to London, when they got signed by an alternative label and released an EP and their debut full length to great critical acclaim. In the following two decades, not only did Dead Can Dance become a legend in the Ethereal scene releasing a total of seven full-lengths which are nowadays widely regarded as classics, one studio EP, an official live album, an incalculable amount of b-sided and live-only tracks, achieving fame both in Europe and in the Unites States and having several songs featured in movie soundtracks, but they also indirectly contributed to the birth of the Gothic Metal genre itself through the early work of The Gathering, who openly cited them among their greatest influences. Now, after a brief reunion tour in 2005 and the release of five live EPs as an appetiser in the past months, Gerrard and Perry finally felt ready to get back to writing together new music for Dead Can Dance, and subsequently released their come-back full length, "Anastasis" – which fittingly means "rebirth" – after sixteen years from their previous studio album. Now, let's get it clear from the beginning: you can put perfection into music, but putting it into words in a review is a much tougher work. No review will ever live up to the true artistic value of "Anastasis", as this album is nothing short of the high standards of any past Dead Can Dance "classic" release. It's a highly inspired and emotional album, a collection of eight diverse and outstanding tracks that make up an incredible experience when listened together as a whole. Generally speaking, the album is incredibly sophisticated, even if compared to the band's past recordings. It remains true and coherent to their past and priceless heritage drawing widely from it, but is a contemporary work which gives room to the artistic maturity Gerrard and Perry achieved while working separately. Balance is the keyword of this recording: nothing is overdone and every single note of each instrument is put in the right place for the right reason, to provide an experience that will delight both the artistic and sensitive side of the listener. Indeed, what immediately catches the ear is the sense of general harmony and unity of the record, in which each track has its own individuality but, at the same time, works perfectly as a piece of a greater experience. The orchestra – a typically western element – may be identified as the guiding thread of the oriental-sounding album. There are more orchestral parts than in the past and they are used differently in that the ensemble plays an active role in the most exotic soundscapes: instead of only providing a lush background for the ethnic instruments, it often accompanies them and plays along on the oriental or tribal melodies. Ideally, this interpretation of southern and eastern sounds with typical western instruments epitomises the idea of mingling different cultural influences into something new, which has always been the main standpoint of Dead Can Dance and is done at its finest in this album. This sense of harmony is also given by the balance between the two composers' efforts. Even in this, "Anastasis" sounds much more cohesive than most the past Dead Can Dance albums, in particular those released after Gerrard and Perry's domestic break up – namely "Into The Labyrinth" (1993), "Spiritchaser" (1996), and most notably their live effort "Towards The Within" (1994), in which their stylistic differences were most evident and at times even clashing. Whilst Gerrard's and Perry's own, peculiar approaches to writing music for their creature is still recognizable and the most familiar listeners can guess from the first notes of each song who's going to sing, the passage from Perry's trademark art-rock songwriting and Gerrard's ethnic fascinations is much smoother than in the past, enhancing the sense of cohesion and harmony of the record as a whole. Indeed, the soundscapes evoked by the album can be perceived as the narration of a conceptual journey throughout the Mediterranean basin: the listener gets to ideally meet different cultures within the same voyage, each one adding it's peculiar flavour to a bigger, all-compassing experience which is – or, if you will, being a piece of one, big colourful mosaic. The orchestra is the narrator who filters the experiences, and the other instruments and styles are the characters met during the journey we're told about. In this sense, the title "Anastasis" does not only refer to the band's rebirth after a 16-year split, but also to a more spiritual kind of rebirth the listener would experience through an enriching journey in the cradle of our culture. It's really hard to name some highlights from the album without ending up with a detailed and exhaustive track-by-track review, as each song is spectacular in its way. But how not to mention, for instance, "Amnesia", chosen as the promotional single out the album, which perfectly represents the blending of exotic rhythms with Perry's typically western songwriting? Or Gerrard's remarkable performance in the most ethnic tracks such as "Anabasis", "Agape" or "Kiko", which showcase the aforementioned union of traditional instruments and tribal percussions with the orchestra, as a background for Gerrard's trademark vocalizations and folkloric techniques? "Children of the Sun" and "All In Good Time" represent the perfect opening and closing tracks respectively, the former being some kind of "rite of passage" somehow reminiscent of past songs (in particular Perry's from "Aion") reworked in the current, mature style of the duo, and the latter providing a relaxing outro as remarkable as "How Fortunate the Man With None" from "Into the Labyrinth". And finally, the two absolute masterpieces of the album, "Opium" and "Return of the She-King". The first is a highly emotional blend of ethnic rhythm patterns with breath-taking string melodies and Perry's melancholic lyrics and vocals bound to put a tear in many listener's eyes; the second is a wonderful, solemn track with distinct influences from the British Isles – at times it almost sounds as if a traditional Irish melody were played by Scottish bagpipes – in which Gerrard's glossolalia vocals unite with Perry's in what can be considered as the two vocalist's best duet ever. "Anastasis" is clearly not just a typical come-back album that is made just to exploit the fans' nostalgia or the hype for an iconic band's reunion. It clearly shows Gerrard and Perry's need to go back to their roots and write music together, and to do so at the right time and without a hurry, resulting in a fresh and genuine work, not at all anachronistic. It's a perfect introduction for the new generations to the priceless work of this duo, as well as the perfect reward fans could hope for after 16 years of silence. "All in Good Time", they say, and this is undoubtfully the good time and best way for Dead Can Dance to come back.
Rating – 100/100
Tracklist
Children of the Sun
Anabasis
Agape
Amnesia
Kiko
Opium
Return of the She-King
All in Good Time
Line Up
Lisa Gerrard
Brendan Perry
Links
Interview by Alessandro Narcissus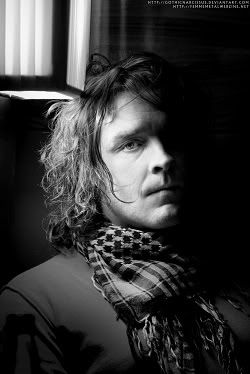 First it was Danny on the phone, now it's Vinny : Alessandro, in the second Anathema interview that we publish, took the chance to ask some question about the newcomer milestone "Weather Systems" during the Italian promo day in Milan.
Hello, Danny! Welcome to Femme Metal Webzine
Grazie!
First of all, let's introduce "Weather Systems". Looking at the title of both the album and the songs and then reading the lyrics, it's easy to figure out that the album is not really about weather and landscapes, but those are metaphores for different moments and feelings in life.
Yeah. When you dig a little bit more you can see the metaphor is very clearly connected to the internal landscapes that we have to go through, the storms that we have to wade through as people. You know, everybody has to go through these things, so it's a matter of how you confront it, if you want to: a lot of people do, a lot of people don't. Some people go to therapy and some people put it into music.
How did you come up with the idea of writing a whole album with this concept?
It grew out of four songs that came up around the same time as "We're Here Because We're Here". Those song titled "The Gathering of Clouds", "Lightning Storm", "Sunlight" and "The Storm Before the Calm", obviously based upon this theme, they could not really be separeted. They had to stay together but it was too much to go on the last album, so we said "Okay, this is the foundation of the next thing that we do" and we took them into the studio for the next album. The first thing we did after that was "Internal Landscapes", which is connected with that as well, but more directly confronting mortality and, you know, the effects of one's own contemplation on one's own mortality and the realisation of what that means to you. Ultimately it's about people. And then the rest of the album grew from that: we had those songs that are linked and then the final song in the puzzle, so all we had to do was to put a couple of songs in between and we had the perfect flow on the album. So it actually happened quite easily, quite naturally.
What about the sound? "We're Here Because We're Here" is a very atmospheric album, and after the beautiful orchestral moment of "Falling Deeper" one could have expected an even mellower album. However, "Weather Systems" is much more layered, with diverse influences that make it sound generally more rock-driven. How did your sound happen to go into that direction, this time?
It seems to us that especially in this album each song had to reach a certain level of intensity before we would let it out. So it depends on how fast you reach the crescendo and how quickly you get to that build, the way you get to the climax, or in fact if there's more than one climax in one song. I think with the last album being orchestral and this one being what it is, you should really realise that anything that we do is not really an accurate indication of what we're gonna do next, but in some ways I do feel that "Weather Systems" and "We're Here Because We're Here" are connected, there's something similar about those two. Well, given the fact that a few songs were born around the same time, so it's something to be expected. But the next thing could be ranging further forward. "Weather Systems" is not just an album you listen with your ears only: a great deal you listen with your heart. The emotional impact of this album is immense, I literally can't go past the first two tracks without crying and the rest are no less intense.
Oh, wow! Yeah, there's a genuine emotion flow. How could you, as songwriters and musicians, bear such an emotional pressure?
Well, people have different ways of dealing with it. There's no pressure, to begin with. The emotional intensity in our music is a component, it's something we have to do, we have to go to those levels. Now, whether there's always some cathartic element, sometimes I don't think it goes away just because you wrote the song, you're not necessarily healed of this thing, you're just kind of addressing it. Now, how do we cope with things. I personally have a very intense relationship with these songs, but at the same time I kind of "keep myself to myself" as well, so I can have the same kind of experience as you might when I listen to our music, but it depends on which song it is of course. Danny, who writes a lof of these lyrics, on the other hand, he would probably tell you that he's always kind of dealing with this, everyday anyway, and he's always that kind of open person to talk about that, if you do know him, so his musical side is natural just like having a cup of tea in the morning, it's just part of who he is, part of what he does. So, the dealing thing: it takes more than just writing a song to deal with some things, but it's just natural to write songs about that.
Aren't you afraid of exposure of your feelings so much to the rest of the world?
Me personally, it would depend. I think, for me personally, yeah. I would say I would keep some things private, some things that I wouldn't want to say. Similarly, Danny, there also got to be something he would not want to say, but he puts a lot of himself into everything he does. It kind of leaves you open, but that's the way it is. You've got to ask him, you know.
If I get the chance!
Yeah! I don't know, I imagine he would say that sharing things helps him, that's the way.
In "Storm Before the Calm" you can clearly hear massive electronic influences. I have noticed that many rock and even metal artists, lately, are drawing from electronica to add a flavour to their work, much more than in the past decade when such experiments were carried out only by the most pioneering bands. What's your opinion about this massive blend of electronica into rock and metal? And how did it work for Anathema's sound?
I'm not concerned with the scene. I don't really listen to metal music, or whatever makes the connection with that, Linkin Park or this kind of things. But I do listen to electronic music. I've done that all my life, expecially since I discovered Aphex Twin when I was seventeen. Anyway, sometimes it's just right for a given song. I mean, that song particularly, it's kind of like building a psychosis, that's how it feels. And certain things get across these feelings better than normal things would do, you know what I mean? So that kind of psychedelic-drawn, hypnotic part in the middle is there to illustrate this building of madness, a second wave building and eventually crashing on you, and what you're left with after that is yourself on the shore, and that first breath that you take aftermaths is that first chord. That's all you have left at that point. After all, anything that we do has got to be meant. It's the same for the orchestra too, we only have use for it if the song is calling for it.
So basically it must just suit it.
Yeah, I do think it's important to remember the fact that you can get across a lot more emotion with a single note played in the right way. It could be on the guitar, it could be from the human voice, it could be on the piano, it could be on the violin, anything, but those kind of emotions are right there in the expression. You don't need all of this trickery to get across that.
That's perhaps why the record sounds so genuine. Actually Anathema is one of those bands that managed to stay true to themselves the best. You always sound like yourself, but each release is fresh and unique. You keep your identity while going further in your experimentation journey, each album being a new step forward.
Yeah, I think it's a step forward down our own evolution, but at the same time I think, musically, if we analyse how it sounds, it seems like being expanding.
It's not getting different, it's just getting weird.
Yeah, exactly.
And what do you feel you have achieved with "Weather Systems" on your evolution path?
I think we've made probably the most cohesive record that we've done. It's one of those reords that passes quicker than you think. It's fifty-five minute long, but if you listen to it in one go, it doesn't feel like fifty-five minutes. Just kind of, "wow, what happened?". So… that's interesting! That's true! Okay, it's enough of a positive step in our own direction. I'd call it the successor of "We're Here Because We're Here" and something that sets up things for the next time, the next thing we'll do. Something that we're very happy with.
Is there some nice anecdote that occourred while recording or mixing "Weather Systems" that you would like to share?
Oh, all kinds of stuff happened, you know! The entire fact sounds like a funny anecdote. On the third session we were booked on this place that was converted from a nuclear bunker. It's a building that's built to withstand bomb blasts. It has six-feet concrete walls, no daylight, no windows, no concept of time. We just worked in the middle of the night, constantly. I had a studio set up in my own bedroom, which was bizarre because I could get up not knowing what time it was and just get to work. Sometimes I woke up and it was before four in the morning, and then was like, "Okay, why am I tired now? I thought it was about twelve o' clock but no, it's actually eight!".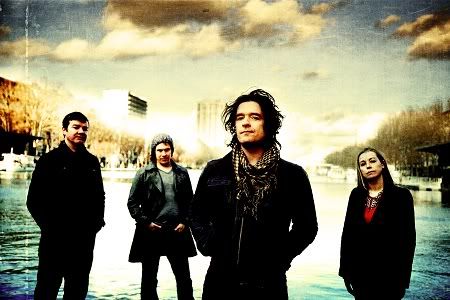 Oh gosh!
Yeah. There was another time during "We're Here Because We're Here". Danny actually woke up in the middle of the night. He just had this dream and he said: "Fuck, I've got to tell you about this dream. This tune was being sung to me and… I need to remember this tune, I need to remember this dream!". So I was half asleep, I was like, "Ok, well, I get up", then we switched on the studio to record the music, to record right down this dream, and that became "The Lost Child".
So that's the reason why it's so dream-like, it's very evocative and onyric!
Yeah! Another story is Joe Geraci, who does the narration before "Internal Landscapes". He's still alive. That interview was conducted in 1991. Danny got in touh with the documentary film-maker [Dr. Kenneth Ring ed.], who got in touch with Joe. Joe got in touch with us and we exchanged some correspondance, and the next thing, you know, when we finished the song he was on the phone and I could not believe I had the chanche to say thank you to this guy for this amazing story that he went through, which inspired the song and in time became one of the catalists for making a full record. So, that's a beautiful thing, it's almost like it was meant to be, like a collaboration.
"Weather Systems" is going to be released on the 16th April. What are the plans about its promotion? Will you embark a tour, release singles or videos?
There are different formats the record is coming out. There's a 5.1, there's a different huge digibook with a 24-page full colour booklet with all the lyris and everything else, and there's a double vinyl. Of course we're doing a tour, in which we'll be performing at the Alcatraz on the 30th of April.
And I'll be there!
Cool! I think that this time it makes more sense to make a mix of songs from all the album. The tour is coming up about a week or two after the album, so it seems more natural to give people more time to absorb it, to get used to it. And then in the autumn we're going to come back with a full European tour, probably we'll get to play in more places in Italy at that point, and I think we can do something more conceptual, like playing the whole album start to finish.
That would be a priceless experience!
I think so, yeah. But I think it makes more sense to do it then. Now of course we gotta go to the rehearsal studio and we'll have two weeks from now, so if we choose to do it quickly, then right, but I don't know, it kind of makes more sense to do it at the end of the year
Is there any interesting bonus material that would make up good b-sides?
Yes, there's a couple of things knocking around, but at this point we'll see. We'll put that out.
What about the front cover of the album? Of course, it's really connected to the weather metaphore.
Yes, but it's a little bit more surreal and a little bit more like a dream or something. 'Cause for instance it does look like a seed.
Actually I thought more of a planet…
Also like a planet, but then it's within a different atmosphere, so is that just hovering, or is it moving, or what? There's something interesting about this image. And I think that sometimes you have to see the image and the title together, because we may have called this album "Internal Landscapes", which would have worked just as well, but when I saw the cover with this title, with "Weather Systems", it made it. It's more cryptic and I prefere things to be less on the surface, so people have to think about it.
Were you involved with the creation of the cover?
Yeah! It's myself with my girlfriend Sarah. And the rest of the artwork too.
Can you spoil us something about the booklet, the interior of the album.
Yeah, it's more directly connected to the metaphore, and it's based more upon aesthetics and feelings behind it rather than someting kind of conceptual. A lot of the aesthetics in our music is kind of emotional, specifically talking about the story, having a picture describing it. It's something that feels the same way as the music, as the lyrics. It's a bit more, you know…
Part of the same artistic experience?
Yes, it's a bit synaesthetic, in a way.
Actually, one thing I really love about this album is how it gives vivid images in your head. You can relate to with also depending on what you see, like, I was listening to it yesterday on the train on the coast at sunset, and with that music and those colours and hues I kind of got goosebumps all over, I was like, "Oh my God, this is bliss".
Ah, that's amazing, yeah! There's this imagery that is right all through the album in a way, I can say there's something just in the feeling that evokes these images. Specifically the song "The Lost Child" because it's written about that dream and it all kind of goes hand in hand, like the imagery is right there in the lyrics, like it's painting a picture.
Yet, the first time I listened to it without the lyrics, I initially thought of a forest rather than the sea. So it's kind open to different interpretations as well…
Yeah, similarly if you think of the cover for "We're Here Because We're Here", I'd see that the guy isn't really there, this is kind of a visual representation of how he is or where he's at, so the horizon represents the completely open mind, and the colours similarly, and then… yeah, he's not really there, it's not a snapshot.
Changing subject, I know this may sound a bit early, but what are your future plans in terms of songwriting and composing new music? Is there any clue about the musical directions you are going to take?
I would say there's less of a clue in this album, really. The last two albums feel connected, but the next one will be disconneted. Sometimes you have to do things in pairs, but the next thing is going to be different.
Last question: With the benefit of hindsight, would you change anything in your career?
Oh, all kinds of things, yeah! But you learn from these things. One thing about mistakes is that they're there to teach you something. Or regrets: you're there to learn from them, just don't make them twice.
Do you regret anything in particular?
All kind of things, yep. But I have no real time for it, because more importantly it's a lesson, I think. In my personal life I don't make mistakes anymore. It's something that we have to go through in our youth, and sometimes it can be useful. There's always something to learn, we're always progressing in some way. But I think I find some kind of contentment now with who I am in my place, in my life, in the world, what I have done. I can be positive and live it the best I can… I can try!
Credit Photo
Band photo by Rod Maurice (Le Hiboo)
Links
MySpace * Facebook * Twitter * Site
Latest Multimedia
Label : Nightmare Records
Review by Alessandro Narcissus
American heavy metallers A Sound of Thunder are a young yet fast growing act. Fronted by powerful and charismatic lead singer Nina Osegueda, this Washington D.C.-based quartet has released three records – an EP, a non-album charity single and its first full-length – between 2009 and 2011, and shows no signs of slowing down. A Sound of Thunder's challenge this year is to confirm the positive impression they've given with their critically acclaimed debut album "Metal Renaissance", which they accepted releasing their sophomore album, "Out of the Darkness". Will they overcome it? Well, first of all let's state this clear: in a crowded scene such as that of female-fronted metal, the only means to survive is a strong identity. With this record, A Sound of Thunder proved to have their own with a well balanced, captivating blend of different elements that, by drawing from a wide range of genres, creates a unique, unmistakable sound. We can basically define this recording a power metal-influenced hard rock album which enriches its hues with progressive digressions, gothic touches (used in a very classy, non-clichéd way), even going as far as getting jazzy or slightly folkish at times, including some virtuosity every now and then which, for a change, really fit the songs rather than being pretentious. Moreover, all the instruments, supported by the crystal-clear production of Kevin "131″ Gutierrez, are perfectly balanced and each of them gets the right recognition: Nina Osegueda's powerful, versatile vocals become a fitting completion to the other instruments rather than dominating them; Jesse Keen's keyboards add many different flavours without being overwhelming or drowning the rest; Josh Schwartz's guitars are heavy and smacking without sounding pretentious, and even his solos are truly functional to the song structure rather than being thrown in just for the sake of showcasing his ability; finally, the rhythmic patterns provided by Chris Haren's drums and Jesse Keen's bass provide variation and avoid being boring, but without getting abstruse or hard to follow. The songs are well designed to stand out individually while giving a cohesive yet not flat ensemble, with only a couple of unremarkable episodes. Some of them venture into more progressive territories, while others exploit old formulas by taking and performing them at their best. The opener, "The Day I Die", is a true killer track that immediately sticks the listener to the record by providing variety and freshness, filling each of its 8 minutes with something worth its length. With its jazzy guitars and soulish keyboards, it's an immediate statement: this record is not going to sound like the same old stuff. The second track, "The Night Witch", is a perfect example of old formulas used in a clever way: it opens with a creepy keyboard melody that manages to avoid sounding clichéd despite its music box flavour, which quickly makes room to a catchy hard-rocking tune with a dynamic verse, a really enjoyable and memorable chorus and a praiseworthy guitar solo. The next songs, "Kill That Bitch" and "Murderous Horde", confirm the high level of this record, the former with a distinctive hard-rocking sound powered by a simple yet interesting rythmic pattern, the latter with haunting backing vocals that make it sound cinematic, but without overdoing. The eponymous "A Sound of Thunder" showcases the band's power metal influences in a non-garish way, despite the agressive vocals being a bit annoying at times. Unfortunately, the experiment is not equally successful with the title track, "Out of the Darkness", whose tacky outright power metal structure, which includes pretty much all the most annoying clichés of the genre without anything diverse to dilute them, makes it the least remarkable song of the album. Generally speaking, this song marks the beginning of the second half of the album, which is slightly duller than the previous despite having its memorable episodes. For instance, the clearly gothic-influenced, a bit clichéd intro of the eight-minute long "Calat Alhambra" may seem pointless, but it works perfectly as a cheesy appetizer that lowers the listener's expectations to surprise him with a complex, enjoyable and outstanding song. Nevertheless, the subsequent "Fight Until the End" is a rather canonical heavy metal anthem which, despite not being bad, does not add any particular value to the record. Although occasionally skimming over cheesiness, the semi-acoustic guitar and cello-driven "This Too Shall Pass" avoids being a random ballad thrown in just to have a slow song in the bunch and manages to sound, all in all, genuine. It also sets the mood for the sophisticated conclusion of the album: the longest track of the set, "Discovery" summarizes the whole album, giving an insight of all the different elements that make this record stand out and going down smooth despite its length. Besides the technical skills of the musicians, the real strength of this album is a solid songwriting that blends a whole host of influences, something that's further emphasized by the fact that the only missteps in the album are those two songs that cling to a particular genre without providing variety. "Out of the Darkness" is a rich kaleidoscope that manages to add flavour to classic hard rock and heavy metal, bring some freshness to gothic and power metal elements and present progressive metal in an easily listenable fashion. It's designed to satisfy fans of many different genres without scaring them with unfamiliar elements, but does so in a genuine, non-calculated way which, together with the uniqueness A Sound of Thunder proved to have, is the only true strength a band can rely on today.
Rating – 80/100
Tracklist
The Day I Die

The Night Witch

Kill That Bitch

Murderous Horde

A Sound of Thunder

Out of the Darkness

Calat Alhambra

Fight Until the End

This Too Shall Pass

Discovery
Line Up
Nina Osegueda – Vocals

Josh Schwartz – Guitars

Jesse Keen – Bass, Keyboards

Chris Haren – Drums
Links
MySpace * ReverbNation * Facebook * Twitter * Site
Interview by Alessandro Narcissus
We have already have the occasion to promote A Sound of Thunder with the review of the self titled debut EP in 2009 and before that with the demo's review of Blood Corps, now instead it's time to give voice to "Out of Darkenss", the second album by US heavy metallers A Sound of Thunder, so we took a chance to ask some questions to Nina Osagueda, let's see what she has to say about it….
Hi Nina! How are you and how is the promotion for the new album going so far?
Hi! I'm doing great. Promotion is going well, looks like we're getting lots of great reviews and I'm really excited to know how many people are enjoying the album.
The first thing that strikes the eye is how fast A Sound of Thunder is growing, with four valid releases in four years. What's the secret of such an abundant creativity? How can you be so productive without missing a single hit?
I think the secret is really just that we all love what we do. We have so many ideas because we keep wanting to do more more more, and it's harder for us to stop writing then to keep writing! We've got at least two more albums worth of material already written, and we're never short of ideas. Since all of us enjoy the songwriting process, it's probably our greatest strength and deterrent.
Typical question now: would you please introduce to us the new album and its themes? What does the title stand for, what are the songs about?
The title stands for the album as a whole. Each of the songs deal with life and death and your reaction to it, from fear, to comedy, to sadness. We wanted to express the fact that from darkness, there is light, which is why we write about death so often. There's more than one day to talk about death.
What I appreciate the most while listening to "Out of the Darkness" is its wide range of diverse influences and blend of different styles. How do you manage to keep track of all those sounds during the creative process without having them overlap one another?
I think it's just a matter of us wanting to do a lot of different things as the mood strikes us. Each of us comes from a different background, so there are times when one of us is in the mood for blues, or power metal, or classic rock. So we'll write a song in that vein and it will feel right, so we'll keep it. We don't believe in limiting ourselves to a specific genre because we hate the idea of being repetative.
With every release, an artist learns new things and grows. How did the experience you made with the recording and release of "Metal Renaissance" help you with the new album?
It helped us to learn how our music can be refined in the studio. With our first album, we recorded the old fashioned way, on tape, with little to no editing. All of my takes were straight through recorded and the sound was nice and raw. However, we had a lot of things we weren't able to do because recording on tape is quite limiting, so while it was a good learning experience, it didn't provide us with all of the options we desired.
While not being excessively boosted by the production and having the right place among the other instruments, your vocals are a striking feature in this album. Your style is very versatile and you can easily switch from a more soaring to a more aggressive style. Are you a trained singer or are you self-taught?
I'm mostly self taught. I learned to sing from listening to my hero, Aretha Franklin. The way I felt, if I could imitate what she could do, I knew I could be good. By the time I was a senior in high school, I'd already been a soloist for gospel and traditional choirs and was singing with the Washington Opera as my age permitted. However, I wanted to get better, and I was playing with the idea of being a professional opera soloist. So, I took a few private lessons to learn arias that I might use for auditioning purposes. Not long after, I started college, and I didn't have time to continue with the opera business. In college, I learned to appreciate metal, so I took all my experiences and influences from opera to rhythm and blues, and used them to create my own sound.
They say you can't judge something from the cover, but that of "Out of the Darkness" is really outstanding and deserves a mention. Can you tell us about the idea behind it and how it was developed?
When searching for an appropriate cover for our new album, the guys and I wanted an image that could be interpreted in different ways. We were struck by the art and found that each of us could give it a different story, so we purchased it based on that.
How is the live activity going? How are the fans' reactions to the songs performed live? Do you like to make some variations when playing a gig to add a different flavour that will make the live experience unforgettable even if compared to the album?
We get pretty great reactions live and playing live is probably the greatest feeling ever. We do sound a little different on stage, since we only utilize one guitarist. However, that seems to give us more of the raw sound that we enjoy and makes us work harder to produce a full experience. To make it unforgettable, I ham it up on stage. I crack jokes, grab guys by the collar, strike poses, and generally act like a tiny tyrant dictator.
The so called "female-fronted" scene is something that originated in the mid-Nineties and grew esponentially during the 2000′s. Did you find it hard to start basically anew in this new decade and find your own "living space" in such a crowded bunch?
I sort of find it hard for us to separate ourselves from people's expectations. They see me as a female and expect one thing, and I give them something else. I've noticed that when I do use traditional vocals, like in "The Night Witch", people either love it or they hate it. I'm alright with that, because even if I dip my toe into the opera metal sometimes, I'll never do it all the time. It's just something fun that comes when the mood strikes me. I'm not going to be up there wearing a corset and singing soprano every time I go on stage, so I don't find our genre to be crowded at all.
Another typical question: what are the plans now? What do you see in the close future of A Sound of Thunder and what do you wish to see in the long run?
Our plans are to continue writing and producing albums until we die. Hopefully we'll get to the point where we're writing and performing for a living, but until then, we're going to keep pushing the creative boundries of our brains.
That was the last question. Thank you for the interview! Would you please say something to see the readers off?
Thanks so much for all your support. It means a lot to us that so many people enjoy our music enough to pay us any attention and we all promise to continue making it worth your while. Our fans are our best friends.
Links
MySpace * ReverbNation * Facebook * Twitter * Site
Latest Multimedia
6 color styles available:

Style switcher only on this demo version. Theme styles can be changed from Options page.