Browsing articles tagged with " necrodeath"
Interview by Erwin van Dijk

On June 1st the compilation double cd "Demonic and Divine" is released by Femme Metal Records. The cd is to support the Macmillan Cancer support and Cancer research UK. Godyva appears with the song "My Inner" on this album. Godyva is a Gothic Metal band from Bari, Italy. The band was formed in the year 2000 and has released two albums and a demo cd. Godyva's latest album was released last year and this album also includes the song "My Inner" that also will be featured on the "Demonic and Divine" album. Lady Godyva was a noble woman from England who lived a thousand years ago (c. 997 – 1067) in the city of Coventry. She is most notable for riding naked through the streets of Coventry. By doing this she gained a tax remission from the high taxation imposed by her husband Leofric, the earl of Mercia. And with success. "Godiva" or "Godgyfu" means "God Gift" in Old English. This interview is with Lady Godyva, the singer of Godyva.
For starters: what is your real name?
My real name is Cristina Argese, my surname sounds like the river Arges where Dracula's wife died, this is what the legend of Dracula tells. His wife killed herself throwing in the waters of the river Arges and subsequently the river was called the Princess River. Cool!
Did you always wanted to become a singer?
Yes! When I was a child I always dreamed to sing with David Bowie or Freddie Mercury! I wished to be their chorist on tour, hehe!
Who are your favourite singers and musicians?
My favourite singers and musicians of my childhood were the White Duke and Mr. Mercury and his band Queen as I said before; when I was a girl I loved Maria Callas, Dead Can Dance and Lisa Gerrard, Peter Murphy, The 3rd and The Mortal, Katatonia, Sarah Brightman, Sade, Kate Bush, Tori Amos, Paradise Lost, Metallica, Korn, Slayer, Queensryche and more but now in this moment of my life I'm really in love with the voice of Nevermore, Warrel Dane (his last solist album is fantastic), I like Porcupine Tree too, Avantasia, Scar Symmetry, Soilwork, In Flames, Entwine, Samael… But Paradise Lost and the voice of Nick Holmes will be forever my favourite.
And to what kind of music do you listen yourself?
Death, Thrash, Metal and Gothic Metal very often but sometimes I like to listen to ambient or new age music to relax myself.
Did you sing in any other bands before Godyva and do you any other bands right now?
Before Godyva I sang with a band called Aragon. The line-up included two singers, male and female and I used to sing like the Opera. Now I would like to dedicate myself only to my band Godyva, but maybe in the future it could be possible.
Speaking of side projects: you have recorded a song with the Thrash Metal band Methedras (also from Italy) for their latest album "Katarsis". This song is called "Nightmare". How did you got in touch with this band and what have you learned from this experience?
Methedras are friends for me. They asked me to sing on their latest album after their listening to the song I sang with Necrodeath, on their "Draculea" album. They stayed impressed and so they asked me to sing the song "Nightmare" on their new album. A link to the band.

Why did you choose Godyva as the name for the band?
I was a young girl when I decided to choose this name for my project and I remember that I was reading the story of Lady Godiva during a reading of an old book of my grandmother. I was spellbound of this heroin so brave that used her naked body to win against her unfair husband. She was the first feminist! She was a woman with no shame! She embodied Eva before the original sin. I would like to be naked all time, especially in this warm period (sometimes I really hate dresses and all accessories I must wear!) but I cannot do it, what a pity! hehehe!
How would you describe Godyva's music? Because a lot of people will assume you will sound like Lacuna Coil because Godyva is Gothic oriented with female vocals.
I think that Godyva are similar to Lacuna Coil because the female voice but there are a lot of bands in the world with a front woman that could be similar too. I like Lacuna Coil, they are a great band and I'm really happy for their worldwide success and fame, but we are different, we use to play and to compose in a personal way in my opinion. It's easy to say "You are like Lacuna Coil!" because we play metal with a front woman and we are Italian but we don't want to be a copy of an other band, we want to be Godyva and "nothing else matters"!
And what makes Godyva different compared to all the other female fronted bands in the world?
I think every voice is personal and unique in the world, also your voice is unique! It is scientifically shown that the voice is as unique as the iride of the eye and the digital imprints. And every voice has its own ability to transmit emotions, so the ear of the listener decides what it is or it is not pleasant. Also the personality of a singer and of a musician makes the difference, but i don't like to compare myself or my band to the others.
Who are the other members of Godyva?
Botyz Beezart – keyboards
Botys is the principal composer of the band, he mixes melodies of the keyboards to all guitar's riffs really in a particular and special way. Maybe it's his work the real difference in our band.
Anto – guitars
Anto is the aggressive characteristic of Godyva, he is the guitar that I have always desired to mix aggressiveness with romanticism.
Nick Barrah – bass
For a long time he does his beautiful job for this band. He is an essential musician with a great personality.
Enyo – drums
A drummer precise and progressive from years he is the rock of hour sound.
Why did Godyva choose the song "My Inner" for the "Demonic and Divine" album?
We have chosen this song because in that period we released the video of "My Inner" and we wanted to promote this song one more time in a compilation but we are sure "My Inner" is a song that younger fans appreciate and we believe in them.
And how did you (the band) got in touch with Femme Metal?
Femme Metal is a fantastic store managed by serious people that sell our cds, and so they asked me to take part to this compilation and i said "Why not?". I really hope this compilation could help this cancer research in UK.
Is song writing teamwork in Godyva or is there a mastermind behind the music?
As I said before Botys is the principal composer, so I can say that he is the mastermind about the music but also with all our help. In our latest album Anto has composed with him some songs among which "My Inner" and I have written with him "On the Floor of Ice" and "Mary in Blood". All vocals and lyrics are only my work.
Can you tell us something about the songs on "Planetarium" ?
"W.A.I.H.T.L.I.H" is the intro and it's the same music of the outro but you can listen to this intro in the opposite verse with the sound of tears that fall. Because of this you read the title like an image in the mirror. "The Ark" is The first song we have composed for this album and so we chosen it for the opening track. Instead "Innocent" is one of the two songs that sees the collaboration with Mike Tarantino (Natron). Here you can ear how the new guitarist Anto makes the difference with his style and his composition support. "Mary in Blood" is a romantic song that speaks about Maria Magdalena and her love. "Deep Inside" can be deceitful because it seems an happy song instead it speaks about one love that wants to last up to the end, together, both in the same grave. "Planetarium", it's simply the title track; we adore this song. It's the second one composed for this album and we think it is a complete and refined song. "My Inner" :I like it, I like it, I like it. The most powerful song of the album and the most appreciated by the metal kids. We released the video of this song. You can watch it on our MySpace page, YouTube official page, official website and on Rock Tv. "Black Door" also is one of the most difficult song to sing on this album. The ninth song is "On the Floor of Ice" I like to call this one "the liquid song", because it speaks of water (our life), deep blue sea (I love swimming) and ice. "No Fault" sees again for the second time Mike Tarantino as special guest! I like so much this song for that style typical of the Eighties, and we feel nostalgic for these years. Back to romaticism with "God Is Fallen" that speaks about our own fallen idol. And here we're at the end with "H.I.L.T.H.I.A.W." (outro) : a yearning and suggestive closing recited. This is an outro, but we use it as the intro for all our shows. As a treat for our fans we've decided to include a special version of "Innocence" as an acoustic version like happened the last time in "In Good & Evil".
And what is your favourite song on this album?
My favourite song on "Planetarium"? The title track! In reality I have two or three favourite songs on this album: "Planetarium", "Innocent" and "My Inner".
And what are the differences between "Planetarium" and "In Good and Evil" ?
The difference is the guitarist and obviously all guitars you can listen to. Our ex guitarist Frahn left the band some months before the recording of "Planetarium" so we chosen Anto as our new guitarist and we were sure that he would have done a good work in the studio giving more aggressive sounds to the songs of Planetarium. The other difference is that we are grown now as musicians and composers so we can offer an album more mature and enjoyable than "In Good and Evil".
What are Godyva's plans for the future?
We want to play music all over the world, there is a booking agency in USA that wants Godyva there, so I hope it could be happen very very soon. But at the same time we love our country so we will continue to show in Italy. We will be in Czech Republic on the 11th July to play on the stage of Prestenice Open Air Music Fest and the headliner of the event will be The Rasmus. We are working on new songs now but we don't want to say more about a new album now. We have to still promote "Planetarium" now.
And the last question: Is there anything the reader should know that I have not asked?
I think you have done all good questions. Thank you for this funny interview and I hope to see you again. Cheers

Links
Latest Multimedia

Interview by Robin Stryker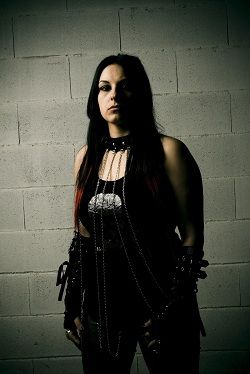 Fifteen hundred years ago, Verona was the stronghold of Theodric the Great and his army of Goths. Today, it is the stronghold of metal quintet, Shining Fear, which is seeking to conquer Italy (and the rest of the world) with its aggressive heavy metal sound. Waving a white flag of truce, Femme Metal sat down with vocalist, Barbara Mischeri, to learn more about Shining Fear's battle plans.
Barbara, welcome to Femme Metal! Would you start off by giving our readers a short history of Shining Fear?
Shining Fear was formed in the early February of 2004 by me and Matteo Migliorini (Guitar).
In a second time, we added Pierluigi Lazzarini at the drums, Lorenzo Tomelleri at the keyboards and Jacopo Ravagnani at the bass. We start the project with the idea to form a gothic metal band like Nightwish, in fact in 2005 we recorded the first demo "…Catch the Breathe".
We have played with important bands of the Italian metal scene like Necrodeath, Stormlord, and Dark Lunacy. In 2008 we recorded the first full-length named "ApocaLife" and in October 2009 we signed with Heart of Steel Records who distributed the album on digital stores all around the world in 2010.

If I'm not mistaken, the line-up has not changed since the band first formed in 2004, despite the relatively long wait between Shining Fear's demo ("..Catch the Breathe" 2005) and full-length debut ("ApocaLife" 2010). What is the biggest thing that has held the band together all these years?
Ahaha… When I told to my companions about this question they laugh and the answer was "Laziness"!! Joking aside, our story it's a little curious because the band it's a family — me, Miglio and Pigi are friends 10-12 year-long. Why are we a family?? Now I tell you some gossip news (ah ah!!) Miglio (guitar) is my mom's partner, yes my mom (mommy metal for the masses!!) and Jack is my partner! But the real answer is that we work well together and we have the same ideas for the future in the composition and because we are really friends!

What do the members of Shining Fear – yourself, Matteo Migliorini (guitars), Pierluigi Lazzarini (drums), Lorenzo Tomelleri (keyboards) and Jacopo Ravagnani (bass) – do in your "normal" lives, when you are not creating and performing music?

I work in a supermarket, Miglio paints ancient style furniture even for the USA, Jack works in the advertising sector, Lorenzo studies Musicology at the University and Pigi works in a factory but I don't know the sector he works in. In our free time, we do the normal activity just as normal people 'cause we are normal people!! We go to the live gigs, listen to music, everyday life.
The band's "…Catch the Breathe" demo was recorded in just 16 hours. How was it possible to record an album in such a short time?
It is possible! In the past we had a low budget but nevertheless "…Catch the Breathe" plays well!
The new album "ApocaLife" is noticeably more raw and aggressive than Shining Fear's demo. Could you tell us about how the band's sound evolved between the two albums?

In the last years, many bands with a female vocalist formed and all of these bands seem like the same for the kind of music. We wanted to change our genre to stand out from the masses and return to the origin of heavy metal like Doro Pesch, Judas Priest etc, with modern contamination, Death Metal influence like Arch Enemy style with clean vocals.
Which musical genres or bands have had the biggest influence on the band's current sound?
As I already said, our influence is Doro Pesch, Judas Priest and Arch Enemy. I can't explain the real genre we play because each one of us listens to a different kind of music and there's many influences in our songs. I listen to, for example, Swedish Death Metal, Thrash Metal (Bay Area) all the 80's metal music, even Glam but I DON'T LIKE GOTHIC METAL!!!! Ah ah
Because Shining Fear is a female-fronted Italian band, music reviewers cannot resist comparing you to Lacuna Coil and other (mostly symphonic) bands with female vocalists. In your view, how accurate are these comparisons?

Anybody! I'm sorry but I don't like Lacuna Coil, I don't feel "inspired" by them, neither by Cristina Scabbia. I think that the reviewers compared me and Shining Fear to Lacuna Coil because I have the same "colors", Shining Fear, honestly I don't know! I respect Lacuna Coil for their career, it's not simple for an Italian band, in a certain sense they are an Italian spokesperson not just for wine, pizza or spaghetti! But not all Italians female fronted band must be compared to them!! Many reviewers forget bands like Sinergy, Zed Yago, the real one Goddess of Metal Doro Pesch and much more from the 80's.
What was the song-writing process like for "ApocaLife"?
"ApocaLife" it's an instinctive album, some songs were composed after the demo. In fact some songs kept the influence about it like "Two Worlds Collide", while for "Come from Hell","ApocaLife", "Caresses in Darkness" it was right for the album. "Haunting Damnation", instead, to go back at the demo and we had already changed the genre evolving to raw and aggressive sound. The one exception is "Caresses in Darkness" that I was wrote for my mom, I never told that to anyone. The lyrics are quite thought-provoking, especially the tracks concerning how disrespectful people sometimes are towards each other and the planet. What runs through your mind when you read the news about oil gushing into the Gulf of Mexico, melting polar icecaps, volcanic eruptions, earthquakes, giant sinkholes, and other disasters around the world? That's a human default, always. Apparent silently Earth rebels against us for pollution, toxic waste, garbage, cash, raw material, energy abuse. I write many things about the planet. Anyway, I wonder about people's behavior during the day, I take this experience and I try to analyze it. I work since I was young, I've learned many things.
Have any of these global events inspired new lyrics?
Absolutely pollution, I am careful about the garbage, I try to separate right all the materials and I don't throw on the ground anything. How the future we leave to the next generations? But I have many minds about the new lyrics but I can't tell you any preview…hihi..

Please tell us about your favourite live performance and what made it so special for you.
We were formed just 6 months, for a lucky opportunity we had played with only 4 songs, with Necrodeath, that night was there 200 persons. A first live performance that it was very exciting! The release party gives more satisfaction, to prove ourselves about the future.
And least but not last, a recently live gigs in another city in center of Italy, where we are unknown for the people but we had fun together!

If you could create the ideal concert for Shining Fear — including choosing the other bands, stage effects and venue — what would that concert be like?
I put the horns up and I say Wacken!!! The bands are not important, to play with the important bands of the metal scene it's enough!!! We are doing need of live effects, not now, because we are not ready for pyrotechnic effects, the people must be focused by the music not for game lights. I'm dreaming on!!
Are there any upcoming gigs that you are particularly excited about?
Not yet, I'm looking for new live shows in Germany, Finland, Sweden, UK. We have some upcoming shows now, nothing to be very excited, but I'm always happy to head bang my head on stage!
Thank you so much, Barbara, for taking the time to speak with us today. Do you have any parting words for your fans at Femme Metal?
Don't be afraid to be yourself and explain your opinion! Have fun, and respect. Horns up!!!
Links
Label : Lion Music
Review by Tony Cannella
"Last Desire", is the title of the second release by the Italian Power Metal band Mastercastle. Their first album, "The Phoenix" hinted at some great things to come for this 4-piece outfit, and with "Last Desire", Mastercastle are definitely poised to build on the momentum and positive buzz generated by the debut. The band is fronted by the clear, soaring vocals of Giorgia Gueglio, but it is her vocals in conjunction with the guitar playing talents of Pier Gonella that really help to propel, "Last Desire". "Last Desire", features 12-songs and 55-minutes worth of some seriously intense, guitar driven Power Metal. The songs are a bit more straight-forward than the songs that can be found on, "The Phoenix" – which had more of a classical slant to them. The lyrics were written by vocalist Giorgia, and the subject matter of the songs are based around the meaning of the word 'desire', so in that sense this is also a bit of a concept album. A lot of thought obviously went into the lyrics, so it certainly makes for some interesting reading. One thing that I liked about the debut and the same holds true on, "Last Desire" is the way the individual musicians compliment each other so well. "Last Desire", opens with a bang with the track, "Event Horizon", just a great opening song and immediately the listener is reminded why they enjoyed the debut. Great vocals, solid guitar riffing and a cool melody and chorus, make this one a favorite right away. The next track "Misr", features a crunchy opening riff and develops into a melodic mid-tempo, haunting track. The band also treat the listener to two instrumental tracks, "Space Trip" and "La Serenissima" are two more highlights. The final track, "Scarlett", lyrically is based around the film, Gone With The Wind, and brings the 'Desire' theme to a close and the album to a great conclusion. Other highlights include: "Wild Spell", "Last Desire" and the ballad, "Jade Star". Pier Gonella is certainly a guitar hero in waiting as his playing is solid and consistent. If you liked the first Mastercastle CD, than this should definitely keep you well satisfied. "Last Desire" is the next logical step in the evolution of Mastercastle and is just as good – if not better – than their debut.
Rating – 88/100
Tracklist
Event Horizon
Misr
Wild Spell
Last Desire
Away
Space Trip
Jade Star
Great Heaven's Climb
Cat-House
Toxie Radd
La Serenissima
Scarlett
Line Up
Giorgia Gueglio – Vocals

Pier Gonella – Guitar

Steve Vawamas – Bass

Alessandro Bissa – Drums

Links
Label : Lion Music
Review by Tony Cannella
MasterCastle is the project put together by Labyrinth/Necrodeath guitarist Pier Gonella. Their style is symphonic epic guitar metal. It's true that lovers of guitar should really gravitate to and embrace this band, but that shouldn't scare non-musicians (such as myself) away. There is plenty of great stuff to keep us entertained. Before getting into the music on this CD – which incidently is titled "The Phoenix" and is out on Lion music one of the premiere hard rock and metal labels out there. Where was I ? Oh yeah, I was about to introduce the other band members, so without further adieu, joining Pier in MasterCastle are: Giorgia Gueglio (Vocals), Steve Vawamas (Bass) and special guest drummer is Alessandro Bissa. Let's get to it…;The track "Words Are Swords" begins things and immediately I was impressed with the power of the track and the imposing guitar riff that opens things. Giorgia's vocals are quite good and a good fit for the music. Pier made solid choices in assembling this band, that much is obvious. Did I mention the solo? This is the sort of thing that musicians should eat up. The next track "Princess of Love" is more of a mid-tempo track, that features another cool guitar solo and a great melody. "Space" brings the intensity and speed up a notch and Giorgia really shows off her range on this one, man she can sing and the solo by Pier just burns. "My Screams" is the first of two instrumentals and features just a classic metal opening riff and some more frenetic guitar work. The next track "Lullaby Noir" is an emotional ballad that is also quite pretty. The title song "The Phoenix" kicks things up a gear (or two, or three) and is one of the heavier tunes on offer and a definite highlight. "Greedy Blade" and "Dawn of Promises" keeps things moving along at a nice pace and ,in particular, this song is fantastic. "Memories" is the second instrumental track and it is a bit slower and more melodic than the first. "Cradle of Stone" brings things to a close on a good note."The Phoenix" is a rock solid release that should have fans (and non fans) of guitar music salivating. Pier and Giorgia make a great combination and the material on "The Phoenix" makes that abundantly clear. With so few guitar heroes around these days, hopefully Pier and MasterCastle will be able to fill that void. The thing that really impresses me about MasterCastle is that while it's true there is plenty of stellar guitar work on "The Phoenix", there are also some pretty great songs as well and that is the most important thing.
Rating – 80/100
Tracklist
Words Are Swords

Princess of Love

Space

My Screams

Lullaby Noir

The Phoenix

Greedy Blade

Dawn of Promises

Memories

Cradle of Stone

Line Up
Giorgia Gueglio – Vocals

Pier Gonella – Guitar

Steve Vawamas – Bass

Alessandro Bissa – Drums

Links
6 color styles available:

Style switcher only on this demo version. Theme styles can be changed from Options page.