Browsing articles tagged with " neverland"

Interview by Robin Stryker

Two years after releasing their debut album "Reversing Time", Greek/Turkish progressive symphonic melodic metal band, Dreamtone & Iris Mavraki's Neverland, returns with its second album "Ophidia" (AFM Records 2010). Femme Metal sat down with Greek female vocalist, Iris Mavraki to get the inside story on the band and its new album.
Welcome, Iris, and thank you for joining us today! Would you start off by telling us why you joined forced with the Turkish band, Dreamtone, to form Neverland? What was it about Dreamtone's music that caught your attention?
First of all, hello Robin; it's a pleasure to be with you! Well…. A few years ago, my son Orpheus Spiliotopoulos, who was at that time reviewing for the Greek site MetalTemple.com, suggested I listen to a CD entitled "Unforseen Reflections" by a band called Dreamtone. I was immediately, tremendously impressed by the power of their compositions and the symphonic elements in their music. Then I found out that they are from Turkey; a nice surprise to me as I was then also singing with the Turkish Symphony Orchestra, so I suggested we get in touch. There was something in their music, something really different.
Neverland was born as a project to combine metal with a symphony orchestra for live performances. At what point did Neverland mature from a concert project into a full-fledged band?
That didn't take long really! As I mentioned above, that's how it started in my mind for sure, the metal band working with an orchestra and being about the live performance. It was certainly our first idea for it, but we quickly realised that there was so much more interesting material and potential that could be shared, and that it had to be right to start a new band recording our own music! We decided to unite forces and become Dreamtone & Iris Mavraki's Neverland, and we've never looked back!
For someone who has never heard "Ophidia", how would you describe the album's sound? And, for fans of "Reversing Time", what are the biggest differences between the two albums?
I think "Ophidia" has the more powerful sound of the two but it also combines, in some parts, an Anatolian, Mediterranean, spicy touch, Medieval parts, symphonic parts and bombastic melody too. I think it goes further than the first one! "Reversing Time" was maybe more symphonic; we had The Istanbul Philharmonic Orchestra play on it, but both albums ultimately have the identity of Dreamtone & Iris Mavraki's Neverland because they're written with all the musical styles present.
Which bands have influenced Neverland's sound the most?
Hard to say as I think each and every one of us have different influences. But, if asked specifically, I would say: Blind Guardian, Jon Oliva's Pain and many others!
What does "Ophidia" mean, and does the title play into the album's overall theme?
Well, "Ophidia" basically tells the story of how the evil inside every one of us slowly corrupts anything and everything. Our title track is basically a semi-electronic, semi symphonic, mid tempo piece with its subtle change of pace as well as some nice guitar tricks. The song covers the theme from the perspective of "evil" as having a tongue and speaking. The song presents evil as a "snake", slowly crawling inside our minds. "Ophidia" means worshipping the snake or following the path of the snake. Since humans almost always lie, the song suggests that we are all Ophidians… In the album, there are a lot of different meanings in the songs as well though, I don't think we had a total concept of "Ophidia", but just tried to represent just a few of them.
Please tell us a bit about your musical training and background. Also, who are your personal musical heroes?
Well, I studied classical piano and had singing lessons at the National Conservatoire And Hellenic Conservatoire of Greece in Rhodes. I was a member of the Municipal Choir of Rhodes for about 10 years, and a member of an amateur theatrical group there. I have been singing alone and with bands for many years and with Symphony Orchestras from Turkey and elsewhere, at numerous concerts for the "environment", "against racism", "antiwar concerts", "for human rights", etc. I had many different influences, starting with: Joan Baez, Maria Callas, Janis Joplin, Pink Floyd, Metallica, Trans Siberian Orchestra, Leonard Cohen, Blind Guardian, East West Divan Orchestra and Daniel Barenboim, plus Mikis Theodorakis who you might know? I was very lucky back in the 80's to have had an audition with David Gilmour (Pink Floyd). I think that all these years of experimenting with many kinds of musical styles and in several different languages, have given me a wide range of repertoire and experience.
With your background participating in human rights concerts and given the historic tension between Turkey and Greece, how important are politics to Neverland?
It's not really about this, but there is some aspect of it to think about I suppose! If you think about it, our countries have had bad relations for many years and are slowly recovering from these wounds of the past, so it is important that we help promote such a conscience, especially in the young. To build a cultural bridge through music is the best way to spread messages of hope and peace, as music is a universal language, no? "Politics" in the narrow sense of the word, is for Politicians. I think, for us, it's a matter of keeping eyes open helping people to be more aware of things. We, as people from Greece and Turkey, have far more to share than those who try to divide us can take away! We share the same sun, and that means "light". It's politicians that create the problems, not us!
The new album has fantastic guest appearances by metal vocalists Jon Oliva (Savatage, Trans Siberian Orchestra, Jon Oliva's Pain), Edu Falschi (Angra, Almah) and Urban Breed (Pyramaze, ex-Bloodbound, Tad Morose). How did these collaborations come about?
Oganalp and our band members contacted all of them and asked them if they would accept an invitation to be our guests basically, and it's so wonderful that they all accepted. It's really wonderful having people like this on our new album. It's humbling!
Neverland will be touring Europe with Jon Oliva's Pain in October. Is the tour a direct result of his guest vocals on "Ophidia"?
We were planning to go on tour anyway, but, I think Jon's appearance on our album definitely played a role. I think the general reaction to the album from the fans is also so great that that plays its role too and is the main reason for us being accepted on the tour.
One of the most touching songs on the new album is "Places Unknown", a farewell to Mike Baker (Shadow Gallery) who passed away in 2008. During the upcoming tour, will Neverland perform "Places Unknown" or "Reversing Time" (feat. Mike Baker) — the title track from Neverland's debut album, which was also Mike's last official release before his death — or are emotions still too raw to sing these songs during a live performance?
Emotions are, of course, still present and raw. It was such a shock for us, and especially for the Dreamtone guys, who were in touch with Mike for a long time. But the fact that he sang "Reversing Time" and that this was his last song recorded; you know the lyrics of the song? Well, it seemed to me, very strange. There are sometimes things you simply just can't explain in words and that is one of them, sorry! Yes, we will be playing these two songs, definitely! May Mike rest in peace and in our memories.
Speaking of tours, how was ProgPower Europe 2009? What is your best memory from the festival?
It was a terrific experience; bands from different countries, a fantastic audience that came just for the Festival. It was amazing. I was impressed by Evergrey's acoustic performanc. We had lots of fun and good memories. We hope to be there soon, once again. Promoters, audience and bands were all awesome and very friendly to us!
Congratulations on the video premier of "This Voice Inside" on Headbangers Ball (MTV Greece)! Why did Neverland pick this song as the album's first music video?
Well, "This Voice Inside" is about the main character of "The Wheel of Time" series, Rand Al'Thor, one of the main characters of the book. It mainly tells of Rand's unwilling turn into an anti-hero, whilst constantly trying to battle with the voices inside his head. It's a powerful song. You're right. It had its premier on Headbangers Ball (MTV Greece)! In fact, they will be presenting it again, as we have a concert in Rhodes at the Colorado Club (Rhodes) on June 10th. We picked the song because it was powerful, of course, but also because it somehow defines the album's sound. There are more complex and alternative tracks than that one, but it shows generally, what to expect from the album!
Which is your favourite Neverland song of all time, and why do you feel a strong connection to the song?
Mine is actually "Black Water", off "Reversing Time". It talks about, black water; oil, or more specifically petrol and reminds us of the eternal fight humans seem to need to have to keep control over it. It is a lovely song also, from the pure musical side!
If you could design the perfect Neverland gig, what would it be like (venue, guest appearances, etc.)?
I would love to do this! First of all, I would design it with a Symphony Orchestra, of course, live with Neverland. I would have all our guests appear also, in memory of Mike Baker. I'd do two big concerts. One in Athens and one in Istanbul. And I would give this the title, "Connecting Bridges"!
How is 2010 shaping up for Neverland?
So far, it looks very exciting. In Rhodes, the concert is organized by the Road Knights, the MCC of Rhodes (The Harley Davidson Club of Rhodes) and my son Orpheus will present "Ophidia" and us. Orpheus presents Headbangers Ball (MTV Greece) now and is also writing for Rock Hard (Greece) and they will be our Media Sponsors. Then we're preparing for our European tour with Jon Oliva. It will be great. There are many shows booked, and we will visit several countries. I believe we've just added two more gigs, one in the Czech Republic and one more leg in Germany? It will be a great experience,w e will have a real chance to connect with our European listeners, and I'm so looking forward to it. 2010 is probably going to be our most active year to date.
Thank you for taking the time to chat with us, Iris. Do you have any parting words for your fans at Femme Metal?
I thank you also, it was a pleasure to speak to you. Thank you for some really good questions. I send our greetings from this part of world and hope to perform somewhere close to you soon, hopefully in the UK? Keep listening and supporting Metal Music; it's a good way of life and it rocks!
Links
MySpace * Facebook * Twitter * Site
Latest Multimedia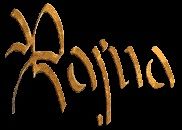 Interview by NocturnalConcerto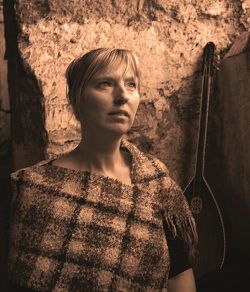 Are you ready to join the world of Rajna? They will brought yuo to unknows and mystical worlds, made of new feelings. I'm really proud to unveiled one of the interviews (I hope a long series!) where I'll present new particular acts of the ambient scene. Franch Ambient duo Rajna are publishing albums since 1998 and their peculiarity is playing and collecting instruments for all the parts of the world. But let's give the word to Jeanne, the singer of the duo.
First of all welcome Jeanne, how are you and thanks for accept my interview! For all the people out there that loves ambient/ethereal music can you summarize Rajna's history band?
Rajna was born in 1998, after an encounter with another musician playing the yang T'chin called Gérard Chambellant. Our passion for music and for collecting various ethnic instruments was a common point and this was the beginning of our history. We began the project in 1998 and our first album, "Ishati", was released on the label Prikosnovenie. Then, we changed label and worked with Holy Records. Our second album, "Yahili" and third album "The Heady Wine of Praise" were made also with Gérard Chambellant. They were mostly based on Indian and Tibetan music. We released "The Door of Serenity", a very appreciated album among our fans. And then, we released "Hidden Temple", after a journey we had made in Egypt. Then, we released "Black Tears" :an anthology dedicated to our first 4 albums + unreleased tracks. Our our royalties went for building a school in Tibet. Then, we released "Otherwise" which was rather different from all we had ever done before. It was essentially based on guitars and the mood was more occidental. Then,we released "Duality", a transition album between "Otherwise" and the ancient albums of Rajna. Then, we released "Offering": it was our last album on Equilibrium Music. It is our most acclaimed album and includes very strong and emotive songs.
Well, after this introduction we can start to ask you some questions about "Offering", your latest album out on Equilibrium Music. How's born and when you written the first lyric for this album?
The only tracks with texts are "Neverland" and "Quiet Hour".The second text has been written by C.J. Dennis and arranged by Aret Madilian from Deleyaman. For the other tracks, I do not sing "real" words, just an imaginative language, as does Lisa Gerrard from Dead Can Dance.
If we compare "Duality" to "Offering" what are the main differences that come into your mind?
"Duality" was much more inde-pop with an electronic touch but with "Offering" we have abandonned electronics to give place to much more organic, acoustic instruments. Concerning the voice, there were moree texts and "real" lyrics on "Duality" that on "Offering".
The previous album was published by Holy Records, why you have changed label?
We wanted a new start and after so many albums on Holy Records, we needed to see something new. "Offering" is like a renewal.
Rajna is well-known for use Ethic instruments in their albums, doing some research I've found that particularly you use two instruments called Santoor and Yang T'chin, can you give some infos or curiosity about these instruments and what is the emotion that Fabrice feel when he plays them?
Fabrice plays the santour and the Yang T'Chin from the beginning of Rajna. We bought our santour in Istambul and it comes from Iran. It's a very nice instrument made of 95 strings. We bought our Yang'T'Chin in China. The sound is different from the santour. We also have an Indian santour and another one that comes from Switzeland. They all sound different. Fabrice loves playing the Iranian santour for its particular sound.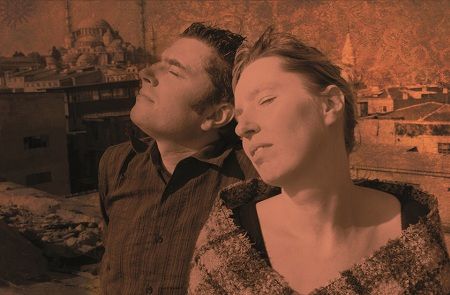 Listening to the album, I notice an important fact: you sing something that is close to a vocalize. Are lyrics written in an unknown language or are totally invented by you? In the ambient scene we aren't aware of this since someone called Lisa Gerrard use this "method" in the Dead Can Dance albums..
As I told you in a previous question,I do not use a real language. It's something as Lisa does: it's the same method Lisa uses. You are totally right!

We already know that your primary influences are Dead Can Dance and [quoting from Equilibrium Press Release] "the mysteries of the Orient and a true passion for travelling and collecting instruments from all parts of the World". Now I ask you what is the Middle East mystery that fascinates you and your favourite Ethnic instrument?
Our favourite Ethnic instrument is definitely the Santour, especially the Iranian one. We are fascinated by the culture and music of these Middle Eastern countries. We travelled a lot in thses countries and brought back many Ethnic instruments from these countries, especially when we were in Istanbul which is a fantastic and incredible city, full of mysteries and history.
Who's Cléomene that you sing on the song "The Dance of Cléomene"? And what are the meaning of this titles : "Eleusis", "Illa Saldé", "Epidauros"?
Some of the titles are pure invention. They sound nice to me and I like the sound that they have and they make me travel when I think of them. Cléomene was the king of Sparta, Eleusis was an antique Greek city, Epidauros was an antique theater in Greece, Illa Saldé is pure invention.
If I'm not wrong Rajna's music was featured into a French TV documentary called "A la recherche du tombeau de Jésus", what was talking about this documentary and how happened that the TV used your music?
Yes, you are right. One of our fans has contacted us and told us that he had heard a few minutes from "Hidden Temple" into the French documentary "A la recherche du tombeau de Jésus". So we contacted the TV broadcast and they told us it was right. They had decided to use a few minutes of our music because one of the person working for this programm knew us already and loved our work, so we have been chosen for this documentary. It was very good for us !!

Now talking about live gigs, in your idea what would be the ideal place for playing a Rajna gig? And you have any gigs going on?
The best place for a Rajna gig is in a church.The sound and the atmosphere that comes from the place is perfect for us. We have played lastly in Nijmegen church, in Holland in May 2010. We have no live shows in preparation for the moment.
So now I ask you this question, mainly my webzine promote metal bands, so really distant from your music genre but in some ways close in matter of ideas. If you should advice 5 ambient album to a beginner, in your opinion what they are?
My top 5 would be :
Alio Die – "Aura Seminalis" – The best minimal music

David Sylvian – "Camphor" – Rather experimental album

TUU – "All our ancestors" – Very good ethnic ambient music

Brian Eno & Peter Schwaum – "Drawn from life" – Very good ambient trip hop music

Stephan Micus – "To the evening child" – Very good peaceful music with an ethnic touch



Well, Jeanne thatnks so really much for replying at my questions hope you like them!
I hope you'll enjoy my interview. Thank you for promoting our music. All the best, Jeanne
Links
Label : AFM Records
Review By Tony Cannella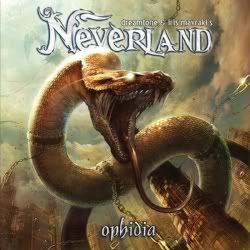 The band Neverland is a collaboration between Greek female singer Iris Mavraki and the Turkish prog/power metal band Dreamtone to create the project Neverland. They have previously released one album in 2008 titled "Reversing Time". Now, 2-years later the band have returned with their conceptual second release titled "Ophidia". In the beginning the bands subject matter was more fantasy based, but with "Ophidia" Neverland take on a more reality approach as they tell the tale of "evil lurking within mankind". It is a complex story that suits the complexity of the material. On the 11-songs and 53-minutes worth of music on "Ophidia" the majority of the vocals are handled by the male singer Oganalp Canatan with some input from female Iris Mavraki on harmonies and some lead parts. The songs flow together nicely and the lyrics tell a cool story that really paint a mental picture as the story developes. The opening track "This Voice Inside" really does a terrific job in setting the scene and getting things off to a rousing start. That gives way to the best track on the CD (in my opinion), "Silence The Wolves". Other highlights include: "Ophidia", "Invisible War", the melancholic ballad "Will of God", "Speak To Me" and closing instrumental "Into The Horizon". "Ophidia" also features a number of notable guest appearances from the likes of: Jon Oliva (Savatage, Jon Oliva's Pain) and Urban Breed (ex-Tad Morose, Bloodbound). Even though Neverland's main style is symphonic power metal, I also hear some elements of 70′s arena rock in their sound – with modern touches of course. I can't imagine the hard work that went into the completion of "Ophidia", but the finished product is definitely something that fans of conceptual metal should check out. Neverland should please fans of Ayreon, Blind Guardian and Angra to name a few.
Rating – 80/100
Tracklist
This Voice Inside
Silence the Wolves
Ophidia
Will of God
Invisible War
Places Unknown
No One Leaves the Hive
Speak to Me
Ashes to Fall
Final Odyssey
Into the Horizon
Line Up
Oganalp Canatan – Vocals
Iris Mavraki – Vocals
Onur Ozkoc – Guitars
Burak Kahraman – Guitars
Guney Ozsan – Keyboards
Can Dedekarginoglu – Bass
Emrecan Sevdin – Drums
Links
6 color styles available:

Style switcher only on this demo version. Theme styles can be changed from Options page.