Browsing articles tagged with " new"
Label: Island Records Australia
Review by Luisa Mercier
Gin is a New Zealand singer-songwriter, and "Gravel and Wine" is her second effort that is now being released globally. Even though coming from Oceania, her main influences clearly are from the US, so since the opener "Black Sheep", you can distinguish country, Americana, trash can riffs and her throaty vocals that remind me of British singer Duffy. "Man Like That" is a rock, danceable tune with a hook that you cannot escape, even some trumpets appear.
"Poison" is a blues-tinged tune that is filled with melancholy and will bring you along the Mississipi river, while following "Kill of The Night" is more of a rock song, but the Southern vibe is present, even though in the shape of Southern Rock. But there is also space for ballads. "If Only" is a sweet, slow song with an old-fashioned feeling that won't pass unnoticed.  Continue reading »
Label: Century Media Records
Review by Tony Cannella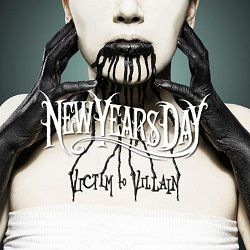 From California, New Years Day plays infectious alternative hard rock with a punk edge. Their third album "Victim to Villain" comes 6-years after their debut "My Dear". NYD released their sophomore effort "Headlines & Headstones" in 2010 and now comes their aforementioned third album.
"Victim to Villain" features 11-songs and a manageable playing time of 34-minutes. Musically, New Years Eve takes what Paramore does and turns it up to 11 and beyond. Lead vocalist Ashley Costello has a clean yet hard-edge to her vocals and they are just dripping with attitude. The opener "Do Your Worst" begins with some ominously, lilting piano before the song develops into a pounding, hard rock tune. Continue reading »
Label: Wohone Records
Review by Tony Cannella
Grace Solero is a talented singer and in 2010 has released her debut album, "New Moon". Musically her style falls somewhere between classic hard rock and alternative. I was really surprised when I heard this since it is not at all what I am used to reviewing, but once the initial shock wore off I found myself head bobbing and thinking, "hey, this is pretty cool."
"Apartheid" is the strong opener and is followed by "I Don't". Vocally, Grace's style falls in the similar to Alanis Morissette category with a touch of Anouk thrown in there as well and musically the songs have that same kind of vibe. "Troops" is a laid back rocker with a trippy atmospheric style. The album veers off in different directions but still maintains a hard rocking base on songs such as, "Diary", "Star" and "If U Feel". Continue reading »
Label: Who Music
Review by Davide Torresan
Eye Ra Haze is a New York-based band, and this "Eye Of The Storm" is their debut EP. The main feature of this group is the high female presence since 3 of the 5 members are women. And while in a band formed mostly by girls the guitarist is always a man, in Eye Ra Haze the roles are reversed: Nicole Papastavrou, in fact, definitely knows how to play her instrument. The genre proposed by this group is a progressive/alternative metal with a lot of influences, melodic but never boring. They reminded me of Flyleaf but, above all, Lacuna Coil. "Eye Of The Storm" starts with "New Beginning", from which has been filmed a video. The song has a catchy melody though having a dark atmosphere. Continue reading »
Label : Sleazy Rider Records
Review by Tony Cannella
It's always a risky proposition when a band replaces their lead singer. Well, imagine replacing two. That is just the situation that the Brazilian symphonic metal band Thy Symphony finds themselves in. Gone are the two lead vocalists (Camila and Alan) from their debut album "Harmonizing the World". Now, with the release of their sophomore album "A New Beginning" (very aptly titled) the band is joined by the new vocal duo of Karina Bonizi and Leandro Baracho.
The ultra cinematic intro "Hope and Fear" segues into the inter mingling of heavy guitar driven music with Tarja-era style symphony dominated music on the track "Galaxy's Great Eye". Continue reading »
6 color styles available:

Style switcher only on this demo version. Theme styles can be changed from Options page.