Browsing articles tagged with " night"
Label : Grailight Productions
Review by Vard Aman
North Diamond formed in Moscow in 2008 and play what could be described as a combination of melodic Black Metal and Death Metal. "По Ту Сторону Бытия" is their debut album; and it is just as this kind of music should be. North Diamond do not mess around: "По Ту Сторону Бытия" is a short, sharp, relentless no-prisoners-taken half hour of blackened melodic brutality that any fan of this type of music will drool over. Elena Scarlet is an expert and versatile growler, moving freely from deep Death Metal growls to Black Metal shrieks, with her own snarling growling style in between. There are some clean vocals as well – there is a guest vocalist that features on this album, Valentina Aaron, and the clean vocals could be hers (on the single that North Diamond released after "По Ту Сторону Бытия", "Fall of Man", clean vocals were provided by Evgeniya Rodnikova of Aura and Emerald Night). Continue reading »
Label : Iron on Iron Records
Review by Tony Cannella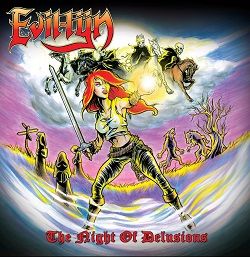 Sometimes it is so cool to hear some good 'ol fashioned traditional metal. The genre possesses some great bands – Crystal Viper, SlingBlade, BackSlash and White Skull as well some older favorites like Warlock, Zed Yago and Velvet Viper and now you can add another band to the list: Evil-lyn from Finland. Their debut EP "The Night of Delusions" includes five undeniably traditional heavy metal songs and over 20-minutes worth of classic sounding metal that definitely harkens back to another era yet still vibrant today.
The female fronted metal scene has never been in better shape, there is music, mood and styles for all tastes, but one of my favorite sub-genres is traditional heavy metal, and fortunately there are many great bands that do the genre a great service, like Evil-lyn. Continue reading »
LEAVES' EYES — the German/Norwegian band formed by ex-THEATRE OF TRAGEDY singer Liv Kristine Espenaes Krull and members of ATROCITY — has set "Symphonies Of The Night" as the title of its new album, due later in the year via Napalm Records.
A new LEAVES' EYES video, for the song "Melusine", featuring footage from live shows, tours and festivals like Wacken Open Air in 2012, can be seen below.
Label : Lava/Universal Republic Records
Review by Tony Cannella
Just in time for holidays comes the new EP from the traveling Christmas extravaganza known as the Trans-Siberian Orchestra, entitled "Dreams of Fireflies (On a Christmas Night)". Two female singers (Erika Jerry and Georgia Napolitano) are used as well as the male vocalist Tim Hockenberry. It is not very long but this is the classic sound of TSO that the fans have come to know and love. "Dreams of Fireflies" opens with two instrumentals. The first being the piano and guitar driven "Winter Palace". This is a huge bombastic sound to it and it is definitely what people have come to expect from TSO. Next we have the second instrumental "Dreams of Fireflies (On a Christmas Night)". This track features a cool interplay between the heavy guitars and orchestration. Next is "I Had a Memory" featuring the vocals of Erika Jerry and a rich sounding choir as the song morphs into an up-tempo, bouncy hard rock number. Erika Jerry has a big sounding, impressive voice with a lot of soul and passion. "Someday" is next and is a heartfelt acoustic ballad sung by raspy voiced Tim Hockenberry. This is actually a pretty sentimental and relatable song about growing older and moving on. The EP is completed with the piano ballad "Time You Should Be Sleeping", sung by Georgia Napolitano. All three singers featured here represent a different style from each other. Georgia's is more classical than the other two. She's got such a hugely expressive voice as "Dreams of Fireflies (On a Christmas Night)" comes to its conclusion. At only 5-songs and a length of 15-minutes, "Dreams of Fireflies" is a pretty short listen. This really isn't a radical departure musically; it is simply the classic TSO sound. Listening to TSO will always put you in the holiday spirit and if you haven't done so already, be sure to check out their Christmas tour – it is quite a spectacular experience.
Rating – 80/100
Tracklist
Winter Palace

Dreams of Fireflies (On a Christmas Night)

I Had A Memory

Someday

Time You Should Be Sleeping
Line Up
Erika Jerry – Vocals (on "I Had A Memory")

Tim Hockenberry – Vocals (on "Someday")

Georgia Napolitano – Vocals (on "Time You Should Be Sleeping")

Paul O'Neill – Guitars

Jon Oliva – Keyboards

Al Pitrelli – Lead, Rhythm Guitars

Chris Caffery – Guitars

Roddy Chong – Violin

Angus Clark – Guitars

Joel Hoekstra – Guitars

Mee Eun Kim – Keyboards

Vitalij Kuprij – Keyboards

Jane Mangini – Keyboards

Johnny Lee Middleton – Bass

John O. Reilly – Drums

Jeff Plate – Drums

Derek Wieland – Keyboards

David Zablidowsky – Bass
Links
Facebook * Google Plus * Twitter * Site
6 color styles available:

Style switcher only on this demo version. Theme styles can be changed from Options page.