Browsing articles tagged with " night"
Label: Napalm Records
Review by Tony Cannella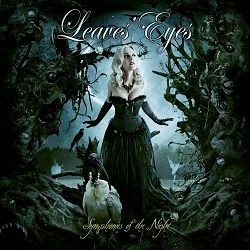 "Symphonies of the Night" is the title of the 4th full-length album from the German/Norwegian metal band Leaves' Eyes. The band – which is led by the duel vocals of Liv Kristine and her husband, Atrocity main man Alex Krull – has forged a pretty consistent and solid career for themselves based on an excellent body of work and "Symphonies of the Night" certainly rates right up there with their previous efforts.
The opening number "Hell to the Heavens" is simply awesome and my favorite track. What a great way to start things. Liv Kristine and Alexander Krull continue to be one of the most unique vocal tandems who use the "beauty and the beast" technique. Continue reading »
Interview by Alessandra Cognetta
This interview's guest is someone who surely needs no introduction. We had the pleasure to ask a few questions to the lovely Candice Night, lead singer and founding member of Blackmore's Night. Their latest album, "Dance and the Moon", was released in June through Frontiers Records and from amazing folk tunes to carefully crafted covers it features everything one could expect from a Blackmore's Night album and more. Candice told us about the band and their music, but she also had some interesting things to say about art in general and our relationship with Nature and how we can improve it, plus some special recommendations for Medieval music you should definitely listen to if you love the genre.
Hello and welcome to the 'zine, Candice! It's a pleasure and a honour to have you with us. How are you and how's it going for Blackmore's Night? The new album has been release a couple months ago, with amazing response from the press. I wonder how has the public reacted, instead? What did you hear from the fans?
Continue reading »
Independent Release
Review by Tony Cannella
Mena Brinno is a symphonic, operatic outfit from Tampa, Florida. Meno Brinno formed in 2006 and released their debut "Icy Muse" in 2007. They followed that with "Wicked Polly" in 2009 and now return with their third album, "Princess of the Night". The band is led by the duo of Katy Decker who puts her opera training to good use with her vocals and multi-instrumentalist Marius Koslowski both formerly of the band Royal Anguish.
"Princess of the Night" is only 35-minutes long and it features 8-tracks, so in that respect, it comes up a little bit short, but the fact that this is a self-released album is pretty impressive and it's about quality, not quantity. Continue reading »
Label: Frontiers Records
Review by Luisa Mercier
Ninth record for the band led by legend Ritchie Blackmore and his wife Candice Night. If I should sum up in a few words the new album I might say that there is nothing really new apart from a more present electric guitar and a couple songs that recall the past of Mr Blackmore. I am talking about "The Moon Is Shining (Somewhere Over the Sea)" where you can actually hear an interesting guitar solo and the closing track "Carry On… Jon" that clear is a rock attempt. I especially liked the electronic intro to the first of the aforementioned tracks. The rest of the album is what all Blackmore's Night fans love: folk acoustic music with a Medievil atmosphere, costumes and the enchanting voice of Candice fronting everything. I want to mention the single, the title track that is really lively and the melody is very catchy! Continue reading »
Label : Grailight Productions
Review by Vard Aman
North Diamond formed in Moscow in 2008 and play what could be described as a combination of melodic Black Metal and Death Metal. "По Ту Сторону Бытия" is their debut album; and it is just as this kind of music should be. North Diamond do not mess around: "По Ту Сторону Бытия" is a short, sharp, relentless no-prisoners-taken half hour of blackened melodic brutality that any fan of this type of music will drool over. Elena Scarlet is an expert and versatile growler, moving freely from deep Death Metal growls to Black Metal shrieks, with her own snarling growling style in between. There are some clean vocals as well – there is a guest vocalist that features on this album, Valentina Aaron, and the clean vocals could be hers (on the single that North Diamond released after "По Ту Сторону Бытия", "Fall of Man", clean vocals were provided by Evgeniya Rodnikova of Aura and Emerald Night). Continue reading »
6 color styles available:

Style switcher only on this demo version. Theme styles can be changed from Options page.