Browsing articles tagged with " nightmare"
Label : Independent Release/Nightmare Records
Review by Tony Cannella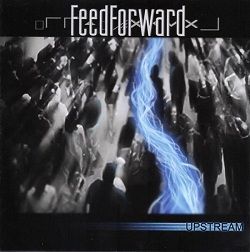 The Dutch Progressive Rock/Metal band FeedForward has been around since 2002. After releasing two demos in 2002 and 2003, they issued their full-length debut "Barefoot & Naked" in 2007. Now, after a five year absence FeedForward returns with their sophomore effort and first for their new label Nightmare Records, "Upstream".
Like a lot of prog music, FeedForward are a band that loves to play long, complex epic type numbers and the songs on "Upstream" are no exception. Mixed in with the longer songs are more accessible 4-5 tracks. Actually, even their longer songs are pretty accessible as well.
FeedForward definitely has an ear for melody and the smooth vocals of Patrice really add a lot to the music. The songs on "Upstream" can and should appeal to prog fans and melodic rock fans alike. From the opening intro "Ahead of Echoes" and leading into "Deepest Thoughts", it is quite obvious that FeedForward has a lot to offer a wide variety of rock and metal fans. Musically, I would describe them as sort of similar to latter day Fates Warning andQueensryche "Empire" era , with a nod to 70s era prog rock here and there. Continue reading »
Label : Rock Candy Records
Review by Tony Cannella
Back in the late 80s, it was impossible to pick up a copy of the (then) legendary U.K. magazine Kerrang!, without there being something in there about the British AOR rock outfit Romeo's Daughter, particularly their gorgeous singer Leigh Matty who seemed to be in every issue (or just about). Before ever hearing them, if you were a reader of this magazine you already knew who they were. Their song "Heaven in the Backseat" was included on the soundtrack to the movie "A Nightmare on Elm Street, Part 5″ and later covered by Eddie Money. The band released two albums in the late 80s/early 90s and have just recently re-formed. To commemorate their reformation, their two albums have received the re-issue, re-master treatment and both feature previously unreleased bonus material.
Much of the album is produced by Mutt Lange (along with John Parr) and that much is obvious on the opening track "Heaven in the Backseat". It has that slick "Hysteria" style sound and background vocals that sound like they could have been performed by Def Leppard. Beyond that, Romeo's Daughter's debut is chock full of pop flavored AOR tunes like "Don't Break My Heart", "I Cry Myself to Sleep At Night", "Wild Child" (which was covered by Heart on their "Brigade" album) and "Hymn (Look Through Golden Eyes)". The re-issue includes three bonus live recordings of "Heaven in the Backseat", "Velvet Tongue" and "I Cry Myself to Sleep at Night". Mutt Lange produced so many of the 80s biggest albums that we forget that some bands just didn't go on to global success, and Romeo's Daughter is one of those bands that fell through the cracks, which is a shame, because I think based on the material on their two albums they should have been bigger than they were, but that's only my opinion. Their slick pop AOR sound will not be for everyone, especially die-hard metal heads.
I have always liked Romeo's Daughter and I am psyched that the band has decided to get back together. More importantly it is a great thing that their (small) catalogue has been made available once again. Sure their music may be on the pop side of things, but the songs are just so damn infectious and besides, you can't bang your head all of the time, can you? Supposedly, Romeo's Daughter is working on new material, which is good news for fans of melodic AOR rock. Continue reading »
Label : Nightmare Records
Review by Tony Cannella
This is one that I have been looking forward to. The Florida based Power Metal band were impressive as hell on their self-titled 2nd album, which came out in 2010. That album marked the debut with the band of Sabrina Valentine. Now they return with an even meaner, heavier more aggressive new album entitled, "The Fire Is Mine".
The intro "Beyond the Wall" sets the stage for the hard driving "After the Fall" and we are off and running. This is a particularly bombastic track that would make a great set opener. The song is accentuated with killer guitar harmonies and the soaring voice of Sabrina Valentine. Seven Kingdoms have always been great at fusing their songs with melody, whilst playing at a breakneck speed – and "The Fire is Mine" is no different. "Forever Brave" continues where "After the Fall" left off. The ballad "Kardia" offers a change of pace gives the listener a chance to catch their breath. Sabrina Valentine is joined by Theocracy frontman Matt Smith on this song.
The next two tracks "Fragile Minds Collapse" and "In the Twisted Twilight" are strong as well. "The Fire is Mine" is brought to an epic conclusion with the intro "A Debt Paid in Steel" which leads us into the almost 8-minute "The King in the North". Heavy riffs abound throughout the 53-minute album and guitar work by Camden Cruz and Kevin Byrd is excellent. Lest anyone think that their previous album was a fluke, I would enthusiastically point them in the direction of "The Fire is Mine". Seven Kingdoms have taken a massive step forward and have released – in my opinion – the power metal album of the year. This band is so good, it's scary. Continue reading »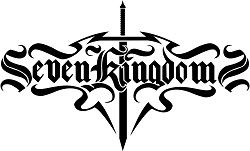 Interview by Alessandra Cognetta
Seven Kingdoms hail from the US and bring us into the world of George R. R. Martin's works by the means of female-fronted power metal. With three albums released (their latest effort "The Fire Is Mine" included) and a tour with Blind Guardian, we took the chance to have another chat with frontwoman Sabrina Valentine about the band, women in metal, the Eve's Apple community and Game of Thrones.
Hello and welcome to Femme Metal, Sabrina! It's a pleasure to have you with us again. How are you and how's it going with Seven Kingdoms?
Well Hello! Thank you for having us back!! I am great, Just back from my first over sea's experience at Female Metal Voices Fest! Me and my Band brothers are well, just waiting to see what comes from the release of our Latest album "The Fire is Mine".
A consistent part of your music and lyrical themes was influenced by George R.R. Martin's works. How much did you actually take from his books and how much (and in which direction) developed on its own "inside" Seven Kingdoms?
Well, on our new album "The Fire Is Mine", we dedicated 3 songs and 2 audio/narrative pieces to the book series. Mostly the songs lyrical content are written to fit the music, because the music is the what makes you think about the emotion we are trying to portray. The rest of the songs on our album were stories that we wrote as a group or on our own.
How was it, touring with no other than Blind Guardian? And how did the two bands get in contact in the first place?
Touring with Blind Guardian was the best moment we as a band have ever experienced. What better way to learn, than to be taught by the forefathers of Metal? They are a group of the most professional and down to earth men I have ever had the pleasure of knowing. Camden and Claus (our Manager at Intromental management) had tried to work something out for us to go overseas and tour with Blind Guardian but being a fresh new band, the financial backing was not there. Camden was determined, so they both discussed if they would be coming to America. It was half the cost to do it on our own territory and more feasible. We applied and Thanks be to the Gods, we were chosen.
Interview by Erwin van Dijk

On June 1st the compilation double cd "Demonic and Divine" is released by Femme Metal Records. The cd is to support the Macmillan Cancer support and Cancer research UK. Godyva appears with the song "My Inner" on this album. Godyva is a Gothic Metal band from Bari, Italy. The band was formed in the year 2000 and has released two albums and a demo cd. Godyva's latest album was released last year and this album also includes the song "My Inner" that also will be featured on the "Demonic and Divine" album. Lady Godyva was a noble woman from England who lived a thousand years ago (c. 997 – 1067) in the city of Coventry. She is most notable for riding naked through the streets of Coventry. By doing this she gained a tax remission from the high taxation imposed by her husband Leofric, the earl of Mercia. And with success. "Godiva" or "Godgyfu" means "God Gift" in Old English. This interview is with Lady Godyva, the singer of Godyva.
For starters: what is your real name?
My real name is Cristina Argese, my surname sounds like the river Arges where Dracula's wife died, this is what the legend of Dracula tells. His wife killed herself throwing in the waters of the river Arges and subsequently the river was called the Princess River. Cool!
Did you always wanted to become a singer?
Yes! When I was a child I always dreamed to sing with David Bowie or Freddie Mercury! I wished to be their chorist on tour, hehe!
Who are your favourite singers and musicians?
My favourite singers and musicians of my childhood were the White Duke and Mr. Mercury and his band Queen as I said before; when I was a girl I loved Maria Callas, Dead Can Dance and Lisa Gerrard, Peter Murphy, The 3rd and The Mortal, Katatonia, Sarah Brightman, Sade, Kate Bush, Tori Amos, Paradise Lost, Metallica, Korn, Slayer, Queensryche and more but now in this moment of my life I'm really in love with the voice of Nevermore, Warrel Dane (his last solist album is fantastic), I like Porcupine Tree too, Avantasia, Scar Symmetry, Soilwork, In Flames, Entwine, Samael… But Paradise Lost and the voice of Nick Holmes will be forever my favourite.
And to what kind of music do you listen yourself?
Death, Thrash, Metal and Gothic Metal very often but sometimes I like to listen to ambient or new age music to relax myself.
Did you sing in any other bands before Godyva and do you any other bands right now?
Before Godyva I sang with a band called Aragon. The line-up included two singers, male and female and I used to sing like the Opera. Now I would like to dedicate myself only to my band Godyva, but maybe in the future it could be possible.
Speaking of side projects: you have recorded a song with the Thrash Metal band Methedras (also from Italy) for their latest album "Katarsis". This song is called "Nightmare". How did you got in touch with this band and what have you learned from this experience?
Methedras are friends for me. They asked me to sing on their latest album after their listening to the song I sang with Necrodeath, on their "Draculea" album. They stayed impressed and so they asked me to sing the song "Nightmare" on their new album. A link to the band.

Why did you choose Godyva as the name for the band?
I was a young girl when I decided to choose this name for my project and I remember that I was reading the story of Lady Godiva during a reading of an old book of my grandmother. I was spellbound of this heroin so brave that used her naked body to win against her unfair husband. She was the first feminist! She was a woman with no shame! She embodied Eva before the original sin. I would like to be naked all time, especially in this warm period (sometimes I really hate dresses and all accessories I must wear!) but I cannot do it, what a pity! hehehe!
How would you describe Godyva's music? Because a lot of people will assume you will sound like Lacuna Coil because Godyva is Gothic oriented with female vocals.
I think that Godyva are similar to Lacuna Coil because the female voice but there are a lot of bands in the world with a front woman that could be similar too. I like Lacuna Coil, they are a great band and I'm really happy for their worldwide success and fame, but we are different, we use to play and to compose in a personal way in my opinion. It's easy to say "You are like Lacuna Coil!" because we play metal with a front woman and we are Italian but we don't want to be a copy of an other band, we want to be Godyva and "nothing else matters"!
And what makes Godyva different compared to all the other female fronted bands in the world?
I think every voice is personal and unique in the world, also your voice is unique! It is scientifically shown that the voice is as unique as the iride of the eye and the digital imprints. And every voice has its own ability to transmit emotions, so the ear of the listener decides what it is or it is not pleasant. Also the personality of a singer and of a musician makes the difference, but i don't like to compare myself or my band to the others.
Who are the other members of Godyva?
Botyz Beezart – keyboards
Botys is the principal composer of the band, he mixes melodies of the keyboards to all guitar's riffs really in a particular and special way. Maybe it's his work the real difference in our band.
Anto – guitars
Anto is the aggressive characteristic of Godyva, he is the guitar that I have always desired to mix aggressiveness with romanticism.
Nick Barrah – bass
For a long time he does his beautiful job for this band. He is an essential musician with a great personality.
Enyo – drums
A drummer precise and progressive from years he is the rock of hour sound.
Why did Godyva choose the song "My Inner" for the "Demonic and Divine" album?
We have chosen this song because in that period we released the video of "My Inner" and we wanted to promote this song one more time in a compilation but we are sure "My Inner" is a song that younger fans appreciate and we believe in them.
And how did you (the band) got in touch with Femme Metal?
Femme Metal is a fantastic store managed by serious people that sell our cds, and so they asked me to take part to this compilation and i said "Why not?". I really hope this compilation could help this cancer research in UK.
Is song writing teamwork in Godyva or is there a mastermind behind the music?
As I said before Botys is the principal composer, so I can say that he is the mastermind about the music but also with all our help. In our latest album Anto has composed with him some songs among which "My Inner" and I have written with him "On the Floor of Ice" and "Mary in Blood". All vocals and lyrics are only my work.
Can you tell us something about the songs on "Planetarium" ?
"W.A.I.H.T.L.I.H" is the intro and it's the same music of the outro but you can listen to this intro in the opposite verse with the sound of tears that fall. Because of this you read the title like an image in the mirror. "The Ark" is The first song we have composed for this album and so we chosen it for the opening track. Instead "Innocent" is one of the two songs that sees the collaboration with Mike Tarantino (Natron). Here you can ear how the new guitarist Anto makes the difference with his style and his composition support. "Mary in Blood" is a romantic song that speaks about Maria Magdalena and her love. "Deep Inside" can be deceitful because it seems an happy song instead it speaks about one love that wants to last up to the end, together, both in the same grave. "Planetarium", it's simply the title track; we adore this song. It's the second one composed for this album and we think it is a complete and refined song. "My Inner" :I like it, I like it, I like it. The most powerful song of the album and the most appreciated by the metal kids. We released the video of this song. You can watch it on our MySpace page, YouTube official page, official website and on Rock Tv. "Black Door" also is one of the most difficult song to sing on this album. The ninth song is "On the Floor of Ice" I like to call this one "the liquid song", because it speaks of water (our life), deep blue sea (I love swimming) and ice. "No Fault" sees again for the second time Mike Tarantino as special guest! I like so much this song for that style typical of the Eighties, and we feel nostalgic for these years. Back to romaticism with "God Is Fallen" that speaks about our own fallen idol. And here we're at the end with "H.I.L.T.H.I.A.W." (outro) : a yearning and suggestive closing recited. This is an outro, but we use it as the intro for all our shows. As a treat for our fans we've decided to include a special version of "Innocence" as an acoustic version like happened the last time in "In Good & Evil".
And what is your favourite song on this album?
My favourite song on "Planetarium"? The title track! In reality I have two or three favourite songs on this album: "Planetarium", "Innocent" and "My Inner".
And what are the differences between "Planetarium" and "In Good and Evil" ?
The difference is the guitarist and obviously all guitars you can listen to. Our ex guitarist Frahn left the band some months before the recording of "Planetarium" so we chosen Anto as our new guitarist and we were sure that he would have done a good work in the studio giving more aggressive sounds to the songs of Planetarium. The other difference is that we are grown now as musicians and composers so we can offer an album more mature and enjoyable than "In Good and Evil".
What are Godyva's plans for the future?
We want to play music all over the world, there is a booking agency in USA that wants Godyva there, so I hope it could be happen very very soon. But at the same time we love our country so we will continue to show in Italy. We will be in Czech Republic on the 11th July to play on the stage of Prestenice Open Air Music Fest and the headliner of the event will be The Rasmus. We are working on new songs now but we don't want to say more about a new album now. We have to still promote "Planetarium" now.
And the last question: Is there anything the reader should know that I have not asked?
I think you have done all good questions. Thank you for this funny interview and I hope to see you again. Cheers

Links
Latest Multimedia
6 color styles available:

Style switcher only on this demo version. Theme styles can be changed from Options page.