Browsing articles tagged with " nominee"
Label : Victory Records
Review By Tony Cannella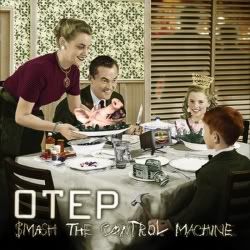 Los Angeles, California based band Otep wants, no demands your attention, and on their recently issued fourth album "Smash the Control Machine" they are going to get it by any means necessary. The band have been kicking around for a number years, since their contentious debut "Sevas Tra" was released in 2002 and almost 8-years later the band – led by Otep Shamaya – still have a lot to say. It's safe to say that the years have not mellowed this 4-piece out fit, not one bit. "Rise Rebel Resist" really sets things in motion, full-throttle and it is definitely indicative of what this CD has to offer as Otep Shamaya spits out her lyrics with rapid fire precision. "Sweet Tooth" is next and takes a different route than the previous track, it still has it's heavy moments but Otep utilizes a softer vocal style here, that is really disarming. The title song has an infectious groove running throughout the track, but there is an underlying hostility that can't be denied. Definitely one of the highlights. The next track "Head" is a bit of a departure and features an almost psychedelic vibe to go along with Otep's trademark screaming vocals, but she does more than just scream and all styles are on display in this song. More highlights: "Numb & Dumb", "Unveiled" and "Ur A Wmn Now". The finest moment, however is eerily haunting "Where the River Ends". As with any Otep release, you get your share of social commentary in the lyrics and "Smash the Control Machine" (great title by the way) is no different. The 13-songs contained on this CD are hostile and aggressive with some surprises along the way.
Rating – 75/100
Tracklist
Rise Rebel Resist

Sweet Tooth

Smash the Control Machine

Head

Numb & Dumb

Oh, So Surreal

Run for Cover

Kisses & Kerosene

Unveiled

Ur a Wmn Now

Serv Asat

Where the River Ends

I Remember (Hidden Track)
Line Up
Otep Shamaya – Vocals

Rob Patterson – Guitar

"Evil" J. McGuire – Bass & back vocals

Mike "Moke" Bistany – Drums
Links
MySpace * ReverbNation * Facebook * Twitter * Site
6 color styles available:

Style switcher only on this demo version. Theme styles can be changed from Options page.