Browsing articles tagged with " nwobhm"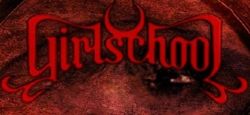 Interview by Tony Cannella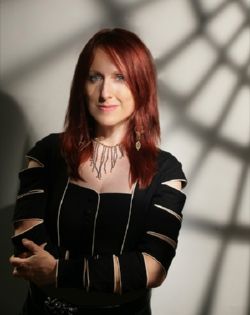 For over 30-years Girlschool has been one of the more iconic and influential bands to emerge from the legendary New Wave of British Heavy Metal (or NWOBHM, as it is affectionately known) movement that began in England in the late 70s and early 80s, but pretty soon engulfed the world and helped revitalize Heavy Metal worldwide. Throughout the past 30-years Girlschool has had their share of ups-and-downs but have continued persevere and continue to record some truly solid material to this day (just check out 2008's "Legacy". Now, on the 30th anniversary of "Hit and Run", which is quite possibly their most legendary work the band has decided to re-record this classic for a new generation of fans. Recently, bassist Enid Williams was kind enough to answer our questions in an interview conducted via email.

First question, why did you decide to re-record the classic "Hit and Run" album in 2011 and are you happy with the results?

It's the 30th anniversary of our most popular album. We wanted to capture the spirit of the old album and we feel we achieved that.
I must say that I think "Hit and Run"
(2011) is great! What has the feedback been like from the media and especially die-hard fans?


Thank you! We've had a very positive response from everyone.
How do you feel it differs from the original version?
Well, I sang most of the original album and of course we're without Kelly, so I'm doing the vocals on "Hit and Run" and Kim's singing her other songs. Our voices have changed over the years as well. I'm now playing a 5 string and although the bass parts have the same feel, the runs are different and some lines are in a different octave. The solos are similar but with variations.
Any chance of playing
"Hit and Run"
live in its entirety?
Only if enough people ask the band! We keep getting requests for "Watch Your Step" but we'll have to see!
You included a bonus version of the song
"Hit and Run"
featuring Doro Pesch. How did this collaboration come about, and what was it like working with her?
We've known Doro for a while now and she asked us to sing on one of her tracks, so it was great to be able to return the compliment.
You had the opportunity to work with Ronnie James Dio on the "Legacy" album. What was that experience like?
Ronnie was one of our heroes and such a great man as well. It's a real honour when someone you admire respects your work.
Actually, the "Legacy" album featured a number of guests. What was that whole experience like? Brilliant! We were recording in Wales and the guests recorded their parts in LA and New York and then sent them over. It was incredibly exciting hearing their contributions for the first time.

Are you currently working on new material and can you give us a preview of what the next Girlschool album will sound like?
No! We're touring this album next year and working on a DVD
.
What inspires the band when writing new material?
Hearing great tracks and wanting to come up with something as good.
What is your opinion of the current crop of female singers and bands?

There are many good ones, but very few greats!


Do you feel like you helped pave the way for women in rock and metal?

For many years we had a male following but since music on the internet took off we've had lots of women say we've been an influence. The world still has a long way to go though before women have the same opportunities as men.
Over 30 years and Girlschool is still going strong. What do you attribute the bands longevity to?
Passion and stubbornness.

Girlschool has released so many albums. Do you have any particular favorites?
"Demolition" and "Legacy".
Is it gratifying to realize that Girlschool has made an impact and influence on the metal scene?
Yes, it's always good to feel you've made a difference to someone.

What are your immediate plans for the future?
Sorting through DVD footage.
Thank you for taking the time to answer these questions. Is there anything you would like to add? The final words are yours.

Thank you to all our friends and fans for their support over the years. As long as you're there for us, we'll be there for you!
Links
Label : Wacken Records
Review by Tony Cannella
It is no secret that legendary all girl band Girlschool were at the forefront of the metal changing New Wave of British Heavy Metal (NWOBHM) in the late 70s / early 80s. The fact that this band still exists while many of their peers fell by the wayside is a testament to their endurance and staying power, not to mention the quality of their tunes. You simply do not last this long unless you have a strong catalog of music. Now Girlschool have decided to give one of their classics "Hit and Run" the re-recorded treatment. Sacrilege you say? Re-recording a classic album isn't exactly a new trend, but it is one that many die-hard fans wish would go away. So, let's 'revisit' this NWOBHM classic. It is now time for "Hit and Run – Revisited". The original "Hit and Run" was released in 1981 and was the second album to be released by this seminal band. The raucous "C'mon Let's Go" gets things started and is as powerful as I remember it. "The Hunter", "I'm Your Victim" and "Following the Crowd" are classic examples of a band firing on all cylinders. Next we have a cover of the ZZ Top classic "Tush". Other highlights include: "Hit and Run" (probably my favorite Girlschool track of all time), the Motorhead vibe of "Watch Your Step" and "Future Flash". Two bonus tracks are available here. The first one is a re-recording of "Demolition Boys" that originally appeared on their debut album "Demolition" in 1980 and the next one is another version of "Hit and Run" featuring none other than Doro Pesch on vocals. I'm still not sure if I like the whole re-recording a classic album thing, but "Hit and Run – Revisited" has reminded me what a great album this is, and what a criminally underrated band that Girlschool was and continues to be. It does my heart good to see these girls still out there and kickin' ass.

Rating – 90/100
Tracklist
C'mon Let's Go

The Hunter

I'm Your Victim

Kick It Down

Following the Crowd

Tush

Hit and Run

Watch Your Step

Back To Start

Yeah Right

Future Flash

Demolition Boys

Hit and Run (with Doro)
Line Up
Kim McAuliffe – Lead & Backing Vocals, Rhythm Guitar

Jackie Chambers – Lead Guitar & Backing Vocals

Enid Williams – Bass, lead & backing vocals

Denise Dufort – Drums & Backing Vocals
Links
Label: AFM Records
Review by Tony Cannella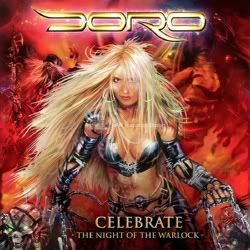 On December 2008, Doro has celebrated her 25th anniversary as a performer. Man, how time flies. The German metal queen has released a 5-song EP, appropriately titled "Celebrate – The Night of the Warlock". This is a very special release that fans of Doro and fans of metal in general should eat up. This EP contains three distinctively different versions of the title song. The first is just Doro on lead vocals with some help from her fan club on background vocals on the chorus. This gives the song a totally live and energetic feeling. You can envision an arena full of Doro -maniacs singing along. The next version of the song features special guest vocals by one Mr. Biff Byford of one the most legendary bands of all time (in my book anyway) Saxon. It is always a pleasure to hear Biff's vocals and he and Doro have tremendous chemistry together. The third and final version of the song features an all star line-up of female metal stars. It really is a whose who. Just some of the singers represented are: Floor from After Forever, Sabina from Holy Moses, Liv from Leaves' Eyes, Veronica from Benedictum, Angela from Arch Enemy and the girls from Girlschool – just to name a few. The song itself is truly a great song, that is indeed a celebration for anyone who loves rock and especially metal. "The Night of Warlock" is next and it begins with an eerie intro featuring a demonic male voice, but quickly turns into a rousing rocker. With the title DORO once again gives a little nod and a wink to her past but the song itself fits right into her current catalog. The final song "Rescue Me", is a beautiful heart-felt ballad. Something that Doro has become known for over the years and this will not disappoint. The final verdict is this: "Celebrate – The Night of the Warlock" contain 5-songs and 23-minutes worth of music that is more than just a celebration of 25 years of performing on a stage. It is also a celebration for those of us who have been along for such an incredible journey – a journey that will continue for a long time to come. Get it!
No Rating
Tracklist
Celebrate

Celebrate (feat.Biff Byford)

Celebrate (Full Metal Version)


The Night of the Warlock
Line Up
Doro Pesch – Vocals

Joe Taylor – Guitars

Oliver Palotai – Keyboards,Guitar


Luca Princiotta – Guitars,Keyboards

Nick Mitchell – Bass

Johnny Dee – Drums
Links
6 color styles available:

Style switcher only on this demo version. Theme styles can be changed from Options page.