Browsing articles tagged with " oakville"
Independent Release
Review by Tony Cannella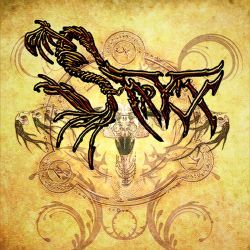 Syrynx is the new Symphonic Metal project of Mikki Straatsma who most people will already know from Viveynne. I will resist the opportunity to compare the two projects, as both features the Amy Lee-esque vocals with some touches of operatic vocals here and there. Mikki seems to be getting better and better at her craft. She was excellent with Viveynne but on the debut 6-song, 23-minute EP from Syrynx, she definitely brings it to a whole other level. The music is pounding and heavy and also has a darker, brooding quality to it. The power metal riffing of the opener "Crawl Space" takes over immediately. Mikki's vocals are immense as she proves that she can not only handle the higher, operatic stuff but also the more straight forward metal stuff as well. This is just an excellent opener and an attention grabber for sure. "Scaryville" is next and has a dark, ominous vibe to it and this quickly became one of my favorites. Mikki is joined by some highly skilled musicians to round out the band, in particular the guitar playing courtesy of Anthony Mignella and Oleg Valentine is sharp and the two contributes some great solos to the songs. I don't want to short change the other members as Andrew James Cox and James Ruivo supply a pretty solid rhythm section. "Just Think About It" is a piano interlude that brings us into "Creatures of Habit" another killer song that features a straight forward metal vibe to it and some extreme vocals to go along with Mikki's. "Another Life" is next and is another heavy one. The final song "6 Under" continues with powerful, head banging riffs and a great way to end things. The 6-songs contained here are just plain addictive and have a lasting effect. I really can't find too much negative to say about Syrynx. The material is well written, shows off the diversity that the band is capable of and the talent that Syrynx possesses.
Rating – 90/100
Tracklist
Crawl Space
Scaryville
Just Think About It
Creatures of Habit
Another Life
6 Under
Line Up
Mikki Straatsma – Vocals & Keyboards
Anthony Mignella – Guitar
Oleg Valentine – Guitar
Andrew James Cox – Bass
James Ruivo – Drums
Links
MySpace * ReverbNation * Facebook * Twitter
6 color styles available:

Style switcher only on this demo version. Theme styles can be changed from Options page.