Browsing articles tagged with " open"
LEAVES' EYES — the German/Norwegian band formed by ex-THEATRE OF TRAGEDY singer Liv Kristine Espenaes Krull and members of ATROCITY — has set "Symphonies Of The Night" as the title of its new album, due later in the year via Napalm Records.
A new LEAVES' EYES video, for the song "Melusine", featuring footage from live shows, tours and festivals like Wacken Open Air in 2012, can be seen below.
Interview by Ed MacLaren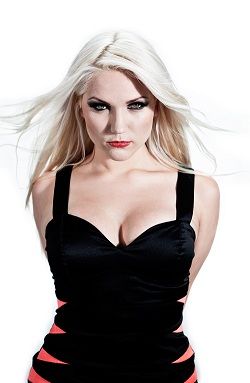 Hearing a band's debut album for the first time is like digging up a treasure chest. You have no idea what's in it but you're hoping that, whatever it is, it's going to make you rich. Uncovering "Breaking the Stillness" – the powerful debut album from Finland's  Shear – is a treasure in its own right – a refreshing and engaging listen that will reward your ears again and again. The album is built on catchy melodies and progressive arrangements but what really raises the eyebrows are the balls-out voice of singer Alexa Leroux. On each track, her vocals cut loose adding some grit to the polished music underneath. Femme Metal Webzine got the inside scoop from vocalist Alexa Leroux on the new album, her powerhouse vocals and how classical training works well in the metal world.
Welcome to Femme Metal Webzine, Alexa! Congratulations to you and the rest of Shear on "Breaking the Stillness". An excellent debut album!
Thank you very much! Glad you like it!
Shear brings a sonic cornucopia to the ears – crunching riffs, swirling keyboards and powerhouse vocals. This album will definitely appeal to fans of power and symphonic metal not to mention the progressive metal faction.
Well, thank you, once again. Our album is a little more melodic mixed with progressive, than symphonic, but I hope it reaches fans of different metal styles also. I believe it's diverse enough, so even if people don't like all the songs they might find some elements they really like.
Are you excited? What are your expectations for the album? The prediction here is that even though it's early in the year, you could be seeing "Breaking the Stillness" on some best of lists at the end of the year.
I am very excited about having an album finally come out. I can't really predict anything and in a way I think it's better I don't even try to, but it would be totally awesome to see it succeed.
Track for track, "Breaking the Stillness" is a powerful listen from start to finish. What's the secret to maintaining that kind of momentum over a whole album?
We really took our time writing the songs. Every song was written with a purpose and they all come from a very personal space, so that is probably what helped the most.

Interview by Danny Robertson

Industrial quartet Lahannya are about to unleash their new album "Defiance" upon us. We spoke to frontwoman Lahannya to discuss the new material, and the future.
What initially inspired the story behind "Defiance" and last year's release, "Welcome to The Underground" ?
Well Danny… Like the prequel told on "Welcome to the Underground", our 2008 EP, "Defiance" is set in a future distopian Britain, which has evolved into a total surveillance society as a result of severe terror attacks. The protagonist of the story is a resistance fighter who is plagued by feelings of guilt and anger for having inadvertently contributed to the rise of this brave, new Britain. The setting of "Defiance" is mostly inspired by current political and technological developments as the UK is slowly turning from one of the most liberal countries in Europe into a surveillance state par excellence. With 5 million cameras CCTV is omnipresent and DNA details pertaining to over 5 per cent of the population are held in a national database as a tool in combating terrorism. Biometric ID cards are already being introduced and more and more government databases are being centralised resulting in our private lives becoming increasingly transparent. It might not be long before we are forced to make difficult choices affecting our principles and lifestyles. The storyline of "Defiance" imagines what those choices and their consequences might be?
How long did it take to put the whole album together?
Basically, although we wrote a couple of the songs from "Defiance" while still working on "Welcome to the Underground", the real song writing work for this album only started in September last year. All in all, it took around a year to put the new album together.
Was it a conscious decision to make this album more rockier?
The majority of songs on "Defiance" deal with betrayal, hatred, the consequences of difficult decisions and revenge and, when the lyrics deal with such strong emotions then the music has to follow suit! "Defiance" has become our darkest and most aggressive release to date because of it. I must say I very much like the direction it's taken and absolutely love performing the new songs live!
Will the story of the resistance fighter be continued on future releases?
Let's see? I've really enjoyed writing songs that follow a storyline, creating the right setting and putting every song into a context. For me the story is definitely not finished yet because it ends with a terrible betrayal and declaration of war…. so I am very much looking forward to working out the next instalment and finding out myself what happens next to my heroine and her companions…
Many labels have been applied to your music in the past, but how would you describe your sound?
I've given up describing our sound because it combines influences from quite a variety of genres and therefore doesn't neatly fit an obvious description. In the press, we've quite often been compared to Evanescence and Lacuna Coil, which is very flattering but quite misleading in my opinion. The best and certainly most innovative comparison to date came from "Heavy", the third biggest metal magazine in Germany, who said our sound was "a mixture of Zeromancer, Pain and Madonna"!
What influences you the most, musically and non-musically?
Lyrically, I take a lot of my influences from what is going on around me and from my own experiences and emotions. Since our last couple of releases were set in a futuristic Britain I've also done a lot of reading up on socio-political issues and took inspiration from science-fiction literature. Musically, I was probably subconsciously influenced by everything I like and have been listening to – whether I wanted to or not. Over the last couple of years I've been listening to a lot more metal, which I am sure has left its mark on my song writing and the overall, general feel of the album.
Which current acts do you admire most, or feel you have most in common with?
There are a lot of great bands out there – I have a ton of respect for System of a Down, Rammstein and The Prodigy for being incredible live bands and entertainers…. But, there are also lesser known bands that I really like – Sacred Mother Tongue I saw by pure chance on their first London show and I'm sure they'll be going places in the metal world and The LoveCrave from Italy are definitely the most fun band out of all the bands I've ever played with recently! Meeting other artists and bands is actually one of the most enjoyable aspects of what I do. For the upcoming German and UK tours I've personally selected 90 per cent of the support bands in each city, which involved sifting through a lot of MySpace profiles before contacting the bands I liked best. Now I am looking forward very much to seeing these bands live because I really love their music and hope our fans will enjoy my selections as well.
Are there any upcoming acts or releases you'd like to recommend to people?
Yes… Although it's not really a new release and the band is no longer a newcomer, I would very much recommend that people check out Mankind Is Obsolete's album "Trapped Inside". For me it's a great industrial rock album with a perfect balance of heavy guitars and electronics, with some amazing vocals and creative lyrics. It's such a shame that the band is not better known, they definitely deserve to have international success!
What have been your personal career highlights thus far?
Playing this year's Wave Gotik Treffen in Germany and Metal Female Voices Fest in Belgium; both were absolutely amazing experiences and career highlights for me personally. The other highlight was the release of our second album "Defiance". A lot of sweat, blood and tears went into it and holding it finally in my hands was an incredible feeling!
What are your current aims for the future?
Like all bands I suppose, I'd like to start playing larger venues in the UK and Germany where we perform regularly and then, extend our tours to the rest of Europe. I'd love to play live shows in Scandinavia, the Netherlands, Belgium, France, Spain and Italy, where I know we have fans… We keep getting asked to play in their countries, so I hope to be able to do it very soon!
What's next for the band? Whereabouts will you be touring in coming months?
Having played six festivals this year, we're finishing 2009 with a 15-date German and UK tour going to great places like Sheffield, Leeds, Glasgow, Nottingham and London as well as Frankfurt, Munich and Hamburg. All the dates are on www.lahannya.com. We haven't really started making concrete plans for next year yet because the current one has been keeping us so busy, but I'd definitely like to continue touring, playing festivals and start writing new songs too….
Any last messages for people?
Thanks to everyone who has supported us so far – see you on the current tour! Check www.lahannya.com for the dates!! – Cheers!!
Links
MySpace * Facebook * Twitter * Site
Interview by Gaia Stella Rotondi
Transcription by Alessandro Narcissus
Intro by Miriam C.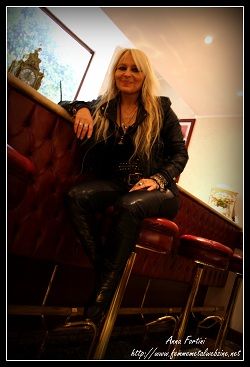 On a hot summer day (to be precise on the 12th September) we've met in a hotel in the centre of Milan during the promo day dedicated to "Raise Your Fist", the German metal queen Doro. Let's hear directly from her the latest news. Some words dedicated to the memoir of the late Mr Ronnie James Dio are present and we join with her to his memory publishing this interview.
Today Femme Metal is pleased to have the metal queen Doro Pesch as guest. Hi Doro, how are you?
Hi there, I'm very good! Thank you for the interview, it's great to be here in Italy!
We know that your new album, "Raise Your Fist", produced by Nuclear Blast Records, will be released on October 19. Could you tell us something about it?
We've worked for over half a year on it. We recordet it all over the world, from New York and New Jersey to Hamburg, we've mixed it in Danmark with Jacob Hansen, who'se the producer and engeneer for all of it. I wanted to make sure that the sound is hard, powerful and really, really good. The first song, "Raise Your Fist in the Air", I kind of had the feeling it might be the first single. So I sent it out to many people, everybody mixed it, and then it was hard to choose 'cause many were really good, but when I heard Jacob's work I said, "Okay, you're the one!". There are some special guests on the record: I sing a duet with Lemmy (Kilmister from Motörhead Ed.) on one of my favourite songs, "It Still Hurts", which is a very touching and emotional ballad, and I love it so much, and I also love Lemmy for the longest time, he's great! Then we have another guest, Gus G, the guitar player of Firewind, and he plays a solo on "Grab The Bull (Last Man Standing)". A good friend of mine made contract with Alex Krull from Atrocity and Leaves' Eyes, and he's a guest on that song as well. Then there is "Hero", which was the first song we wrote for the record, and it's a tribute to Ronnie James Dio: so many fans were totally heartbroken when he died – including myself, I was totally devastated and after all this time I still am! – so I really wanted to say thank you and pay respect to him.
Could you tell us something about the importance that Ronnie had in your life?
Yeah! Beside being an amazing singer, I think definitely one of the best, he was a great friend and my biggest inspiration! I had the chance to meet him many times, we toured together – actually my second big tour, back in 1987, it was with Ronnie James Dio and it was great because it was the peak of heavy metal with big venues and fans, it was unbelievable and really unforgettable! Then we had the chance to tour again a couple of times and one of the greatest experiences was the American tour in 2000, because, as you probably remember, in the Nineties grunge was big and heavy metal had a really difficult time; and then, in 1999 I felt it was coming back somehow and I did a song for Ronnie James Dio's new album, then he held a release party in New York and I was there and I went to say hi, and he was like "Hey, I like the song so much, it's magical!". And a couple of weeks later we had our record done – I was "Calling The Wild". We were in the middle of an interview with a radio station in Tennessee, and we were talking and they asked if we had any touring plans, I was like "Not yet, but of course we want either to open up for someone or do our own club tour", and then the lady said she was like "What about Ronnie James Dio?", and she was going to interview him in a hour so she suggested us to him! And a couple of weeks later we were on tour together and it was great! The last leg of the tour was in Florida and we always sang the encore together! He went to the monitor guy asking for a second microphone and came on stage. In 1987 I could not speak English that well, so we were just like "Hi, great show", but in 2000 we really got much closer and became really good friends.
In "Raise Your Fist" you had the chance to work with many other musicians. As you said, you collaborated with Gus G from Firewind and Lemmy from Motörhead. How did it feel to work with legendary and new generation artists at the same time?
It's great every time! It was a honour to work with somebody special like Lemmy. He's my hero, I love Lemmy! We played together in the very early 80′s and now we were on tour together two years ago, and it's great. He's very soulful and a total gentleman, a great talker, a great musician. With younger generations, when people love music there's always this common ground. With Alex Krull we always met in Wacken and he suggested that we do something together and his wife Liv Kristine, she was at my 25th Anniversary gig and performed on "Celebrate" along with all those great ladies that met on stage. And we all felt connected then. There is one song on the limited edition called "Strong And Proud" which I wrote to talk about this connection with all the female vocalists. I think it's pretty cool because we're all supporting each other and connected, there is a lot of unity.
An EP was released on August 3rd, to precede the upcoming album. The EP contains four songs and it includes also a French version of the single "Raise Your Fist in the Air". Would you like to talk about the reasons of this choice and about the EP in general?
After I recorded the demo of the song, I played it to some people involved with Wacken. When they heard it they were very enthusiastic about it and wanted me to play it at the festival. It was not finished yet, but they really wanted it, so I was like, ok, I can try. Then I played it and I got a great response. Everybody's fists were in the air. It was the first day and I played it in front of about 50,000 people, they all liked it, so I thought it could be a great single. Then I tried it out a couple of times when I played in Europe, in Moscow, and I also wanted to play it in Lyon, in France. I tried to say something in the native language, so I asked "How do you say 'Raise your fist in the air' in French?" and they told me "Lève Ton Poing Vers Le Ciel" and it was really cool! And then there is another story: one day I was introdued to a girl called Vanessa who really wanted to hear a song in her native language because she only speaks French. On my previous album I recorded several versions of "Herzblut", like in Spanish and in Portuguese, so I also made one in French and I dedicated it to Vanessa. She was really happy! She has two sons and said "When I have a girl, I will call her Doro!", which was really cool! I was very happy! So I decided to do another French version on this album.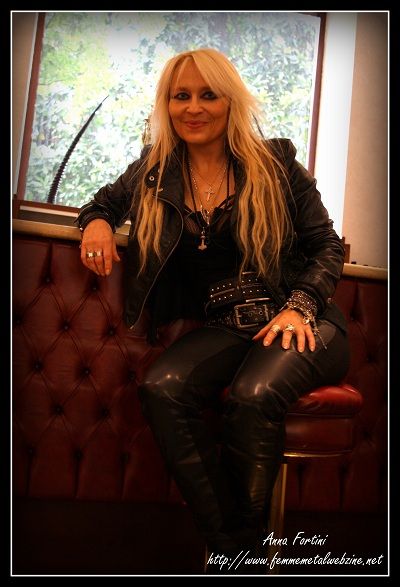 The guitar player on "Raise Your Fist" is Luca Princiotta, an italian musician. How did you meet him?
I met him a couple of years ago. I was in Italy doing a little appearance for Clairvoyance. There I met Luca and I knew he was a great musician. Then joined us for the keyboard when Oliver Palotai was busy touring with Kamelot. We really got along and played many gigs, so he joined in as guitarist for the new album.
You have released also a video for the single "Raise Your Fist in the Air". We know that you love the city of New York, but the video was shooted in the Bronx area. Why did you choose this place and how would you describe this experience?
It was quite an adventure, quite dangerous too! In New York it's very hard to fill in to get a permission and stuff. So we were like, okay, you know what? We just go there with our truck. We go everywhere we want and when the police comes we just get back on our truck and run away! We went all over and then elsewhere too. We went to all kinds of neibourghoods in the Bronx and in Harlem, and while I was singing, suddenly people were coming up to see what we were doing. At a certain point there was like a gang, and we were like, "Oh God, sorry, we were just shooting a little video!", but they liked the song although I think they were more into rap or that kind of music, so we asked them to join us and it was really cool! Everybody came in, we shot under a bridge, there were also some homeless people who showed up as well, even a guy who said he liked jazz but stopped all the same, and my band was in the video too, so… gang members, homeless people of New York, all united by music, it made all of it immediate. It was much fun!
You often play at metal festivals, such as the Wacken Open Air. What do you think about festivals and how is your relation with the fans during these events?
I love playing festivals. My first time playing in Wacken was in 1993 and there were maybe 2000 people. It was very small, just the area where now the bands' dressing rooms are. And since then every four or five years I came back, and a certain point there were 20,000 people and the whole thing was going bigger and bigger. What I love so much was that the organisers of the festival were two die-hard metal fans, because no one wanted to do metal festivals in the early 90′s, so it was a festival from fans to fans, you can still feel it today. And the village near it, everybody is very welcoming to all the metalheads, back then somebody even welcomed us to sleep, which is really great because, you know, all those guys with long hair and tattoos and stuff… So I specially love Wacken, but I also love Gods of Metal, Metalcamp… I love it all, every festival is special in its on way. People from everywhere come and enjoy so much music, you can see all your friends, all those bands, all the fans of other bands, everybody has stuff to do but you can reconnect with the fans.
In 2006 you made your cinematic debut in the film "Anuk". You returned to the set for the second part of this film that will be released at the end of 2013, and it is called "Anuk – The Path of the Warrior". Would you like to talk about this film and the shooting? Is it true that the soundtrack will contains music from the upcoming album?
Yes. The producer is called Luke Gasser. He asked me for the movie and then I did some more music for the film, very different in a way, for there is not only words. We were doing the music together and I just came back for shooting the movie. It was a little more difficult than usual because I also had to do the promotion then go on tour. This is the second part to end "The Path of the Warrior", it's an adventure, the good guys against the bad guys, it's set in 2000 BC. The first movie was a lot of fun! It's an independent movie, the budget is not big, it's just not like a Hollywood budget, but everybody put so much energy in it. It's very demanding, getting up every day in 5 o'clock in the morning, then working hard for 16-18 hours a day, there were 50 horses, many people who did the stunts, I was filming often in the water so I also hoped I would not get ill – but I didn't! On the last record, "I Lay My Head Upon My Sword" was for the movie.
You're on the metal scene since the early 80′s. Is it difficult to hold the crown of Metal Queen for such a long time? What is changed since the beginning of your career?
Well, it's so nice when people have good things to say about you, it makes me so happy! But actually I'm just a normal metalhead. I still love metal, I still love the fans. I just try to make the fans happy, which is the most important thing to me, it's my mission. For so many years it's been great and I owe much to the fans, they always support me in good and in bad times, like when grunge was big in music. I love my fans more than anything and it's my aim in life to make fans happy and to give them something they can believe in and enjoy, give them some positive power. Now, being called a "Metal Queen" is such a big word, I just work each day to make something nice, but it's only me, I still feel like when I started it all, when I was 22. It feels like 6-7 years ago, not certainly like 26 or 27!
Thank you so much for being here and replying our questions. Is there anything else you would like to say to your fans?
Yeah! The most important thing in this world to me, which will never ever change, is my love for them. I'm still there, I'm still giving 100%, and I want to say thank you to all of them! They give me all the energy and all the support, so… thank you so much, it's very important to love each other!
Credit Photos
Exclusive Photos shot by Anna Fortini
Links
MySpace * Facebook * Twitter * Site
Latest Multimedia
Interview by Vard Aman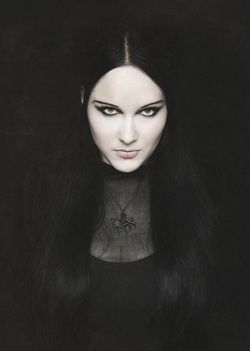 Over the years Draconian has become a household name in (Gothic) Doom Metal circles, so I'll skip any long introductory monologues here and move right on to late 2011 when vocalist and Draconian icon, Lisa Johansson left the band. It's always a difficult time, not to mention a speculative time for fans when a vocalist of Lisa's popularity leaves a band of Draconian's popularity. What would happen? Would they change their sound? (Speculation in that department driven further by the Nightwish/Tristania episodes). And most importantly; who would they replace her with (if they replaced her at all) and would she be as good? Let me just say here to all those who are understandably upset by Lisa's departure from the band that she is still there and always will be, gracing your speakers and headphones every time you listen to a Draconian album up to and including "A Rose for the Apocalypse". But most of all, I'd like to say trust Draconian, they're Doomsters who believe in the Doom they create, and trust Draconian to find the best singer for the job! And I can say with total confidence that they have done just that! How? Well, several years ago, I had the pleasure of discovering a band in my home town of Cape Town called Inferium whose vocalist, Heike Langhans (Heike van Dominic), possessed one of the most haunting and beautifully melancholic and sombre voices I'd ever heard – the kind of voice that could get all the hair on one's arms standing straight up (further confirmed when I heard her solo project, Lorelei). With so versatile and melancholic a voice, Heike's was a voice made for a good Doom Metal band, a voice that belonged in a good Doom Metal band, and any good Doom Metal band who made use of her voice would become even better (you'll see…). Cape Town, unfortunately, is not a place that is well known for such bands: sea, sun, wind, mountains, scenery, nature, shooting people – yes, Doom Metal – no… well, at least not yet. But Sweden is home to one of the best and most iconic Doom Metal bands of all time, and in late 2011 their vocalist left and…. why am I still talking? Draconian's new vocalist, Heike Langhans, will tell you the rest.
First of all, welcome to Femme Metal Webzine. If I had met you on the streets of Cape Town just over a year ago and told that within a year you would become the new vocalist of Draconian, how insane would you have thought I was?
I would have laughed and told you to stop your medication immediately. Considering how long I've been listening to Draconian and how high an opinion I have of them, I could only have dreamt of something like that happening in my lifetime.
So, how did it happen?
After hearing the news that Lisa had left, I went online and starting moaning about it like I'm sure most fans did. Some of my friends urged me to audition – should the band have been auditioning singers at all. I just assumed they'd find someone in good ol' Scandinavia – where musicians grow on trees. Some weeks later I received a link on my page (from you), sharing the update that Draconian will be accepting applications and auditioning singers to take the role of female vocalist. At that point I wasn't too excited, as I'm quite rational about such things and could see all the fan suggestions and singers throwing themselves at the opportunity. I asked if there was some deadline to it, as I was planning on moving to Europe anyway that year. I later received a message from Daniel Arvidsson, saying that I should send an application with some material. I will admit, I got a few flutters then, but still just kept it to myself and quietly sent off my application. He got back to me and said he liked it and forwarded it to the band. Not long after, Anders contacted me and asked if I could come for an audition. In February, I was off to Sweden for a week only to audition. We did some recordings of songs from the latest album and rehearsed some old songs too. Things went well on all accounts, but me being a little self-critical, I kept thinking I could have done better. I was the first to audition, so in my mind I did not know if that would've been an advantage or disadvantage. After my lovely week in Sweden, I (miserably) returned home and hoped for the best. I kept in contact with Anders very regularly to keep me from dying with anticipation. I think the wait would have killed me otherwise. At that point, I still felt like I was in a dream and kept thinking: "Wait. Did I just go to Sweden to audition for one of my favorite bands???" Eventually, I got the news that they would like me to join Draconian, but that there were obvious concerns regarding the relocation. These days it's just not easy with all the rules and borders of our world. I wasn't going to give up and set to work on the paperwork and visa applications. It was tough as hell and expensive, but I am 100% driven and given my disregard for certain authorities, I wouldn't dare let it intimidate me or get me down. I jumped through the fiery hoops, did the paperwork and in May I was off to Sweden. I'm still having my tribulations with migration boards and paperwork as it is, but I'll do it for the rest of my life if I have to. The music and the people are worth it. The doom is worth it.
What was it like meeting Draconian for the first time?
In my mind I was nervous about the idea at first – especially meeting the talented Johan Ericson. I'll admit, I've been a huge fan of Doom:vs and greatly admired his writing and creativity. I'm not really a nervous person at all, so I knew it would be fine. I was amazed at how well I got along with them and how easily I fit in. I suppose it's because of the general sense of humor and attitudes of Scandinavians. I've always related to it a lot better that that of my home country, so I felt right at home and very comfortable. The social dynamic of the band is very important in Draconian too, so I was pleased to be able to just be myself and not worry too much about those socially awkward situations a lot of us fear when meeting new people.
And Lisa?
I went with Fredrik to Lisa's flower shop before the audition. She was as pleasant and friendly as I expected her to be and just down to earth. My kind of person. We bantered a while and joked around about the big knife she was using to do the flower arrangements with. It was nice to hear that she seems content and comfortable in her life now as a mother.
How has the response from Draconian's fans been so far?
They have been absolutely sweet and amazing. I never expected such a warm welcome and such lovely responses. I was prepared for the onslaught and the angry fan mob, but I have been overwhelmed with love and good energy. It really makes all this so much more real to me and it makes everything worth fighting for. It re-installs a lot of hope in me too when it comes to people. I've dealt with a lot of attitudes from some people back home, so having the rest of the world respond so lovingly, has really brought a sense of peace to my heart.
Being a South African myself and having travelled a bit I can imagine the reaction of a lot of fans (and others) is going to be something along the lines of "What? You're from AFRICA!?" How do you react to that?
The funniest thing I get asked is why I'm white. I think the media has really put a certain idea in the minds of people in the rest of the world, so I don't blame the little bit of innocent ignorance I've encountered. I usually take the opportunity to explain how things really work and that SOUTH Africa isn't really the same as the rest of Africa. At the end of the day I'm just happy to prove that the world we live in is really smaller than we think and the only thing keeping us all apart is paperwork, money and silly governments.
Was it quite a culture shock moving from South Africa to Sweden?
For me personally – no. I knew what to expect in a way as I've been interested in Scandinavia from a young age. I could immediately sum up what was better and what was lacking. Everything is Sweden works and flows incredibly well. Generally speaking – Service is good;people are sweet, peaceful, intelligent and helpful. That being said, I won't deny that South Africans have a fiery social forwardness and I won't find anywhere else in the world. I'd definitely want to visit my hometown, but personally, I know my head and heart is in the North. Indefinitely.
Hur väl talar du Svenska?
Not too much just yet. I will be going for Swedish lessons as soon as I am part of the system, but I can understand a lot of Swedish already in reading and general talking. My Afrikaans (Dutch) and German background helps a lot in understanding Swedish. Some of the words are virtually the same, but just spelled and pronounced a little different. I'm picking it up quite fast actually.
Another question that I've no doubt some fans will ask: How do you pronounce Heike Langhans?
In the German way. That's the best answer I can give. People in South Africa have been pronouncing my name wrong all along and I've gotten used to it. It's actually pronounced something like 'hey-keh', but have mostly been pronounced 'high-kuh'. It's all the same to me really. Though I think the way Swedish/Finnish people say it is very sweet. It makes me smile. 'Langhans' is tricky. Back home English people get it terribly wrong and Afrikaans people tend to get it right, since it sounds dutch to them. It's pronounced 'lung(organ)-huns (like guns)' I suppose. That's the closest I think I can explain. Just ask your nearest German.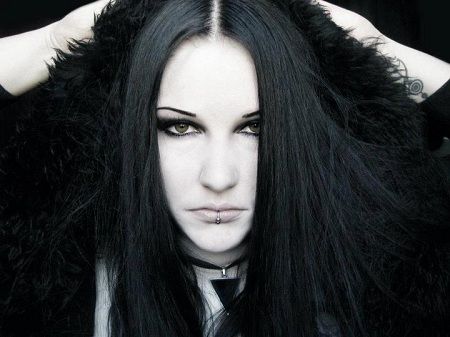 Let's go back all the way to the beginning. When and how did you first get involved with music and singing?
Singing came first. I was in school choirs since the age of 8, but got pretty sick of singing in a group, so I left that behind and started doing my own thing. I played piano occasionally, but mostly played the classical guitar. It helped a lot in my writing and I had a need for doing everything myself and not letting other people get involved. I used to sing with my dad when he played guitar at social gatherings and that's when I realized I might just have something going. I only joined my first band when I was about 15. We were all girls and good friends. It was mainly a fun holiday thing, so I kept doing music on my own until I joined a proper band when I was 19. Through it all I just kept doing my own thing on the side to stay focused and as an outlet for my frustrations with the world and my surroundings. I'm now 24 and finally feel like it's paid off.
When did you get involved with metal?
I started off soft like most young kids I'm sure. My father has excellent taste in music and I used to ninja his Pink Floyd and Meat Loaf CDs and listen to them on repeat in my room while singing along . VH1 also played good stuff like Black Sabbath back then and it just appealed to me. That was a solid foundation "rock" wise . Later, my older and way cool surfer cousin came to live with us and he introduced me to Metallica. That opened up a whole new door and I "taped" whatever metal I could find onto VHS or cassette and saved my money to buy the CDs. By the time I was 16, I had been consuming incredible amounts of metal from all sub-genres and eventually grew into what suited me best emotionally – Gothic, Symphonic & Doom metal. I only got into Black Metal a bit later when I was 20, but I was put off by all the politics and opinions. I think I enjoy Black Metal a lot more now that I've been able to make up my own mind and have spent some time researching the greats – without the input of the "elitist" forum junkies and haters.
Inferium was the first time I heard you. Tell us the Inferium story.
It was merely a case of a friend saying to me: "Hey, this guy I know has an instrumental band and I think they might want a female singer".I agreed to an audition and it just all casually came together. They were the only guys I knew doing Symphonic Metal and I liked it. We had a bit of a Nightwish/Within Temptation thing going. The band had so much potential and we were doing quite well, but we had a lot of issues with finding time and money to record and push it further. I eventually outgrew my "operatic" female vocal style and half the band were gamer nerds anyway (myself included), so we just called it quits. We were all friends, so there were no hard feelings. We were totally laid-back about the whole thing. I'll always remember and enjoy my time in Inferium and I'll forever be sad about the stellar songs that were to come, but it's a sweet memory.
How would you describe the Metal scene in Cape Town, and in South Africa in general, particularly Doom Metal?
Despite what most South Africans make themselves believe, Cape Town actually has a great metal scene and more bands than you might think. I can count on one hand the amount of friends I have there who ISN'T a musician. It's a very creative and beautiful town. Most musicians there, however, feel that the scene or industry is lacking and that support isn't high, but I could easily point the blame at our social/political structure for that. If I look at the Cape Town/Johannesburg size ratio, I can say with confidence that Cape Town has a lot more to offer. The scene there is almost removed from the rest of the country and they're totally on their own mission. Johannesburg has some stand out talent too, but I personally find that they follow more or less the same trends in terms of metal genres. Of course if you had to say that to someone living in Johannesburg, they would disagree, but I've been living in both cities and can see the bigger picture quite clearly. I also know more than a hand-full of Doom Metal fans in Cape Town. We've even made a League of Doom – an appreciation group where they have meetings and do doom covers together. Sort of like an "all-star" doom tribute show effort. It's small, but it's meaningful. Any doom fan would understand.
What attracts you to Doom Metal, both as a musician and as a fan?
Firstly, the emotional aspect. There's a certain sense of beauty in sadness that I feel is more true to one's soul than anything else. I love slow and melancholic music. It brings my inner suffering to the surface and Doom Metal makes me feel like it's okay to be an emotional being that suffers in this strange world. Secondly, I love melody. I can't listen to anything that doesn't have melody and I've found some of the most beautifully written melodies in doom. Some metal fans just don't see how much darker and heavier Doom Metal is. It certainly triggers a lot more in me personally.
Do you think that someone from South Africa singing for one of the best and biggest Doom Metal bands around will help to change the perception of Doom Metal in South Africa and perhaps inspire some good Doom Metal bands?
I certainly hope it will. I grew so tired of explaining to some people what this "slow and depressing" stuff is and why it's better than the Death Core crap they listen to. Though I mostly believe that doom is a mindset too. If they're too easily amused and think that all metal should merely be the soundtrack to drinking beer and "being hardcore and different", then I'm afraid they'll never get it. That being said, I have a great feeling we'll see some Doom Metal bands coming from SA in the future. It's a genre that has gotten little attention, but I know a decent amount of people with the skill and souls to pull it off.
Tell us more about Lorelei.
That would be my solo project – a melancholic electronic side project I've been doing on my own for years. The name Lorelei has almost acted as an alter ego in a sense. A friend once told me that my music made his mood change so much that he could easily give in to the thoughts of leaving the world entirely. It scared me, but at the same time I realized that the level of emotion it brings is something magical. The songs are raw and unpolished, but I prefer it that way. It's a "spur-of-the-moment" type project, where I just pour my heart into a song, record it and then struggle to touch it again. I've said many times that I will never be able to sing these songs live, simply because I'll be too emotional. It's hard for me to wear my heart on my sleeve sometimes, so music is the only way. Lorelei is definitely my outlet and it's quite revealing in many ways. Many people think me intimidating and secretive, but I'm more of an open book than what they care to realize.
Are there any plans and material for new Draconian album, or is it too early to talk about that yet?
We're working on new music at the moment. Throwing ideas back and forth. Anders started writing lyrics some time ago as well. At the moment, we're focused on rehearsing and getting back on stage again, everything will come together in time. It's too soon to say much about it, but a new album is definitely in the making.
And that first big show/tour?
That I can't say too much about unfortunately. There are offers for some really nice shows/tours that I'm quite excited about, but nothing can be said before contracts are signed and things are perfectly in place.
Outside of singing, what do you do/like to do?
I spend a great amount of time doing art. Mostly digital and editing, but some days I just don't want to deal with technology and I draw and do ideas for illustrations by hand. I used to paint a lot, but that hobby became a little expensive. Much the same with photography. I spend more time creating art with other people's photography than my own. I've gotten quite cocky with the sewing machine too lately. I think I'm just fed up with clothes I buy in the shops and start altering them to my taste. It's a very therapeutic hobby, I must say. I also love gaming (RPG's). I'm a total gamer-nerd chick and definitely not ashamed of it. I don't have as much time lately to play but once I'm fed up with being social again – I'll get right back into it.
Well, I think you can guess which band's next album I'll be looking forward to the most… by a country mile! Thanks for chatting with us!
It's been great and thanks for the opportunity. Luckily for you, I like to talk a lot. I did my best not to make some lame nerdy jokes!
Links
Draconian : MySpace * Facebook * Twitter * Site
Heike Langhans : Facebook * Twitter
6 color styles available:

Style switcher only on this demo version. Theme styles can be changed from Options page.