Browsing articles tagged with " opera"
Label: Inside Out Music
Review by Tony Cannella
Arjen Anthony Lucassen released the last album on the Ayreon moniker back in 2008. Since then he has kept his creative spirit alive working on various other projects. Now he returns with the latest Ayreon opus entitled, "The Theory of Everything" and for someone who has a long career based on big, grandiose epic productions, "The Theory of Everything" may just be his biggest and most thoughtful yet. It is always interesting to see some of the musicians Arjen uses on the Ayreon albums and "The Theory of Everything" is no different. Some amazing singers make appearances here including: Tommy Karevik from Kamelot, Marco Hietala from Nightwish, John Wetton from Asia, King Crimson and Uriah Heep, Cristina Scabbia from Lacuna Coil and Sara Squadrani from Ancient Bards. Continue reading »
Label : Inner Wound Recordings
Review by Tony Cannella
From Brazil, the band Vandroya has existed since 2001. They released their debut 2-song demo "Within Shadows" in 2005 and have finally returned with their power metal extravaganza of a debut full-length entitled, "One". Lead vocalist Daisa Munhoz can already be heard on the last Soulspell offering "Hollow's Gathering" and on "One" she proves to be one of the best voices in the power metal genre.
"All Becomes One" is the ominous intro track that leads us into power metal masterpiece "The Last Free Land". The musicianship is up-tempo and lead vocalist Daisa Munhoz's vocals are remarkable as they soar right along with the music. In an age when so many female fronted metal is dominated by operatic vocals and extreme vocals (not that there is anything wrong with that), it is refreshing to hear someone who just goes out there and sings in a power metal style. One of the songs that stood out for me is the stirring ballad "Why Should We Say Goodbye?" which is just phenomenal. Continue reading »
Label : Inner Wound Recordings
Review by Tony Cannella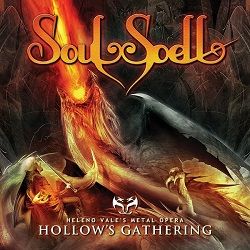 Soulspell is the all-star metal opera brainchild of Brazilian drummer Heleno Vale. The project got off the ground in 2007 with "Soulspell" an album that represented part I in the metal opera. It was soon after followed by Part II called "The Labyrinth of Truths". Now this all star metal project is back with Part III "Hollow's Gathering".
First of all Heleno Vale has done a great job in assembling some hugely talented musicians for "Hollow's Gathering" as he has on the previous albums. Next are the lyrics. You can check out the story on the official web site, but Heleno has written an incredibly detailed and complex story with each singer/musician playing a part. Third and most important is the songs. "Hollow's Gathering" had me wanting to listen again and again. The songs are well written and range from pounding classic metal style numbers, prog, ballads, power metal and symphonic metal. Starting with the 9-minute title song, this really is an album that is unrelenting –several singers can be heard on this monstrous opener. Continue reading »
Interview by Matteo Bussotti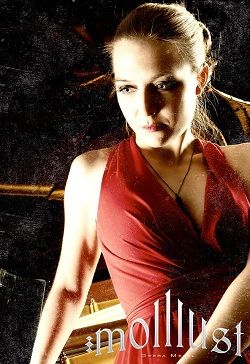 After the release of their first full-length, "Schuld", Molllust are now ready to answer some questions; so we couldn't let escape this chance to ask the newest, most interesting "opera metal" band! Well…there isn't much to say, since Janika explained pretty much all we needed to know (and even more!) in the interview…so…we hope you'll enjoy it as much as we did!
Hi Janika! Welcome to FemmeMetal! How are you feeling now that your first album has been finally released?
Hallo Matteo! My feelings concerning the album are a bit hard to describe. Of course, I was very proud to hold it in my hands – but there is much more. All the memories related to the CD – the time in studio, the rehearsals, the meetings with our designer – the joyful moments, when we had a good take in studio. And also the sorrows, when something didn't work as planned. The fear to send a work full of personal emotions out into the world – and the hope to reach people who feel like me when they listen to the music.
In exclusive for Femme Metal Webzine, Italian Symphonic Metal band SILENT OPERA unveils the new logo band, read the statement below for more infos :
"Today we're proud to show you the new Silent Opera logo; new shape and new meaning: new album, new concept, new stories to tell! There are many news coming that we'll reveal weekly.  Keep following us!" Continue reading »
6 color styles available:

Style switcher only on this demo version. Theme styles can be changed from Options page.