Browsing articles tagged with " orchestra"
Label: Lava/Universal Republic
Review by Tony Cannella
As the holiday season approaches, Trans-Siberian Orchestra gets ready to embark on their annual Christmas tour/extravaganza. In conjunction with the bands holiday dates they have released a compilation album from all of the bands rock operas.
The cool thing about TSO has always been their wide-ranging appeal, from kids to parents to grandparents and of course metal fans. With "Tales of Winter" all six of their releases are represented in one neat 74-minute package. The band has included a long list of musicians/writers from founder Paul O'Neill, Jon Oliva, Al Pitrelli and Chris Caffrey among others. They have also utilized numerous female singers throughout the years on their albums and tours since their inception in 1993. Continue reading »
Label: Nuclear Blast
Review by Davide Torresan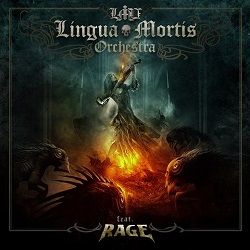 Lingua Mortis Orchestra is the Rage's side-project of Peter "Peavy" Wagner. It is already happened in the past that the band decided to blend their heavy metal with the orchestrations of a real orchestra. In fact albums like "Lingua Mortis", "XIII" and "Ghosts" have already symphonic sonorities. The collaboration with the orchestra continued and for this reason it has been founded the project Lingua Mortis Orchestra. Their first album, "LMO", is the work of all the members of Rage accompanied by 2 orchestras, a German and a Spanish one with a total of more than 100 elements. And it doesn't end here. The family of Lingua Mortis Orchestra includes also 2 female presences: Jeannette Marchewka and the soprano singer Dana Harnge. Continue reading »
Label : Alfa Matrix
Review by Luisa Mercier
The Greek duo Siva Six is back on the scene after five years of absence. Their latest release was the their second album "Black Will" and now "The Twin Moons" comes to fill the void they had left. What is peculiar about this record is that a real orchestra has been hired, the one directed by Chris Antoniou, who may be already known to our readers because of his work with Septic Flesh and Chaostar. The basic concept revolves around ancient human tribes, destruction of the earth, alien race. Quite apocalyptic, indeed. The music highlights this aspect since it is quite harsh, the beats are restless as Z 'svocals are. There is not much space for moody songs or melody pieces in this record. Continue reading »
Label : Manhattan Records
Review by Luisa Mercier
Celtic Woman has always been a synonym for beauty, sweetness, quietness and a certain magic atmosphere.  The present compilation has all of these qualities and it really has a soothing effect on your soul. The girls in Celtic Woman have thought of recording a collection of lullabies and put them all together in this release. Most of these songs have already been performed live by them, but they shine in all their calming melodies.
From the world reknown "Brahm's Lullaby" who has accompanied most of us as children to "Hush Little Baby". Other songs are taken from Disney's classic movies as the opener "When You Wish Upon a Star" from "Pinocchio", "Stay Awake" from "Mary Poppins" and "Baby Mine" from "Dumbo". A nice way to go back to our childhood accompanied by the sweet vocals of the girls in Celtic Woman. "Goodnight My Angel" is a cover of Billy Joel, really heavenly, while the very successful "Over the Rainbow" follows and offers an enchanting duet. "Suantrai" is a Celtic-tinged song, the vocals soar towards the sky in an almost mystical atmosphere. Continue reading »
Interview by Alessandra Cognetta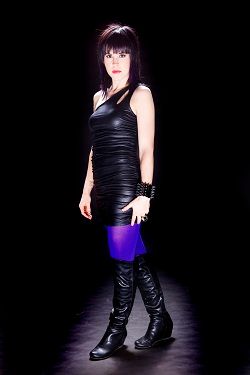 Leslie Hunt is the lead singer of District 97, a prog band from Chicago that is (not so) slowly conquering the American music scene and establishing its own name at home and abroad. Their work is a surprisingly fresh combination of different styles and musical experiences, with two full-length albums released and an ever-growing touring activity. If you want to know more about District 97 (and believe me, you want to), this is the right place to start! 
Hello and welcome to Femme Metal, Leslie! We're really glad to have you here with us. District 97 has just finished their US tour, how would you describe this experience, now that it's over?
I thoroughly enjoyed myself! Each show was a success in its own right, and I absolutely love performing this music. I also love our fans! They are some of the most genuine and appreciative people I have ever met, and I am so honored to be on the receiving end of their loyalty. It was definitely a challenge to play eight nights in a row, especially since my performance style is getting more and more theatrical as our sound evolves, but as soon as we would play the first note, I was able to transport myself to the headspace required to experience the song as if it were my first time.
District 97 has never been featured on our Webzine before, could you introduce the band and its members to our readers?
Sure! I'm Leslie, and I sing, dance and play tambourine sometimes. Jonathan Schang is the drummer, primary composer, bandleader, AND he manages everything that happens behind the scenes, so we all give him serious props. Jim Tashjian plays lead guitar and sings backgrounds. Rob Clearfield plays keyboards and additional guitar. Patrick Mulcahy plays bass. Continue reading »
6 color styles available:

Style switcher only on this demo version. Theme styles can be changed from Options page.