Browsing articles tagged with " orchestra"
Label : Alfa Matrix
Review by Luisa Mercier
The Greek duo Siva Six is back on the scene after five years of absence. Their latest release was the their second album "Black Will" and now "The Twin Moons" comes to fill the void they had left. What is peculiar about this record is that a real orchestra has been hired, the one directed by Chris Antoniou, who may be already known to our readers because of his work with Septic Flesh and Chaostar. The basic concept revolves around ancient human tribes, destruction of the earth, alien race. Quite apocalyptic, indeed. The music highlights this aspect since it is quite harsh, the beats are restless as Z 'svocals are. There is not much space for moody songs or melody pieces in this record. Continue reading »
Label : Manhattan Records
Review by Luisa Mercier
Celtic Woman has always been a synonym for beauty, sweetness, quietness and a certain magic atmosphere.  The present compilation has all of these qualities and it really has a soothing effect on your soul. The girls in Celtic Woman have thought of recording a collection of lullabies and put them all together in this release. Most of these songs have already been performed live by them, but they shine in all their calming melodies.
From the world reknown "Brahm's Lullaby" who has accompanied most of us as children to "Hush Little Baby". Other songs are taken from Disney's classic movies as the opener "When You Wish Upon a Star" from "Pinocchio", "Stay Awake" from "Mary Poppins" and "Baby Mine" from "Dumbo". A nice way to go back to our childhood accompanied by the sweet vocals of the girls in Celtic Woman. "Goodnight My Angel" is a cover of Billy Joel, really heavenly, while the very successful "Over the Rainbow" follows and offers an enchanting duet. "Suantrai" is a Celtic-tinged song, the vocals soar towards the sky in an almost mystical atmosphere. Continue reading »
Interview by Alessandra Cognetta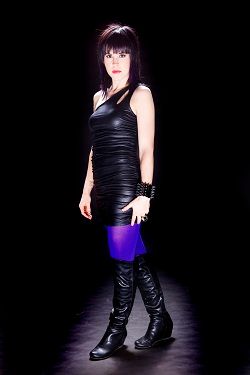 Leslie Hunt is the lead singer of District 97, a prog band from Chicago that is (not so) slowly conquering the American music scene and establishing its own name at home and abroad. Their work is a surprisingly fresh combination of different styles and musical experiences, with two full-length albums released and an ever-growing touring activity. If you want to know more about District 97 (and believe me, you want to), this is the right place to start! 
Hello and welcome to Femme Metal, Leslie! We're really glad to have you here with us. District 97 has just finished their US tour, how would you describe this experience, now that it's over?
I thoroughly enjoyed myself! Each show was a success in its own right, and I absolutely love performing this music. I also love our fans! They are some of the most genuine and appreciative people I have ever met, and I am so honored to be on the receiving end of their loyalty. It was definitely a challenge to play eight nights in a row, especially since my performance style is getting more and more theatrical as our sound evolves, but as soon as we would play the first note, I was able to transport myself to the headspace required to experience the song as if it were my first time.
District 97 has never been featured on our Webzine before, could you introduce the band and its members to our readers?
Sure! I'm Leslie, and I sing, dance and play tambourine sometimes. Jonathan Schang is the drummer, primary composer, bandleader, AND he manages everything that happens behind the scenes, so we all give him serious props. Jim Tashjian plays lead guitar and sings backgrounds. Rob Clearfield plays keyboards and additional guitar. Patrick Mulcahy plays bass. Continue reading »
Con l'intenzione di suonare ancora più epici e sinfonici di sempre, i Rhapsody sono orgogliosi nell'annunciare una collaborazione a lungo termine con il direttore d'orchestra PETR POLOLANIK e la sua orchestra della Repubblica Ceca (CAPELLEN ORCHESTRA & CHOIR). Nominati agli "Hollywood Music in Media Awards" del 2011, Petr e la sua orchestra hanno lavorato per i più famosi compositori (Thomas Bergersen, Trevor Morris, Jo Blankenburg, Henry Lai), le più note compagnie di trailer cinematografici (Two Steps From Hell, Position Music, Audiomachine) e per rivoluzionarie librerie di "samples" (Garritan, Sonokinetic, 8Dio). Le sue registrazioni sono parte di film e videogiochi pluripremiati (Sin City 4, Transformers e molti altri). Continue reading »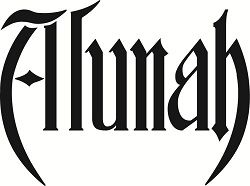 Interview by Alessandra Cognetta
Soph Day is the lead singer and guitarist for the English doom metallers Alunah. With two albums released and an upcoming European tour in 2013 we took the chance to have a nice chat with her about the band, the music, vinyl vs digital and more. If you're into doom, check out their work ("White Hoarhound" is already out and is getting a special vinyl edition very soon!), you definitely won't be disappointed.
Hello and welcome to Femme Metal, Soph!  It's a pleasure to have you here and feature Alunah on the 'zine. Let's start off with the big news: you recently signed with no other than Napalm Records / Spinning Goblin Productions! A limited edition vinyl is going to be released in mid January. So, how did you guys get to such an important deal and what was the reaction to the news?
Hello guys, thanks for having me! Yeah we're very happy to be working with Austrian label Napalm Records and their sub company Spinning Goblin Productions. The label is very important in terms of metal, and more recently in terms of stoner and doom metal with the likes of artists such as Monster Magnet, Brant Bjork, Karma to Burn and Candlemass. It's because of these artists that we came to be familiar with the label, and sitting amongst our musical inspirations is a dream come true. We released our debut album "Call of Avernus" on Catacomb Records which is run by myself and our guitarist Dave – so self-released really. "White Hoarhound", our second album was released on PsycheDOOMelic Records, another well respected Austrian label which we are proud to be a part of. Napalm Records will be releasing "White Hoarhound" on limited edition green vinyl and white vinyl, we basically sent it over to them for consideration and they got in touch, we couldn't be happier. Our PR Company Platinum PR also did an amazing job in getting us European press, which helped our profile over there greatly. The vinyl will be released on 25th January 2013, and pre-orders are available now from the label.
Music has evolved greatly throughout the years, and technological innovation definitely played a big role in the process. We've seen devices come and go in the blink of an eye. But vinyls seem to be willing to survive the change. Why is that? What is, in your opinion, their value and what do you think about digital music and the billion formats that are currently available?
You get a completely different listening experience with vinyl than you do with any other kind of format. I'm a graphic designer so being able to see the artwork up close is important for me. I remember when I was 14 years old listening to my mom's copy of Electric Light Orchestra's "Out of the Blue" for the first time. Staring into the amazing spaceship artwork and hearing this (for me) new sound blew me away, it gave me a whole new musical experience. In the 60s, especially with psychedelic bands such as The Grateful Dead and 13th Floor Elevators, the artwork was such an important part of the music, and that's been passed onto the stoner, doom and psychedelic scenes. It's definitely something we try to do with Alunah – make the artwork part of the music. With vinyl, the complete package is a piece of art, from the artwork and the way the sleeve folds out, to the colour of the vinyl and the warm sound and crackle of the music itself – it's precious and means different things to different people. Also, my heart is rooted in the 60′s and the 70′s, so for me, my favourite albums of all time were meant for listening to on vinyl, and this is how they are best listened to. The first bands I heard on vinyl were Deep Purple, Electric Light Orchestra and T-Rex, I'm not sure I would feel the same about those recordings now if I had first heard them on mp3. However, if you live a life of convenience where you require music on the go as opposed to sitting down and drinking it all in, then digital music is great! I don't actually own an mp3 player, but I have a Spotify account and racks upon racks of CDs. If I come across a great band or musician through Spotify, I'll buy their album, and I've found so many bands this way. I would never choose to download the album and listen to it on an mp3 player, but I suppose if I had to take public transport or work outside etc. then I definitely would. Nowadays people have more choice as to how they listen to music, and that can only be a good thing, you can wake with music, spend all day with music and go to sleep with music… what's better than that? Continue reading »
6 color styles available:

Style switcher only on this demo version. Theme styles can be changed from Options page.