Browsing articles tagged with " ortiz"
Independent Release
Review by Tony Cannella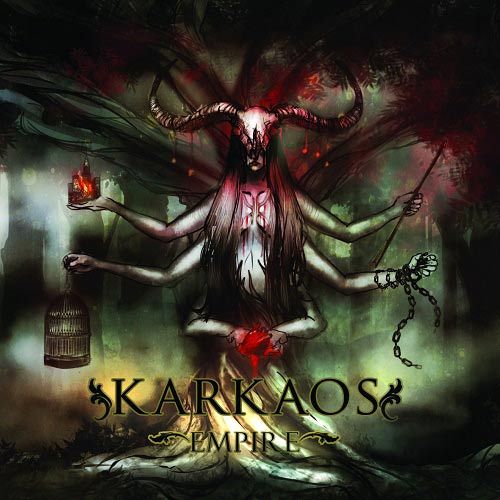 Karkaos is a melodic death metal band from Montreal, Canada. They formed in 2003 and released their debut EP "In Burning Skies" in 2011. Now the band returns with their debut full-length "Empire". Since the release of "Empire", Karkaos has parted ways with lead vocalist Veronica O. Rodriguez and replaced her with Viky Boyer. It remains to be seen how this will affect the band going forward but on "Empire", Karkaos delivers a staggeringly hungry debut.
After the intro "Ode to La Resistance" the opening track "Leap of Faith" kicks in. To put it quite simply Veronica's vocals are quite fierce and intense, that fact is driven home with a huge exclamation point on the song "Leap of Faith". She shifts effortlessly from extreme metal vocals to a more of a power metal style. Continue reading »
Independent Release
Review by Tony Cannella
From New Jersey comes the Symphonic Goth Metal trio Luminis. Luminis began as a Symphonic Metal tribute band, playing songs from their favorite bands of the genre before embarking on their current path of writing and performing original material. Their initial work is called "From Within" and features a playing time of 4-songs, 21-minutes. Their sound is melancholic, moody music with symphonic elements and the operatic at times vocals of Tara. Piano signals the opening of the laid back first track "Into My Sin". This has a mournful, somber quality to it. "Nightfall Child" begins with piano once again and has a slower tempo to begin things and follows the same musical path as the previous song. The songs are mostly taking on a down tempo pace, and I don't think anyone would say that this is happy sounding music; still it is obvious that the band put a lot of their heart and souls into the crafting of these songs. The 3rd track "Falling Away From Me" begins with an acoustic guitar and orchestral opening which pretty much dominates throughout the duration of this ballad, which has a sad quality to it. The final song, "The Other Side of the Mirror", is one of the heavier tracks featured here and quickly became my favorite, thanks to some excellent vocal work by Tara, changes in tempo and a cool choir-like chorus. For a first try, Luminis has delivered a pretty good introduction with "From Within". The band could probably be helped with a better production, but despite the weak production, the quality of the music shines through.
Rating – 72/100
Tracklist
Into My Sin

Nightfall Child

Falling Away From Me

The Other Side of the Mirror
Line Up
Tara – Vocals

Andre – Guitar

Steve – Drums
Links
MySpace * ReverbNation * BandCamp * Facebook * Google Plus * Twitter * Site
Independent Release
Review by Tony Cannella
Karkaos are an interesting band to come out of Canada. On their debut 6-song, 25-minute EP the band comes at you fast and heavy with an aggressive metal sound. Their vocalist Veronica Ortiz Rodriguez does an excellent job in going from death growls to clean vocals ala Alissa White Glutz from another Canadian band The Agonist. Karkaos has been described as Death Metal or Metalcore which I'm not sure is fully accurate. It no doubt stems from the vocals – even though Veronica Ortiz Rodriguez has way more to offer than just senseless death grunts, you can just feel the aggression in her voice. Musically there is a bit of a classic metal influence, some guitar harmonies and a full time keyboardist which is rare for this type of band. Sure "In Burning Skies" is pretty much straight forward, no fooling around metal, but they also add some melodic touches into the mix. After the brief intro "Catharsis", Karkaos launch into the aggressive "Awaiting the Clock's Last Turn". This is the perfect introduction to Karkaos. The classic metal riffs are there and Veronica is an excellent front woman who packs plenty of power in her voice. Next we have "Ashes", which is slower in tempo but still heavy and the inclusion of keyboards gives the song a pretty cool atmosphere. There are also some clean male vocals included in this song. "The Last Stand" is next and is my favorite. It starts off with a bit of a Celtic influence before blasting into full on heaviness. The final two songs "Lie for a Lie" and "The Tempest" brings "In Burning Skies" to satisfying conclusion. While "In Burning Skies" is just a taste of what Karkaos has to offer. The real test however, is when they release a full-length album to see if they can sustain the level of consistency on "In Burning Skies". "In Burning Skies" is good – not great – but it is a nice start for this young Canadian band.

Rating – 80/100
Tracklist
Catharsis

Awating the Last Clock's Turn

Ashes

The Last Stand

Lie for a Lie

The Tempest
Line Up
Veronica Ortiz Rodriguez – Vocals

Francis Tremblay – Guitars

Vincent Harnois – Guitars

Michel Pelequin – Keyboards

Guillaume Vaillencourt – Bass

Normand Martel – Drums
Links
Independent Release
Review by Tony Cannella
From New Jersey comes the symphonic metal duo Infinitus Mortus. Judging by the sounds coming from their debut "2012", it is hard to believe that there are only two members in the band. The lead vocalist is Tara and she is joined by the multi-instrumentalist Steve who pretty much does everything else. As you could probably decipher given the album's title, "2012" is an ambitious concept album, based around the Mayan prophecy that the world will end in 2012. Dark, Epic and Melodic are three good words to describe "2012". In front Lady Tara, you have a truly talented vocalist with an expressive operatic style. Steve completes the dark vision with his many talents. The intro "The Dark Rift" gives way to the rapid fire riffing of "The Next Atlantis". "Worst Plague Of All… Love" begins with some nice piano and then settles nicely into a mid-tempo, heavy, melodic groove. My only complaint – and it is a small one – is that perhaps Tara's vocals are a little low in the mix. Besides that minor complaint, "2012" is really loaded with good metal riffs and songs. Highlights include: "Blood Lust", the symphonic ally beautiful ballad "My Apocalypse", "The 10th Planet" and the albums closer "A Golden Age". For those who love conceptual metal, then Infinitus Mortus is a band well worth checking out and "2012" I'm sure is only the beginning for this Jersey band.
Rating – 88/100
Tracklist
The Dark Rift
The Next Atlantis
Worst Plague of All… Love
A Drink From the Nile
Blood Lust
My Apocalypse
The 10th Planet
The Unknown
The Final Battle
A Golden Age
Line Up
Tara Ortiz – Vocals
Stephen Megna – Guitars, Keyboards, Bass and Drums
Links
6 color styles available:

Style switcher only on this demo version. Theme styles can be changed from Options page.