Browsing articles tagged with " own"
Videointerview by Abigail Henry
Independent Release
Review by Tony Cannella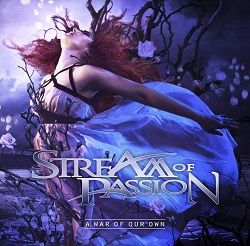 Originally starting out in 2005 as an Arjen Lucassen project, the band Stream of Passion has evolved into so much more. With their 4th album, "A War of Our Own" that evolution continues…
"A War of Our Own" is a 13-song, 1 hour musical journey that showcases what fans have grown to love about this symphonic/gothic metal band. Not the least of which are the dramatic and beautiful vocals of Marcela Bovio. Each song is meticulously crafted and is nice additions to the growing SOP catalogue. The opening track "Monster" is like a monster out of the gate. The song features some huge riffs at the beginning but shifts tempos throughout and is just plain stunning – and the best song. You have to love Marcela's voice; she's much underrated, in my opinion. Continue reading »
Interview by Vard Aman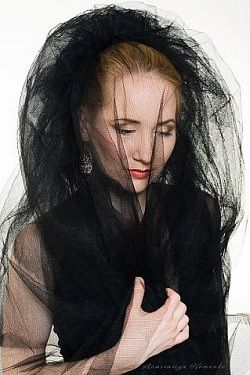 Vocalist, Olga Salikhova, has over the years become a familiar name and face (and voice) in Russian Female-fronted Metal, having fronted bands such as Slavery, Oktagon and Luna Aeterna. Currently, she is singing for one of the pioneering bands of Russian-based Doom Metal, Voiceless Void, as well as her own project, Core. I caught up with her for a chat about her musical career to date.
Hi Olga! Welcome to Femme Metal Webzine. So, to start off with: when did you start singing?
When I was a little girl my granny used to take me a long way to our summer cottage on a bike on the rear seat, and I used to sing all the way to entertain both of us. Later when I was 7 I went to music school and joined a choir, and I liked being part of it.
Did you have any special training?
Yes, I did! When I was a teenager, I felt a great desire to get a Grammy and to conquer the world, and I was quite sure it won't take me more than, say, 5 years, so I started attending some weekend classes at a musical studio. There I experienced my first individual vocal classes. After that all my training was mostly with different private vocal coaches.
What was your first band?
I was 17 then, it was a very nice band called Slavery, they lived in a different city in the Moscow Region, so I had to commute to our rehearsals twice a week and my parents had to meet me really late at night coming back. Slavery was kind of melodic power metal with dark lyrics and kind of gothic image. They were really nice guys and the founders of the band are still my friends.  There are only a couple of live audio recordings from our gigs and a demo. Unfortunately, even though they existed for 10 years, they didn't release any albums, even after I left the band.
According to Metal Archives, Slavery split up for the second time in 2010. When was the first time? Was that also when you left?
No, when I left the band, they found another female leader, also named Olga (Mashkina), also a blonde, there were kind jokes about that in the group and among our fans that the band attracts such front girls. I know after Olga Mashkina they had another blonde singer, Nastya. I actually don't know much about their first splitting-up, I know about the second one in 2010, I was involved then.
How were you involved?
I took a break in my musical career after I left Luna Aeterna. I didn't sing at all for about 4 or 5 years. I communicated with my ex-music colleagues very seldom, only occasionally. Then one day I met with the bass-player of Slavery, Irina, and she suggested that I join them again because their singer, Nastya, was leaving the band for personal reasons. I agreed with enthusiasm, we started rehearsing together, it all was nice and we were discussing recording an album, but after a month of rehearsals the guys decided that they felt exhausted and lacked creative inspiration and new ideas for our music. That's how we split up, basically.
Label : Solitude Productions
Review by Vard Aman
When I first came across Amily (from Rivne, Ukraine), they were marketing themselves as Funeral Doom – slower and bleaker than traditional Death Doom / Gothic Doom, (but not quite as slow as Drone Doom – a kind of Doom Metal where the drummer has time to leave the stage, go to the bathroom, buy a beer at the bar, drink it, chat to a few friends, update his Facebook status, return to the stage and still be 10 minutes early for the next drum beat…. so he goes off again to buy another drink, has a few shooters while he's at the bar, gets drunk, forgets the time and ends up missing the next drum beat altogether totally messing up the timing of the song and throwing the rest of the band completely out on sync… pffffft… drummers! Well, OK, perhaps a bit of an exaggeration there…) Anyway, the first two songs I heard from Amily were the demo versions of the title track to their then upcoming album, the bleak and heavy "To All in Graves", and the immense and beautifully crafted "Fading Image of My Own": both songs that made Amily a name to keep a very close eye on in the future. So the release of their album when it came was cause for some excitement.
"My Own Angel", the brand new video from Barcelona, Spanish melodic metallers ANKOR, can be seen below. The clip was filmed with renowned director Patric Ullaeus of the Revolver Film Company AB, who has previously worked with IN FLAMES, DIMMU BORGIR, EUROPE and LACUNA COIL, among many others. The song is the title track of ANKOR's second full-length album, which was released in October 2011 via STF Records. The CD was produced by the band and Radish Records in Barcelona. ANKOR is Rosa de la Cruz on vocals, David Romeu and Fito Martinez on guitars, Julio A. Lopez on bass, Javier Casanova on keyboards and Jordi Vidal on drums. More infos @ Facebook.
6 color styles available:

Style switcher only on this demo version. Theme styles can be changed from Options page.