Browsing articles tagged with " parts"
Interview by Vard Aman
In my opinion, well played Doom Metal is one of the ultimate and most extreme forms of music, second to none when it comes to creating and unleashing powerful, dark and stirring soundscapes of emptiness, despair and (yet), total awe. Some people may disagree with me, depending on their personal tastes; but if you agree with me, you might want to do yourself a huge favour and check out an Australian band called Lycanthia. Lycanthia have recently released their second full-length album, entitled "Oligarchy", and on it Lycanthia produces all the soundscapes to which my above description applies. Founded in 1996, they have provided one of the sturdiest pillars of Australian Doom Metal, and have since become a household name – OK, maybe a name in one of the less frequented corners of the Doom Metal household (where you might find a Funnel-Web Spider perhaps), but they're rightfully and deservedly there none the less. Lycanthia is fronted by three vocalists, one male (Lee Tassaker, also the bassist) and two female (Vanessa Black, also on violin; and Megan Tassaker, also on keyboards). I chatted to Megan recently.
Hi! Welcome to Femme Metal Webzine.
Thanks for having me.
Let's start off with a bit of history: Tell us a bit about Lycanthia's formation and early years.
In the early days, Lycanthia started out as just a recording band made up of a group of friends. The main inspiration at the time -without naming names- was that many of their favourite parts of certain songs would be orchestral sections, or parts with female vocals but when you would see the bands live, those elements wouldn't exist. Lycanthia wanted to make a band that would be able to zone in on these elements AND reproduce them live. Once a demo was made, the next step was making it a live act.
What inspired the name?
The name was taken from the book Lycanthia, by Tanith Lee.
There have been quite a lot of line up changes over the years. How much of a hampering effect has this had on Lycanthia? (I'm assuming it has).
It has had an effect, as far as holding back recordings goes. Although we do try to take our time with recordings and make sure they are right, the last album "Oligarchy", would have been recorded much earlier if it weren't for those kind of hiccups. It's a shame that people hold it against you or try to judge your band when that happens as well, for the most part we have remained friends with ex-members. There have been many reasons people have left, from wanting to go in different creative directions, to having family or work commitments that have restricted their time. Having said that though, we are all very happy with our current line-up, it has definitely helped us step up and refine our sound further into what we want it to be. So as much as these things can hold thing's back, they can also push you further.
What other projects have you been/are you involved in?
I (Megan) am also in Avrigus, Lee is currently playing Bass for Cruciform and plays session bass for Avrigus. Mat is in Bleakwood and Blatherskite.
Tell us a bit more about Avrigus.
Avrigus is a recording band featuring myself and Simon Gruer. I would describe the music as atmospheric doom/gothic metal. The band was founded by Simon and the previous vocalist/keyboardist/composer Judy Chiara. I met Simon at a Lycanthia gig (before I was in the band), at the time I hadn't heard any Avrigus. He mentioned that he was wanting to keep Avrigus going but Judy was not longer wanting to be a part of it and he was searching for a new vocalist. He had tried to get it going with a few other people but it hadn't really worked out. So I checked out the music the next day and expressed my interest, he had heard demo tracks that I had sung on and was very enthusiastic. We met up and I dropped down some demo vocals for "Banquet of Souls", Simon was very happy with how it sounded. I think he wasn't 100% sure until he heard me play an original song though. I played "Beauty and Pain" on keyboard and sung it for him, he loved it immediately and we set out creating a bunch of songs that became the "Beauty and Pain" EP, available for digital download only at the moment on our website: www.avrigus.com. At the moment we are recording an album that was mainly written by Simon before I joined the band, most of the songs were written in the time between "The Secret Kingdom" - the last album with Judy, and the time that I joined the band. One original written by me will also appear on the album. At this time we don't have a sure release date as we are still in the process of finishing writing vocal lines and perfecting the orchestrations.
How would you describe Lycanthia's sound to those who haven't heard it?
A blend of old-school Death/Doom riffs, complimented by counter melodies on violin, harsh grim vocals and dual Female harmonies.
What is the significance of Doom Metal and the attraction to it, both as a musician and as a fan?
Doom is about creating an atmosphere and a mood, many other genres are just about technicality. For me music is art and a creation of expression, not that there isn't merit to being technically proficient, just that I prefer song writing to move me and hopefully move others.
Tell us a bit about your previous releases, "Myriad" and "Within the Walls".
"Myriad" was a first attempt at writing songs as a group for Lycanthia. A fairly collaborative effort, the majority of members were teenagers when this album was made and the sound was not as clearly defined as it is today. At the heart of it though, it was just made for fun. In between "Myriad" and "Within the Walls", we put out a single called "Inferno" which we recorded specifically for a compilation CD. By the time we came to "Within the Walls", Lycanthia had many other songs written – including some that ended up on "Oligarchy" (which obviously weren't in their current state then) – the songs that were chosen were the ones the band felt were ready for putting out into the world, that had been worked on and reworked until they were to the bands liking.
How has your sound changed over the years leading up to "Oligarchy"?
Some of the songs were written – in a much basic form – before "Within the Walls" and we were still working on them. As a band, having new members join allowed Lycanthia to be more diverse and imaginative, a lot of parts of songs we weren't so happy with were able to be brought to life in ways we had only imagined before.
Is there a possibility of re-working/re-recording and re-releasing some older Lycanthia material in the future? (Such as "Hope Lingers Yet" - it was a snippet of that song that introduced me to Lycanthia and left a lasting impression).
No, we have no plans to re-record "Myriad".
What has the response been to the new album so far?
The response has been fantastic. A lot of people have told us that we have brought the band into a new place with this release, and obviously it helped get us attention from Hypnotic Dirge Records who signed with us. It has also helped us score several endorsements.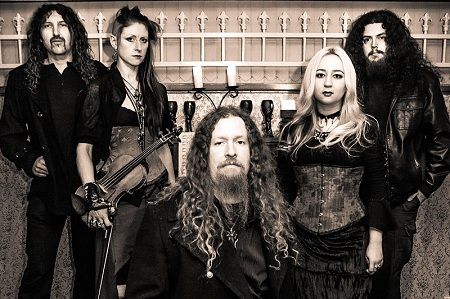 What inspires your lyrics and what are your general lyrical topics? I'm particularly curious about the stories behind "The Essential Components of Misery" and "Forgone".
"The Essential Components of Misery" is lyrically about the way we see the world around us. Although we are lead to believe we have freedom, we do not. We are lead to believe that we have choices, but the choices are really just to conform or be left behind. So in a way, it's a bleak reaction to the harsh reality of the world as we see it. "Forgone", this song is like a part 2, part 1 being "Eternity". So in the title of the two songs there is a hint to what the song is about… "Eternity… Forgone". It is probably our only song that is lyrically a fictional story rather than a story that comes from personal experiences or feelings. It is about a deity that falls in love with a mortal, and has to be stripped of eternity to embrace their lover. Although it is fictional, I think it is something that everyone can relate to, forbidden love.
Would it be true to say that "Forgone" is written as a poem first and foremost and that the song's lyrics are based on it? If so, does that apply as a general rule to most of the lyric writing process?
Sometimes that happens and other times if a lyric idea comes to mind, we will just write them down and set them aside until a song comes along that it suits. With all our songs, it's not so much lyrics to a song, as it is a poem to accompany the music. Once the poem is written, we arrange it melodically to suit.
How regularly do you play live and what is the response like at your shows?
When we aren't recording, we play live probably once every couple of months. The response is always great. We heavily advertise our shows to build up hype and we always enjoy playing live because that's when we get to experience crowd reaction to the music.
Have you done any international tours?
As of yet, we have not. We do plan to in the future though; it's something we all really wanting to do.
How healthy is the Doom Metal scene in Australia currently?
There has been increased enthusiasm for the genre lately. We have Mournful Congregation from South Australia, they play Funeral Doom. Okera from Melbourne, and Futility from Canberra are just some of the amazing doom bands that are also playing in Australia at the moment.
I've noticed a few ex-Lycanthia members around in Doom Metal bands, like Rise of Avernus (Andrew Craig), Rituals of the Oak (Sabine Hamad-Linfoot), and Murkrat and The Slow Death (Mandy Andresen). Can you tell us anything about them?
Firstly we'd like to mention that we are great friends with all these people. We are big supporters of all of these bands and love their music. In the case of Mandy, she begun Murkrat after leaving Lycanthia, it was a direction of music she had been heading towards for a while and we love it, but it isn't the sound for Lycanthia. The same can be said for Sabine, she found her tastes leaning towards a different direction, and you have to follow what you want to do musically, otherwise there's no fun to it. Andrew Craig is one of those guys who is always filling his time up with heaps of projects, we loved our time with Andy but in the end, he didn't have the time to put towards us along with all of his other commitments.
What do you all do when not playing music?
Steve is a car fanatic, always going to old car shows etc, he is also a heavily into ninjitsu. Mat is an armature photographer. Lee likes to do a lot of painting, he actually painted the cover of "Oligarchy", though it had editing and arrangement done to it, music and literature are big interests of his too. I go in and out of phases but always creating things, whether its poetry/lyrics, drawings or clothing, I also love to read. Vanessa takes part in many arts projects, creating and designing spaces.
Australia has always been one of my favourite countries. I like the people (well, more than I like most people at least) and the idea of clean first world cities in a country with so much open space and nature – the best of both worlds. But that's just my opinion. What is it like living in Australia for you? What do you like and what don't like about it? And is +40C really just "a tad on the warm side today, mate"? And have you ever seen one of those famous Sydney Funnel-web Spiders?
I am very much an Autumn person. In Australia, summer is a humid hell of heat, sweat and flies. In winter, I freeze, although I do enjoy the scenery of winter, the cold feels like pain to me and my sinuses suffer. The same sinus suffering happens to me in Spring-time, Autumn is perfect in-between weather to me. I do love that we have nature and cities in Australia, one of the thing's I dislike is probably that in general, the music industry in Australia is not very big at all. To be honest with you, I probably have seen a Funnel-web but if I have I didn't recognise it. I don't even think I know what they look like, which is probably really bad hahaha. Living in the city, I don't really see that many spiders and have to travel to see the wilderness.
Back on topic again, one final question: What is next for Lycanthia?
Next, I'm not sure I'm able to announce the very next thing that will happen, but it's coming in November. We should be able to announce soon. I'll keep you posted.
Thanks for chatting with us, good luck, we'll be watching and listening closely!
Thank you.
Links
MySpace * ReverbNation * Facebook * Twitter * Site
Label : Termo Records/Better Place Recordings
Review by Luisa Mercier
Third release for the English Rhys Marsh and his big orchestra. Based in Norway, the band features members from a moltitude of other musical projects like The Irrepressibles, In Lingua Mortua, The Divine Comedy and many, many others. So influences are really varied and it is difficult to fit the music in just one genre. I would say that is Prog with Jazz, Ambient and Symphonic hints, so lovers of this kind of music should enjoy "The Blue Hour". It is a record that should be listened in the quiet, at sundown. It is made of slow tempo songs with male and female vocals that entertwine. "Broken Light" is a perfect example. Expect long instrumental parts and a lot of brass and woodwinds, relaxing moments and a little bit of psychedelia. Definitely not a release for everyone, since listening to the album can result hard for a first time approach to such refined music, but lovers of this kind of music, will appreciate it for sure.
Rating – 70/100
Tracklist
And I Wait

Read the Cards

The Movements of Our Last Farewell

Broken Light

Wooden Heart

Further from the Truth

The Place Where You Lay

One More Moment
Line Up
Rhys Marsh — Voice, guitars, piano, mellotron, pedal steel, organ, zither, & orchestrations

Trude Eidtang — Vocals

Jess Bryant —

Vocals

Åsa Börrefors —

Vocals

Nicklas Barker — Mellotron

Lars Fredrik Frøislie — Chamberlin, hammond, moog, autoharp & celeste.

Akira Rabelais — Electronics

Timbre Cierpke — Concert Harp

Gaute Storsve — Guitar

Steve Honest — Pedal Steel

Ketil Vestrum Einarsen — Flute.

Mia Silvas — Flute

Tuva Hatlelid Mortensen — Oboe

Kirsti Jacobsen — Clarinet

Henning Wien — Bass Clarinet

Jørgen Vie — Bassoon

Tetsuroh Konishi — Trumpet

Hayden Powell —

Trumpet

Erik Johannessen — Trombone

Kristoffer Lo — Tuba & flugabone

Anna Giddey — Violin

Charlie Stock — Viola

Natalie Rozario — 'Cello & orchestrations

Jo Fougner Skaansar — Double & electric bass

Francis Booth — Bass

Andy Raeburn — Drums

Takashi Mori — Drums

Mattias Olsson — Drums, celeste, mellotron & orchestron.

Iver Sandøy — Drums

Martin Horntveth — Drums & orchestral percussion.
Links

Interview by Erwin van Dijk
An interview with Liv Kristine from Leaves' Eyes. This interview is all dedicated to the forthcoming album "Njord".
"Njord" is the third full length Leaves' Eyes album. (the other two were "Lovelorn" and "Vinland Saga").
I am absolutely happy and satisfied with the album. We've never worked this hard before with a production, but we've reached our goal. I would even say, we even went further than we thought was possible, technically seen. It has always been important to me that our sound and art is authentic, i.e. that you can hear from the very first tunes that this is Leaves' Eyes! We also want that our audience really get the feeling of being on a wonderful journey. I feel that our music needs a special well-written and interesting concept which is just as important as the sound, and "Njord" gives you all this.
"Vinland Saga" introduced the Viking elements in Leaves'Eyes. But "Njord" also seems to have some Irish themes, like the songs "Emerald Island" and "Irish Rain" . With "Njord" comes the EP "My Destiny", which contains besides the song "My Destiny" in two versons also an acoustic version of "Scarborough Fair" and two non album tracks.
"My Destiny" is a song you can easily "tune into". It's a good way to introduce the album (out 28.08.), although you will of course have less commercial songs on the record, too. On "My Destiny" is actually an EP, for the price of a single, with four non-album tracks, and one extra album song.

"Vinland Saga" was a concept album. Is "Njord" written with the idea to tell a story or are it twelve individual songs?
The lyrics mainly deal with characters from northern mythology (e.g. "Njord", "Fröya's Theme", "Nine Wave Maidens", "Ragnarok"), or with places and historical happenings (e.g. "Scarborough Fair", "The Battle of Maldon", "Emerald Island","Irish Rain", "Les Champs de Lavande"). This is why I found it necessary to deal with all these different languages. "Vinland Saga" is based on Leif Eirikssons discovery of America, even the EP, "Legend Land", which followed soon thereafter. "Njord" has a much broader concept, travelling through history, and into Nordic mythology. It has always been important to me that our sound and art is authentic, and that our audience really get the feeling of being on a wonderful journey.The lyrics are written in 8 languages (english, middle-high german, old-english, gaelic, norwegian, icelandic, french and one "self-made" linguistic fictional phonetic sequence)… I even sat down to study a bit French to be able to write one French lyric. I did study Old-English and Middle-high German, so it was really nice to be able to use this knowledge. Gaelic is completely new to me, though, but fortunately I found a wonderful person who helped me. "Njord" is an album that demands an expansion in linguistic terms.
This is your third album. What are the differences between "Njord" and "Lovelorn" and "Vinland Saga"?
Our debut "Lovelorn" was very refreshing and a wonderful start for the band, also the press and the audience were surprised. However, you shouldn't forget that we all have a huge experience and knowledge as musicians of Atrocity and former ToT (Theatre of Tragedy) to rely on. This brings Leaves' Eyes a wide step forward, so we were really no newcomers in our genre. Moreover, I really have to say that Atrocity + Liv Kristine is a magic formula! I took my experience from my favourite ToT releases "Velvet Darkness They Fear" and "Aegis" as a basis for Leaves' Eyes music. Our second album "Vinland Saga" was a manifistation of the music of Leaves' Eyes – we had "settled" in the genre gothic metal with female vocals. "Njord" is the perfection of both our 2 former albums. Since the first demo recordings for "Njord" we have been able to achieve goals that we thought back in 2007 after the "Vinland Saga" release would be quite impossible. I am so proud of my band members – "Njord" is a dream coming true, and all the hundreds of sleepless nights were worth it. We all have developed as musicians and technicians and this is experience that is unpayable. "Njord" (producer: my husband Alexander Krull) has a power to it that even is more intense than any previous production I've been part of. Technically, we constantly have new ideas and aims. We have our own studio and therefore we have the opurtunity to specialize in technical tasks concerning album and DVD productions. "Njord" has even a more bombastic but delicate sound that "Vinland Saga", because techniques allows it. We recorded the classical parts in Minsk (Lingua Mortis, supervised by Victor Smolski), we had a complete local choir (Al Dente) singing the choir parts, moreover, a special artist playing solos on special instruments like the uillian pipe and the whistle. All this makes this album a multilayered and highly interesting experience for our listeners, for your ears, hearts and minds. If I should describe "Njord" in four words I would say bombastic, emotional, contrastive, and pure.
Where do you get the inspiration for the songs. Some sources are clear, like Ireland and the Norse mythology but what really inspires you to write a song?
It's first of all my love for my homecountry, the Norwegian Nature, history, my family, the culture – everything I grew up with! I feel that our music needs a special well-written and interesting concept, and I want to travel through time and space. For me history has always been extremely interesting, and even when I left my homecountry Norway and moved to Germany 12 years ago, I had more books about the Vikings with me than clothes and shoes. I have travelled a lot and been able to see a lot of the world. History, languages, and geography has always interested me. Thorsten is the main composer of Leaves' Eyes, he works out his ideas on his guitar. "Irish Rain", however, was an idea I had one early morning. I hurried to the studio and worked out the tunes with him. Sometimes, ideas just appear to my mind, like a complete "song".

And can you tell us something about the songs on "Njord" and "My Destiny"?
We recorded 18 (eighteen!) songs, and all of them are placed on the single "My Destiny" (out now) or the album "Njord" (out late August). Our listeners will get a lot for the money. That's a way for us saying "thankyou" to our fans and friends all over the world. To mention a few examples, "Fröya's Theme" is one of my favourites on the album, too, next to "Irish Rain". "Fröya's Theme" is about eight minutes long, it includes five languages, inclusive two "speaking" parts done by Alex and myself respectively. It tells the story about Fröya, the Goddess of sex with her extreme power of beauty. However, her lover Od leaves her as he has "wandering eyes" for other beautiful women. Fröya travels around and through the worlds in Northern Mythology to find him. Her tears are made of gold and they heavily strike the earth. This song is an epic masterpiece composed by Tosso, our guitarist.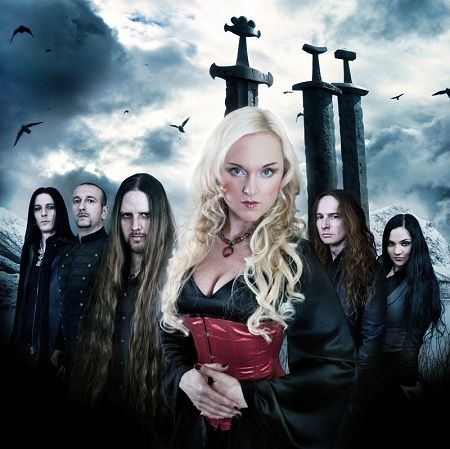 Is "Scarborough Fair" a Simon and Garfunkel cover and if it is, why did you choose this song?
I was an exchange student in the English town Scarborough, and I got very interested in their culture. This song is a folk song sung in the middle ages, also by the Vikings, on a trading market, in Scarborough. I wanted to rewrite the tune into a more heavy version and I am very happy with the result!

"Les Champs de Lavande" is a French title. Lavande means Lavender and the South of France (the Provance) is famous for its wide fields (champs) of lavender.
Can you tell us something about this song and why is it a bonus track?
As we had composed the instruments for this song, I thought about France immediately! I immediately sensed the smell of my favourite flower and scent, lavender! The Provance Lavender was famous already in the Middle Ages. I sat down and tried to put together a Franch lyric, and a friend of mine in France corrected it. This song just had to be about Lavender, and it sounds more authentic and special when it is sung in French.
While recording "Njord" you were supported by The Lingua Mortis Orchestra under the aegis of Victor Smolski and a classical choir. Most people will know Victor Smolski from his work with Rage. And this band does not exactly belongs to the same genre as Leaves'Eyes.
How did you find him and what was his influence on "Njord"?
We met Victor during a Rage/Leaves' Eyes' show in Greece in 2007. We are so happy that he liked the idea of working with us. It adds the important depth and bombastic character in our music.
The Special Edition will have a Drakkar (viking ship). What can we expect?
This is a way for us saying thank you to our fans and friends. Remember, many of them are collectors. I used to collect Madonna and Black Sabbath/Ozzy special merchendise objects.

One of the things that would make a lot of fans happy is a duet between the Espenæs sisters. (think of Beyonce and Solange Knowless doing a duet). Have you ever considered this for "Njord"?
It's not that easy since my sister moved back to Norway a couple of years ago, however, I am planning a duet on our fourth album, which will be a folk-oriented album, planned to be released in summer/fall 2010.

Do you already have some details about an upcoming tour?
Europe in November 2009, USA/Canada December 2009, then Europe and Russia in the beginning of 2010, and another long tour in the Autumn of 2010. Moreover, we have planned an acoustic tour between 28.08.-02.09 (please check the news!). We will play a capella in some of the Media Markets, for free for our fans, and we will have a lot of time to make photos with everybody, have a chat with our fans and friends and write some autographs. I enjoy acoustic tours. It's a nice way to keep up our close relationship with our audience, moreover, we are able to show that we are good musicians and can play live without a huge stage with a huge technical plan behind everything.
And which songs can we expect live?
A set-list still has to be decided on.
Although I think you will be very busy with the promotion of "Njord" this year and 2010 I would like to ask when we can expect a new Atrocity album and a new Liv Kristine solo album?
It's been 3 years since "Enter My Religion", and it's always good to gain a different aspect of your own art after some time has passed by. Right now, I am just about to finish the final recordings of my third solo album, and I see things in a new perspective now. "Enter My Religion" was an expensive production on a major label, however I made the decision in 2008 to release my third solo album on a another label, with a smaller budget, but having more freedom about the whole process, from the very first demo track, until the final master. I am very proud of "Enter My Religion", however I have developed as an artist and technician and my third album will be a huge step forward. I have put my focus on sounding just like myself, recording songs in one take, so you "get" me with everything I am, my character, my emotional level, my breathing, sometimes perhaps perfect, sometimes maybe not. I just want the audience to hear ME, not some singing lady with a pretty nice voice. I want to creep up inside your hearts and senses. I wrote all the songs together with Torsten (guit. Leaves' Eyes), all the lyrics myself, and my husband Alex is the producer of the album. Atrocity are already finishing their next Atrocity feat. Yasmin "Calling the Rain", which will be out end of 2009/beginning of 2010.
Links
MySpace * Facebook * Twitter * Site
Latest Multimedia

Interview by Roberta Ilaria Rossi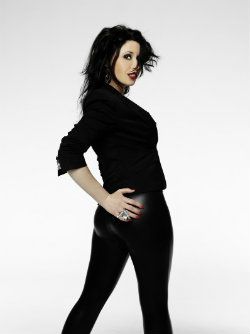 We've got to know them thanks to their debut album "Divanity". Now the Swedish band The Murder of My Sweet comes back with a new record, "Bye Bye Lullaby", released via AFM Records. To introduce better this new effort, the lead singer Angelica spoke with us and she explained with details something concerning this new record and her own work inside the band.
Hi Angelica and welcome to Femme Metal. Let's begin this chat talking about the band you sing in: it's the gothic metal band from Sweden called The Murder of My Sweet, which has been founded in 2007. Would you like to tell us something about your biography?
Hi guys! Yes, it's true that we started out in 2007. I got a phone call from drummer Daniel Flores that September and he asked me to come by his studio and listen to a couple of songs. I instantly fell in love with the project, and about two years later we released our first single shortly followed by our debut album "Divanity". We spent 2010 and 2011 playing festivals and venues and combined that with writing and composing for our second album "Bye, Bye Lullaby", which we recently released!
The band's name refers to a noir movie of the '40s called "Murder, my sweet" by Edward Dmytryk. How did happen the choice for the band's name? Are you a fan of noir movies?
Yes…. When Daniel and I started to work together and got to know each other better we soon realized we had a common interest in movies and movie scores. One of our passions is the art form 'film noir', so we wanted to include that element in our music and our appearances.
You're currently promoting your second record, "Bye Bye Lullaby", that has been released two weeks ago. What could you share with us about this latest album, starting f.e. from the original title of the album?
Well, it was hard at first… I had to struggle to get back into writing mode and to feel inspired 'cause we'd been really busy in the intervening years. The time before and after the release of our debut album was so intense and we wrote so many songs, both for our own band and for other bands and projects, that I felt I had nothing more to write about. It's really silly but I guess I was slightly burnt out? "Bye Bye Lullaby" sort of represents my way back; finding inspiration and joy again! We came up with an album that is a bit more contemporary but darker and in my opinion, heavier at the same time.
This is your second record. Your debut album, "Divanity", came out in 2010 and it has got a good success. If you were to describe this album with your own words, which adjectives would you like to use?
Aware, heavy, contemporary and dark, with an artistic twist in the last three songs.
Your sound style is described as "cinematic rock". Could you provide some more information?
I think the "Cinematic" rock description evolved from the fact that when we compose the symphonic parts of the songs, we do it in the same way that they do it in movies so that every song on a given album could also be part of a movie. The fans have picked this up too and there are a lot of fan made videos on youtube, where our songs are featured with video games and TV series…
Your label allowed us to take a listen to the album. From the premises offered by the card presentation, it seemed that this album had many innovations, which, unfortunately, I have not seen since the first listening. Actually, the sound seems a normal gothic metal sound combined with a touch of symphonic metal, instead of being "cinematic rock". What did cause the choice of adding electronic effects into your sound?
If you have been to the movies lately and seen, for instance "Tron; Legacy" or "Inception", there are a lot of electronic sounds and effects going on. We got hugely inspired by that. Going to the movies is a big part of our research for writing new songs, so I would say we still do Cinematic rock. The art form is evolving though and so are we…
As I've seen in some other bands, you've put some little orchestral arrangements in your sound. Will we ever see a third chapter of your discography that will star a real orchestra, like many bands like Epica or Nightwish did in their career?
It would be a dream come true to record and perform with a real orchestra, but sadly that sounds really expensive. Considering the situation in the music industry today, I don't see that for us. But you never know!
There are some great guests in this record: in fact we could notice the presence of Jesper Strömblad (In Flames), Peter Wichers (Soilwork) and Fredrik Åkesson (Opeth). This last guest really made me curious. How did you feel like working with these people and, especially, with Fredrik?
It can be a really mind blowing journey, or a completely flat feeling, inviting other musicians into your creative sphere but this time it definitely was the former. These guys are 3 very talented and experienced musicians, all, top of the line. You might say I was a bit star struck!
Will we ever see a bizarre duet between Opeth and The Murder of My Sweet?
Wouldn't that be sweet? Again, you never know…
Originally, there were 30 tracks composed for this new album, but they were reduced to 13. Was it hard to choose the 13 tracks that would have create your second album?
It is always hard to kill your own 'darlings, but it has to be done. Eventually, when you listen to all the songs together you soon, naturally hear which match together and which don't.
What happened to the remaining tracks? Do you think that you will use some of them in one of your future work, perhaps as bonus tracks?
Well, we have a great plan for our next album that will take off from right where we ended "Bye, Bye Lullaby", so keep your eyes posted. We intentionally composed the last three songs, "Waiting for the 27th", "Black September" and "Phantom Pain", as a mini saga that will bloom into full grace on the next record…
We can find a bit of everything in this record. There's a ballad ("Meant to Last Forever"), groove songs like "I Dare You" and so much more. What could you tell us about the song-writing and about the music process? How did you create these songs?
Either Daniel comes up with a groove or an idea for a chorus (and we start working from that perspective), or I come up with a story or an interesting sentence and we get off from that. And of course, as I've already said, we spend a lot of time doing research by going to the movies, etc…
To better promote this album, you have also shoot ​​the video for the single "Unbreakable", which will be out soon. Can you please reveal us something about it?
We actually shot the video in an abandoned rail tunnel and that put a really magical atmosphere on the set. It was freezing cold in there and we shot for about two days, which gave me a really bad cold afterwards, but I would do it again and again because it was so much fun. You can watch it here.

How are you living this great music experience? Do you have any expectation for the future?
I have great hopes and dreams for the future although the music industry is going through some rough times. I will try and stay floating and hope that our fans will continue supporting and sharing our web sites to everyone they know. The power of the fans is not to be underestimated!
Do you have several different projects on the go? You mentioned a lot of writing…
No, at the moment we all focus on The Murder of My Sweet and our latest release; and then, it's time to start composing the next album, so we're all concentrating on this!
This was my last question. Thanks for your time, Angelica. Feel free to share something with our readers and your fans!
Thank you for following us and reading this interview. You know we love you all and cherish the support and feedback you give us. Help us get our music out there and visit us at www.themurderofmysweet.com…. The sweetest rock and kisses!!
Links
MySpace * ReverbNation * Facebook * Twitter * Site
Latest Multimedia
Interview by Ed MacLaren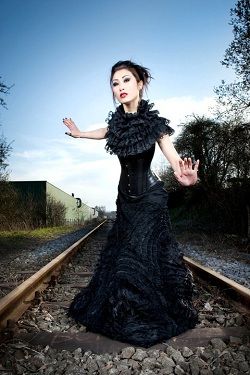 Since 2004, Germany's Krypteria has released a string of excellent symphonic metal albums – each reconstructing and redefining their trademark symphonic metal sound. With their latest album, "All Beauty Must Die", Krypteria has stepped out once again with amazingly ear-pounding results. Led by the formidable vocal talents and dynamic stage presence of Ji-In Cho, Krypteria are becoming as equally known for their powerful live shows as their complex and powerful music. Femme Metal recently got the opportunity to talk to Ji-In about the making of their new album where she breaks down the Krypteria sound and tells us why all beauty must die.
Welcome to Femme Metal Ji-In! "All Beauty Must Die" is out and it's a winner! Life in Krypteriapolis must be looking pretty good these days.
Hello Ed! Thank you very much! Yes, I can't deny that after all the time we were confined to our studio working on "All Beauty Must Die" we are now very happy about getting all the great mail from our fans and wonderful reviews!
"All Beauty Must Die" is hookier and heavier than any of your previous efforts yet you've still been able to maintain many of symphonic and choral elements that made "Bloodangel's Cry" and "My Fatal Kiss" such interesting listens. What was the band's mindset going into the recording of the album?
Like always, we poured our experiences and emotions we had to deal with in the last year into the record. But as you may know we set up our own label and that means for the first time in our career we are free – in every part of this business. That means we are now responsible for everything – even besides the music – and that is very exciting and new for us. We told ourselves that if we fail, we will die by our own sword. This might sound a little weird but because of this knowledge we feel totally liberated, independent and stronger than before. I really hope you can hear it on "All Beauty Must Die". By the way: we called our label Liberatio. (Smiles)
Do you feel that Krypteria has established a certain "trademark" sound that sets you apart from other bands – a sound that people will instantly identify with Krypteria?
I believe we do have quite a different sound from other bands. Not on purpose, this is just the result of our combined efforts at composing and writing. It is hard to describe in a few words, but I believe our fans will know by now what a Krypteria song sounds like. We have a knack for dramatic but still catchy melodies. We like to combine choir parts and classic elements with heavy riffs and beats. On our new album we have further grown and evolved musically. Maybe we are a little tougher and rougher, but unmistakably still Krypteria.
Are there still wild and unknown places the band still wants to explore musically?
There are surely a lot. But at this moment we are very happy with our baby and it is too early to think about our next steps or our next album. The only wish we have is to present our baby live on stage to our fans.
All Krypteria albums have a central theme that holds the lyrics and music together. What's the conceptual thread that ties together "All Beauty Must Die"?
Well, it's not a concept album like "Operation Mindcrime", "Streets" or our 2007 release "Bloodangel's Cry". It's about staying true to yourself and to your ideals no matter the obstacles. There's a lot of rage and yearning involved and it's about loss. But there's also a lot of resolve, defiance and hope to it.
While we're on the subject: why must all beauty die?
If I only knew!! Well, that's how it is and there is nothing you can do against it. You can't hold the good moments forever and stop time – only the memories can remain. But even these are gone when you die. To say something positive: not only the wonderful moments fade away but also the bad times and negative emotions are someday over.
Your singing is spectacular on "All Beauty Must Die". Your vocal melodies have matured immensely on this album. How would you chart your vocal evolution over the course of your time with Krypteria?
Thank you for the compliment but I guess my teacher at the Musikhochschule who taught me classical singing would have a hard time listening to my singing!(Laughs) I think everyone of us has found his place in the band. We all respect and appreciate each other. We also totally trust each other and we feel safe when we are together. I think it's always very helpful and encouraging if you feel comfortable and you feel accepted as the person you are. That's the best way to express and develop yourself.
Do you still work on improving your vocal abilities either through personal practice or professional instruction?
There are days when I sing all the time just to try out what's possible with my voice. And sometimes it's better just to shut my mouth! (Laughs)
A goal of the band seems to be capturing the energy of your live performances – especially yours – on album. Are you getting close to getting that dynamic down digitally?
I hope so. But in the end it's never as easy as we always have a lot of fun on stage – thanks to our audience. Every band would say so – the fon stage. Fans give you the best energy boost you can have and I could never compare these moments we share with our fans with anything else.
Although Krypteria started out more like a loose and informal "project", it seems like Krypteria functions more and more like a true collective. How does that affect the direction and arrangement of the music?
I never thought of this band being loose and informal. But you're right: the longer we know each other the more organic we're getting. I'm very thankful that we're aware of being four totally different personalities and treat this fact as an inspiring fact. That's why we try to make sure that every facet is represented. I'm sure that helps to make our album more multi-dimensional and more colorful.
"All Beauty Must Die" is a heavy album with tracks like "Messiah", "Higher" and "Eyes of a Stranger" but there's still room for your delicate piano flourishes. How important is it to express that musical aspect of your personality on each album?
I love to write songs with only my piano and I think it's a perfect instrument to bear up against the guitars. In comparison with the voice you can show a different and more complex atmosphere and in addition to my voice, the piano is very important for me to express myself and my musical imagination.
"The Eye Collector" is a standout track – and not just because it clocks in at an epic-length 11 minutes long. The intense arrangements and the simmering force of the music make it arguably one of your strongest tracks from any Krypteria album. What is it about extended tracks that bring out the best in the band?
Well, in this case this is easy to answer because we had a great inspiration based on a book by the German author Sebastian Fitzek. One of his fabulous books is a psychological thriller named "The Eye Collector" and we are relieved and very happy to tell you that he likes our song and the fact that it's inspired by his book too. (Smiles)
When you decided to bring in some guests to record you didn't fool around. Doro Pesch, Tobias Exxel and Olli Singer! Nice job! How did they do?
We are very happy that we could win these guys to play with us. For me personally, it's a big honor to sing a duet with Doro – she's really the Queen of Metal and no one is more experienced than her. After all these years she still gives to her fans everything she's got on stage and that's really something to admire. We got to know Eggy when we had our first gig in Germany. We shared the dressing room with Edguy and very soon we found out that they are very nice and funny guys. We are glad that finally after all these years Eggy could find some time to join us on the record – especially as a guitar player! And regarding Olli: he's the best guy we could find to replace Chris on stage. He's a real good guitar player but first of all a real good guy and we have a lot of fun with him when we are on tour.
Krypteria's artwork always shows a lot of attention to detail – both in quality and in reflecting the musical and lyrical content of the album. At the very least the skull logo will look great on a black tour shirt! How did the artwork for "All Beauty Must Die" develop and what were you trying to convey with it?
Talking about the artwork for "All Beauty Must Die", we were searching for a picture that would fit this title. I didn't want my face to be displayed again on our cover, because we already did that. So I came up with the idea of a female and Asian skull. Fortunately, my band members were also very curious about the idea and what such a skull could look like. Thanks to our great illustrator Torsten Bürgin we now have this fantastic female skull logo. If I had tried to draw up something like that, we would probably have a different cover – I'm a real bad drawer and painter!
We're starting to see more bands integrating members from different countries and making some incredibly creative music. This includes Leaves' Eyes, Tristania and Visions of Atlantis to name a few. You've been the lone South Korean in a German band for a long time now. Has your South Korea ancestry played a part in your contributions to Krypteria or influenced the direction of the music?
Not in a direct way. But I can tell you that my family loves music – especially passionate and wonderful melodies. We're very emotional and everyone in my family can play a classical instrument. So I guess this love for this style of music is in my blood.
"All Beauty Must Die" gives you four solid albums of excellent metal music to perform. Does the material give you an opportunity to express all facets of your personality on stage?
Absolutely yes. I love to live out all the emotions and subjects we are concerned with. It's really like a therapy and after every concert I feel clarified – I'm very thankful for that.
Will Krypteria ever get around to capturing your live energy and the band's stellar performances on DVD?
I hope so and I'm sure this wish will soon come true! (Smiles)
Where will "All Beauty Must Die" take you touring this year? Any chance for an appearance in North or South America?
So far we're abroad in Asia and some other foreign countries but unfortunately not in America. We would really like to but there are no confirmed dates yet. Later this year we will tour in Germany. But let's wait and see: not everything is set in stone, yet. (Smiles)
I am not good with last words. All I can tell you is what I tell myself as often as I can: Enjoy your time on earth and keep in mind the wonderful moments but also the bad moments – you never know for what they are good for!
Links
MySpace * Facebook * Twitter * Site
Latest Multimedia
6 color styles available:

Style switcher only on this demo version. Theme styles can be changed from Options page.