Browsing articles tagged with " passion"
Label: Flaming Passion Music/AFM
Review by Tony Cannella
FYRE! is a powerful and energetic hard rock outfit fronted by Argentinean vocalist Alejandra Burgos. The band has released their debut album "Missy Powerful" via AFM and it features 14-songs and 50-minutes worth of infectiously rollicking hard rock tunes that are impossible not to like and have some affinity for.
Let's get started… Right out of the gate "We Are Here" is a great opening and introduction to this killer band. "Get the Hell Out" follows and it features a nice up-tempo, bouncy chorus and also includes a saxophone solo and some cool interplay between the lead guitars and sax. "Stay Until the Moonshine" has a bit of an acoustic base but is still an up-tempo rocker. Continue reading »
Interview by Alessandra Cognetta
FYRE!
is an international band revolving around the charismatic figure of vocalist and guitarist Alejandra Burgos. Alejandra left her home in Argentina to pursue a musical career in Europe and, in three years, FYRE! built the foundations for their debut album, "Missy Powerful". The album is an energetic blend of rock and metal influences that showcases the input of all the band members. This was going to be a face to face interview but, due to the postponement of some of their tour dates, it turned into a very nice skype conversation. I talked with Alejandra and her fellow bandmate and bassist, Lars Ratz, about the album, its conception and the band's recent activities. But enough with introductions, it's time to dive in and discover the energy and friendliness of this Palma de Mallorca based band!
Hello and welcome to Femme Metal, Alejandra! How's it going, especially since the recent news about the tour being postponed?
Lars: The tour was very very great so far, it was amazing to open for an artist like Anastacia who has a great voice and a great personality. She actually has a really "rock" appeal in her live shows and she even does a Guns N'Roses & AC/DC medley, which was really interesting. Continue reading »
Videointerview by Abigail Henry
Independent Release
Review by Tony Cannella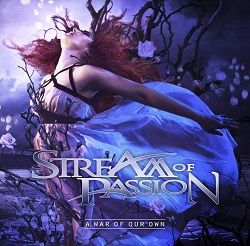 Originally starting out in 2005 as an Arjen Lucassen project, the band Stream of Passion has evolved into so much more. With their 4th album, "A War of Our Own" that evolution continues…
"A War of Our Own" is a 13-song, 1 hour musical journey that showcases what fans have grown to love about this symphonic/gothic metal band. Not the least of which are the dramatic and beautiful vocals of Marcela Bovio. Each song is meticulously crafted and is nice additions to the growing SOP catalogue. The opening track "Monster" is like a monster out of the gate. The song features some huge riffs at the beginning but shifts tempos throughout and is just plain stunning – and the best song. You have to love Marcela's voice; she's much underrated, in my opinion. Continue reading »
Interview by Ed MacLaren
Intro by Miriam C.
The ways of music they said that are infinite, well this the case. For like 15 years Republic Czech's Dying Passion has kept sail on to publish album with, sadly, no international acknowledgement. During this years, the first album to date is 2000's "Secretly", and as Zuzana states during these long interview, the music sound evolved from a ToT-esque Beauty and Beast doom metal style to a more atmospheric, "alternative" sound without forgetting the doom influences in the recent times. Ok, sounds a tongue-twister so it's better that I leave you to this nice interview.
Greetings Zuzana! Thanks for taking the time to talk to Femme Metal Webzine.
Hello Ed, Nice to hear from you! Continue reading »
6 color styles available:

Style switcher only on this demo version. Theme styles can be changed from Options page.