Browsing articles tagged with " patti"
Interview by Robin Stryker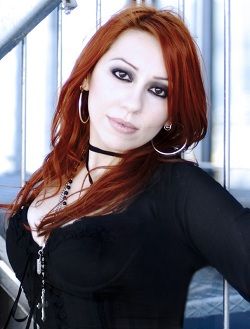 Femme Metal chats with Edera, vocalist and lyricst for Italian metal/rock band Domina Noctis, about their sophomore release "Second Rose". Read on to learn what the moon, Cher, poetry and a love of contradictions have in common.
Hi Edera, please tell us about the newest release from Domina Noctis, "Second Rose".
I would define "Second Rose" a melodic rock album a twist of electronic sound and some metal grooves. For us, this album is a sum of all our influences, from dark/pop/rock music of the 80's and early 90's, to metal; we're definitely inspired by Paradise Lost and Katatonia just to name a few.
The ten-track album includes covers of two iconic songs, "Because the Night" (Patti Smith – 1978) and "Bang Bang" (Cher - 1966). Why record covers, and why these particular songs?
We love to find some covers that fit to our sound. Covers are an incredible source of inspiration and we always learn a lot more about music every time we play a cover. We all in the band are huge listeners of music of any kind! That's why our covers are from different scenes and years.
Which songs have the most personal meaning for you?
"Exile" is definitely the song that moves me everytime I listen to it! It's a song about those times in life when you're feeling fragile, like you need to heal some wounds, so you need to be alone and you feel comfortable like that, but you also need a lot of patience from the people you love, to gather some force inside and the be born again. It's a message of hope.
How has Domina Noctis's music evolved in the three years since releasing your first full-length album, "Nocturnalight"?
When we recorded "Nocturnalight" the songs included in the album were sounding "old" yet for us because the whole recording/mixing process lasted 1 year and of course the style and sound of a band evolves in 1 year. Recordings are a true "gym" for a band and for each member. You learn a lot, and hopefully, you improve. So, during the promotion of "Nocturnalight" we were still playing live some of the songs that have been included in "Second Rose", as we couldn't wait to have a feedback about them. "Second Rose" is a rock album, we focused on the structure of the songs and on the arrangements, with the precious help of our producer Cristiano Santini from Black Fading (our label). We wanted the songs to sound solid yet full of emotion, rock and melodic, dark yet full of light too, because we are like that, we have both sides.
Can we expect a third album? If so, where are you in the process of writing and recording it?
We started to write new stuff during the recordings of "Second Rose", we're now working a lot on the new songs and we love them!
Please introduce the other four members of Domina Noctis.
Asher plays guitar and composes most of the music; Azog plays bass; Ruyen plays synth & piano; Niko plays drums.
Are you or any of your bandmates involved with other bands or side-projects?
Asher plays drums in Forgotten Tomb and in Whiskey Ritual and Azog often plays as a live sessionist for Whiskey Ritual; Niko plays drums in the band Noctiluca. Ruyen is currently working on some compositions and he's planning to record a promo cd very soon for his new side project. And about me, I'm working on an acoustic live set project along with Azog and Ruyen, way too soon to say more anyway.
In addition to being a musician, you are also a photographer and graphic artist. Have you been able to use your talents as a visual artist with Domina Noctis?
Well I guess I have the bad habit of doing too many things! I love to "move" through different art "levels"… I've been creating the artwork of all our CDs, band merchandise and band logo too. I like to express the same concept through music and through visual arts too, and I had the chance to do so during the creation of "Second Rose" CD layout, digitally working on a self-portrait I took some years ago.
References to the moon appear in the band's former name -The Moontower- and current name (Latin for the moon), the title of your first album, song lyrics and your artwork. Does the moon have special significance for you?
We feel very attracted by the moon, a sacred symbol that reminds of feminine, poetry, night… I think we're definitely "moon worshipers"!
The phrase, "I love my contradictions", is intriguing. What does it mean?
I know it may seem just a contradiction itself! Okay, maybe it's just insane, or maybe not, but anyway I believe that sometimes we should learn to love ourselves as we are, in our complexity, trying to understand that we're made of many shades, white, black, and many tones of grey. It's such a revelation when we finally are able to accept these apparent contradictions, only when we're able to say "I have white parts and black parts and grey parts because that's what I am, that's human" and then we start to love those different parts.
If I understand correctly, you write the lyrics for all the songs and Asher writes the music. How does this collaborative songwriting process work? Lyrics first and then music, or vice versa?
Usually, Asher composes some riffs, he tells about his ideas and all together we have a session in the rehearsal room. During this session I try to sing whatever it comes to my mind, and write down a draft of the lyrics. Then, as soon as the melody takes shape, I work more specifically on the concept, to make melody and words fit together. Then we always work together on the song structure and on the arrangements. I have to say that in some of our latest compositions we tried to work in the opposite way: I've been singing a melody, and after the guys worked on the arrangement of the song.
Asher and you have been musical partners since Domina Noctis began a decade ago, yet your musical influences (and perhaps even taste) seem worlds apart. Does this ever create conflict, or does it make life more interesting?
Asher and I have different yet similar taste as music listeners, for instance there is a lot of music that we both love, yet sometimes for different reasons. As composers we are really lucky because we both have a precise idea about how our songs have to sound like, and this idea has been evolving through the past 10 years, but I can say it has been a co-evolution for sure, because we rarely "argue" about songs! We always try to make the song to sound in a way that pleases both of us.
Congratulations on having your poems published in the anthology, "Carmen Nocturna". In what ways are writing lyrics and poetry similar or different?
Thank you! I had the chance to gather some of my poems in this little book "Carmen Nocturna" and I was really happy about that. I really love "minimal" poetry, I usually write really short poems. Writing lyrics and writing poems are two really different things to me. When I write lyrics, I always write words and melodies together. It's very hard to tell what I feel inside, but it's like specific words in my mind need a melody, and the melody needs some specific words, and suddenly they find each other fitting. I love this mysterious process.
Many years ago, you said that Domina Noctis probably would not perform songs in Italian. Now that you've written poems in Italian and been a guest vocalist on In Tormentata Quiete's new album, has your opinion changed?
My collaboration with In Tormentata Quiete has been a beautiful, inspiring and really interesting experience for me: to sing in Italian was a new challenge and the songs were really beautiful. Still, I'm not convinced about writing my own lyrics in Italian, I'm not sure that our language would fit to the sound of Domina Noctis. Anyway, maybe we're going to make some experiments. Who knows?
How did your collaborations with In Tormentata Quiete, Kalevala and Dark Princess come about?
I've got in touch with Antonio Ricco, composer of In Tormentata Quiete, many years ago via email, and we traded our demo CDs. After a long time, we got in touch again and he asked me to sing some songs in their album. I was really happy to have the chance to make this collaboration, I love to try and express myself in different ways, and as I said it was a great experience. Kalevala is a folk metal band from our city, the band members are all friends of ours and I had the chance to play with them as a guest in some acoustic set concerts. I love their sound and folk music in general, and I hope to have the chance to sing again in the future with the band. About Dark Princess, after the reprint of "Nocturnalight" in Russia, we got in touch with the label of this band and they asked us to have a mini tour with them in Russia. It was a great experience for all of us, it was really great.
Italy is home to many exciting new female-fronted bands from every subgenre of metal — Elegy of Madness, Exilia, Winter Haze, Lunacy Box and Raving Season, to name just a few. Has the metal scene changed for the better? Do you think female musicians face different challenges than all-male bands?
Good bands are so many and female fronted are more! Sure, there are many challenges that a female fronted band have to face, like defying the commonplaces, like easy comparisons to famous female fronted bands, and for what concerns Domina Noctis, trying to break the cliché that female vocals + distorted guitar is gothic metal. I can't stand this pointless reasoning, but anyway there's a lot of people who don't care about this stuff, and we're glad to have those people as followers!
We've talked a lot about Domina Noctis and other artistic pursuits. What is your favourite way to just kick back and relax?
When I need some relax, I often watch a movie along with my boyfriend Ruyen, on the couch! I love cooking too, I find it really relaxing (when I'm not in a hurry)!
Thank you taking the time to chat with us today. Any last words for your fans?
We're focused on the composition process right now and we'd like to make some prerecordings as soon as possible to work better on the arrangements of the songs. Anything more than this will be appreciated!
What are Domina Noctis's plans for 2010?
Thank you very much Robin for this nice chatting, I'd like to invite all our followers to join our newsletter on www.dominanoctis.it and to take a look to the following links (please add us to your friends list!). Thank you for the support! Horns up! Stay free!
Links
MySpace * Facebook * Twitter * Site
Label : BMG Rights Management/Audioglobe
Review by Tony Cannella
Trans-Siberian Orchestra has been spreading their Holiday cheer in the U.S. for close to 15-years. In 2000 TSO released their first album of non-Holiday music titled "Beethoven's Last Night" and in honor of the bands first European jaunt this album has finally been released in Europe. As with all of their albums, "Beethoven's Last Night" features a virtual who's who of some of the best talent you will find. "Beethoven's Last Night" is an involved concept album that features over 70-minutes worth of music. TSO offers the listener a wonderful mix of epic metal combined with Classical music to present the listener with a soaring musical experience. Some truly talented singers such as Savatage alums Jon Oliva and Zak Stevens add their talents to some of the characters. Female vocals do not show up until track 10 when Patti Russo takes the helm as the character Theresa on the track "The Dreams of Candlelight". She can also be heard on various other tracks including "After the Fall". Sylvia Tosun as Fate is allowed to shine on the closing number "A Final Dream". More highlights – of which there are many – include: "What Good This Deafness", "Mephistopheles", "The Dark" and "Mephistopheles' Return". Enough good can't be said about this great array of talented musicians that makes up TSO. There is a reason that they have amassed a huge following among metal and non-metal fans alike."Beethoven's Last Night" is a perfect example of the genius of TSO.
Rating – 90/100
Tracklist
Overture

Midnight

Fate

What Good This Deafness

Mephistopheles

What Is Eternal

This Moment

Vienna

Mozart/Figaro

The Dreams of Candlelight

Requiem (The Fifth)

I'll Keep Your Secrets

The Dark

Fur Elise

After The Fall

A Last Illusion

This Is Who You Are

Beethoven

Mephistopheles' Return

Misery

Who Is This Child

A Final Dream
Line Up
Jody Ashworth – Beethoven

Patti Russo – Theresa

Jon Oliva- Mephistopheles

Guy Lemonnier – Young Beethoven

Jamie Torcellini – Twist

Sylvia Tosun – Fate

Zak Stevens – The Muses

Dave Diamonds – The Muses

Doug Thoms – The Muses

Robert Kinkel – Piano And Keyboards

Jon Oliva – Piano, Keyboards & Bass

Al Pitrelli – Lead, Rhythm & Bass Guitars

Paul O'Neill- Rhythm & Acoustic Guitars

Chris Caffery – Guitars

Jeff Plate – Drums

Johnny Lee Middlenton – Bass

Dave Wittman – Drums, Guitars & Bass Inserts
Links
Label: Black Fading Records
Review By Tony Cannella
Italy's Domina Noctis have existed since 1999. They play a melodic brand of gothic metal and they have just issued their second full-length CD titled "Second Rose". The band line-up looks like this: Edera (Vocals), Asher (Guitars), Azog (Bass), Ruyen (Keyboards) and Nicola Corradi (Drums). Getting right into it with the opening track "Electric Dragonfly". A solid opener that gets us off and running. "Untold" is next and is another solid track. "Into Hades" is next and is really one of the many highlights. Just a melodic metal masterpiece that is really well written and well produced. The biggest surprise is their version of the Patti Smith 70′s rock classic "Because the Night". This has always been a great song and Domina Noctis have done a great version of the song in their own style. It works really well and is a great addition to their repertoire. The vocals of Edera are strong and a perfect fit for the band and the melodies are so damn infectious that you have to give them the due. "Lamia" is next and is another highpoint and it features a cool guitar riff and the soaring vocals of Edera. Other highlights include: "Sisters in Melancholy", "Broken Flowers" and "The Mask". Italy has produced another fine band. Domina Noctis are a band that has all of the ingredients to make their mark in the metal realm. "Second Rose" is a bold statement from a band who I am sure will be heard from in the future. Domina Noctis are described as a goth band and I will admit to not even being sure what constitutes a goth band these days. Just because they have a female singer, does that make them a goth band? Not in my opinion. Sure I suppose there are those qualities included in some of the songs on "Second Rose" but the beauty of this CD and band is that it should be able to appeal to wide range of metal fans if given the chance. Overall quite an impressive CD and band.
Rating – 85/100
Tracklist
Electric Dragonfly

Untold

Into Hades

Because the Night

Lamia

Sisters in Melancholy

Broken Flowers

Exile

The Mask

Bang Bang (Bonus Track)
Line Up
Edera – Vocals

Asher – Guitars

Ruyen – Keyboards

Azog – Bass

Niko – Drums
Links
MySpace * Facebook * Twitter * Site
6 color styles available:

Style switcher only on this demo version. Theme styles can be changed from Options page.