Browsing articles tagged with " performer"
Interview by Si Smith
After releasing two album, Touchstone is back with their third multifaceted progressive-rock album called "The City Sleeps". Femme Metal got the chance to interview Kim, the singer of the band, and it turned out to be extremely interesting as she guides us through secrets and intricacies of the band's brand-new album.
Hi Kim. Thank you for taking the time for this interview. Let's get started. First of all, how are you?
I am very well, thank you!
Your new album has been released recently. Can you tell us why you chose "The City Sleeps" as the title of your album?
"The City Sleeps" felt like a good sequel title to "Wintercoast", especially as the last words on the "Wintercoast" album were "The City Sleeps – I am Awake!" It was a good way of carrying across the stories and themes from previous albums and songs.
What is the concept behind this brand-new record?
There isn't a concept behind the album as a whole but some stories have been continued from different albums and we wanted to carry those on. When "Shadows Fall" carries on from "Shadow" from our first full-length album "Discordant Dreams" and "The City Sleeps" follows on from "Wintercoast". Otherwise, we just wanted to use more of our individual influences and see what came out of it. Continue reading »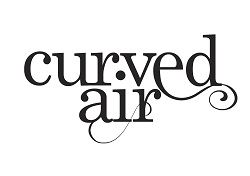 Interview by Matteo Bussotti
It's always an unfathomable emotion every time we have a musician of great importance here on Femme Metal. This time we are really, really proud to have Sonja Kristina, Curved Air's lead singer on our website. Her answers to my questions are simply stunning, and it is an incredible opportunity to interview an artist who's been in the music industry for such a long time. Of course I had to ask her questions about the past, but also the present and the future. Her answers are an insight about how music's world has changed through these decades. It is with great that I, once again, introduce to you Sonja Kristina. I hope you enjoy this interview as much as I enjoyed making it.
Hi Sonja! I must say it is really an honor to have such an important musician here on Femme Metal! My first question is an obvious one: how does it feel to be back on stage?
Thank you, it feels surreal.. timeless and timely.
You are just about to release a live album, "Live Atmosphere". Do you have any plans on recording new material, after your 1976 last album, "Airborne"? (I'm not counting "Lovechild" as your latest album because it was recorded before "Airborne")
This band is very diverse in its influences and also respects the Cuved Air legacy. Yes we will create fine new material together. My first task is to know what I want to say in this time for these times. Each song must explore and express truthful experience – once a song is born it seems so natural but some births are easy some require more gestation.
In which ways do you think Curved Air has changed in this 40 years of career? You can talk as much as you want, feel free to say whatever you want!
I think the first album was very atmospheric and powerful and carried in it the experience of many live performances during which the songs developed. Each album was innovative due to the style and talent of the composers, Darryl Way and Francis Monkman. The second album contained "Back Street Luv" and the great show stopping piece "Young Mother" Darryl became more drawn to melodic simplicity with perfect beautiful arrangements while Francis took the music into more involved and intricate experimental places . This is how they grew apart. After Darryl and Francis and Florian went their own ways, Eddie Jobson at 17 was a perfect replacement to satisfy the expectations that Curved Air produce classic dramatic progressive music. Francis's alter ego within the original line-up was his brilliant edgy guitar virtuosity – also a hall mark of Curved Air. Kirby Gregory took over that role… also young he kept the rock energy high and was a very exciting performer. Mike Wedgwood contributed a couple of songs which added to the album's diversity and I am very pleased with these interpretations of my songs, "Easy" and "Elfin Boy". This album, "Aircut" is my next favourite after "Air Conditioning". Then when the original group reformed and we recorded our live performances something was revealed that was not on the studio album. "Live" caught me in full flight, raw and abandoned… out of control, not fettered by expectations of perfection. It is a great imprint of the power of Curved Air in the moment. "Love Child" is sketchy… my four songs were recorded as ideas for the next Curved Air album after "Aircut" but the band had disbanded, I am happy that they are available now though. "Midnight Wire" was a strange period, it had a more American bluesy influence from the new players . Darryl enjoyed this colour and his melodic pop inventions were embroidered with riffs and funky elements, I was in a dark place so my friend Norma was my voice lyrically, speaking my reality, I couldn't write a sensible sentence at the time. "Airborne" was in my opinion a collection of diverse styles – a band with no direction, different writer's statements, I like "Broken Lady" best, an intimate personal song.In 1990 after years of our individual projects the original band re-grouped and played two shows : the first of which, a magical, historic night was recorded through the sound desk and became "Alive 1990″. It was a confident dynamic reminiscence and it is good that it exists as a very rough recording. Curved Air today is a cauldren of potential. We are truly truly alive : new players, Paul Sax, Robert Norton, Chris Harris and Kit Morgan adding nuances and fresh interpretations of the best of Curved Air's history and forming new masterpieces to add to the future albums and for the audiences who have welcomed us and are hungry to hear this music again played live to to hear what will be created next. This was why we recorded "Live Atmosphere".
And…what about the music industry? How was in the '70s? And how it's changed now? You don't have to be "gentle", if you think something, tell us, I give you the permission to be as nasty and honest as you want!
In the 60s and 70s great independant rock groups and artists were very fertile but there were not so many bands and recordings available as there are today. There was a great thirst for the exciting and inspiring material that people were hearing on the new independent and pirate radio station. Radio Luxemberg was very influential and the 'underground' scene that spawned psychedelic, cosmic and progressive fusion bands as well as singer songwriters and folk influences. Then there was Lou Reed and David Bowie. The New York charged Punk era was a different colour of stripped down direct communication and theatricality. The Eighties were weaned on the sixties and seventies and kept the punk theatrics and pop explorations and launched the mighty robotic Art of Noise bass and snare sound, new voices. The Police, the Smiths…. The Nineties was the era of Ibiza house dance computer white label DJ music, everyone was the star at the raves and clubs, always little fringe clubs too with all kinds of genres being explored in the back ground… in the foreground rap and Damon Albarn, Nirvana and Oasis. Now there is so much diversity from Radiohead to Sigur Ros. However the media generated X Factor etcetera is a talent contest that seems to regurgitate and reproduce and never find the soul of this generation listening to the past great performers and waiting for inspiration.Today everyone can broadcast themselves, record themselves, everyone one has a voice and there is so much that is not transporting or truly inspiring : Justin Bieber and Lady Gaga and the boy bands and girl bands are charismatic entertainers amplified and adored but this in not all that people want?
Sonja, how did you get started? Why and when did you start singing?
As a young child aged 7 I used to recite poetry at school and loved creative writing. Both I found put me in an altered meditative state that I enjoyed, as a result of intense imaginings, I learned to play a little piano and then a little guitar and learned songs from a book of 101 American Folk Songs. When I sang them people became entranced and were encouraging, so it was a rewarding activity also there was much of interest in acoustic music folk styles and blues and songs and singers – I heard Buffy Sainte Marie and her passion and beautiful delivery and songs were a big revelation, the Incredible String Band later, Robin Williamson's unique melodies especially delighted me, Bob Dylan's word weavings. I also was a fan of Dusty Springfield and the early Rolling Stones, I learned songs I liked and began to write some of my own and found folk clubs were places where people like me could show up and sing..
What was the main reason that got you say "Ok, let's do this, let's get back on stage" back in 2009?
Darryl Way had been asking for several years if we could try a reunion tour and Francis and Florian were up for it. However I was busy writing and recording with Marvin Ayres as MASK and I felt I couldn't divide my creativity.Then in 2008 Marvin and I had finished our second album "Technopia" and Darryl asked again so I thought that it would be a positive time to try taking Curved Air out and continue what we had started so many years ago. Francis however wanted to start again with new devised material and not deliver past songs and Darryl wanted to perform the best of our old material. They could not agree so Francis dropped out. After a few months of touring Darryl found it all too stressful and became unwell so he dropped out too. However we had already a wonderful guitarist and bass player, Kit Morgan and Chris Harris, and to replace Darryl I invited two musicians I had worked with in the late '80s /90s., violinist Paul Sax and Keyboard player Robert Norton, this is a group of virtuoso players who are happy to tour. Florian Pilking Miksa, the original Curved Air drummer has never played better and this lineup is a godsend for both of us…
You career spans for decades. If you had to pick…let's say 5 favorite moments of it, which ones would they be?
Playing the RoundHouse in Camden Town in 1970 and all our concerts there; The opening night of "Hair" at the Shaftesbury Theatre, London in 1968 and the entire run; Running my psychedelic wednesday nights at the troubadour club in Earl's Court in 1967; Playing with my Acid Folk Band on the Acoustic Stage at Glastonbury Festival in 1990 and all through till 96′; Playing in New Orleans in a sweltering arena supporting BB King and all the other US stadiums in 71/72.
And what about the songs? Can you list some songs (as many as you want) to whom you're really attached, for any reason?
David Bowie – "Five Years", "Wild is the Wind", "Golden Years"; Buffy Sainte Marie - "Until Its time for You to Go". Guess who I saw in Paris Janis Joplin: "Me and Bobby Mcgee", "Summertime"; Edith Piaf - "La Vie en Rose"; Jeff Buckey - "So Real"; Dusty Springfield "Snow Patrol" – "Chasing Cars"; Seal – "Kissed by a Rose".
Back in the 70s, why did you choose prog-rock? What attracted you to this musical genre?
I didn't chose it, it came to me. Curved Air needed a singer, I enjoyed their sound.
Can you remember the (almost) exact time when you were aware you were one of the most important prog-rock bands of your time? How did you feel at that time?
When we were rehearsing our set and Darryl played "Vivaldi". It was exciting, I felt this music was important like I knew "Hair" was groundbreaking theatre before the show opened in London and I was privileged to be part of it. I felt the same about this band.
You had lots of line-up changes. What have you learned from every Curved Air's member, how did every one of them influence the band as a whole? Of course, you don't have to list everyone (but you can if you want!), but maybe the most relevant ones (no offense intended for the other, of course!)
Francis Monkman was three things: an innovator of sound manipulation – a fearless guitarist and beautiful keyboard player; Darryl Way played violin in a true classical rock style and immersed himself in the latest technology for sound modulation for the violin and wrote great tunes; Rob Martin was a melodic bass player who also contributed beautiful pieces to "Air Conditioning"; Ian Eyre – flamboyant and dexterous bass player; Eddie Jobson - precocious brilliance, courage; Kirby Gregory – cool, hypnotic – true rock n roll attitude; Mike Wedgwood – loyal, solid great bass player; Phil Kohn - witty , quirky, funky; Mick Jacques – cool, expressive, kind, a real gentleman; Stewart Copeland – anarchic, ambitious and driven, very creative drummer.
Among your seven studio albums, what was the most difficult to record? Or, maybe, the one you're attached emotionally the most?
The most difficult to record was "Midnight Wire" – our first recordings were rejected by RCA so producers were brought in who forced the band to rewrite and rerecord the whole album – a miserable experience.The original version was great unfortunately now lost.
What can you tell us about your involvement in the acid folk movement in the '90s? How did you get attracted by it?
I was relaunching my career in 1988 when my youngest child was three, I was looking for a musical scene where I belonged, to begin again in those times. I returned to the Troubadour club in Earl's Court London where I had heard a "new acoustic scene" was happening, I watched and felt excited by these new young singer songwriters playing without amplification with personality and attitude. I took my turn to sing like I did when thirteen years old : I felt the fear of intimate exposure and began to write new songs. I was invited to play a headline set and sang all new songs accompanied by my new friends then I heard of the psychedelic scene when all kinds of weird and alternative new bands and poets and performance artists were attracting the new traveller hippies and newage punks. I asked to play and was made welcome. I gathered a band of strong improvisers – two brothers who were wild – Simon who played drums and steel drum and Tim who sang and played deep dark acoustic guitar – a brilliant violinist who a friend had seen busking with a street band – Paul Sax (now the violinist with Curved Air) a five string bass player and a fifteen year old child prodigy cellist. We played clubs and bars and colleges and festivals, sometimes unamplified – without even a mike, at other times electric and loud, with an oil wheel lightshow even in the most serious folk clubs. We toured for 7 years.
And what about your solo career? Did you get the chance to express ideas and explore things you couldn't have done with Curved Air?
My solo career is just continuing what I did before Curved Air, writing songs… except creating with my own bands and musicians and lately with an inspiring modern- classical composer/ multi instrumentalist Marvin Ayres.
Progressive rock now is not very followed worldwide nowadays. Talking about your fans, do you see new faces at every gig, or do you have your "high-fidelity fans"? I mean, how do younger people react to your music? (Needless to say that as soon as you'll come playing to Italy you'll see my face among the crowd!)
I have been in Italy on Halloween October 31st at the Xroads club in Rome with your band Oak who play progressive rock of their own and also covers of other progressive songs and instrumentals, I have been their special guest and they have been playing some Curved Air songs and I have sung other songs with them.There are young progressive rock bands in the UK who have supported us at concerts and festivals. They heard progressive music when teenagers and started writing their own music, yes there are new fans and children of old fans and people who are seeing Curved Air play for the first time as well as those who have followed the band for many years.
What can you tell us about your experience with musicals? Did they influenced you as a musician, or maybe gave you "hints" on how to act and entertain the public on stage during your concerts?
I was lucky enough to be in the Rock Musical "Hair" which did transform me from a static singer into someone completely at home on the stage. I had acted and been to drama college for one year but this was completely different – it was about being free on stage rather than forma stage craft. So when I joined Curved Air it was this experience I brought with me. I think of performance as shamanistic rather than disciplined, an exchange of energy between audience and performers, working with imagination and inhabiting personas. I also played in a traveling show of cabaret style French Piaf and Brel and other beautiful classic songs with strong English translation, "The French Have a Song for It ". Marsha Hunt, who also starred in Hair, wrote a musical and I played the female lead in that in 1982, I acted and sang in a musical play for TV in 1980 "Curiculee Curiculaa": I found these all enjoyable, not least because I love being part of a company, a group of people engaged in entertaining an audience and telling a story through Drama. I have played in theatre in straight plays also.
Now, a more "general" and more difficult and serious question. What do you think about how the world's changed in all these years? In all these years, you've seen some big revolutions, both political and intellectual (and musical, of course).
Yes, we are in times of great change and innovation, on the brink of great upheaval in lifestyles and government. The 60′s hippie dream seems far away but also integrated into the present time with "green" policies yoga, Tai chi, meditation, vegetarianism and rapid social changes between now and then that now seem unextraordinary. Such as women, gay and racial equality and the and the all seeing Internet.
Now that you're fully back on the scenes, what are your plans for the future, both as a person and as a musician? Do you have any upcoming important projects as "Sonja"? I mean…let's say, just to make an example…maybe you're organizing some big event? Just saying, it would actually be great to see a big festival full of important bands' reunions, like a big prog-rock fest!
I just look to get through every next day with an open heart and clarity and joy, to be free to jump into new arenas. This Curved Air band of superb players' development is important to me and also the potential of continuing my work with Marvin who is now the Curved Air producer too, I would like to do some quality film drama work and theatre too, plays rather than musicals.
Well…there would be lots of other things to talk about, but I think for now it's all! Thank you so much for your time, good luck for everything…and I hope to see you soon in concert!
Thank you Matteo – Curved Air "Live Atmosphere" has been released on 12th of November .
Links
Interview by Andy Axworthy
When you read that a band is by turns described as epic, symphonic, power, progressive and classic metal all in the space of a few paragraphs you might be left wondering whether such a broad approach could dilute the end result. Ivory Moon is one such band, however one listen to their latest album and it's easy to hear why in this case, the whole is greater than the sum of those descriptive parts. To find out more about this promising Italian band we caught up with new vocalist Gabriella Aleo to find out a little about her and about the rocking new release, "Dark Time".
Hi Gabriella and greetings from all of us at Femme Metal. How are you today?
Hello! Thanks for this interview, I welcome the opportunity to talk about me and the music I was involved from yesterday to today.
You've recently taken over female vocals for Ivory Moon. Can you tell us a bit about your background and of how you became a singer?
I have always supported my singing talent, heading for perfection in this art that is very complex today. I've been singing since I was a child but my serious studies began at age of 20. I studied opera singing at the Conservatory of Music and I have never stopped since then. I teach singing to children. Singing is an integral part of my life, I could not deny it.
You've come from the more classical side of singing. To us it seems like a world of difference between an aria like Habanera and full-on rock song like Apocalypse. How do you adapt to mixing up these vocal styles?
Opera and gothic are different, but they live parallel inside me. You have to know well the two musical paths from their technical point of view, and above all you'd be thinking wider than just those who sing only classical or rock. I have always been living with two musical souls. The mixing of the two genres should be done with care. I tried to be not too opera singer using a language more suitable for "Dark Time" and his genre.
You've also indulged your inner Electra, recording "Tutte nel cor si vento…" from Mozart's Idomeneo. How did that experience differ from working with Cristian Ice at Temple of Noise on the new album "Dark Time"?
There were two different experiences but both constructive. Music is what really matters, if it makes you feel good.
You share voice duties with Sandro Manicone. Do you both bring different ideas to the vocal parts or do you work together and adapt the style and harmony as the song writing and recording progresses?
Me and rocker Sandro Manicone are also friends in everyday life. We met even more by sharing this experience together. He is a great musician, composer, arranger and good singer. Along the way he helped me a lot on the side. In the past I had a brief stint with a heavy metal band: Zero Kelvin. I then absorbed part of the language back in this new project after so many years. We have given our voices to the songs of "Dark Time", we have not dealt with the processing of the texts. Sandro is a complete musician and also took part in the arrangements and musical choices.
We've mentioned Sandro. Could you also introduce is to the rest of the band and tell us a little bit more about each of them?
I've been knowing the band for a very short time, so I can say very little about them. What is sure is that I am sharing this experience with veterans for the fans of this genre. I am a newcomer, they instead go way back so they had plenty of time to design and create this music.
"Dark Time" had its digital release on the 1st October. How do you feel now it's out there and how do you feel it has been received by your fans?
I was very pleased and surprised by the performance of "Dark Time". "Dark Time" is my first record, so I'm glad to have left traces of me in music. The fans do not even know us, but they will be able to do it very soon.
The album itself is a blend of classic metal styles from power through to operatic yet it still has its delicate moments. It is consistently good throughout with tracks like "Soul Disguised" and "The Merchant of Venice" especially standing out. What was it like for you to go from recording and putting down your parts to actually hearing the finished songs? Was there a defining moment for you?
Certainly for me it was a challenge to face this genre. I loved this genre for a long time so I tried to absorb all possible shades. Recording for us means converting our ideas into music. The most important moment was when we heard all the mastering, and we listened to all of our work, all our dreams and our thoughts.
How about sing-writing duties? Do you all get a say in how the song ideas develop? How does a song like, for instance, "Out of Control" come together?
I'm just a performer who sings with passion and love for music, and then a popularizer. I never ventured to write texts. Everyone has their own role. Ivory Moon lyrics are written by the other members of the band.
Is there a story or theme to the song writing on the album? Where do you and the band draw your inspiration for the songs?
We took inspiration on actual topics of today's life: The crisis, rupture, rebirth. These were the pillars of "Dark Time".
The album launch gig is on the 7th December. How does it feel to get "Dark Time" out there in front of alive audience and what are you looking forward to the most on the night?
"Dark Time" will debut on Dec. 7 at the Jailbreak in Rome. We'll expect a good audience who can give us the right boost within this new work. I hope it could bring so much magic in everyone's hearts.
What about your own personal soundtrack? Who or what do you listen to when you've got some time to yourself?
My soundtrack is "Nemo" from Nightwish. I put this song as a ringtone in the phone : ) When I have time I use to listen to different musical Opera, Loreena McKennitt, Epica etc.
What would you be doing if you did not sing? What hobbies, passions or ambitions do you have when you are away from the microphone?
I can not see myself without music… I have several passions: I like to paint, I'm not an intellectual but I'm reading a literary work of Proust, sometimes I play games with Sandro Manicone and I love to walk my French Bulldog Morgana and take long walks in nature. I like to meet up with a few true friends and my family. I would love to travel every year….
Now you've taken this step from the light of opera to the dark side of metal what would you say are the main differences for you between the two styles of music? Does either genre have something that can be used and sits comfortably with the other?
The difference in the two genres is absolutely singing style. I think mainly you need to have a good voice, educated in classical singing and in the modern one, in order to obtain a good result. I always followed both the roads. In vocal symphonic rock you have to play a lot with the expression and sometimes the listener can be confused by a hybrid between an opera and a metal singer!
What can we look forward to beyond the launch gig? Are there any plans to tour with the new album? What next for you and Ivory Moon?
We're busy with this every single day. It is not an easy time for music here in Italy. We hope that we may get some specialized major label interested… it would be a dream.
Thanks for takin­e to chat with us Gabriella. Is there anything else you would like to say to the fans and readers to wind this up?
Ivory Moon strongly hope "Dark Time" can be appreciated both in Italy and abroad. Greetings to all!
Links
MySpace * Facebook * Twitter * Site
Latest Multimedia

Interview by Miriam C.
This time I've sit down with miss Autumn for drink a (virtual) tea, jokes aside, I have had the honour to speak with the last eclectic genious of our century. Ok, sound tacky and not true but it's really what I think and you know that I always try to be sincere with you all, dear readers. Eclectic because she's the true tightrope walker of the arts, she can switch from music to writing a glimpse of an eye. Genious, sorry but I really need to explain why? Now I prefere sitting in the corner and leave to her the word. For such person you have only to learn to fight and never surrender. Emilie is a true life's inspiration.
Hi Emilie first of all thanks so much for accepting this interview, I'm really honoured. I hope everything is going will with your American tour!
Hello, it's my absolute pleasure to sit down for tea with you today.
I'm gonna starting, before all, asking your about your book (that's already at 3rd edition, congratulations!) "The Asylum for Wayward Victorian Girls" that finally is out (again) to buy on your official shop, what details can you share about its genesis and the plot?
Thank you very much, that's very kind! Yes, the book continues to do very well and I am so grateful that so many people find this a story worth reading and making a part of their lives. It's truly incredible to me, since it is released independently and is only available in one place – my shop website (www.asylumemporium.com). For those who don't already know the story, this book is my autobiography of my time spent imprisoned in a mental hospital, but nothing is exactly what it seems, and the story quickly becomes a sort of fantasy, time travel, adventure, mystery novel that is actually quite a lot of fun to read. It is this story that's behind everything I do, from the music to the stage show, and this book has become the "Harry Potter" to the Plague Rats (the name for my audience) — the bible of this whole Asylum world that my art and life takes place within.
Emilie, your musical training lies in the classical music. How are you able to merge your classical side with the "industrial" one?
Once one stops thinking of music as being divided up into individual categories, each appealing to only one individual audience and begins thinking of it as just being a collection of sounds that blend well to accomplish an emotional purpose and tell a story, then it all becomes so much easier. Throughout the history of art, the way any new art form has evolved is that somebody put together things that traditionally didn't fit and simply made them fit until they seemed natural.
Despite being an artist, performer, writer – you're also a fashion designer. Congratulations for your dresses, I really love them. From where you take your inspiration and you never thought to create a dressing line for debut in such fashion events like Milan, Paris & New York?
Thank you so much for the compliment! The inspiration behind all of our costumes on stage is really quite simple, in that, just like the music, it's a blend of the old and the new, and then some fun fantasy bits that don't belong in any particular period but the imagination. Now that we have entered into a new era of performance with the "Fight Like A Girl" album and tour, I'm enjoying the new tribal elements, the warrior elements, the mohawk hairstyles and the bits of armor I am working today to incorporate. I've been sewing the new costumes before talking to you, and will get right back to work at it afterwards.
Now let's pass again into the musical side, on 2010 thru Twitter you have unleashed the title of your forthcoming album "Fight Like a Girl". It's really a strong title, what you can unveil about its creation?
The title of the album is meant to inspire a very strong reaction, and it does so because, even in this modern day in 2012, the phrase "you fight like a girl" is still used as an insult to boys, and to ridicule girls, and for absolutely no logical reason other than the misogyny that still infects our globally patriarchal culture. So, to those who are evolved and honor the feminine and are aware of her innate power, the title will immediately seems like a very positive thing, while to others who were taught that to do anything "like a girl" was a bad thing, the title will be more challenging, but this too is good. Art is about changing the way people think – not making people comfortable with what they already think.
I got really impressed by the statement that you have released for the PRs about F.L.A.G that says : "This record is my soundtrack. Of course, there's an overriding story arc. It's a social critique of the mental healthcare system spanning from the 19th century all the way up to the present, as well as the inequality women still face worldwide, whether they're crazy or not. I'm drawing upon my own personal experience as a notoriously bi-polar person who has been committed and lived to tell the tale. Hopefully, my story will give strength to those who need it, and raise a little awareness." – Did you have done some historic research for write down your lyrics? Also I would like to now if do you have a personal heroine that inspired you. Or you consider yourself the only and ultimate inspiration?
My great passion is history, and so, because it is what I love, I've done a whole lifetime of historical research, and will continue to do so, because it is what I study constantly. I certainly wouldn't feel I had any right to speak about things like gender issues or the treatment of mental illness if I hadn't the historical knowledge to back it up, and, also, it is by looking at the past that we discover how we became who we are and see where we can go in the future. There are so many strong women throughout history that I thank and am inspired by, from ancient rulers to early feminists, but I am even more inspired simply by the women I know, those around me, especially my Bloody Crumpets, Veronica, Contessa and Captain Maggots. These three ladies are the strongest, bravest, most talented and inwardly beautiful women I have ever known, and they inspire me every day.
Reading here and there I've knowledged that a Broadway musical taken from your "The Asylum for Wayward Victorian Girls" book is taking life. Have you any details that you can share?
I am very happy to be able to finally announce that Darren Lynn Bousman has officially accepted the role of director of the musical, so, between him and myself, this will definitely be a musical like no one has ever seen.
Also you have managed to put up your own imprint, how's it to be the enterpreneur of yourself? And why going solo? I mean your were onto Trisol, one of the best industrial label that I know. No more faith in the record companies?
Ha, yes! Definitely no more faith in record companies. None. I've been burned too many times, and have been stolen from, and have lost too much money that could have gone into my show or my work. All of my music and books from this point on will be under the label of The Asylum Emporium.
What you can tell me about Darren Lynn Bousman and Terrance Zdunich's upcoming project "Devil's Carnival". How you got in touch with the creators of the show and how happened to get involved into this project too?
They got in touch with me, actually. About a year and a half ago, I was on tour, and Melissa, my excellent manager, was contacted by Darren about this project. To be perfectly honest, I didn't know about Darren and Terrance, I hadn't seen the "Saw" films (even though I do have some songs on their soundtracks), and I hadn't yet seen "REPO! The Genetic Opera", so I didn't know what to think, but something about the very passionate way Darren talked about this project made me curious to know more. I very quickly became close friends with both Terrance and Darren, and, before I knew it, I was a part of this carnival family, and acting and singing in this magical, amazing film project with so many other wonderful actors and performers. I'm very proud to be a part of this film, and the best part is that we are soon going to begin filming for Episode 2!
The majority of people that listen music recognize that classical music as an elitist music. From your own side, do you think that with your music are you helping to "unhinge" such prejudice?
I really do feel that way, and I'm so glad and grateful to be in the position to encourage people, especially young people, to feel differently about something I hold so dearly. But the magical thing is that I don't really have to do anything other than make the music I make and let people come up with their own descriptions of it, or put it in their own categories. Those that enjoy my music, either the songs with vocals as well as classical elements, or simply my classical violin recordings, like it because they like it. And they often find that they love classical music, and even end up learning classical instruments, like the violin, because they want to celebrate and be a part of that kind of music and the joy it gives. But it's a very honest, non-judgmental approach. I'm not telling people they should like any particular thing, and so, when they do, it is very sincere, and they don't even know that they "aren't supposed to" like it.
What will be the difference between the "The Door Tour" and the upcoming "The Fight Like a Girl Fall Tour", what will change in matter of dresses, scenography and set list? Also all your female companions like Veronica Varlow & Co. are confirmed for the shows?
Yes, Naughty Veronica, The Blessed Contessa and Captain Maggots will all be joining me onstage. They are such a beloved part of this show to our audiences that I think there would be a riot of some sort if they weren't there! As I said before regarding the new costumes, we are definitely incorporating more of a tribal warrior element into both our look and performance, even the choreography. This next chapter is all about the war for freedom that takes place within the Asylum and the journey that we go from victim to victor. We want to take our audience on that journey with us.
What your next projects? – Including that fact that you have a lot on your plate, talking about the Broadway show, the film, a new book (a bird says me, right?) and new album to promote – what willbe your priorities here?
At this moment, the tour is the priority, but after that, my next two years will be spent mainly on the composition and creation of the Broadway musical based on the "Asylum…" book. It is an epic project that will take so much, but I think it will also be my greatest offering, and so I am willing to give it everything I have.
Emilie, thanks really so much to spend your time for checkout this humble questions that I've proposed to you, I hoped you have had fun replying in it. Feel free to greet our readers and your Plague Rats as you want. Thanks again!
Miriam, thank you so very much for your time and your great questions! And to all my dear Plague Rats, raise your paws and bare your claws, because we're coming for you and it's time to fight!
Links
MySpace * Facebook * Twitter * Site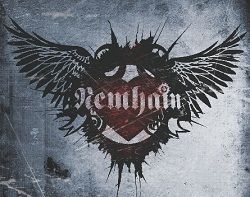 Interview by Robin Stryker
Gritty, Jack Daniels-fueled punk rock is alive and well in London. Nemhain, formed in 2006 by vocalist Amber Erlandsson and her husband, drumming maestro Adrian Erlandsson (ex-Cradle of Filth, The Haunted, At the Gates), have just unleashed their debut album, "From the Ashes" (released 22 January 2010 on Tiefdruck Musik). The band's name captures the essence of its music perfectly – Nemhain is the Celtic goddess of battle frenzy. And what a frenzy it is! With a pair of oven mitts and a fire extinguisher close at hand, Femme Metal sat down with Amber (aka Morrigan Hel) to get the whole story from the fire-breathing Welsh dragon herself.
Welcome, Amber! Please tell us more about Nemhain's blues-stained style of punk rock.
Cheers! It's best listened to when absolutely hammered apparently. We're loud, confident and wrong!
"From the Ashes" includes a raging cover of The Gits' "Second Skin" as a duet with Pete Dolving (The Haunted). Why did you choose this song to cover?
It was actually Lakis who came up with the idea. He came to try out for us and said whether he joined the band or not we had to hear this song and maybe cover it. It's a great song and fits what we're about. It's also a tribute to Mia Zapata and The Gits.
Which tracks mean the most to you personally?
They all do really, although my personal favourites are "Clear My Eyes", "Heroin Child", "Jane Doe", "Babylonia", "Speed Queen" and "Second Skin".
If I understand correctly, you were in a couple of bands and wrote many of the lyrics to "Girls Like Honey" as a teenager but Nemhain is your first experience with recording and gigging. What made you decide to go for it as a professional musician?
It's something I'd always wanted to do. I got to my 27th birthday and figured if I don't make a go of it now I'll have missed the rock n roll boat for good :S
Would you introduce the other members of Nemhain and tell us a little something about each one?
Lakis (Guitar): Is a strange creature from the planet Lak. He gets tangled in guitar leads, has nearly been run over a few times and attracts nutcases where ever we go. He also likes to pace a lot, especially in confined spaces!
Sam (Guitar): Is currently being taken over by his own beard. He has a talent for scat and does some cracking drive by scatting! He also seems to have a hat fetish and smokes brown roll ups.
Lisa (Bass & Vocals): Has OCD and a herd of wild Shitzus. She seems to attract hairy things. She also has narcolepsy and is made up of really intense energy drinks and the blackest coffee…
Adrian (Drums): Likes to hit things, a violent love/hate relationship with mobile phones, horrendous flatulence and a pocket full of pranks ready to weaken people at every opportunity. He's also extremely food aggressive, be warned.
Here at Femme Metal, we are suckers for romance. How did you meet your husband, Adrian? Was there a specific moment that made you think, "yeah, he's the one"?
I was working for Cradle of Filth at a signing when we first met, he'd only just joined the band. He chased me around plying me with Jack Daniels and trying to feed me things. He also fixed my boot which is always a winner. We got married after 7 weeks and now we're coming up to our 9 year anniversary! J
Lest people think that my dragon remark was rude, you really are a fire performer who has torched the stage with bands like Motorhead, Cradle of Filth and Godhead. How in the world does one get into the fire-breathing biz? Have you had any close calls?
Initially I was just messing around with a load of friends in the park, just for fun. A few years later I met my partner Sophia Landi and she taught me a lot and it all went from there really. When I was learning to eat fire and body burn, I got quite a few burns in my mouth/tongue and on my body but nothing too serious. The worst thing that's happened is that I ended up with Chemical Pneumonia from fire breathing. I was really sick for almost a month. Fire breathing is pretty lethal and I really wouldn't recommend it, it can kill you if you're not careful.
Turning from one type of blistering vocals to another, I understand that you have been working with a vocal coach for quite some time now. What areas are you focusing on at the moment?
I'd never had any vocal coaching other than two lessons with a friend back in 2006 and one three weeks ago with a lady called Tona Da Brett. I've got some vocal books and CDs but other than that I've just learned through trial and error and believe me there's been a lot of it ha ha!
Do you play any instruments?
I played violin at school but haven't touched one in years. I've got a lovely matt black Les Paul guitar and a red Zombie. I play mainly for fun and writing vocal harmonies but I'd really love to play live one day when I'm good enough.
With a background as a professional dancer, movie actress, performance artist, fetish model and Domina, you had extensive exposure to bands, performing and the media before forming Nemhain. Do you feel that your previous experience has been helpful?
To an extent it helps with stage fright but singing live for up to an hour takes a lot of stamina which is something I've really had to build up. When I first started out, I'd lose my voice but you learn to breathe and use the right muscles pretty quick! It's either that or no voice.
On the flip side, are you ever underestimated as "just an über-babe propped behind a microphone" (which completely ignores the fact that you write the lyrics)?
Ha ha, propped up! I do tend to prop myself up with my mic stand if I've had a few too many I'm sure there are probably plenty of negative opinions out there, but if you let that bother you'll just end up turning into a paranoid wreck. Anyone who knows me will know the amount of hard work that's gone into this band, there's a lot more than just writing and performing. There's artwork, promotion, booking gigs, organising shoots, the list goes on…
Nemhain and your stage name (Morrigan Hel) are both based on mythology. What is the lure of Celtic and Norse mythology for you?
I was fascinated by the Occult from an early age and part of it involved connecting with aspects of a deity. Celtic mythology is closest to my heart as it all comes from the UK & Ireland. I came across a book which featured The Morrigan pretty heavily & I had some really weird dreams after reading it. I then decided to take it on as a stage name, I think I was about 18 at the time. The Hel part is the Norse Goddess of the underworld and seemed like a good coupling. I used to skive off of school quite a lot as a teenager and spent a lot of my time reading about the Occult and Astrology, writing lyrics, drinking way too much cider and generally being a pain in the arse!
Time for random non-musical trivia … Favourite pair of ridiculously high shoes?
I've got a beautiful pair of black leather Alexander McQueen shoe/boots with skull details.
Cheese-toasties or chocolate?
Definitely cheese toasties, preferably with red onion and mayonnaise!!! Chocolate I can take or leave
Favourite piece of weaponry?
I've got a really nice, almost surgical style Japanese knife that I love.
Things you love?
My husband and close friends/band mates, my geriatric cat andsnakes. The smell of leather, music, fire, garlic, cheese, chili, travel, wildlife, food, booze, freedom, humour, the ridiculous and a good pub!
Things you hate?
Mediocrity, single white females, insecurity and jealousy are horrible traits, liars. Teddy bears, Hello Kitty, the overly processed, people with delusions of grandeur. Crowds and people who have loads of children without thinking about the consequences and then neglect them.
Causes that are closest to your heart?
Preventing animal cruelty, hate crimes and rape.
Your idea of a perfect day?
Being in bed with my husband
I was disappointed to read that the RockInvasion tour with Nemhain, Black Sonic and Die So Fluid has been postponed. Is Nemhain lining up new gigs?
It was a real shame but it will hopefully be rescheduled for later in the year. We have another tour planned for May with The Cumshots, M.A.N and Superbutt. It's a longer tour and we're really excited about it.
What plans do you and Nemhain have for 2010?
Finishing "Murder Mile" our photo studio, finishing and recording the second Nemhain album, filming a new video, tearing it up at festivals and live shows, and draining bars all around the world dry!
Thank you so much for taking the time to talk with Femme Metal, Amber. Any last words for your fans?
Thanks so much for all the support, it means a lot. Be sure to pour yourself a stiff one (or ten) and play "From the Ashes" until your ears bleed! XxX
Links
MySpace * ReverbNation * Facebook * Twitter
Latest Multimedia
6 color styles available:

Style switcher only on this demo version. Theme styles can be changed from Options page.