Browsing articles tagged with " pervade"

Interview By Andy Axworthy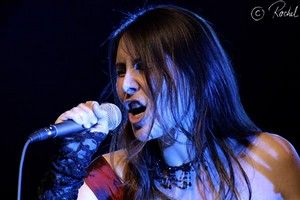 A band unafraid to liberally sprinkle some synth and associated electronica into the mix, Amiens' C-Rom are an intriguing mélange of styles, ranging from the mellifluous and melancholic through dance and darkwave to martial metal, all dusted with a soaring, soulful vocal. With second album "Flames of Knowledge" now safely under their belt, Femme Metal caught up with vocalist Christelle to talk about the latest release, styles and themes, opera and amongst other things, a penchant for of tea and cakes. Hi Christelle, welcome to the Femme Metal experience. Let's start, if we may, with a little of the story so far. How did you come to join C-Rom and could you introduce us to, and tell us a little about your fellow band members?

I started with C-ROM in 2001. At that time, the band had only begun rehearsals for a few months, and had only 3 members: François (keyboards and programming), Cédric (guitar) and Laurent (bass). They were looking for a clear female voice and my first tries were conclusive as they wanted something contrasting with C-ROM's first songs. After 2 demos, Christian (guitar) and Axel (percussions) joined the band and gave C-ROM a new dimension on stage.

What about the band's name? How did you all decide and settle on C-Rom?

The founder members wanted something short, without any "real" sense. The only connotations that can be found suited C-ROM quite well: the similarity with the terms "cd-rom" and "serum".
You are well established in France with your second album "Flames of Knowledge" released in December '09. What have been the personal highlights for you in the 12 months since the album launch?
We have not played live that much in 2010 but "Flames of Knowledge" received a lot of good reviews in magazines, fanzines or on the web. We are proud of that album, because it looks like we wanted it to become since the first songs were written by François.

"Flames of Knowledge" plays as a rock opera with its theme based upon the myths of Prometheus and Pandora. How were you drawn to this idea and do the tracks play out as episodes from the original stories or is there a more contemporary message within the songwriting?
When François wrote the first songs, it was with this theme in his head. And so were the other songs that compose "Flames of Knowledge". It was the first time we had a theme before composing. For "The Winding Star" the main theme appeared songs after songs but it was important for us to release a "concept album" that can be listened like you read a book or like a theatrical play or an opera. The "story" can be understood in both mythological and contemporary way…Fire is the contemporary science, which can help us and improve our lives but which can destroy the humans…
Talking of songwriting, do you have a principal songwriter and/or lyricist or are the tracks a collaboration of ideas from all members? Also, what were the challenges of using a subject like Greek mythology when it came down to deciding on the structure and arrangement of each track within the story arc?

Most of the structures are composed by François as I told you above. Then everybody works on them and gives his/her ideas in rehearsals, but the main structures generally remain the same. Some songs were composed by Cédric too. As for the lyrics, we really tried to work as a group. François and I, as well as one of our close friends who already worked with us for "The Winding Star" worked together on the lyrics.
The Prometheus/Fire theme is also represented in the album cover. What can you tell us about the idea and design for the artwork?
Fire had to be represented on the cover and booklet as every song is linked to it. We also wanted technology or science to be on the cover. These were our only criteria and wet let our new designer Flo work on the subject. Her first drafts were mainly the cover and elements people can see on the cd. She immediately understood what we wanted, and is really professional. Like for "The Winding Star" we also wanted a symbol representing the album…Christian who had designed the "Star" for our first album, started to design the "atomic fire" (as we call it) and Flo improved it in order to include it in her project. Then it could be used for our tee shirts and sweatshirts too!!!

I've seen the band's sound described as electro-metal but that does not really begin to sum up the range of styles to be heard, be it from plainsong to gothic, choral to industrial, sometimes all in the space of one track. Who or what are the band's main influences and if you had to pick a word or phrase that best represents your sound, what would that be?
Yes, all these styles can be stuck on C-ROM's songs. As we always have to put labels on bands or albums, we kept "electro metal". Speaking of style, is "Flames of Knowledge" still a metal album?? Some people or reviews speak of "darkwave", "pop" or "electro pop" with catchy melodies, and sometimes even "disco industrial" and "dance floor"…We invite people to make their own idea of our music, by listening to "Flames of Knowledge".

Your voice easily switches from light and lyrical to strong and sustained during the songs. How did you get into singing and how do you warm up when signing either in the studio or for a live concert?


I've got a good song teacher (who is the choir master of my lyrical group). With her, I practice many vocal exercises and learn many things. I need to work/warm up my voice before singing, and I need to be alone to do that. It helps me to be more relaxed. Before the studio, it's easier: I can sing in my car, I've all the time to get prepared! Before a live concert, I try to isolate myself while guys drink some beer!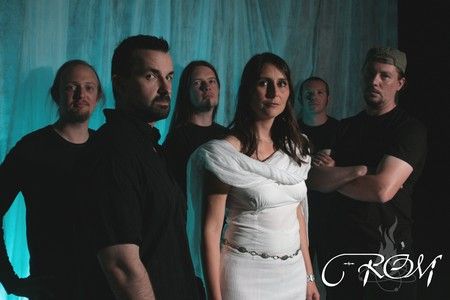 I understand that you also sing opera. Can you tell us a little about that part of your life? What is your favourite opera, part or aria?

I sing in a lyrical group called "Les Mezzos Sopranos". Currently, we play Jacques Offenbach's "Le Voyage Dans La Lune" which is funny, fairy and really interesting.
I play the role of a man who collects women: "Le Prince Qui Passe Par Là" (the role was rewritten for soprano voice). I sing alone (very impressive!) and sometimes sing together with the choir. I like operas because it's a complete art: I can be a singer, an actor and share many good moments. At the moment, I work (during my lessons) on a beautiful aria extracted from "Il Re Pastore" from Mozart. Otherwise, I like "La Traviata" from Verdi, Puccini's opera: "Turandot", "Madame Butterfly" (very sad but beautiful), "Carmen" from Bizet…
From that angle what if you decided to write a C-Rom album based upon an opera? If you ever thought of doing that, which opera (or operetta) do you think would lend itself to the band's style and why?

What a good idea! If we decided to write this kind of album, I would like it to be an opera that opens on different horizons. "Le Voyage Dans La Lune" could be this opera. It talks about love (and many other feelings), about women's place in the society, new experiences. It stimulates imagination. We could use our electronic, industrial and symphonic sounds…why not?

As beautiful as your voice is, do you ever get the urge to grab a guitar (or any other musical instrument) and let rip during any song or when you are in the studio? : )
I'm unable to play the guitar or any other instrument. The only thing I can do is using my little keyboard when I read a part!
"Temptation" is a good lead out video for "Flames of Knowledge", introducing the fire theme and setting the stage for the rest of the album. What can you tell us about the video shoot?
"Temptation" was shot by our usual director Xavier Labarre. He is a friend of ours, and is very receptive and open-minded and works hard on all his projects. As a non-professional director, and with our "no or low budget" he always manages to create something we can be proud of. He really works well.

Both "Temptation" and the video to "Doubt" (from first album "The Winding Star") feature a motif and use symbolism to help illuminate the songs and their themes. What is the story behind this? Does it represent a common thread within each album and can we look forward to this continuing with future C-Rom videos?
Yes, the symbol used on the albums should be used in the video clips….and the flames can also be found somewhere on our third video clip ("Narthex", which has just been released…this is a scoop: cf. link below). In a way it is a graphic summary of the albums' themes. Our third album would probably have one too. But it is too early to say…


What is your favourite C-Rom song, and how or why does it inspire you?

It is very difficult to choose… It depends on my temper! In "Flames of knowledge", if I had to choose one song (and only one), I would say "Mercy of the Gods" because it's dark and full of great emotions. Every time I listen to it, I'm carried away (even if I know it by heart). I could

easily cry on this song!
When you are touring is there any venue that you really look forward to playing? Also, if you could play a show/festival anywhere, where would you choose and why would that be?
Touring in Europe with bands like Samael or Pain would be great. Their public and ours is sensible to the same things and we would enjoy to meet another public which would be more electro and "darker" than the one of female singing voices bands.

How about having 24 hours to call your own and to do what you want. What would be your perfect day?

First, I would wake up with no alarm clock. I would like to go to Axel's studio, to work on a new album with a lot of "cups of tea and cakes"… I would go to the swimming pool too…and walk in the nature. Then in the evening, I would cook dinner for my friends….
It could be a very good day…

Finally, I've read that Laurent has hinted you might already be working on new material. Can you tell us anything about that and C-Rom's plans going into 2011?

We are currently looking for shows but nowadays in France, it is hard to find places to play. And when we find some, we have to accept to play for nothing or on stage with bad conditions. But we always enjoy playing live and meeting public. We are OK to play in any kind of festival: contact us !!! We are also thinking of our next album. Some songs have started to "grow" in François's head. We just know that it will be more un-organic with more machines.

Thanks so much for speaking to us Christelle. Is there anything you would like to add for our readers as a finale?

It was a real pleasure to answer your questions (even if you had to wait a lot… very sorry). It was a very complete and detailed interview. Thanks for your support.
Latest Multimedia
Links
Interview by Connie Bach
Virus IV is pure, solid, razor-sharp metal. No axes, just swords for this band; and it is an excellent sound. "Frightening Lanes" from the album "Dark Sun" is featured on the upcoming compilation, "Beauty and Brutality".
Hi, Magali. We appreciate the contribution Virus IV had made to the compilation.
It's our pleasure, thanks to Femme Metal for asking us to be part it !
Can you tell me a little about your history, with Beautiful Sin and other musical projects?
I got my first band when I was about 15 years old playing keyboards. One of my biggest musical meetings has been Samuel Arkan because he's the one who encouraged me to start singing! We've had lots of different projects together in the past and still are a powerteam with our band Virus IV or more recently on our work for his concept album Samuel Arkan's Origins
(www.origins-nation.com). Beside of this, Ayreon or Beautiful Sin have been both wonderful experience too, just to name a few. I'm very honnored that I could work with such talents as Arjen Lucassen or Uli Kusch.
How did you become a vocal coach? What kind of instruction do you ofer and what kind of students come to you?
I started to give voice lessons about 8 years ago, actually because people asked me to… I enjoyed to help them improve and quickly felt the need to study vocal theory myself to keep on becoming a good teacher.With time and experience I've specialized in strengthening the voice, working on power and vocal timbre. Most of my students are into rock or metal music and very often have their own band which makes it even more interesting. I mostly give private individual lessons in Belgium and for those who live too far, we meet on Skype, works great !
Would you consider your current path as a vocalist a career, a hobby, a calling, etc?
It's a career and a hobby all at once to me. Not sure about the calling.. who am I to say it… But I believe there's something magical about reaching people with a music or voice. It's a quiet intimate relationship that we share with the listeners…. priceless feeling actually !

What about the stories behind the other band members?
We all have roots and start from somewhere. Sam wrote and recorded with different bands. He actually contributed on the Beautiful Sin album for the bonus tracks of Europe and Japan. We've been working together for a long time. As I mentionned before, he's recently recorded his concept album Origins with Kristoffer Gildenlow (Dial, Pain of Salvation), Kelly Sundown (Beyond Twilight, Outworld), Rick Altzi (At Vance, Thunderstone)… big time… but more about it soon… Renaut has been involved in bands like Vhan, Virtual or Spirittales. We've had played together in the past too, before we decided to gather again in Virus IV. Sam and Renaut are really complentary in their guitarplaying, when one goes rhytmic, the other becomes melodic and vice versa… François (Boom) was a member of Dyslesia for over 15 years. He toured with bands like Stratovarius, Rage, Elegy, Iron Maiden, Helloween or Symphony X… And last but not least, Christophe joined us a bit later. He and Boom are such a powerful rythm section. Chris is also member of Headline & Eradicate. Actually it's hard to resume their each of their story… you can imagine it holds much more than that…!! We all have metal in common but with very different tastes beside of it… which makes our music quiet interesting I think…
How did Virus IV come into existence and what has the band's path to success been like? How did"Dark Sun" and the public's response, feed into the band's future goals?
Turning to "Dark Sun" itself, how was the album "born" and did it grow into what you intended?
Sam is the investigator of Virus IV and as we already were a team, I naturally joined him to become its leadsinger. After we had played in a progressive power metal band, we just wanted to do a more straight kind of music. Renaut joined at first on bass and François on the drums. We wanted to avoide all complicated structures or rythms with the album "Dark Sun" as a result. We've played a couple of gigs and realized how much we wanted to have a second guitar on stage. That's how we've found Christophe and how Renaut could exchange his place from being bassplayer to guitarist again. We ended up with the best formula ever wanted for Virus IV. The album has been gently welcomed by our fans and highly reviewed. The next album deserves a much better production though. We also intend to go back to our progressive power metal roots on the new compositions…
The corus of "Frightening Lanes" runs "…let me be your eyes at night. Let us just be one for a moment, for a while"; impressive lyrics. Where did the idea behind "Frightening Lanes" come from? Why did the band choose to offer that song in particular?

Well… imagine that fear could talk to you… it would let you know how powerful it can be when you make it our ally through life. We've chosen "Frightening Lanes" to be on Femme Metal Compilation, as this song represents most what Virus IV's music is all about.
"Dark Sun"
seems to be a little bit of an oxymoron. What is the story behind the title track?
Exactly…. We love to keep a little part of mystery behind our lyrics. I like lyrics to hold something when it's about interpretating them myself… We like to give our listeners the freedom to give a sense to the lyrics the way they feel for it. And talking about the band's name, what we loved about it is that it relates to something negative that nobody wants… a virus !! But the "Virus 4″ can actually heal people when it's scientifically treated. Means there's always something good to get out of negative stuff, even where you wouldn't expect it !
Moving on, what influences Virus IV's sound as far as music, culture, band members' various life experiences, etc?
We all have our own various influences. I could make a long list of inspiring bands… as long as the music is good, if there's groove, emotion… if the feeling is right, it can be any style but we all gather in metal for sure !! Metal is the law, power above any others !

Where is Virus IV headed? Where do you picture Virus IV, as well as your own personal goals?
What's typical about Virus IV is that we all decided as a band to take the right time to build something solid. More and more people heard about the virus… and we have a daily growing fanbase who help us infect the world with our music

Our goals are to bring out a powerful next album and play as much as we can in the future to share it all on stage, big time always !!
Only one more, and I would really like your input on this as well as the other band members. What value can be placed on a single lyric, or a chord on a guitar, or the beat of a song?

I don't mean in the physical sense, although that is part of it. What power can these things hold? This is all very personal… It really depends on our sensibility and life experiences. Music is borderless. It can be understood by everyone around the world and is a healer of the mind.

Magali, thanks for your time. I have to say, I was watching online and you offer one powerful show.
I look forward to more.Thank you Connie, I loved your questions. We hope to come overboard for a Virus IV show in the UK in a near future ! We could have a little beer together after the show, looking forward to it

Links
Virus IV : MySpace * Facebook * Site
Magali Luyten : MySpace * Twitter * ReverbNation
Latest Multimedia
Label : Pervade Productions/Thundering Records
Review by Tony Cannella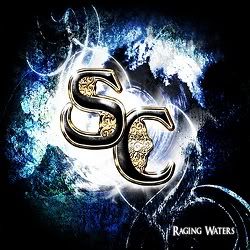 France's Syrens Call has a long history that began in the late 90s. They play melodic Progressive Metal filled with rich harmonies and melodies, all of which can be heard on their just released third mega-opus, "Raging Waters". "Raging Waters" kicks off with the pounding, up-beat "Hang On to Life". Syrens Call manages to write great songs that should please the progressive crowd while still managing to incorporate a classy commercial appeal to the songs. Highlights include: "I'm Your Only One", "Ashes of Destiny", "Perfidious Paradise", the haunting "Never Come Back Home" and "Desecrated Past" which starts of as a ballad and quickly picks up the tempo as the song progresses. The Coup de grace is the final track, the epic musically bombastic over 13-minute "The Dance of Light". This is just a wonderfully, huge way to end things that really left me wanting more. I love progressive music as much as the next guy but Syrens Call manages to avoid the traps that many prog bands fall into, writing songs with endless arrangements and performing musical gymnastics. There is some of that on "Raging Waters", but the band also proves that they are well adept in writing good songs, whether they are 4-minutes or 13-minutes long. In the end, it is all about the songs. "Raging Waters" by Syrens Call is as good as any female fronted prog-metal that I have heard in years. The band does a masterful job at mixing the intricacies that progressive bands are known for, while still maintaining a solid melodic base that could please fans that are not necessarily into Progressive Metal.
Rating – 92/100
Tracklist
Hang On to Life

I'm Your Only One

Ashes of Destiny

Cruel Love

Perfidious Paradise

Never Come Back Home

Desecrated Past

One Bloody Kiss

Relapse

The Dance of Light
Line Up
Soraya Hostens – Vocals

Thibaut Coisne – Lead Guitar

Stéphane Thuriot – Rhythm Guitar

Frank Manier – Keyboards

Eric Serre – Bass

Sébastien Paul – Drums
Links
Label : Pervade Productions/Thundering Records
Review by Tony Cannella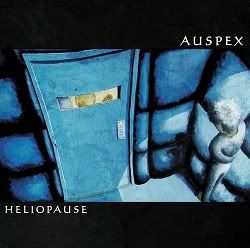 France's Auspex is not a conventional band. On their second album "Heliopause", this Progressive Metal band offers a unique sound that takes the listener on a musical tour de force featuring many unexpected moments along the way. I was drawn in from the very beginning of the opening tune, "Electric Sheep"; this track segues into the fast paced, frenzied energy of "Silence". This is one of the strongest tracks that "Heliopause" has to offer, it is a pretty good indicator of what makes Auspex such a potent musical force.It's all here, strong musicianship, tempo changes, some cool orchestration and Elodie's soaring vocal delivery. "I Walked Awoken on Titan" is next and has a majestic vibe to it. This is one of the unique tracks offered up here with Elodie alternating between spoken word and singing the lyrics. Once again, there are many tempo changes – and an interesting, almost jazzy breakdown at the very end. The 8-minute "In Through the Looking Glass" also became a huge favorite, with its big orchestral feel. The galloping "The Pulse of Emptiness" is another strong track. Other highlights include: "Setsunaki Tabi" (this song is sung in Japanese) and the 11-minute epic "Resolutio" which brings this excellent release to a close. Talk about an endurance test. One has to admire the sheer skill and courage it takes to do something this adventurous in a metal framework. Personally, I loved this band! I'm guessing that the songs and music on "Heliopause" won't be for everyone, given its daring style, but for those who want to take the plunge into a band whose style can't be defined, than Auspex is truly a band worth investigating.
Rating – 88/100
Tracklist
Electric Sheep
Silence
I Walked Awoken on Titan
In Through the Looking Glass
The Pulse of Emptiness
Setsunaki Tabi
0-1-0-1 (And So On…)
Ad Astra per Aspera
Resolutio
Line Up
Elodie Buchonnet – Vocals
Arthur Raulin – Guitar
Lionel Patroix – Guitar
Pierre-Yves Brun – Keyboards
Alexis Poitié – Bass
Frédéric Hugenell – Drums
Links
MySpace * ReverbNation * BandCamp * Facebook * Twitter * Site
Label : Bernett Records/Pervade Productions
Review By Tony Cannella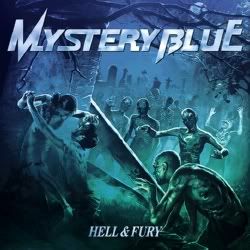 France's Mystery Blue has a history that dates all the way back to the 80′s. Who knew? I sure as heck didn't. Their debut was released in 1984 and after another release in 1986 the band took an over decade long hiatus, and returned with another album in 1998. I never heard about this band until 2003′s, "Metal Slaves". Now the band return with their fifth album, "Hell & Fury". Mystery Blue is just a pure, true Heavy Metal band, and "Hell & Fury" is an album filled with in-your-face guitar work and the soaring, wailing vocals of Nathalie. The opening intro, "The Night Before" is an interesting way to begin things, with faux news reports about people on a killing spree. Not sure if this is a theme that runs throughout the album, since I don't have the lyrics. Following the intro, the listener is immediately hit with a barrage of guitar riffs and the song, "Hell & Fury" comes blasting through the speakers like an out-of-control locomotive. "Endangering Species" and "Welcome to Chaos" keeps frenzy of guitar riffs coming. "Metal Attack" has an Accept, "Balls To The Wall" vibe to it, both with it's huge guitar riff and sing-along chorus. "Piece Of Eternity" is one of my favorite tracks, it starts off as a ballad, but don't think you are going to get a chance to relax on this one, as the tempo picks up, but this is still one of the more melodic tracks that band offers on "Hell & Fury". The band follows that one up with one of faster songs, "Nuclear Skies", just a great song to air guitar and headbang to. Other highlights include: "The Deadly Nightshade" and album closer, "When Time Is Pain". While Mystery Blue's niche lies in the traditional metal area, the band have also included some thrash elements in their songs. Mystery Blue are certainly a band that should have a great appeal with the traditional metal crowd. I found myself enjoying, "Hell & Fury" with each subsequent listen. "Hell & Fury" is an unrelenting metal album, that never comes up for air until completion. Whether you like this type of music or not, you have to admire the conviction, energy and intensity, in which Mystery Blue deliver their songs. Now, Bang thy head.
Rating – 89/100
Tracklist
The Night Before (Intro)

Hell & Fury

Endangering Species

Welcome to Chaos

Metal Attack

No Way Out

Fate

Piece of Eternity

Nuclear Skies

The Deadly Nightshade

When Time Is Pain
Line Up
Nathalie Geyer – Vocals

Frenzy Philippon – Guitars

Rikki Mannhard – Bass

Vince Koehler – Drums
Links
6 color styles available:

Style switcher only on this demo version. Theme styles can be changed from Options page.