Browsing articles tagged with " pesch"

Interview by Tony Cannella
As she enters into her 30th year as a recording artist, Doro Pesch shows no signs of slowing down. In fact, she continues to be one of the hardest working and driven musicians in all of rock, yet through it all she remains one of the nicest and down-to-earth people you will ever meet. With her new album "Raise Your Fist" being her most successful in years, Doro is gearing up for a busy 2013 and beyond. That is good enough reason to catch up with the metal queen and get low down on what lies ahead.
You were recently on tour in Europe for about a month before Christmas. How were the shows?
Yeah, we were in Germany, England, France, Czech Republic, Belgium, The Netherlands. Everybody was singing along, getting so excited. I really felt the new songs sounded awesome. The tour was mostly so out. 3 or 4 gigs were 99% full and all the other gigs were sold out. As we went on with the tour, every day we had some new news about shows selling out. It was great, so I think the record did really well and that was one of the reasons why there were so many people at the concerts. The whole tour was, I think the best tour we did in, oh god, I don't know in how many years. Playing packed places that's always so, so great. I hope when we do the American tour people will be just as excited, I'm so looking forward to it. But Yeah, I think the album was totally embraced by the fans and sometimes I saw some comments on the internet saying 'you guys don't play enough of the new album' and I didn't expect that because usually everybody wants to hear all of the classics. We did a set list where we combined all of the best songs from each album, but then sometimes we played more of the new record. In the States it came out a little later than in Europe and it made the billboard charts at number 64. I tell you, it moved me to tears, I was so happy to hear that, because you know how much America means to me, and that was the icing on the cake.  Continue reading »
Interview by Ed MacLaren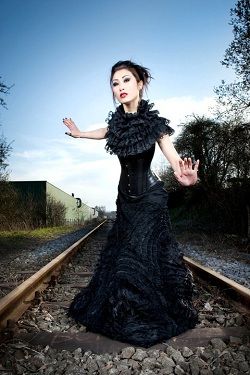 Since 2004, Germany's Krypteria has released a string of excellent symphonic metal albums – each reconstructing and redefining their trademark symphonic metal sound. With their latest album, "All Beauty Must Die", Krypteria has stepped out once again with amazingly ear-pounding results. Led by the formidable vocal talents and dynamic stage presence of Ji-In Cho, Krypteria are becoming as equally known for their powerful live shows as their complex and powerful music. Femme Metal recently got the opportunity to talk to Ji-In about the making of their new album where she breaks down the Krypteria sound and tells us why all beauty must die.
Welcome to Femme Metal Ji-In! "All Beauty Must Die" is out and it's a winner! Life in Krypteriapolis must be looking pretty good these days.
Hello Ed! Thank you very much! Yes, I can't deny that after all the time we were confined to our studio working on "All Beauty Must Die" we are now very happy about getting all the great mail from our fans and wonderful reviews!
"All Beauty Must Die" is hookier and heavier than any of your previous efforts yet you've still been able to maintain many of symphonic and choral elements that made "Bloodangel's Cry" and "My Fatal Kiss" such interesting listens. What was the band's mindset going into the recording of the album?
Like always, we poured our experiences and emotions we had to deal with in the last year into the record. But as you may know we set up our own label and that means for the first time in our career we are free – in every part of this business. That means we are now responsible for everything – even besides the music – and that is very exciting and new for us. We told ourselves that if we fail, we will die by our own sword. This might sound a little weird but because of this knowledge we feel totally liberated, independent and stronger than before. I really hope you can hear it on "All Beauty Must Die". By the way: we called our label Liberatio. (Smiles)
Do you feel that Krypteria has established a certain "trademark" sound that sets you apart from other bands – a sound that people will instantly identify with Krypteria?
I believe we do have quite a different sound from other bands. Not on purpose, this is just the result of our combined efforts at composing and writing. It is hard to describe in a few words, but I believe our fans will know by now what a Krypteria song sounds like. We have a knack for dramatic but still catchy melodies. We like to combine choir parts and classic elements with heavy riffs and beats. On our new album we have further grown and evolved musically. Maybe we are a little tougher and rougher, but unmistakably still Krypteria.
Are there still wild and unknown places the band still wants to explore musically?
There are surely a lot. But at this moment we are very happy with our baby and it is too early to think about our next steps or our next album. The only wish we have is to present our baby live on stage to our fans.
All Krypteria albums have a central theme that holds the lyrics and music together. What's the conceptual thread that ties together "All Beauty Must Die"?
Well, it's not a concept album like "Operation Mindcrime", "Streets" or our 2007 release "Bloodangel's Cry". It's about staying true to yourself and to your ideals no matter the obstacles. There's a lot of rage and yearning involved and it's about loss. But there's also a lot of resolve, defiance and hope to it.
While we're on the subject: why must all beauty die?
If I only knew!! Well, that's how it is and there is nothing you can do against it. You can't hold the good moments forever and stop time – only the memories can remain. But even these are gone when you die. To say something positive: not only the wonderful moments fade away but also the bad times and negative emotions are someday over.
Your singing is spectacular on "All Beauty Must Die". Your vocal melodies have matured immensely on this album. How would you chart your vocal evolution over the course of your time with Krypteria?
Thank you for the compliment but I guess my teacher at the Musikhochschule who taught me classical singing would have a hard time listening to my singing!(Laughs) I think everyone of us has found his place in the band. We all respect and appreciate each other. We also totally trust each other and we feel safe when we are together. I think it's always very helpful and encouraging if you feel comfortable and you feel accepted as the person you are. That's the best way to express and develop yourself.
Do you still work on improving your vocal abilities either through personal practice or professional instruction?
There are days when I sing all the time just to try out what's possible with my voice. And sometimes it's better just to shut my mouth! (Laughs)
A goal of the band seems to be capturing the energy of your live performances – especially yours – on album. Are you getting close to getting that dynamic down digitally?
I hope so. But in the end it's never as easy as we always have a lot of fun on stage – thanks to our audience. Every band would say so – the fon stage. Fans give you the best energy boost you can have and I could never compare these moments we share with our fans with anything else.
Although Krypteria started out more like a loose and informal "project", it seems like Krypteria functions more and more like a true collective. How does that affect the direction and arrangement of the music?
I never thought of this band being loose and informal. But you're right: the longer we know each other the more organic we're getting. I'm very thankful that we're aware of being four totally different personalities and treat this fact as an inspiring fact. That's why we try to make sure that every facet is represented. I'm sure that helps to make our album more multi-dimensional and more colorful.
"All Beauty Must Die" is a heavy album with tracks like "Messiah", "Higher" and "Eyes of a Stranger" but there's still room for your delicate piano flourishes. How important is it to express that musical aspect of your personality on each album?
I love to write songs with only my piano and I think it's a perfect instrument to bear up against the guitars. In comparison with the voice you can show a different and more complex atmosphere and in addition to my voice, the piano is very important for me to express myself and my musical imagination.
"The Eye Collector" is a standout track – and not just because it clocks in at an epic-length 11 minutes long. The intense arrangements and the simmering force of the music make it arguably one of your strongest tracks from any Krypteria album. What is it about extended tracks that bring out the best in the band?
Well, in this case this is easy to answer because we had a great inspiration based on a book by the German author Sebastian Fitzek. One of his fabulous books is a psychological thriller named "The Eye Collector" and we are relieved and very happy to tell you that he likes our song and the fact that it's inspired by his book too. (Smiles)
When you decided to bring in some guests to record you didn't fool around. Doro Pesch, Tobias Exxel and Olli Singer! Nice job! How did they do?
We are very happy that we could win these guys to play with us. For me personally, it's a big honor to sing a duet with Doro – she's really the Queen of Metal and no one is more experienced than her. After all these years she still gives to her fans everything she's got on stage and that's really something to admire. We got to know Eggy when we had our first gig in Germany. We shared the dressing room with Edguy and very soon we found out that they are very nice and funny guys. We are glad that finally after all these years Eggy could find some time to join us on the record – especially as a guitar player! And regarding Olli: he's the best guy we could find to replace Chris on stage. He's a real good guitar player but first of all a real good guy and we have a lot of fun with him when we are on tour.
Krypteria's artwork always shows a lot of attention to detail – both in quality and in reflecting the musical and lyrical content of the album. At the very least the skull logo will look great on a black tour shirt! How did the artwork for "All Beauty Must Die" develop and what were you trying to convey with it?
Talking about the artwork for "All Beauty Must Die", we were searching for a picture that would fit this title. I didn't want my face to be displayed again on our cover, because we already did that. So I came up with the idea of a female and Asian skull. Fortunately, my band members were also very curious about the idea and what such a skull could look like. Thanks to our great illustrator Torsten Bürgin we now have this fantastic female skull logo. If I had tried to draw up something like that, we would probably have a different cover – I'm a real bad drawer and painter!
We're starting to see more bands integrating members from different countries and making some incredibly creative music. This includes Leaves' Eyes, Tristania and Visions of Atlantis to name a few. You've been the lone South Korean in a German band for a long time now. Has your South Korea ancestry played a part in your contributions to Krypteria or influenced the direction of the music?
Not in a direct way. But I can tell you that my family loves music – especially passionate and wonderful melodies. We're very emotional and everyone in my family can play a classical instrument. So I guess this love for this style of music is in my blood.
"All Beauty Must Die" gives you four solid albums of excellent metal music to perform. Does the material give you an opportunity to express all facets of your personality on stage?
Absolutely yes. I love to live out all the emotions and subjects we are concerned with. It's really like a therapy and after every concert I feel clarified – I'm very thankful for that.
Will Krypteria ever get around to capturing your live energy and the band's stellar performances on DVD?
I hope so and I'm sure this wish will soon come true! (Smiles)
Where will "All Beauty Must Die" take you touring this year? Any chance for an appearance in North or South America?
So far we're abroad in Asia and some other foreign countries but unfortunately not in America. We would really like to but there are no confirmed dates yet. Later this year we will tour in Germany. But let's wait and see: not everything is set in stone, yet. (Smiles)
I am not good with last words. All I can tell you is what I tell myself as often as I can: Enjoy your time on earth and keep in mind the wonderful moments but also the bad moments – you never know for what they are good for!
Links
MySpace * Facebook * Twitter * Site
Latest Multimedia
Interview by Gaia Stella Rotondi
Transcription by Alessandro Narcissus
Intro by Miriam C.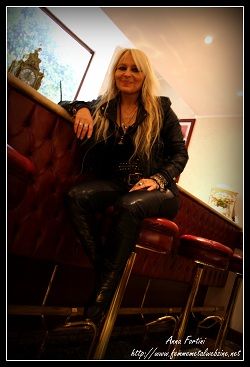 On a hot summer day (to be precise on the 12th September) we've met in a hotel in the centre of Milan during the promo day dedicated to "Raise Your Fist", the German metal queen Doro. Let's hear directly from her the latest news. Some words dedicated to the memoir of the late Mr Ronnie James Dio are present and we join with her to his memory publishing this interview.
Today Femme Metal is pleased to have the metal queen Doro Pesch as guest. Hi Doro, how are you?
Hi there, I'm very good! Thank you for the interview, it's great to be here in Italy!
We know that your new album, "Raise Your Fist", produced by Nuclear Blast Records, will be released on October 19. Could you tell us something about it?
We've worked for over half a year on it. We recordet it all over the world, from New York and New Jersey to Hamburg, we've mixed it in Danmark with Jacob Hansen, who'se the producer and engeneer for all of it. I wanted to make sure that the sound is hard, powerful and really, really good. The first song, "Raise Your Fist in the Air", I kind of had the feeling it might be the first single. So I sent it out to many people, everybody mixed it, and then it was hard to choose 'cause many were really good, but when I heard Jacob's work I said, "Okay, you're the one!". There are some special guests on the record: I sing a duet with Lemmy (Kilmister from Motörhead Ed.) on one of my favourite songs, "It Still Hurts", which is a very touching and emotional ballad, and I love it so much, and I also love Lemmy for the longest time, he's great! Then we have another guest, Gus G, the guitar player of Firewind, and he plays a solo on "Grab The Bull (Last Man Standing)". A good friend of mine made contract with Alex Krull from Atrocity and Leaves' Eyes, and he's a guest on that song as well. Then there is "Hero", which was the first song we wrote for the record, and it's a tribute to Ronnie James Dio: so many fans were totally heartbroken when he died – including myself, I was totally devastated and after all this time I still am! – so I really wanted to say thank you and pay respect to him.
Could you tell us something about the importance that Ronnie had in your life?
Yeah! Beside being an amazing singer, I think definitely one of the best, he was a great friend and my biggest inspiration! I had the chance to meet him many times, we toured together – actually my second big tour, back in 1987, it was with Ronnie James Dio and it was great because it was the peak of heavy metal with big venues and fans, it was unbelievable and really unforgettable! Then we had the chance to tour again a couple of times and one of the greatest experiences was the American tour in 2000, because, as you probably remember, in the Nineties grunge was big and heavy metal had a really difficult time; and then, in 1999 I felt it was coming back somehow and I did a song for Ronnie James Dio's new album, then he held a release party in New York and I was there and I went to say hi, and he was like "Hey, I like the song so much, it's magical!". And a couple of weeks later we had our record done – I was "Calling The Wild". We were in the middle of an interview with a radio station in Tennessee, and we were talking and they asked if we had any touring plans, I was like "Not yet, but of course we want either to open up for someone or do our own club tour", and then the lady said she was like "What about Ronnie James Dio?", and she was going to interview him in a hour so she suggested us to him! And a couple of weeks later we were on tour together and it was great! The last leg of the tour was in Florida and we always sang the encore together! He went to the monitor guy asking for a second microphone and came on stage. In 1987 I could not speak English that well, so we were just like "Hi, great show", but in 2000 we really got much closer and became really good friends.
In "Raise Your Fist" you had the chance to work with many other musicians. As you said, you collaborated with Gus G from Firewind and Lemmy from Motörhead. How did it feel to work with legendary and new generation artists at the same time?
It's great every time! It was a honour to work with somebody special like Lemmy. He's my hero, I love Lemmy! We played together in the very early 80′s and now we were on tour together two years ago, and it's great. He's very soulful and a total gentleman, a great talker, a great musician. With younger generations, when people love music there's always this common ground. With Alex Krull we always met in Wacken and he suggested that we do something together and his wife Liv Kristine, she was at my 25th Anniversary gig and performed on "Celebrate" along with all those great ladies that met on stage. And we all felt connected then. There is one song on the limited edition called "Strong And Proud" which I wrote to talk about this connection with all the female vocalists. I think it's pretty cool because we're all supporting each other and connected, there is a lot of unity.
An EP was released on August 3rd, to precede the upcoming album. The EP contains four songs and it includes also a French version of the single "Raise Your Fist in the Air". Would you like to talk about the reasons of this choice and about the EP in general?
After I recorded the demo of the song, I played it to some people involved with Wacken. When they heard it they were very enthusiastic about it and wanted me to play it at the festival. It was not finished yet, but they really wanted it, so I was like, ok, I can try. Then I played it and I got a great response. Everybody's fists were in the air. It was the first day and I played it in front of about 50,000 people, they all liked it, so I thought it could be a great single. Then I tried it out a couple of times when I played in Europe, in Moscow, and I also wanted to play it in Lyon, in France. I tried to say something in the native language, so I asked "How do you say 'Raise your fist in the air' in French?" and they told me "Lève Ton Poing Vers Le Ciel" and it was really cool! And then there is another story: one day I was introdued to a girl called Vanessa who really wanted to hear a song in her native language because she only speaks French. On my previous album I recorded several versions of "Herzblut", like in Spanish and in Portuguese, so I also made one in French and I dedicated it to Vanessa. She was really happy! She has two sons and said "When I have a girl, I will call her Doro!", which was really cool! I was very happy! So I decided to do another French version on this album.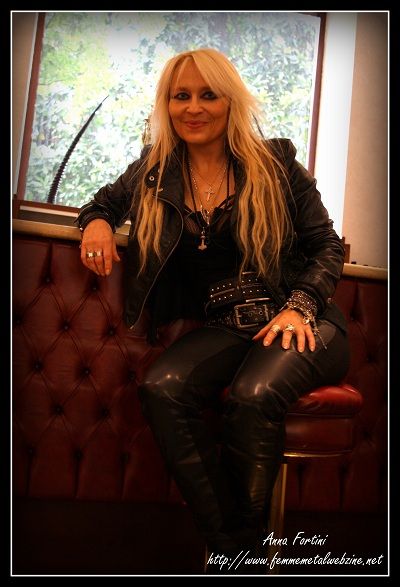 The guitar player on "Raise Your Fist" is Luca Princiotta, an italian musician. How did you meet him?
I met him a couple of years ago. I was in Italy doing a little appearance for Clairvoyance. There I met Luca and I knew he was a great musician. Then joined us for the keyboard when Oliver Palotai was busy touring with Kamelot. We really got along and played many gigs, so he joined in as guitarist for the new album.
You have released also a video for the single "Raise Your Fist in the Air". We know that you love the city of New York, but the video was shooted in the Bronx area. Why did you choose this place and how would you describe this experience?
It was quite an adventure, quite dangerous too! In New York it's very hard to fill in to get a permission and stuff. So we were like, okay, you know what? We just go there with our truck. We go everywhere we want and when the police comes we just get back on our truck and run away! We went all over and then elsewhere too. We went to all kinds of neibourghoods in the Bronx and in Harlem, and while I was singing, suddenly people were coming up to see what we were doing. At a certain point there was like a gang, and we were like, "Oh God, sorry, we were just shooting a little video!", but they liked the song although I think they were more into rap or that kind of music, so we asked them to join us and it was really cool! Everybody came in, we shot under a bridge, there were also some homeless people who showed up as well, even a guy who said he liked jazz but stopped all the same, and my band was in the video too, so… gang members, homeless people of New York, all united by music, it made all of it immediate. It was much fun!
You often play at metal festivals, such as the Wacken Open Air. What do you think about festivals and how is your relation with the fans during these events?
I love playing festivals. My first time playing in Wacken was in 1993 and there were maybe 2000 people. It was very small, just the area where now the bands' dressing rooms are. And since then every four or five years I came back, and a certain point there were 20,000 people and the whole thing was going bigger and bigger. What I love so much was that the organisers of the festival were two die-hard metal fans, because no one wanted to do metal festivals in the early 90′s, so it was a festival from fans to fans, you can still feel it today. And the village near it, everybody is very welcoming to all the metalheads, back then somebody even welcomed us to sleep, which is really great because, you know, all those guys with long hair and tattoos and stuff… So I specially love Wacken, but I also love Gods of Metal, Metalcamp… I love it all, every festival is special in its on way. People from everywhere come and enjoy so much music, you can see all your friends, all those bands, all the fans of other bands, everybody has stuff to do but you can reconnect with the fans.
In 2006 you made your cinematic debut in the film "Anuk". You returned to the set for the second part of this film that will be released at the end of 2013, and it is called "Anuk – The Path of the Warrior". Would you like to talk about this film and the shooting? Is it true that the soundtrack will contains music from the upcoming album?
Yes. The producer is called Luke Gasser. He asked me for the movie and then I did some more music for the film, very different in a way, for there is not only words. We were doing the music together and I just came back for shooting the movie. It was a little more difficult than usual because I also had to do the promotion then go on tour. This is the second part to end "The Path of the Warrior", it's an adventure, the good guys against the bad guys, it's set in 2000 BC. The first movie was a lot of fun! It's an independent movie, the budget is not big, it's just not like a Hollywood budget, but everybody put so much energy in it. It's very demanding, getting up every day in 5 o'clock in the morning, then working hard for 16-18 hours a day, there were 50 horses, many people who did the stunts, I was filming often in the water so I also hoped I would not get ill – but I didn't! On the last record, "I Lay My Head Upon My Sword" was for the movie.
You're on the metal scene since the early 80′s. Is it difficult to hold the crown of Metal Queen for such a long time? What is changed since the beginning of your career?
Well, it's so nice when people have good things to say about you, it makes me so happy! But actually I'm just a normal metalhead. I still love metal, I still love the fans. I just try to make the fans happy, which is the most important thing to me, it's my mission. For so many years it's been great and I owe much to the fans, they always support me in good and in bad times, like when grunge was big in music. I love my fans more than anything and it's my aim in life to make fans happy and to give them something they can believe in and enjoy, give them some positive power. Now, being called a "Metal Queen" is such a big word, I just work each day to make something nice, but it's only me, I still feel like when I started it all, when I was 22. It feels like 6-7 years ago, not certainly like 26 or 27!
Thank you so much for being here and replying our questions. Is there anything else you would like to say to your fans?
Yeah! The most important thing in this world to me, which will never ever change, is my love for them. I'm still there, I'm still giving 100%, and I want to say thank you to all of them! They give me all the energy and all the support, so… thank you so much, it's very important to love each other!
Credit Photos
Exclusive Photos shot by Anna Fortini
Links
MySpace * Facebook * Twitter * Site
Latest Multimedia
Label : Nuclear Blast Records
Review by Tony Cannella
With her new album "Raise Your Fist", Doro Pesch continues to release good to great albums that never betrays her loyal fan base or her love for metal music. The new album is a perfect example of this. You want anthems? They're here. You want ballads? They're here. You want straight forward metal songs? They're here. You want… well, you get the point. "Raise Your Fist" has all the ingredients that Doro fans have come to expect and love. The songs on "Raise Your Fist" have a raw, live and energetic feel to them – beginning with the anthemic opener "Raise Your Fist in the Air", I'm sure this one will go down great at her live shows for years to come. The next song "Coldhearted Lover" is a mid tempo song that is more rock than metal, but it definitely gets the job done. "Rock Till Death" has a rumbling guitar riff and is another powerhouse anthem. "It Still Hurts" is the first of the ballads on this disc and once again sees Doro collaborating with Lemmy Kilmister from Motorhead. "Take No Prisoners" opens with – what sounds like – an air raid siren and definitely has an early Warlock ("Burning the Witches" / "Hellbound" era) feel to it. "Grab the Bull (Last Man Standing)" has another rock vibe and features a guest solo by Ozzy Osbourne / Firewind guitarist Gus G. It's easy to see why Ozzy chose him to replace Zakk Wylde – the guy is an immense talent. "Revenge" is a classic metal sounding song with a hint of speed metal at certain points in the song. "Free My Heart" is the best of the ballads. The album is concluded with Doro's tribute to the late Ronnie James Dio with "Hero". This is a heart-felt tribute to a legendary singer and Doro's good friend. The song does have a sort of Dio vibe and I can't think of a better way to end "Raise Your Fist". Doro Pesch is kind of an icon in the female metal scene, yet she doesn't seem ready to rest on her laurels. "Raise Your Fist" may well be the best album that Doro has released in a number of years and that's saying something when you consider the enormity of her catalog. It is obvious that Doro still puts her heart and soul into every song. You've got to respect that.
Rating – 90/100
Tracklist
Raise Your Fist in the Air

Coldhearted Lover

Rock Till Death
It Still Hurts (Featuring Lemmy)

Take No Prisoners

Grab the Bull (Last Man Standing) (Featuring Gus G.)

Engle

Freiheit (Human Rights)

Little Headbanger (Nackenbrecher)

Revenge

Free My Heart

Victory

Hero
Line Up
Doro Pesch – Vocals

Bas Maas – Guitar

Luca Princiotta – Guitar & Keyboards

Nick Douglas – Bass

Johnny Dee – Drums
Links
MySpace * Facebook * Twitter * Site
Label : Nuclear Blast Records
Review by Tony Cannella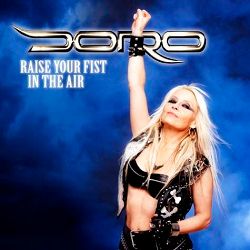 The long awaited new song from the German metal queen Doro Pesch is finally here. The new album "Raise Your Fist" will be unleashed sometime in the fall, until then we have the title song (all most) to tide us over. In addition to the song "Raise Your Fist…" this EP also includes the songs: "Victory", "Engel" and the French version of the title song. In short, "Raise Your Fist in the Air" is classic Doro! "Raise Your Fist…" has already been performed live and went down well, which is no surprise because it sounds as if this song was meant to be performed live. It has that anthemic "All We Are" feel to it and has tons of energy and power behind it. "Victory" is next and it has its moments. The song is dominated by a grinding guitar riff and a fantastic, memorable chorus. "Engel" is next and is a haunting ballad sung in German that picks up steam as the song progresses. The EP is completed by the aforementioned version of the title song which Doro sings in French, something she has done quite a bit in the last few years. Let's face it. With a career spanning almost 30-years, Doro is not trying to re-invent the wheel or herself for that matter. She knows what her wildly loyal fan base wants and is more than happy to give it to them. With the new album on the horizon, this EP serves as a precursor and an appetizer for what should be another solid outing.
Rating – 89/100
Tracklist
Raise Your Fist in the Air

Victory

Engel

Raise Your Fist in the Air (French Version)
Line Up
Doro Pesch – Lead Vocals
Bas Maas – Lead Guitar

Luca Princiotta – Guitar & Keyboards

Nick Douglas – Bass

Johnny Dee – Drums
Links
MySpace * Facebook * Twitter * Site
6 color styles available:

Style switcher only on this demo version. Theme styles can be changed from Options page.