Browsing articles tagged with " petersbourg"
Interview by Vard Aman
To rise from the sea of Female Fronted Symphonic Metal and stand out as a band that is both of an exceptional quality as well as something that is distinctly different from the rest takes quite an act; and Lanewin, from St. Petersburg, is just such an act. They are fronted by Anna Belaeva – a multi-talented, versatile and highly imaginative vocalist; if you listen to their newly released masterpiece "Eclectic Tour", you'll hear what I mean. I was honoured to interview her recently.
Hi Anna, welcome to FMW! First of all, tell us a bit about your singing career before Lanewin? When did you start singing? What inspired you?
Hi! I'm glad to be here and answer your questions! Honestly I didn't have any singing career before Lanewin. I started singing at the age of 18 and immediately formed Lanewin, because I was not able to live without music and singing. What inspired me? Well, one evening heard amazing song that my friend sang to me. It was Nightwish's "Sleeping Sun". I was so impressed by that music, that the same day I listened to all their songs, and straight after that I started listening to music, before that day I didn't listen to it. And several days later I tried to sing with Tarja's voice, and soon realized that singing is what I want to do in my life. Continue reading »
Interview by Ed MacLaren
Plagued for years by technical issues and internal strife, it didn't look like the debut album from Russian goth metal band t.h.e. Sacrament would ever see the light of day. But good things always come to those who wait – after four years in the making, "The Sobering Cold" has arrived and it was worth every second. An impressive mix of dark melodies and rhythmic crunch, "The Sobering Cold", shows no audible sign of the pains of its creation. Femme Metal talks with vocalist LoraSS about the troubled birth of "The Sobering Cold" and how it brought t.h.e. Sacrament together closer than before. The best thing is that they have four years of material ready to record.
It was a long wait but "The Sobering Cold" is out and it's an awesome album of atmospheric gothic metal. How does it feel to finally get this material out to the fans?
We feel that we did it! Now we can say that we called it a day! We feel that we can start work on our next material which waited on this release for so much time!
It took four years for the band's original vision to come to fruition. What was the genesis of "The Sobering Cold"? What were the delays and why did they happen?
"The Sobering Cold" contains all our first songs, written until 2006. But there were several causes that delayed its release. First, some days before the album presentation the record-studio gave us a completed but very bad quality CD. Everything was damaged: the recording, mixing, mastering and most of all the input material. It meant that we had to start again from the get-go. Second, I left the band when the album was being mastered. While I was absent, t.h.e. Sacrament made its own record-studio and its engineering quality was better than the quality previous to that. That's why when I came back we started the record a third time.
You left t.h.e. Sacrament for a period but returned in time to complete the album. What changed for you and the band during the time you were gone? What brought you back again?
It seemed to me that the mutual respect re-appeared between us. It was chance to start again from the get-go. I think it was a necessary period in our lives; it gave us the possibility to value the importance of each other. I'm sure it is good.
"The Sobering Cold" sounds incredibly mature for a debut album. Did the long gestation period allow you more time to perfect the music? What did you think of the results?
Thank you! I think that it was so, we had more time for the work on our album, and above all, we had the possibility to correct our mistakes, to re-record moments that weren't liked by us. We had time to become more professional musicians so we did a more mature product.
How did the delays in writing and production impact the finished product? Did the album turn out differently in 2010 than if you had finished it back in 2007 or 2008?
Of course, the album turned out in 2010 has differences from the previous variants of that. First, is the quality of the performance, recording, mixing and mastering. Second, it contains our new view of the material, new sounds and details have appeared, I have improved my vocal parts and added backing vocals in many songs. In "The Little Kingdom" we have changed it with an invited vocalist.
How did the band develop its sound? It's a unique blend of atmospherics and aggression.
I think it's different views of our music by the musicians. It seems to me the atmospherics is the female basis in our band – until recently the key board player was Juliett. And the aggression is male.
Musically, "The Sobering Cold" is a seamless unification of atmospheric keyboards, aggressive guitar riffs with a very inventive rhythm section. Do the guys in the band come from different musical backgrounds? If so, is it a challenge to combine all these influences and stylistic differences into such a sophisticated sound?
No, the guys and one lady on keyboards either came from similar or alike musical backgrounds or our band was the first band in their life. Of course, we are all affected by our favorite bands therefore there is this a combining of all these influences and stylistic differences.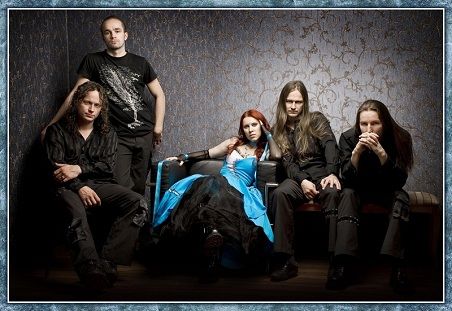 Your vocals on "The Sobering Cold" are wonderful. Your voice is clear and bright with a purity of sound that contrasts with the dark musical atmosphere. It has a sound quality that is unique among female metal vocalists. What were you trying to achieve with vocal contributions on "The Sobering Cold"?
Thank you! The most important thing for me is the emotion. I'm trying to say my thoughts by the intonation and the emotion, even maybe not by the words because there are a lot of people in Russia who don't translate the lyrics. Let it be only feelings such as melancholy, fear, uncertainty, anxiety etc. It's great because it means if I can create the mood, I can touch the soul.
"The Sobering Cold" is a great headphone album. The production is very meticulous. Tracks like the intro piece to "Falling Star" and "I've Got Only One Day" really benefit from the extra attention. How important was it to focus on the little details for this album?
You know, we never thought about it. We didn't try to focus on it is what I think we would say about considering variety, dissimilarity between songs per se. They're just different with their stylistics.
"The Little Kingdom" is a standout track on the album. It's more experimental vocally and is bolder in its arrangements and instrumentation. What were you trying to achieve with that track? Is it a bit of a taste of the direction t.h.e. Sacrament is heading on future releases?
No, it isn't so. It is just one of our songs. If you say that it's more experimental vocally, we simply invited a vocalist with clean vocals (because we haven't a clean male vocalist in our band). He, Roman Rain, is a famous musician in Russia, so it was an experiment of collaboration with a talented and original man. Also we invited Dmitry Rishko (Dominia) as violinist and keyboard player; he has an inimitable style and I think he has an influence upon this song.
The album artwork is beautiful and very striking. How does album title and cover imagery reflect the music on the album?
I tried to show despair, hopelessness, the feeling of time lost, because the majority of the album lyrics contains this subject area. Unfortunately, we often don't value our life, people who surround us – we are selfish and blind. We lose opportunities and regret it. I tried to say that the only cause of our tears is we ourselves, and if you dive into cold water in winter you may reveal that frozen water over you. Our life is in our hands, and we're responsible for our future. The album title and cover imagery is the moment of this truth.
The goth metal scene is very crowded these days. It's very hard for a new band – especially one with a female vocalist – to stand out. In the early days of the band, was there a conscious effort to try to do things differently?
We never think about it. We write music that we like; we don't think and don't know what it will be at the end. And in our early days we did that also. For us it isn't possible to push creation into narrow stylistic boundaries; we think these boundaries will deprive it of the air, the freedom. And if at some time we write a pop-rock song, we will play a pop-rock song, because the most important criterion is that our music must be liked by us!
We're starting to see more and more femme metal bands emerging from Russia. What's the scene like over there for bands like you and other metal bands featuring female vocals? Are there any stigmas or preconceived notions attached to being a female-fronted metal band or is there a lot of support for this type of metal?
I think there isn't a sharp difference between femme metal bands and bands with male vocals. Every band finds their fans, some people like the female voice, some people like the male voice. There must be different types of metal for different tastes. And the most important thing for many people is the quality of the band's material and the performance instead of the kind of vocal.
Are you going to be touring outside of Russia this summer or are you staying close to home? What we really need is a touring package of all Russian female-fronted metal bands. If you could put a tour together for t.h.e. Sacrament, who would be performing with you?
We aren't planning to tour outside or inside of Russia and some gigs this summer. There are two causes: we're working on our new release and summer is the dead season for music bands in Russia. In order to have the tour outside of Russia, we must be known to somebody in another country especially to concert agencies! I think we are only on the way to becoming a famous band and all is in the future for us. But if I'd dream of an outside tour and of the female-fronted metal bands with which we can perform, I think it would be …
(Famous) last words?
I wish for more good music.
Links

Interview by Si Smith
Born on the streets of St Petersburg in 2007, this gothic incarnation of Russian musicality flies a unique flag amongst many of its fellow compatriates. With much Russian metal tending towards the folk and doom metal genres, it's is refreshing to hear a gothic (?) band originating from this musically fertile area. Although as previously mentioned in a previous review, their music is slightly more up-beat than the average gothic release so we should not be hasty in pigeonholing these guys at all. Let us allow vocalist Tatiana and bassist Yaroslav to represent the band and explain for themselves….
First of all thanks so much for talking to us at Femme Metal and welcome from all at the webzine.
Yaroslav: Hi, thanks, delighted again for our conversation, already a lot of time has passed since our last interview, and a lot has changed.
So guys, your first release upon the music scene was the first EP "Breathe Again" which you put up on the internet for free download. How did you feel about the final product you had released at that time?
Yaroslav: No we did not have to release, we rerecorded in another studio and added
a different song. Now for the past times we look at it as an original stage of our development, many come to know us solely due to the EP.
I understand that you worked quite hard after this on promotion of your material, from radio airplay to interviews and 'zine reviews. How difficult was it to promote other people's interest in your work?
Yaroslav: We sent many copies of our EP to various journals, fanzines, Internet radio and concert agencies. But because of the quality of its implementation we did not get the result we wanted. In general, I must say that in Russia things are not predictable; because of this it is very difficult, and sometimes do not understand how to promote the group.
Tatiana: I guess it is always hard to introduce new things to the public. That`s why Yaroslav always does all things, connected with promotion.
Quite early on in your musical career you got to play alongside bands such as Amorphis and Norther. How do you prepare yourselves for playing alongside such heavyweight names?!
Yaroslav: Not to say that we are very prepared, it was a higher stage of our development. We opened their Russian tour. After that there were more performances throughout the year with Reflexion, Lovex and Throes of Dawn (also a group from Finland).
Your first EP rolled off the press in 2010, containing mainly the material from the first two EPs. Did the tracks change much over time as you prepared them for the new release? Or were they very much in their original form?
Yaroslav : All the songs from the first two EPs were rer-ecorded again in the studio, we worked on the first album with the sound produced, so the sound was different and much higher. Therefore, it received high praise from beating rated in one magazine even better at the time than the Leaves Eyes' album. But I must say that our very first songs were sometimes naive, a kind of attempt at writing.
"Lateless" seems to have been a great success (our reviewer gave it 83/100). Did it open any specific doors for you? What was the initial reaction from fans and press?Yaroslav: As I wrote in the last response, it made a good impression. It showed that Russia can make a quality album, if you do everything right. Last time we interviewed you Nataly was singing with the band. How did the change to Tatiana take place? Yaroslav : Everything happened very smoothly, we knew that Nataly was to leave us because of her career at work, she moved to another city. Therefore, we started looking for her replacement. And with the new singer Tatiana, we recorded a single "Discover" and our last EP "Bless from the Heaven".
Tatiana, you now have to sing the songs Nataly sang as well as the new material. How has it been for you? What is your background in the singing world?
Tatiana:
First it was a little bit strange – I never sang this type of song, besides Nataly`s voice is quite different from mine. Some of her parts I had to change. The new material is much easier for me. As for background I always liked absolutely different types of music. But I
think that such persons as Tarja from Nightwish and Doro Pesch at influenced my way of singing and acting on the stage.
Musically all your music seems to feature a very solid guitar sound matched to memorable rhythms and thought-provoking lyrics. Apart from you two, how do the other members of the band contribute to the overall sound of Lateless?
Yaroslav:
Each team member contributes to the sound of the group in the arrangement of the song. However, I am the main author of the music, I must say that on our second album we are currently working on new material, the songs will be different, as in sound and in style. Just watch out for our friends.
Tatiana:
All the members of Lateless work together to reach the best sound that we can. All musicians create their parts by themselves.

The EP begins with a quite heavy guitar riff and a melancholy song topic "Grief and Ashes". Does this represent any particular event in your lives, or are they just great lyrical subjects?

Yaroslav:
The text of this song I wrote about 2 years ago, when I arrived in the deepest depression, it was a cold winter night, empty subway cars and empty, deserted street, unless of course you know what I'm talking about.
On "Of Your Memory" there is a great balance between the singing and growling vocals, with Tatiana's singing often echoed or completed by the growls. How do you two work together as vocalists? How do you go about writing the complementary vocal lines?
Yaroslav:
Growling on this song appeared quite by chance, we recorded it in the studio, and then tried to joke extreme vocals. And we liked the idea and we left it, it was good.
Tatiana:
Honestly, this idea about two vocals in one song appeared from the joke. Suddenly, Yaroslav's vocals we found to be totally suitable in this song. We were just surprised, but glad, because it sounds really awesome!) Another surprise for me was the really good efficiency of his work, he did only two or three takes before the final version. I was very glad because we
work really hard and it made the sound of the songs really good. Honestly, I`m very proud of myself too because we recorded vocals in a freezing cold studio and I thought that the low
temperature would make my voice sound worse than it is.
It is clear from the lyrics of all the songs on the EP that the themes of death and the afterlife are the prominent ones. How do the band members feel about these almost spiritual topics? Have you any strong views on these phenomena?
Yaroslav:
All songs on the EP, except for "Grief and Ashes" belong to our former vocalist Nataly, so you should ask her. We gave her a free hand in writing lyrics and trusted her 100 percent. For us, there is practically no taboo subjects in the lyrics, exceptions only fascism, satanism and other brightly expressed religious themes.
Tatiana:
As for me, I believe in the existence of afterlife. I think my point of view helps me to feel the sense of this song from my heart.
It seems from your various posts on the internet and other interviews that you are very passionate about your music. For each of you, what are the things that make you happy and what are the things that annoy you the most in your lives?
Yaroslav:
I live music, 24 hours; I'm a fan of music. I am constantly thinking of something to play on the guitar. I like to invent songs, beautiful melodies. I do not need much personally. A quiet warm evening in the company of close friends at the lake and a couple of bottles
of whiskey is good.
Tatiana:
Of cause, music makes my life really better and colorful. Music and love… the only things I`m living for today. As for annoying things they are typical for all people at my age – it`s exams and people`s misunderstandings.
Last time we spoke to you the future was quite "foggy" apart from a few major concerts. Has the future cleared at all for you? Do you have any visions for where Lateless will go next?
Yaroslav:
Now comes the summer, and we're in a small way inaccessible to fans. Since the last interview was a lot of concerts we went to a mini tour in support of the album. Attended transfer on television. Shooting the bonus DVD for our EP "Bless from the Heaven". We now plan to proceed to the shooting of our first music video. The song is in Russian, it is called
"Fly Away".

Tatiana:
We have a lot of plans, you know. The big dream of mine is to create a big album with a lots of songs, and I hope that soon my dreams will come true.
Finally may I thank you for your commitment to continue making music, and ask you if there is any message you would like to leave with our readers at Femme Metal?
Yaroslav:
Thanks for your support, it is always a pleasure to communicate with Femme
Metal. I think you give good support to really cool bands. I want to wish that you develop further, I want to have to see you in Russia; I think you're here to see prices show many how to work.
Tatiana:
I would like to wish all metal-lovers new absolutely different and interesting music from their favorite bands, stay with us, guys!
Thanks again and all success to the new EP!
Yaroslav:
Thanx, STAY ROCK!!!
Links
Latest Multimedia
Interview by Danny Robertson
Introducing Lateless, the metal quintet from Russia who released their second EP "Breath Again" earlier this year. Here we catch up with them to discuss a little about their history, their influences and their future plans.
How did the band first form?
Nataly: Originally the idea of collective creation was appeared in 2007, but together we were gathered only in February of 2009. On the first rehearsals our guitarist Vyacheslav has strummed a melody which other participants began to develop. During the second rehearsal we have been already working over almost ready composition, witch has been burnt so naturally. It was "Breath Again". I think, it is possible to consider that it was a start line.
Yaroslav: The idea of creation of group at us was for a long time. Only in the beginning of 2009 we managed to all to gather and try the forces. All of us for a long time each other knew and consequently already nominees of musicians have been completed. There was the most important question and who will sing? And here on one of concerts our guitarist Vyacheslav has acquainted me with Natalia and through not which time, we have broken to rehearsals.
Would you say those same influences still help to shape the new material?
Nataly: Yes, of course. However, we are not standing at the same place. Music is alive being. It varies, it adapts to new conditions, it develops and improved. Lots of our tracks are not similar against each other as sometimes happens in families – brothers and sisters are very different they have different characters and absolutely different appearance.
Yaroslav: Initially nobody influenced us and I think, as now influence of whom or is minimum. When we only started to rehearse and think out tracks, we had no special concept, as well as that we will do, all is pure intuitively. I think that that moment will come soon that we already will start to influence some groups. Though it is unconditional in the world there is a weight of talented collectives. It is necessary to think. Now there comes autumn, and this season to me always the beginning-middle of September was pleasant especially. It such sad and melancholic, moderately depressive and romantic. I like to sit one not far from the house in park before lake, on to dream, on to think. The loneliness moves me to musical progress in respect of a music and material writing. Sometimes also I am am attacked by depression and I forget about all.
What are your aims? Is there a longtime dream you'd like to fulfill?
Nataly: To subdue the Everest and to make travel around the world. As to music … I am still in that fine condition when music is a language with help of which you can express your private world, tell something that is very important for you. As a matter of fact, I think that it is the highest creativity point from which the majority of musicians are begin, as paradoxical it isn't be. But then become sad processes which put commercial success above internal freedom. I understand that it can seems very fondly, but, to my mind, the sense of creativity is consist of freedom of expression. And, of course, at is great happiness when your inwardness are understood and divided, when with the help of your imagination and your self-expression you can open something new to other people, and together you find the way to your own internal free "I".
Yaroslav: Is more whole at present not so much, but they are. To write down an album, with a good and qualitative sound, the material at us is ready also I think that in the end of autumn in the beginning of winter we will sit down in studio and we will write down it. We will search in parallel publishing label, most likely the European. At us in Russia they are not professional enough. To win back concerts in support of an album. And further it will be visible? As to my dream, of what I can dream at me there is a favourite group in which I play, people with which it is pleasant to me to work.
Some bands prefer not to be pigeon-holed – are you comfortable as a band with specific labels? What genre of music do you most feel comfortable to be associated with?
Nataly: To tell the truth, as for me the classification has not got enough value. Of course, there are a lot of rules, subtleties and cunnings in the process of record of any music direction about which professionals know. That's why the label for me an indicator of the sound's quality, at first.
Yaroslav: We against stamps and a cliche over music, same first of all art. I am imposed by many styles and directions, now they will be not listed. As to labels, a situation simply pitiable. All of them by and large are not professional, a maximum that they can make it for group to print circulation of an album and to make T-shirts. What promo actions other, concerts and rounds in I will take albums are not made. At us it is a lot of groups and the majority of them is not necessary and a penny, 80 percent of groups are not professional, have no sufficient records and other. Not on think that it because of crisis so was always. As to us that we without a label, also I wish to address to all who reads this interview. We are ready to cooperation, write to us, we will be glad to contact.
Which current acts do you admire most?
Nataly: Inspiration is rather changeable woman. There are a lot of positive in my life now, and it helps me to write. Last text has turned out very sensual. It is possible to tell that the sensuality is inspiring me now.
Yaroslav: As to inspiration it comes spontaneously and unexpectedly. I as on the author of music I am influenced by very many things, it can be both weather and the feelings, any experiences, actions. And many other things that is in human consciousness.
What were your last 3 CD purchases?
Nataly: Ho! It was Oper "Aida", Black Sabbath "Paranoid" and soundtracks from Tarantino's films.
Yaroslav: Recently I not so often buy CD. Certainly it is bad, but I download music from the Internet, so much groups are simple because for about one hour and you do not know what to expect from their material. To download and listen easier, if the material clings me, I will go and I will buy CD. That I have got last three CDs, it were Amorphis, Long Distance Calling and perhaps Endless Journey.
What's next for the band, where can we expect to see you in the coming months?
Nataly: We are planning to act in Murmansk the next month, and also we are planning to act in Saint-Petersburg, on a warming up of remarkable collective Amorphis, whose latest album was amazing. Respect!!!)
Yaroslav: Plans for the nearest some months the such. Now we prepare for several big concerts in the autumn in Russia. We will have a presentation of ours ?? "Breath Again" in the city of Murmansk in the north of Russia, its landscapes are similar to the Norwegian fjords. Then we play with Amorphis in St.Petersburg at them one concert in Russia in support of a new album. That will be further while foggy.
Any last messages you'd like to send out to people?
Nataly: Hope to see you soon!!!!
Yaroslav: First of all I wish to thank Femme Metal Webzine, and also in particular Miriam, for the shown interest to us. Listen to good and qualitative music. We hope for the further cooperation with you. Greetings from Russia.
Links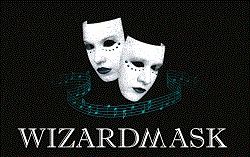 Interview by Vard Aman
In reality, they come from Novosibirsk in the South Western corner of Siberia. In reality, they are a recently formed group of extremely talented musicians who have just released their debut album, called "Carnival of Illusions". In reality, they play technical Symphonic / Dramatic Metal, and they play it very well indeed! But there is more to Wizardmask than just "reality", and when you enter the "Carnival of Illusions" you will discover a vast world that they have created: "Here live the dreams. Here languish the hidden wishes. Everything you can keep in your mind is possible here…" I spoke to one of the creators of this fantasy world, Wizardmask's diva Svetlana Sokolova.
Hello Svetlana, and welcome to Femme Metal Webzine! I understand this is your first interview, we are honoured!
Hello Femme Metal Webzine! I'm glad to be your virtual guest today and give you my first interview! Thanks for making it possible!
You have recently created something that very complex and very powerful. Take us through the creation of Wizardmask?
Wizardmask is a band created by two fantasists: Sergey Amelchenko (music, guitar, conception) and me, Svetlana Diva Sokolova (lyrics, vocal, conception, design). The idea of creating a rock band had come to us long time ago. For many years each of us had been making a beautiful music, which was like missing something, until we decided to write a song together. It was "Marine" composition – the first song which we had made together. The song was done almost in one moment, as if it was waiting for its time to come, and we realized that we can do more. Therefore our debut album "Carnival of Illusions" appeared. The album was released in winter 2011. Official release in Internet was on 1st of April 2012.
Who is in Wizardmask? Have you played in any bands before?
At the moment group consists of 4 people: Sergey Amelchenko (music, guitar, conception), Svetlana Diva Sokolova (lyrics, vocal, conception), Valeriy Fomin (drums) and Ilya Dubrovskiy (bass). Our drummer Valeriy is the only one of us who had performed with other bands before Wizardmask. He's one of the most talented people of our city, very experienced and professional drummer, who took part in many authors and commercial Siberian musical projects. Other members didn't have any experience of playing in serious projects, Wizardmask for us is the first experience of playing in serious band.
What is the story behind the name Wizardmask?
As you can see, Wizardmask consists of two words: Wizard and Mask. Wizard and Mask are generalized characters, parts of every creative personality. One of them is creative, fragile, delicate, sensitive, looking at the world in its own way and expressing it in its art. On the contrary, the other one is strong, vivid, energetic, strong-willed, it is able to knock down every barrier, break all stereotypes, create and destroy. Both parts individually are unstable and are in need of each other, when they are in balance, the real magic is born – the art. I think that every creative person has both such parts, some have more of one part, some of the other. What music is born depends on what part is dominant.
How would you define "Dramatic Metal"?
We play in Sympho/Dramatic Metal style. The prefix "Dramatic" shows the sonic picturing of our compositions and its theatricality. We're trying to create not merely good music, our goal is to create a valuable independent image in a listener's mind. In this style, as in no other, the ties between melody, arrangement and lyrics is important, no single part can exist without the others. It is very important to hear what exactly I am singing about, telling about, what role I am playing at the moment. In Wizardmask art we make use of synthetic approach to creation of compositions – confluence and freedom, lack of exact regular forms, our compositions are unpredictable in their development, this makes them even more interesting. Every piece of work is a little performance, a fairytale, a sonic picturing story, a scene played by roles, and not only by vocal parts but by all instruments. If you listen to our music carefully, you will feel it and maybe even see it inside you…
Your songwriting style is very technical and detailed on "Carnival of Illusions" and included an orchestra. Tell us a little bit about the songwriting itself and the recording process.
Sergey is writing songs for Wizardmask, thinking over every detail in the sound and the form of composition. Together we contemplate on what the song is really about and what arrangement it should have. Then I think up the vocals line, write vocalization, supporting voices, some melodic turns, I breathe meaning into songs and write lyrics. Sergey makes most of arrangements himself, but in some cases we ask for help from bigger professionals. As you can see in "Carnival of Illusions", almost in every song there is an orchestra, this is the work of our close friend, Honoured Artist of Russia Vitaliy Vdovin. It should be noted that writing an orchestration part over rock music is a very difficult and scrupulous process, many nuances should be followed. It's not enough just to write a nice orchestration part, it must be written professionally, without any errors in voice-leading and harmony, it's an unbelievably difficult toil and it can be done only by an experienced and talented person. Vitaliy has done that brilliantly, he has breathed true symphonic world into our project. It was an important experience for us. We are satisfied with the results. Instruments and vocals were recorded in Novosibirsk studios and Mixing & Mastering was done in the northern capital – St. Petersburg.
What is the theme tying the songs on "Carnival of Illusions" together?
"Carnival of Illusions" is a special place inside every person, it's the world of mysteries, fantasies and hidden wishes, the world of magic. Spirit of fairytales and dark beauty is running through every song. These are the songs about human's hearts secrets, about dreams that wait for their hour, about ancient gods, about sins and doubts.
How does your music translate live? Do you play live or make shows often? What is the audience reaction to Wizardmask?
The group has been completed quite recently, and at the moment we have played not very many live concerts. But it should be noted that every new concert of ours is an experiment on our part. Costumes, make-up, stage behaviour, interaction with the public… You understand, right? ;)) In future we want to develop the visual part of our performances and to accentuate our theatricality even more, using decorations, inviting dancers, light specialists and much more. It's quite expensive, but always interesting. People react well to us. We are open and sincere in our art and I think that everybody who comes to listen to us feels it. Our performances are like our revelation to the listeners, it's like our friends coming to our house, sitting by a big fireplace and listening to our mysterious fairytales.
What is next for Wizardmask? What are the group's plans?
We are planning not to stop now but to move on! To perform, to do active advertisement in Internet. We want to tell everybody about us. Also we want to perform a solo concert and to record another album, we have already started to work on it. We are constantly working on new music, and in a year we are going to release a second album, I hope the starts form up right and all our intentions will be realized.
How do your new songs compared with the songs on "Carnival of Illusions" so far? What can we expect from the next album, or is it too early to tell?
It's too soon to talk about new songs, we don't want to tell all our secrets. We can only say, that new songs will be "older" and much more interesting. The experience received helps us to develop our work and to open the specifics of our style and presentation of compositions.
What is the Metal scene like in Novosibirsk?
In Novosibirsk there are very qualified bands of different genres of Metal. But unfortunately the very industry of hard rock concerts is poorly developed. There are few scenes suitable for hard sound. Most of such concerts usually are organized in summer at various open-air festivals.
Tell us a bit more about Novosibirsk and what it's like living there.
Novosibirsk is quite a big city, not so big as New York, of course ;-)) But big enough. There are many sights and monuments. The city is developing intensively in trading terms, growing dynamically, every year a huge number of hypermarkets and business centres are opened, the city is increasing its speed and rhythm of life, fully becoming a megapolis. In the centre of the city there are many cars, hurrying people, while closer to its outskirts, on the contrary, it's calm and soothing.
When most people hear the word "Siberia" they immediatly think "very cold". But Siberia is a big place and Novosibirsk is in the southwest. Does it get very cold there?
Sometimes it is very cold, temperature goes below -40 C . This weather usually begins in the end of January and lasts for 3 weeks – this time is called "hard frosts". It is hard to get used to it, but that's the Siberian winter – sometimes it can be so harsh! fur coats, fur boots and metro are saving us, because cars may not always start in such a weather. ))))
What do you do apart from the Wizardmask project?
I like classical music, so me and Sergey frequently go to theatres to watch performances and ballets. Often we relax out of town at our beautiful summer cottage. We go in for sports. We work in Design Studio (This is yet another joint project of ours). But Wizardmask art occupies most of our time. We are constantly creating something, carrying a dictaphone with us and recording each and every thought and melody that comes into our head. We are always in pursuit.
Thanks for talking to us Svetlana! You can be sure that we're going to follow the Wizardmask's progress very closely in the future!
Thank you for taking interest in our work and for giving us this wonderful opportunity to tell your readers about our project.
Links
6 color styles available:

Style switcher only on this demo version. Theme styles can be changed from Options page.