Browsing articles tagged with " piedmont"
Independent Release
Review By Tony Cannella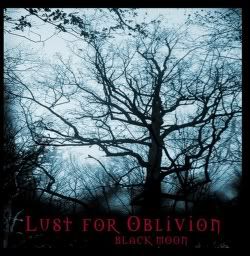 Lust for Oblivion is a female fronted band from Italy who specialize in Gothic, operatic and symphonic metal. Their first introduction to the metal world comes with their new demo, that goes by the title of "Black Moon". The band is led by the immense operatic vocal talents of Chiara Tricarico and rounded out by a number of capable musicians. The EP contains 4-songs that were written by Chiara (lyrics) and keyboardist Alessandro Mantovani (music) and just 21-minutes worth of music.The EP kicks off with the sound of church-like organs as the opening number "Black Moon" kicks in. A pretty solid way to begin things with some steady musicianship, a cool guitar solo by Andrea Boglio and the dramatic, opera style vocals of Chiara. "Blank Darkness" is next and is probably my favorite of the four songs that are presented here. Musically, it is probably one of the more commercially accessible songs on the CD and just a very good number. "Lady of the Ocean" is next and and it continues on with the solid material, while bringing the tempo down a little bit. A beautiful ballad that showcases another dimension to the band. Chiara also delivers a superb vocal performance on this one – her vocals are pretty cool throughout this disc, but they really stand out on this one. The production is very good and professional, and that is another check in the positive column for this CD. "Freedom Call" is the final track and one of the heavier ones offered. It features a rock solid guitar riff and brings "Black Moon" to a completely satisfying bombastic conclusion. Each song on this debut showcase a different facet to the band and the diversity they're capable off."Black Moon" is a very good debut EP from this cool Italian band. Maybe a bit too short, but it definitely wets the appetite for some more music from Lust For Oblivion. Fans who miss the Tarja version of Nightwish would be well advised to check this band out, or if you just like female fronted, symphonic metal, check this band out. Just check this band out, "Black Moon" is 21-minutes well spent.
Rating – 85/100
Tracklist
Black Moon

Blank Darkness

Lady of the Ocean

Freedom Call
Line Up
Chiara Tricarico – Vocals

Andrea Boglio – Guitars

Alessandro Mantovani – Keyboards

Riccardo Garavaglia – Bass

Paolo Parlamento – Drums
Links
6 color styles available:

Style switcher only on this demo version. Theme styles can be changed from Options page.