Browsing articles tagged with " power"
Independent Release
Review by Warren Mayocchi
"Obscure Illusions" is an album that has been incubating for a long time. Ethernity was formed by brothers Julien and Nicolas Spreutels and their cousin François Spreutels in the year 2000. Since then some of the songs on "Obscure Illusions" were released on demos produced in 2005, 2008 and 2010. So, even though this is a debut album, the band have been together and performing at gigs, music festivals, and supporting other bands for literally years. According to the band, they spent four years to find their lead vocalist in 2005 – Julie Colin. The final two members of the band are Thomas Henry who joined in the early days and Gregory Discensa who joined in 2007. It is obvious that Ethernity like to play powerful metal, and I can imagine them playing in front of large enthusiastic audiences. Perhaps it has been their live music fans that have kept them from the studio all these years. Continue reading »
Label: Frontiers Records
Review by Warren Mayocchi
Amanda Somerville and Michael Kiske have released a collaboration with a heroic title and similarly themed lyrical content. This is a fun album – combine a couple of great voices with a solid backing band, give them songs of heroism and inspiration, then listen to the powerful output. The music on the album stays with the rock sound displayed in the couple of videos that have been created for "City of Heroes" and "Walk on Water". To my ears, the latter is the best track on the album.
There is variety in the sound of the band with regular musical highlights from all musicians. Mostly the album has an energetic melodic hard rock approach. Continue reading »
Independent Release
Review by Tony Cannella
Evenmore is a melodic symphonic/power metal band from Switzerland. Their debut EP is appropriately titled "The Beginning". "The curse is coming… Run" is the opening line to the fantastic first track "Willow". The song has a mid-paced vibe with lead vocalist Melissa Bonny's voice soaring along with the music. "Winter is Over" is next and pretty much picks up where the previous song left off. The track has a similar feel to "Willow" and features a pretty cool riff along with a great solo from Landry Pernet. "The Black Knight" brings the heaviness up a few notches with a monster opening riff and some mail death metal grows courtesy of Jonathan Pellet. "Sailor" completes the 4-song 18-minute EP with some great, melodic and heavy riffing as the track brings "The Beginning" to a galloping conclusion.  Continue reading »
Independent Release
Review by Tony Cannella
If Italy is the epicenter for female fronted metal, than Spain isn't far behind. Another talented female fronted band to emerge from Spain is the symphonic metal band Eteddian. Formed in 2011 they released their debut EP "Illusions" last year. Let's delve into it a bit, shall we?
"Illusions" features 6-songs and 22 ½ minutes worth of music. The original material is quite strong, but for me one of the more fascinating tracks is a cover of the Madonna song "Frozen". The band added their own metal twist to the song and primary vocalist Bethany Neuman is joined by two distinctive styles of male vocals on this one (courtesy of Imanol Herrera of Vehemencia). One is a sort of a Geoff Tate progressive metal style and the other is a more extreme metal voice. Continue reading »
Independent Release
Review by Tony Cannella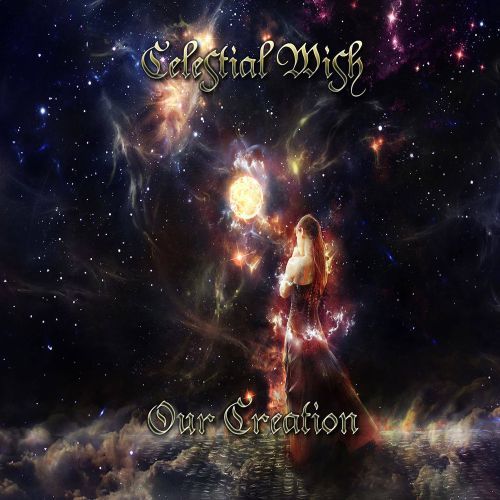 Celestial Wish is a symphonic/gothic metal duo (later in 2014 drummer Micheal Brush was added to the line up)  from Birmingham, UK. Their debut EP "Our Creation" was released several months ago and throughout the 6-songs available here the band show a great affinity for writing melodic songs, with plenty of atmosphere.
The 28-minute EP starts off strongly with "Our Creation". They follow that with the excellent "His Kingdom Come". "Your Song" is a Within Temptation-ish piano driven ballad. Lead vocalist and lyricist Saneeta has got a pretty cool operatic voice but doesn't over-do it, she knows when to rein it in and is much more concerned with making it fit into the song rather than doing vocal gymnastics. Continue reading »
6 color styles available:

Style switcher only on this demo version. Theme styles can be changed from Options page.