Browsing articles tagged with " previous"

Interview by Erwin van Dijk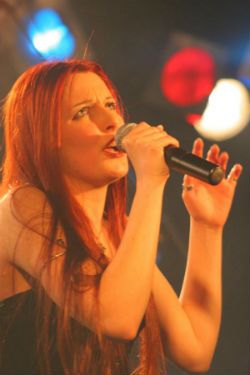 An in-depth chat with Chiara, the soprano singer of the well-promising Italian Gothic Metal band Lust for Oblivion about their debut demo "Black Moon" and their musical future.
Did you always want to become a singer?
I've always loved music and my first experience with it was at the age of nine, when I started playing the piano, but I've always loved singing, too, since when I was a child, so, some years ago, I started taking opera singing lessons.
And to what kind of music do you listen yourself?
I listen to classical music, especially opera and piano compositions and also to metal music.
And who are your favorite bands and musicians?
Bands like Dark Tranquillity, Moonspell, Within Temptation, Lacuna Coil, Tristania are my favorite, but I've surely forgotten some…obviously I adore Tarja Turunen!!!! My favorite classical musicians are W.A.Mozart, F.Chopin and K.Orff.
Interview by Ed MacLaren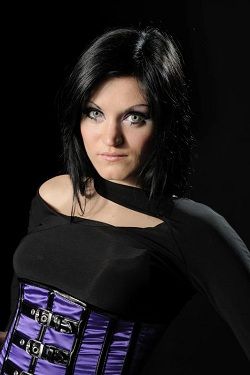 Italy's My Black Light is a band with a plan. Since its inception in 2008, the band has clawed and grabbed its way through the ranks starting as a cover band to performing original songs in music contests and to industry reps. In the final phase, the band steadily sharpened its skills and music into the razor-edged gothic prog metal tracks on their debut album "Human Maze". Lead vocalist Monica Primo took some time to talk to Femme Metal Webzine about the debut album, its musical style and its deal with Massacre Records.
Hi Monica! Thanks for joining Femme Metal for this interview!
Thanks to you!
"Human Maze" is a strong debut with a positive response from fans and critics alike. Were you and the band happy with the end product?
Of course we are! We couldn't imagine such a great enthusiasm and interest in our music and when we signed with Massacre Records it was so surprising we couldn't believe it.
When you and the band got together you started off playing cover songs. What songs did My Black Light cut its teeth on?
We were born as a Within Temptation cover band. This first step helped us play together and know each other better and grow up together. But we had so much more to say and show, so after a while we decided to write and play our own music. And you don't come back when you start!
Why did you start with cover songs instead of starting to write original material?
Well, like I said before we didn't know each other, either as musicians or as persons, so we just wanted to see what playing together was like. Some of us were very young and I think we just wanted to test the band.
Interview by Vard Aman
In my opinion, well played Doom Metal is one of the ultimate and most extreme forms of music, second to none when it comes to creating and unleashing powerful, dark and stirring soundscapes of emptiness, despair and (yet), total awe. Some people may disagree with me, depending on their personal tastes; but if you agree with me, you might want to do yourself a huge favour and check out an Australian band called Lycanthia. Lycanthia have recently released their second full-length album, entitled "Oligarchy", and on it Lycanthia produces all the soundscapes to which my above description applies. Founded in 1996, they have provided one of the sturdiest pillars of Australian Doom Metal, and have since become a household name – OK, maybe a name in one of the less frequented corners of the Doom Metal household (where you might find a Funnel-Web Spider perhaps), but they're rightfully and deservedly there none the less. Lycanthia is fronted by three vocalists, one male (Lee Tassaker, also the bassist) and two female (Vanessa Black, also on violin; and Megan Tassaker, also on keyboards). I chatted to Megan recently.
Hi! Welcome to Femme Metal Webzine.
Thanks for having me.
Let's start off with a bit of history: Tell us a bit about Lycanthia's formation and early years.
In the early days, Lycanthia started out as just a recording band made up of a group of friends. The main inspiration at the time -without naming names- was that many of their favourite parts of certain songs would be orchestral sections, or parts with female vocals but when you would see the bands live, those elements wouldn't exist. Lycanthia wanted to make a band that would be able to zone in on these elements AND reproduce them live. Once a demo was made, the next step was making it a live act.
What inspired the name?
The name was taken from the book Lycanthia, by Tanith Lee.
There have been quite a lot of line up changes over the years. How much of a hampering effect has this had on Lycanthia? (I'm assuming it has).
It has had an effect, as far as holding back recordings goes. Although we do try to take our time with recordings and make sure they are right, the last album "Oligarchy", would have been recorded much earlier if it weren't for those kind of hiccups. It's a shame that people hold it against you or try to judge your band when that happens as well, for the most part we have remained friends with ex-members. There have been many reasons people have left, from wanting to go in different creative directions, to having family or work commitments that have restricted their time. Having said that though, we are all very happy with our current line-up, it has definitely helped us step up and refine our sound further into what we want it to be. So as much as these things can hold thing's back, they can also push you further.
What other projects have you been/are you involved in?
I (Megan) am also in Avrigus, Lee is currently playing Bass for Cruciform and plays session bass for Avrigus. Mat is in Bleakwood and Blatherskite.
Tell us a bit more about Avrigus.
Avrigus is a recording band featuring myself and Simon Gruer. I would describe the music as atmospheric doom/gothic metal. The band was founded by Simon and the previous vocalist/keyboardist/composer Judy Chiara. I met Simon at a Lycanthia gig (before I was in the band), at the time I hadn't heard any Avrigus. He mentioned that he was wanting to keep Avrigus going but Judy was not longer wanting to be a part of it and he was searching for a new vocalist. He had tried to get it going with a few other people but it hadn't really worked out. So I checked out the music the next day and expressed my interest, he had heard demo tracks that I had sung on and was very enthusiastic. We met up and I dropped down some demo vocals for "Banquet of Souls", Simon was very happy with how it sounded. I think he wasn't 100% sure until he heard me play an original song though. I played "Beauty and Pain" on keyboard and sung it for him, he loved it immediately and we set out creating a bunch of songs that became the "Beauty and Pain" EP, available for digital download only at the moment on our website: www.avrigus.com. At the moment we are recording an album that was mainly written by Simon before I joined the band, most of the songs were written in the time between "The Secret Kingdom" - the last album with Judy, and the time that I joined the band. One original written by me will also appear on the album. At this time we don't have a sure release date as we are still in the process of finishing writing vocal lines and perfecting the orchestrations.
How would you describe Lycanthia's sound to those who haven't heard it?
A blend of old-school Death/Doom riffs, complimented by counter melodies on violin, harsh grim vocals and dual Female harmonies.
What is the significance of Doom Metal and the attraction to it, both as a musician and as a fan?
Doom is about creating an atmosphere and a mood, many other genres are just about technicality. For me music is art and a creation of expression, not that there isn't merit to being technically proficient, just that I prefer song writing to move me and hopefully move others.
Tell us a bit about your previous releases, "Myriad" and "Within the Walls".
"Myriad" was a first attempt at writing songs as a group for Lycanthia. A fairly collaborative effort, the majority of members were teenagers when this album was made and the sound was not as clearly defined as it is today. At the heart of it though, it was just made for fun. In between "Myriad" and "Within the Walls", we put out a single called "Inferno" which we recorded specifically for a compilation CD. By the time we came to "Within the Walls", Lycanthia had many other songs written – including some that ended up on "Oligarchy" (which obviously weren't in their current state then) – the songs that were chosen were the ones the band felt were ready for putting out into the world, that had been worked on and reworked until they were to the bands liking.
How has your sound changed over the years leading up to "Oligarchy"?
Some of the songs were written – in a much basic form – before "Within the Walls" and we were still working on them. As a band, having new members join allowed Lycanthia to be more diverse and imaginative, a lot of parts of songs we weren't so happy with were able to be brought to life in ways we had only imagined before.
Is there a possibility of re-working/re-recording and re-releasing some older Lycanthia material in the future? (Such as "Hope Lingers Yet" - it was a snippet of that song that introduced me to Lycanthia and left a lasting impression).
No, we have no plans to re-record "Myriad".
What has the response been to the new album so far?
The response has been fantastic. A lot of people have told us that we have brought the band into a new place with this release, and obviously it helped get us attention from Hypnotic Dirge Records who signed with us. It has also helped us score several endorsements.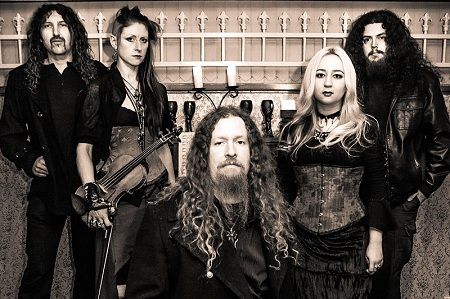 What inspires your lyrics and what are your general lyrical topics? I'm particularly curious about the stories behind "The Essential Components of Misery" and "Forgone".
"The Essential Components of Misery" is lyrically about the way we see the world around us. Although we are lead to believe we have freedom, we do not. We are lead to believe that we have choices, but the choices are really just to conform or be left behind. So in a way, it's a bleak reaction to the harsh reality of the world as we see it. "Forgone", this song is like a part 2, part 1 being "Eternity". So in the title of the two songs there is a hint to what the song is about… "Eternity… Forgone". It is probably our only song that is lyrically a fictional story rather than a story that comes from personal experiences or feelings. It is about a deity that falls in love with a mortal, and has to be stripped of eternity to embrace their lover. Although it is fictional, I think it is something that everyone can relate to, forbidden love.
Would it be true to say that "Forgone" is written as a poem first and foremost and that the song's lyrics are based on it? If so, does that apply as a general rule to most of the lyric writing process?
Sometimes that happens and other times if a lyric idea comes to mind, we will just write them down and set them aside until a song comes along that it suits. With all our songs, it's not so much lyrics to a song, as it is a poem to accompany the music. Once the poem is written, we arrange it melodically to suit.
How regularly do you play live and what is the response like at your shows?
When we aren't recording, we play live probably once every couple of months. The response is always great. We heavily advertise our shows to build up hype and we always enjoy playing live because that's when we get to experience crowd reaction to the music.
Have you done any international tours?
As of yet, we have not. We do plan to in the future though; it's something we all really wanting to do.
How healthy is the Doom Metal scene in Australia currently?
There has been increased enthusiasm for the genre lately. We have Mournful Congregation from South Australia, they play Funeral Doom. Okera from Melbourne, and Futility from Canberra are just some of the amazing doom bands that are also playing in Australia at the moment.
I've noticed a few ex-Lycanthia members around in Doom Metal bands, like Rise of Avernus (Andrew Craig), Rituals of the Oak (Sabine Hamad-Linfoot), and Murkrat and The Slow Death (Mandy Andresen). Can you tell us anything about them?
Firstly we'd like to mention that we are great friends with all these people. We are big supporters of all of these bands and love their music. In the case of Mandy, she begun Murkrat after leaving Lycanthia, it was a direction of music she had been heading towards for a while and we love it, but it isn't the sound for Lycanthia. The same can be said for Sabine, she found her tastes leaning towards a different direction, and you have to follow what you want to do musically, otherwise there's no fun to it. Andrew Craig is one of those guys who is always filling his time up with heaps of projects, we loved our time with Andy but in the end, he didn't have the time to put towards us along with all of his other commitments.
What do you all do when not playing music?
Steve is a car fanatic, always going to old car shows etc, he is also a heavily into ninjitsu. Mat is an armature photographer. Lee likes to do a lot of painting, he actually painted the cover of "Oligarchy", though it had editing and arrangement done to it, music and literature are big interests of his too. I go in and out of phases but always creating things, whether its poetry/lyrics, drawings or clothing, I also love to read. Vanessa takes part in many arts projects, creating and designing spaces.
Australia has always been one of my favourite countries. I like the people (well, more than I like most people at least) and the idea of clean first world cities in a country with so much open space and nature – the best of both worlds. But that's just my opinion. What is it like living in Australia for you? What do you like and what don't like about it? And is +40C really just "a tad on the warm side today, mate"? And have you ever seen one of those famous Sydney Funnel-web Spiders?
I am very much an Autumn person. In Australia, summer is a humid hell of heat, sweat and flies. In winter, I freeze, although I do enjoy the scenery of winter, the cold feels like pain to me and my sinuses suffer. The same sinus suffering happens to me in Spring-time, Autumn is perfect in-between weather to me. I do love that we have nature and cities in Australia, one of the thing's I dislike is probably that in general, the music industry in Australia is not very big at all. To be honest with you, I probably have seen a Funnel-web but if I have I didn't recognise it. I don't even think I know what they look like, which is probably really bad hahaha. Living in the city, I don't really see that many spiders and have to travel to see the wilderness.
Back on topic again, one final question: What is next for Lycanthia?
Next, I'm not sure I'm able to announce the very next thing that will happen, but it's coming in November. We should be able to announce soon. I'll keep you posted.
Thanks for chatting with us, good luck, we'll be watching and listening closely!
Thank you.
Links
MySpace * ReverbNation * Facebook * Twitter * Site

Interview by Andy Axworthy
Hailing from Bratislava, Galadriel have been delivering their own brand of doom, death and heavy metal since "Empire of Emptiness" was released in 1997. A band that writes from the heart their style has matured over the years, though it has never lost its edge. With their latest release - "The 7th Queen Enthroned" – about to hit the stores we took some time out with singer Sona Witch Kozakova to talk about life, reality and a damn good metal album.
Hi Sona. A warm welcome from Femme Metal. How are you today?
Hi Femme Metal, I heartily greet the readers of Femme Metal Webzine. Thank you for asking, I'm enjoying the first cold days of autumn.
You joined Galadriel in '96. How did you get drawn to music, to metal in particular, and how did you end up joining Galadriel?
When I was twelve, my brother brought home his first metal vinyls and I was so fascinated by the metal music. And it keeps me during all my life. We've been always dreaming about forming a metal band. But everything started many years later when I met Dodo and Voloda at some festival in Czech Republic and we were talking about the music and life. So I have told them about my dreams to be a singer. These guys were preparing the recording of the first Galadriel demo and one month later they came to my house and asked me to record vocals on their demo because their vocalist left the band.
It's been quite a journey from "Empire of Emptiness" to latest release, "The 7th Queen Enthroned". For you, what would you say has remained constant and also, what has changed the most over that time?
There are many changes of course. It's hard to compare middle 90s age and nowadays. When we were at the beginning it was all about the young enthusiasm, easygoing life, dreams and plans. Later we found out it will be not that easy to reach our goals and nothing is for free. We gave all our lives to the band. Many of the plans we have did not realize by now. Now all of us have many problems with jobs, bills or credits. But we are trying to approach very seriously to the band and trying to grow every day. I'm challenging myself when I'm not satisfied with my performance almost everytime. I think we're still trying to be kind to our fans and supporters. Every one is so important to us.
While a metal heart beats at its centre, Galadriel is a band that is not afraid to experiment with its sound. Is that something that evolves during songwriting and rehearsal or do you go into the studio with a particular idea in mind?
There are some experiments that were created in the studio of course but most of these elements and ideas we were preparing in the rehearsal or at home. Many times when we are working on new songs, at the first steps, we are working at home and sending ideas and demo mp3s through Internet so everybody can think about that in the quiet of home. That's for example my best way to be creative. I need to think about songs and melodies first and after I'm ready to perform my ideas I record them. After we have few ideas to work with we can meet in the rehearsal and work together.
In terms of songwriting, where do you get your imagery and inspirations from, both personally and within the band?
There are some things and themes around us that hurt us and we are thinking about them and talking about our opinions. Everyone of us has some dark and light places in his soul. There are some feelings growing in those places. The feelings give us the ideas for melodies or lyrics. Sometimes I wake up in the morning, looking thourgh the window, and it just show up in my mind. I wake up with some strong feelings and they need to go out. So I take my phone and record some melodies in working quality.
Talking of the band, could you introduce us to and tell us a bit more about your fellow band members?
Actually we are in this line-up: Dodo Datel (vox, bass), Tomax Gabris (guit), me (vox) and live co-performers Jano Valer Tornad (drums), Peter Lipovsky (guit) and Andrej Kutis (keys).
The "7th Queen Enthroned" is your latest release and the next step forward in the band's evolution. How do you feel about the album, and what has been the reaction from the press and fans alike?
I feel good with new album. We tried to do our best in conditions and possibilities we had. I think we did another step forward. The final release of the album is delayed and I have not the CD in my hands yet. We have published two songs on the Internet and the reactions are really positive what is encouraging but I think our fans will let us know their emotions and feelings after the CD will be definitely out for some time.
Can you tell us more about the idea behind the album title? Where did it come from? Is it a theme in its own right or does it form part of a story arc with "World Under World" and "Renascence of Ancient Spirit"?
We feel there are many bad things and situations in the world and everyday we're waiting for another bomb or terroristic attack. Greed and recklessness of people in combination with aggressiveness and arrogance move our world more and more to extensive conflicts. Also the drop of mineral resources and environmental blindness, fails and mistakes of mankind fill us up with very bad feelings. It looks there is too many people on this planet… and that's dangerous. Our "7th Queen" is some status of mankind after collapse of life on Earth. However she (the Queen) tries to do something, to save the life, everything she touches is turned to death and dust. She's a mirror of mankind. Hopeless she fights for the change (like few parts of people) but all her endeavors are smashed by aggressive and destructive thoughts and feelings. So she was enthroned by mankind. People have chosen this way of extinction… There are some parallels with some themes we used on our previous albums but every one of our albums stands alone for itself.
How about the album artwork? What is the story behind the design?
Yes, we tried to put our thoughts from lyrics and songs also to the cover. So we wanted to show some desolated hopeless woman in pain in a dead world. I've been a part of the team which prepared the latex fashion show of my friend Krisztina Csizmadia few years ago in Austria. I was working as a make-up designer and the model Lizzy Meow was one of most important part of the show that night. When Dodo told me about his idea of the cover we were talking about some possibilities and then we decided to ask Lizzy for the cooperation, we knew she is open for some kind of destructive or cyberpunk ideas, haha. Yes, we are really happy she said yes to our offer. The photo-shooting was taken in Vienna by the photographer Marius Sachtikus and Lizzy's make-up was done by Nadja Hluchowski. This photoshooting was really professional and we were selecting from more than 200 pictures. All post-production works were done by Dodo himself.
"The 7th Queen Enthroned" is a consistently strong album. Rockers like "Still Not Dead Enough" and "The Last Time" sit comfortably alongside hard hitting yet atmospheric tracks like "Crucifixion Deluxe" and "Eosphorus". Which song is your own current favourite from this release and why do you like it so much?
Thank you! I really love all songs on the record. It's hard to choose one or two. Maybe I will be able to choose after some shows we will play and I will know how can I sing each of the songs on stage. I'm really looking for singing "Crucifixion DeLuxe" because in that song I sing with different style. We will not play "Eosphorus" live because this song is dedicated to the dead daughter of my close friend. And there are so many actual sad emotions in my heart that I cannot sing it now correctly. Maybe later…
How about your personal musical influences? Which bands and/or singers do you enjoy listening to and which of them inspired you the most when you were starting out as a vocalist?
When the idea to be a singer first came to my mind I decided to be singer with growling vocals, haha. I was really listening to bands like Aphyx, Obituary or Morbid Angel in the beginning of 90s. But as you know I'm using clear vocals because Dodo is singing the growling parts, haha. As there were not so many female vocalist in harder or darker metal genres in my beginnings it's really hard to say about some idols. I always loved Kari Rueslatten, she was singing in doom metal band The 3rd And The Mortal, and I also love her solo works despite of fact she is far from metal music nowadays. Another my favourite singer is Anneke van Giersbergen, I love Lisa Gerrard… later Sharon den Adel, Sarah Jezebel Deva or Mariangela Demurtas. There are many talented and brilliant female vocalists I love to listen to and I still love clear and growling male vocals too

You recently played the Gothoom Festival. How was the show and what was the highlight of your day? Did you manage to see any of the other bands that were playing?
Yes, it was the festival promoted and organized by our label Gothoom Productions. Our show was quite good despite of fact our line up was completed with new guys and they have only few days to learn how to play the songs. But guys were cool and we really enjoyed it. Maybe it was a not so much comfortable situation for us as we were playing right after the headliner of the day, Septicflesh, and many people were still oriented their way but our fans were cool. It's always difficult to look at the other bands, because we need to prepare for our show. But we have seen some parts of shows of Doomas, Septicflesh and Skyforger…
What other interests do you have outside of the band? How do you relax when you've got some time to yourself?
Oh, I have really many many interests, haha. Sometimes when I wake up in the morning I don't know what to do first. I want to do so many things when I have some free time. My biggest pleasure are animals and we have many animals, so in my free time I take the care of them. I also spend my free time making art… I create jewelery, some characters or I paint… that's my biggest relax. But sometimes I only lay on the sofa with some book.
As a band, Galadriel have grown up with the Internet. How do the events of the latest release compare with the experience of getting "Empire of Emptiness" marketed and distributed back in the day? What do you personally think has been gained – or lost – in this media change?
Well, yes. On one hand Internet has changed everything. When we were promoting our first album in 1997 it was everything more complicated. We used the classic mail way to spread our music to magazines. We used the classic mail way to answer to letters of fans and answer the interviews. Now we can upload some song to YouTube or to one of many players on the web or social web and send link directly to our fans. Everything is faster and easier. So it's definitely more comfortable and more effective than in the past. On the other hand was so cool when we get first letters from fans written by their hands and they traveled to our city to buy the CD directly from us. So I think it was more 'heart to heart' way of communication.
With the Web now putting the world at your fingertips, which parts of the world outside of Slovakia are currently showing the greatest interest in your music and which countries and/or festivals would you like to play and why?
Outside of Slovakia and Czechia… I think we have many fans in the countries of South America. This is the part of the world where people really love this kind of music and are really thankful for every band that comes there to tour. So I would love to travel there to play some shows but it's not easy for a band like Galadriel. And festivals… hmm… yes, Hellfest would be cool or Metal Female Voices Festival is growing more and more and that would be another great adventure to play there. And Wacken of course… all the world is meeting up on Wacken. And there is another great new kind of festivals on the boats. That would be cool too, haha.
What is next for you and Galadriel? Are you taking the album on the road and further afield?
So, now we are really looking forward to the release party show of our new album here in Bratislava, Slovakia. We would like to play many shows in 2013 all around Europe, we have some ideas and offers and I hope most of them will come true. And I hope our fans will not wait for next album another five years!
Thanks for sharing this time with us. To wind up, is there anything else you would like to add for our readers?
My pleasure. Thank you for interesting questions. I'm sending heartily greetings to all readers of Femme Metal Webzine and I hope we will see you under stage next year

Keep an eye open on our website or Facebook profile to stay tuned about everything. Check out our new album "The 7th Queen Enthroned" too

Save the Nature, save animals and all what's alive… Thanks!
Links
MySpace * Facebook * Twitter * Site

Interview by Si Smith
Born on the streets of St Petersburg in 2007, this gothic incarnation of Russian musicality flies a unique flag amongst many of its fellow compatriates. With much Russian metal tending towards the folk and doom metal genres, it's is refreshing to hear a gothic (?) band originating from this musically fertile area. Although as previously mentioned in a previous review, their music is slightly more up-beat than the average gothic release so we should not be hasty in pigeonholing these guys at all. Let us allow vocalist Tatiana and bassist Yaroslav to represent the band and explain for themselves….
First of all thanks so much for talking to us at Femme Metal and welcome from all at the webzine.
Yaroslav: Hi, thanks, delighted again for our conversation, already a lot of time has passed since our last interview, and a lot has changed.
So guys, your first release upon the music scene was the first EP "Breathe Again" which you put up on the internet for free download. How did you feel about the final product you had released at that time?
Yaroslav: No we did not have to release, we rerecorded in another studio and added
a different song. Now for the past times we look at it as an original stage of our development, many come to know us solely due to the EP.
I understand that you worked quite hard after this on promotion of your material, from radio airplay to interviews and 'zine reviews. How difficult was it to promote other people's interest in your work?
Yaroslav: We sent many copies of our EP to various journals, fanzines, Internet radio and concert agencies. But because of the quality of its implementation we did not get the result we wanted. In general, I must say that in Russia things are not predictable; because of this it is very difficult, and sometimes do not understand how to promote the group.
Tatiana: I guess it is always hard to introduce new things to the public. That`s why Yaroslav always does all things, connected with promotion.
Quite early on in your musical career you got to play alongside bands such as Amorphis and Norther. How do you prepare yourselves for playing alongside such heavyweight names?!
Yaroslav: Not to say that we are very prepared, it was a higher stage of our development. We opened their Russian tour. After that there were more performances throughout the year with Reflexion, Lovex and Throes of Dawn (also a group from Finland).
Your first EP rolled off the press in 2010, containing mainly the material from the first two EPs. Did the tracks change much over time as you prepared them for the new release? Or were they very much in their original form?
Yaroslav : All the songs from the first two EPs were rer-ecorded again in the studio, we worked on the first album with the sound produced, so the sound was different and much higher. Therefore, it received high praise from beating rated in one magazine even better at the time than the Leaves Eyes' album. But I must say that our very first songs were sometimes naive, a kind of attempt at writing.
"Lateless" seems to have been a great success (our reviewer gave it 83/100). Did it open any specific doors for you? What was the initial reaction from fans and press?Yaroslav: As I wrote in the last response, it made a good impression. It showed that Russia can make a quality album, if you do everything right. Last time we interviewed you Nataly was singing with the band. How did the change to Tatiana take place? Yaroslav : Everything happened very smoothly, we knew that Nataly was to leave us because of her career at work, she moved to another city. Therefore, we started looking for her replacement. And with the new singer Tatiana, we recorded a single "Discover" and our last EP "Bless from the Heaven".
Tatiana, you now have to sing the songs Nataly sang as well as the new material. How has it been for you? What is your background in the singing world?
Tatiana:
First it was a little bit strange – I never sang this type of song, besides Nataly`s voice is quite different from mine. Some of her parts I had to change. The new material is much easier for me. As for background I always liked absolutely different types of music. But I
think that such persons as Tarja from Nightwish and Doro Pesch at influenced my way of singing and acting on the stage.
Musically all your music seems to feature a very solid guitar sound matched to memorable rhythms and thought-provoking lyrics. Apart from you two, how do the other members of the band contribute to the overall sound of Lateless?
Yaroslav:
Each team member contributes to the sound of the group in the arrangement of the song. However, I am the main author of the music, I must say that on our second album we are currently working on new material, the songs will be different, as in sound and in style. Just watch out for our friends.
Tatiana:
All the members of Lateless work together to reach the best sound that we can. All musicians create their parts by themselves.

The EP begins with a quite heavy guitar riff and a melancholy song topic "Grief and Ashes". Does this represent any particular event in your lives, or are they just great lyrical subjects?

Yaroslav:
The text of this song I wrote about 2 years ago, when I arrived in the deepest depression, it was a cold winter night, empty subway cars and empty, deserted street, unless of course you know what I'm talking about.
On "Of Your Memory" there is a great balance between the singing and growling vocals, with Tatiana's singing often echoed or completed by the growls. How do you two work together as vocalists? How do you go about writing the complementary vocal lines?
Yaroslav:
Growling on this song appeared quite by chance, we recorded it in the studio, and then tried to joke extreme vocals. And we liked the idea and we left it, it was good.
Tatiana:
Honestly, this idea about two vocals in one song appeared from the joke. Suddenly, Yaroslav's vocals we found to be totally suitable in this song. We were just surprised, but glad, because it sounds really awesome!) Another surprise for me was the really good efficiency of his work, he did only two or three takes before the final version. I was very glad because we
work really hard and it made the sound of the songs really good. Honestly, I`m very proud of myself too because we recorded vocals in a freezing cold studio and I thought that the low
temperature would make my voice sound worse than it is.
It is clear from the lyrics of all the songs on the EP that the themes of death and the afterlife are the prominent ones. How do the band members feel about these almost spiritual topics? Have you any strong views on these phenomena?
Yaroslav:
All songs on the EP, except for "Grief and Ashes" belong to our former vocalist Nataly, so you should ask her. We gave her a free hand in writing lyrics and trusted her 100 percent. For us, there is practically no taboo subjects in the lyrics, exceptions only fascism, satanism and other brightly expressed religious themes.
Tatiana:
As for me, I believe in the existence of afterlife. I think my point of view helps me to feel the sense of this song from my heart.
It seems from your various posts on the internet and other interviews that you are very passionate about your music. For each of you, what are the things that make you happy and what are the things that annoy you the most in your lives?
Yaroslav:
I live music, 24 hours; I'm a fan of music. I am constantly thinking of something to play on the guitar. I like to invent songs, beautiful melodies. I do not need much personally. A quiet warm evening in the company of close friends at the lake and a couple of bottles
of whiskey is good.
Tatiana:
Of cause, music makes my life really better and colorful. Music and love… the only things I`m living for today. As for annoying things they are typical for all people at my age – it`s exams and people`s misunderstandings.
Last time we spoke to you the future was quite "foggy" apart from a few major concerts. Has the future cleared at all for you? Do you have any visions for where Lateless will go next?
Yaroslav:
Now comes the summer, and we're in a small way inaccessible to fans. Since the last interview was a lot of concerts we went to a mini tour in support of the album. Attended transfer on television. Shooting the bonus DVD for our EP "Bless from the Heaven". We now plan to proceed to the shooting of our first music video. The song is in Russian, it is called
"Fly Away".

Tatiana:
We have a lot of plans, you know. The big dream of mine is to create a big album with a lots of songs, and I hope that soon my dreams will come true.
Finally may I thank you for your commitment to continue making music, and ask you if there is any message you would like to leave with our readers at Femme Metal?
Yaroslav:
Thanks for your support, it is always a pleasure to communicate with Femme
Metal. I think you give good support to really cool bands. I want to wish that you develop further, I want to have to see you in Russia; I think you're here to see prices show many how to work.
Tatiana:
I would like to wish all metal-lovers new absolutely different and interesting music from their favorite bands, stay with us, guys!
Thanks again and all success to the new EP!
Yaroslav:
Thanx, STAY ROCK!!!
Links
Latest Multimedia
6 color styles available:

Style switcher only on this demo version. Theme styles can be changed from Options page.