Browsing articles tagged with " producer"
Interview by Miriam C.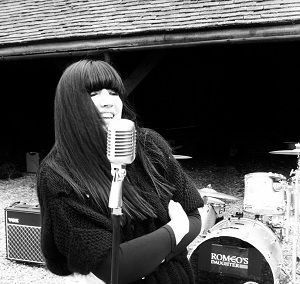 In the late 80s as Tony (our reviewer) said in the reviews " it was impossible to pick up an issue of Kerrang! Magazine without seeing something about the band gorgeous front woman Leigh Matty" – they were destined to be huge stars in the AOR/Melodic Rock panorama but something in the 90s changed, the grunge come and in a blaze crushed  and destroyed everything was good of the 80s and as a lot of AOR acts (including Romeo's Daughter) were facing difficulties in promote their music and the only solution was put an end to a band. Only the brave survived to that infamous period. At this moment, the international AOR scene seems safe and sound, for sure we have some comebacks (see UK's Fiona Flanagan and Dante Fox) but also some new rising stars (see Norway's Issa or Sweden's Nubian Rose); but talking about comebacks, after 19 years of stop and a successful comeback in 2009 at the Firefest festival, London based Romeo's Daughter are back with a new self-released album called "Rapture" and seems that RSD are ready to rule the world. So, after this short intro, I think, it's time to give some space and let Leigh Matty speaks herself.
Hi Leigh, first of all Happy Christmas and Happy New Year, welcome to Femme Metal Webzine and thanks for the interview. How are you? Would you mind share some details about the origins of Romeo's Daughter? How the whole story started and when?
Dear Miriam – a very happy New Year to you too! Sorry about the delay in me getting this back to you! Well, the Romeo's Daughter story really started in 1984/85 when I answered an advert in a well known music magazine – they were looking for a singer to front their band and I called the number and got through to Craig ( the guitarist and song writer). We got on very well on the phone and I ended up being the 1st singer they saw out of around 70 – I got the job! We worked on songs and getting the right band members for a couple of years and after a lot of blood, sweat and tears, we released our 1st album in 1988. We were named after a line in "Cry Myself to Sleep" as no one could agree on a name – I don't think we could have been called anything else though – it was perfect for us! Continue reading »
earMUSIC is proud to announce the release of "Tubular Beats" the brand new remix album by Mike Oldfield. The album will be released on February 1st, 2013 and will include the most popular songs by Oldfield who has worked on new arrangements and new sounds for his compositions.
All tracks have been reworked from the original multi-track recordings and remixed together by Mike Oldfield and multi-platinum awarded German producer Torsten "York" Stenzel.
Newly recorded guitar parts by Mike Oldfield have been added to the mix, making "Tubular Beats" a new album by all means. A brand new song featuring ex-Nightwish singer Tarja Turunen closes the album on a high note.
Before "Tubular Beats", Mike Oldfield and Torsten Stenzel had already worked together but with this new album the duo could fuse their style in a full elaborate project for the first time, adding to Oldfield most famous songs their approach and taste with all solutions offered by electronic music.
Interview by Erwin Van Dijk
An interview with Lotus from Sin7sinS, update Summer 2009. Last year I had an interview with Lotus, the singer of Sin7sinS. They have released three new tracks on MySpace so I thought it would be time for an update interview.
Your last two gigs were in March (in the cities of Antwerpen, Belgium and Dordrecht, Holland) What have you and the band done since then? Besides spending a lot of time in the studio

We were after those gigs very busy with writing new material and rehears this (we have a kick ass new set list!) Further as you said we spend a lot of time in recording the new songs. And we have done a new photo shoot…
You have recorded three new songs. Ronald Landa from Delain was responsible for the producing and mixing while Ad Sluyter (of Epica fame) did the mastering. How did you get in touch with these two guys Ronald Landa and Ad Sluyter and how was it to work with them?
Ronald Landa is a friend of Paul and me, we played before Delain and Sin7sinS in the same band. Ronald is very good in producing, so he wanted to help us. Ad Sluyter is a friend of Ronald and he is into the mastering…
And, did they have any influence on the sound of the new songs? This is because Delain and Epica are not exactly in the same genre as Sin7sinS.
Not really, the songs were already written before recording. But of course they did help create the sound which we were looking for.
Song by song: what can you tell us about the new songs? Music & lyrics? ("Dead World", "Eye Want All", "Insult #7″)
The new songs are louder and better then our older work. We tried to focus more on the songs as a whole. This implies that vocal work (etc etc…) follows a more natural path. Each song has a different meaning which is best hear able in the lyrics, most songs are inspired by things and events going on in our own lives.
Are these songs much different from your older work?
As an artist you naturally grow, however the songs are still in the same line as our older work. But due the fact that we have grown as a band our music has grown to.
This was not your first time in a studio. What have you done different this time?
We recorded most of it ourselves this time!
And which studio did you use this time?
We used the home studio of Ronald Landa.
Will this stay an online affair or will there be a possibility to legally download it or even a CD version?
The meaning of this promo CD, is to score a record label! We are ready for this next step! So a CD will be there when a record label signs us. The 3 new songs are listenable but you can not download them.
This is maybe a bit of topic but do blondes have more fun? Because you have changed your hairstyle since the last time I saw you on stage (at the Mix, Uithoorn).
Hahaha, no I don't think blondes have more fun. I like a change from time till time… not always the same look! But I still have as much fun as I had when I had black hair. The only good thing about it, is that my bathroom has a chance to become white again (as it was before I started painting my hair black, 2 years ago).
Links
MySpace *Facebook * Twitter * Google Plus * Site
Interview by Miriam C.
For the second time in this webzine we give space to the Italian progressive power metal band Lunocode promoting their latest work "Celestial Harmonies". This time the questions have been replied by drummer Perseo Mazzoni and singer Daphne Romano. Just a curious info – this interview was scheduled to be face to face but 'cause of the bad weather our editor Alessandra didn't make to be at the location by the way at the end it come out a real nice, as always.
Hi Perseo and Daphne, welcome to Femme Metal Webzine and how are you??
Perseo: Fine thanks, a bit tired but happy. The last two weeks have been great with two concerts, the first in acoustic, at Teatro di Anghiari with the show "C'è Vita intelligente sulla Terra?" (Is there intelligent life on Earth?) togheter with Francesco Cecconi and the last, just two days ago, in Rome, with Ivory Moon and Blind Horizon. We discovered that our acoustic side works very well and playing in a theater is something very special, something magic.
Daphne: Yes, two different and exciting gigs. The acoustic set in particular: I have to admit that it's been really thrilling.
Well, first of all, do you mind give us more insights about your biography?
Perseo: Lunocode formed in 2004 under the name "Anima". We played mainly cover for about 2 years and had another singer. Then we started writing new material and in 2006 we released the demo "Birth". The demo went well and we continued writing new material. At the end of 2010 we gained a contract with Spider Rock Promotion and in January 2011 we released the EP "Last Day of the Earth" that also went very very well. At the end of 2010 our previous singer left the band and we found Daphne. After releasing "Last Day" we continued writing and in January 2012 we released our debut album, titled "Celestial Harmonies". And here we are.
According the site, the band's name "lunocode" is a wordplay between Lunokhod and the english word Code. From where did you get it?
Perseo: I was watching a documentary about this Russian rover sent on the moon. It's been the first radio controlled rover to be sent on another planet. I thought it was very interesting and I proposed this name to the band. Giordano came out with the wordplay and everybody liked it so we took it as the new band name.
In your discography we can count the demo "Birth", the "Last Day of the Earth" EP and your debut "Celestial Harmonies". As I remember "Last Day of the Earth" EP was a stand-alone piece of concept. This time with "Celestial Harmonies", as your label states "It's a moving journey thru the Cosmos with the purpuose to search the origins and life's origins" although you declare that the album is not a proper concept. Can you tell us more about the album's lyrics?
Perseo: "Celestial Harmonies" is not a concept in the sense that we're not telling a single story that starts on a song and continues through the other songs of the album like a concept album usually do. "Celestial Harmonies" has a fil rouge, a loose connection between every song, but it's not a concept. Every song tells something about humankind, the cosmos, life or nature and things like that so, in a sense, is a trip through cosmos, a voyage by which we can explore the meaning of life, the universe, the pain and the joy of being alive.
"The Origins of Matter and Life" is a suite long almost 30 minutes. What insight can give us about it and also are the suite's lyrics a concept ?
Perseo: "The Origins of Matter and Life" is actually a story which develops through the songs "On Matter and Mind", "High", "The Cosmic Architect", "Tree of Life", "Crossing the Line" and "Albert II". Is a fictional story about a character (at the very end his identity will be revealed) who starts thinking and, by this act, gives birth to a universe in which he finds himself in. He then starts exploring this new world and he asks himself questions about what's happening all around him and even to himself. Following this questioning the story of this suite unfolds till the end when a dramatic turn of events occur. I prefer not to explain all the details of this story, as I think everyone, if interested, has to discover the message by himself.
For what I get the album was mastered by Ronan Chris Murphy, that has worked with legends like King Crimson, Steve Morse and Ulver. When and how you have contacted him and why work specifically with him?
Perseo: I followed him on internet, on his YouTube channel, on his Facebook and as I think he is a great engineer and producer, I asked him if he was interested in working with us. This was happening in 2010, during the "Last Day of the Earth" mixing sessions. He said yes and I sent him all the audio bounces. As I find myself very confortable working with him, I contacted him again in 2011 and asked him to master "Celestial Harmonies". Again, he said yes and I sent all the material. He made a great work and he was surprised about the songs quality and the big step forward we made in songwriting during the last year. Working with him has been so great!
"Celestial Harmonies"'s cover transmit a feeling of peace. Do you mind explain the meaning's cover building into your personal opinion about it?
Perseo: I too think so and this sense of peace was one of the goals I wanted to achieve with this cover I developed. The airplane you can see on the cover has a particular meaning to me, as actually is a wheater vane my grandfather has built. The cover is in fact a photo and not a computer generated image.
What are the band's influences?
Perseo: I think we are working hard to find and extract our real self so for sure there are influences but I think they are becoming more unconscious day after day. If I had to name just one band, I would name Anathema.
What difference you can see between the debut EP "Last Day of the Earth" and "Celestial Harmonies" in matter of musical style and lyrics? Do you feel more mature?
Perseo: There are big differences but, at the same time, the differences are not so big. In both albums the writing style of the lyrics remains the same, maybe in "Celestial Harmonies" our acoustic side is more prominent, but even in "Last Day of the Earth" there is a completely acoustic song called "Invisible Tears". Maybe in "Last Day of the Earth" the songs sounded more heavy but even in "Celestial Harmonies" we have heavier songs, like "The Cosmic Architect" or "Sin Cara". I think "Celestial Harmonies" is a more mature work, and a natural evolution from "Last Day of the Earth".
Daphne, what are is your musical background? Did you ever do any vocal training?
Daphne: I like different kinds of music like rock, metal and electronic. About my influences, I can say Freddie Mercury, Anneke van Giersbergen and Lisa Gerrard have always been a great inspiration for me. Today I found with Lunocode some new colours in my voice and in my soul that I've never suspected to have. I think I'm evolving…but, who doesn't? I studied opera singing for 1 year, years ago. Now I'm studying modern singing with a great Italian singer. I think singing is a vast world where you can always discover something new: I'm curious, I have a thirst for knowledge and I think exploring the voice potentialities is one of the most stimulating and satisfying elements of singing.
What we can expect next? I read in the website an East European tour with Theatres des Vampires…
Perseo: Yes, we've been on tour with TDV and JTR Sickert and it's been a great adventure and a great experience for the whole band. They are smart and nice people and we enjoyed very much visiting East Europe and Turkey! Then, two weeks ago, as I already said, a dream came true for me, to play with Lunocode in a real theater, in acoustic. We played 10 songs in Teatro di Anghiari (Tuscany, Italy) for about an hour of show. We re-arranged some songs from "Celestial Harmonies" and "Last Day of the Earth" in acoustic and we even played "The Origins of Matter and Life" from start to end! The show has been recorded so maybe we will use those recordings in the future! Other plans for the future? We have some ideas to record a new album, you will hear from us soon!
Daphne: Yes it's been amazing and crazy sometimes! Cool musicians and stuff, great audience, life on the road and foreign countries.
Well, Perseo and Daphne, I really thank you for this interview, I hope you like it! Please greet our readers (and your fans) freely! Thanks again!
Perseo: Thank you for your time, hope to see you at our shows! If you want, you can buy our cds at www.lunocode.com or follow us at www.facebook.com/LunocodeFan
Daphne: Thanks to you and all the readers of Femme Metal Webzine! See you soon!
Links
MySpace * ReverbNation * Facebook * Google Plus * Twitter * Site

Interview by Miriam C.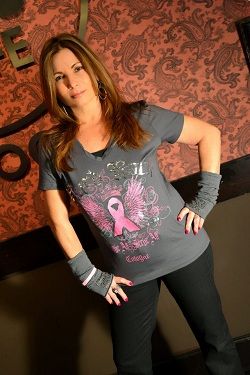 If metal impersonate as a queen the German Doro, instead in the melodic rock/AOR territory the true deal is the US Robin Beck. Known for the uber huge hit single "First Time" in 1988 born from a jingle of a Cola Cola commercial, after 6-years-break from the last album "Livin' on a Dream", Robin do her comeback with her 9th album "The Great Escape" on her own imprint, Her Majesty's Music Room. Want to know more? Continue to read this extensive interview…
Hi Robin, first of all thanks so much for accepting this interview! For me is a real pleasure to host and promote you in my webzine and I thank you for finding time out of your busy schedule to reply this humble questions.
Thank you Miriam I am happy to.
On your official biography, you stated that since you're a little child you wanted to be an artist and when you were 10 yrs old you have written your first lyric. Now, being passed so much time, did still keep it and what you think about it?
This is not a secret lyric. It's a childhood song about love of course… "Key to My Heart" Sort of a country song. I think it was pretty good for a kid.
Despite the fact that you are world famous singer, during your break for raise your daughter Olivia, you have still recorded album as a background singer. From this experience what you have learnt? Any good memory to share with us about that period?
I don't have anything but good memories… and still more coming. My daughter is the light of my life! You do learn from being a mother how to be a parent from your children. If they are happy… then you've done a good job… so I give myself a gold star. I will also say that from having Olivia that I became more conscience of how important school really is… this something I took for granted while I was growing up. I hated school but it's the most important part of our lives to begin with.
Let me get you to the early times of your career, at that time what were your favourite musical acts and are your musical tastes changed now?
Ha… Janis Joplin, Joe Cocker, Aerosmith, Queen, the Beatles, Stevie Nicks, Carol King, Crosby, Stills, Nash, Taylor and Reeves and the Supremes. Just to mention a few.
Your debut top hit single "First Time" in 1988 was a spin off for a Coca Cola commercial, how you got involved in it? Also the video clip was different in EU and in the US, why?
I was chosen to sing "First Time" the jingle… then the song was written and it just flew high by popular demand first in the U.K. – They then did an American Version since Americans don't speak English I guess! LOL It was perfect the way it was first created… then we simply rocked it out for the simple reason that I was noted as rock artist and that's the way they envisioned it for the States.
How was the genesis of your last album "The Great Escape", when you have started to nail down the first lyric?
Hummm… really don't remember specifically. It just came when it came… and out popped the entire album. We worked for about 5 months straight on it.
Your latest studio album was 2006′s "Livin' on a Dream" (now I'm excluding the re-release of "Trouble or Nothing"), why it passed so much time since then?
I was putting together my own label and time was just flying by. I was also managing a band at that time and devoted a lot of attention to them.
How's born the partnership with Tommy Denander and James Christian (that's your husband)?
I met Tommy during a "Radio Active" invite to sing a song… and from there it was a relationship of 3. Me, James and Tommy. We are all very tight. James my husband is in House of Lords. He might be the best producer I've ever worked with. Not just because he's my husband, but because he really gets me and knows better what I can do than even I do sometimes… it's great to have these 2 men by my side.
What's your personal meaning and what do you want to express with the title album "The Great Escape"? Or it's simply related to a lyric present in the album?
For me it's meaning was simply to take a break from life and listen to some great music. But the song is literally about getting away or escaping the trappings of a bad relationship. The title of the album really has nothing to do with the song I'm afraid. I kept it because I just loved the image I had created in my own head. When I'm listening to music that I love… all my cares vanish. That's what I want for my fans.
Two songs that totally hit me are "The One" and "Don't Think He's Ever Coming Home". What are the subject of this lyrics?
You hit the nail on the head with these two songs Ms. Miriam. "The One" is clearly about the love of my life and how to let him in on it. "Don't Think He's Ever Coming Home", is a whole other story… this is an unhappy ending for a girl who tries to keep a man that truly wants to be with his intended. Some girls are just lying to themselves and this song spells it out for them in a most unforgiving light.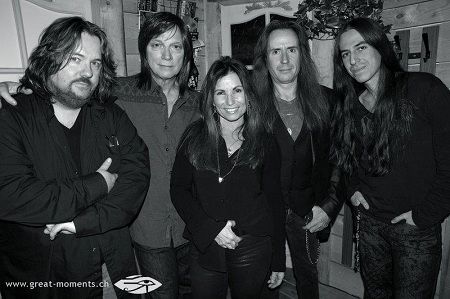 On "That All Depends" you sing with Joe Lynn Turner, how do you feel to realize such a dream? How was standing literally (and singing) beside him?
Ha… that's funny… I've known Joe Lynn Turner and have sung with him for years and years… you'd think I'd be immune'd by now … but he's dreamboat. I've always loved his voice and his way. I can't say enough nice things about Joe Lynn Turner. It was great that he took the time to do this with me. Hopefully we will do another song together in the future.
In February 2009 you founded your label Her Majesty's Music Room, why? I mean you haven't no more faith in the labels?
Yep! That's it in a nutshell. It's a smaller system but much more satisfying. I mean really… working with a label can make you or break you… but working with my own label makes me happy.
The re-recorded release of "Trouble or Nothing" include 4 bonus tracks. If I got it right the songs are original from that session and why at the time weren't included into the album?
No no no…. these songs were not from that time period. They were fresh newly written for the re release of "Trouble or Nothing".
In the 80′s MTV was the leader in broadcasting and promoting AOR bands/singer like you now after 20 years or so we find that internet, with its connections of webzine and sites dedicated to music, is taking the lead. What do you miss of the 80′s from this point of view? And also how much do feel confortable this all this new technology? Have you already notice any pros and cons for your activity?
It's great… no matter what this is how we evolved. For me it's wonderful. I have much more exposure… sometime not the exposure that you want but as they say… all press is good for the artist… good or bad.
Watching your long, stellar career what it is missing is a full concert DVD. Any plans to record it?
Yes… we almost did it at Firefest. But I'm looking to do something that spans my career, not just a rock concert. This takes time but I can assure you not too much longer.
Finally your EU fans have the chance to meet you during your upcoming "Here Comes Trouble Tour" made of 10 dates running thru Germany, UK, Switzerland and Austria. Any project for a full European tour?
I am trying to put that together already. It was only the beginning to start this year after so many years of being missing from the touring circuit. It will take some more time to build up the audience awareness… let's start here. Tell everyone to keep an eye on www.robinbeckrocks.com for coming tour dates in 2013 and Facebook as well.
After this EU tour, what are your next plans and if yes, are you involved in other musical related stuff?
I am in the middle of making a new album right now. We are also discussing new tour for 2013.
Olivia, your daughter is following your artistic footprints, would you mind present her and her songs?
She's amazing and living her dream right now as an actress… but this girl has pipes and she can do anything she wants to. I would be proud to see her live her life and use her talents to make her own dreams a reality.
I've a just a little curiosity to fullfil, you know I'm from Italy and time ago you have recorded a duet with Pupo (that's a real famous songwriter/singer here). Do you mind tell me how's born this collaboration? To me, discovering this was such strange because Pupo doesn't really represent the attitude of a rock star.
Well there's not that much to tell… he reached out to me to do a duet with him and I did. It was fun… and Olivia was only 10 months old at the time so she was in my arms the whole time I was with Pupo singing.
Well, Robin, we're at the end. I really thank you for your time. Please greet your fans and our readers as you like. Really thanks, Miriam.
Please come visit me at my website www.robinbeckrocks.com and on Facebook. I would love to see you there. If I'm in your area please come out and say hello. Watch my website for any details in the coming months. All my love.
Links
6 color styles available:

Style switcher only on this demo version. Theme styles can be changed from Options page.