Browsing articles tagged with " productions"
Label: Savage Productions/Season of Mist
Review by Luisa Mercier
"Echoes of the Wolf" is the debut full length of the Celtic folk metal band Fenrir. Hailing from France, they deliver us a record full of music (15 tracks) and diversity. A great deal of the above mentioned diversity is given by the violin, played by Elsa Thouvenot who also is the singer. Her vocals reminded me of Sharon den Adel, crystal clear and soaring, a nice change from the usual soprano voice you encounter in female fronted metal. Very refreshing is also the mixture of styles: you find symphonic metal (the intro "Awakening") and power metal as for example "Morrigane's Fury" where the violin plays a major role. You find also black metal in a song which title would suggest something completely different. Continue reading »
Label: Sound Age Productions
Review by Vard Aman
Alkonost is back! Since 1996, they have deservedly grown into one of Russia's best known and most accomplished Epic Pagan/Folk Metal bands (mixing bits of Doom and Black Metal into their sound). One of their greatest assets was the beautifully smooth operatic vocals of Alyona Pelevina – easily one of the best operatic vocalists the Metal world has produced in my opinion (and in the opinions of many others, no doubt). Incidentally, the Alkonost in Slavic mythology is a goddess of the underworld with the body of a bird and the head of a beautiful woman, and the sound it makes is so beautiful that anyone who hears it will forget everything they know, and will never want anything else again – making Alkonost a rather aptly named band. Now, where was I? Oh, yes…. It therefore came as a bit of an end-of-an-era style shock when Alyona left the band in 2011 (as did their drummer and keyboardist). How does one replace a vocalist like Alyona? (Answer: With Ksenia Pobuzhanskaya, that's how! More on that later). Continue reading »

Interview by Alessandra Cognetta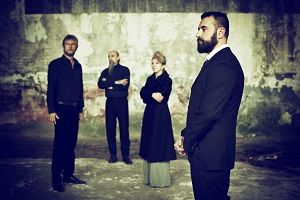 "Mediolanum" is the name the Romans gave to Milan and it is also the birthplace of a really interesting ensemble of musicians: Camerata Mediolanense. I interviewed their mastermind, Elena Previdi, about their peculiar music, that mixes different forms of art to create a unique experience. Their most notable work, which we discuss right below, is the adaptation of Francesco Petrarca's poetry into music. No easy task, considering how Petrarca has been one of the most important Italian poets (even Shakespeare was influenced by his works) and a turning point in history for the evolution of poetry and its rules. Their latest album, "Vertute, Honor, Bellezza", is out right now and Elena gave us a lot of information about its conception and all the research that was performed for its creation, from visual arts to painting and video.
Continue reading »
Label: Auerbach Tonträger/Prophecy Productions
Review by Luisa Mercier
Camerata Mediolanense, the Italian Neoclassical ensemble, is back after fifteen years with a new, elegant album. I alreasdy knew them thanks to one of my Facebook friends and already appreciated their literary approach to lyrics and music, so I was ready to welcome this record.
Since I am Italian, it was quite easy for me to recognize the source for the lyrics, or I'd better say the sources. The band was inspired by Italian medieval literature, mixing famous poems by Francesco Petrarca with electronica, folk and acoustic soundscapes. Continue reading »
Label: Sound Age Productions
Review by Vard Aman
My introduction to Andem (whose name is derived from a combination of Angels and Demons) came with the release of their debut album, "Маятник Жизни" ("Pendulum of Life"), in 2008. It was an album that was very well received among many Power Metal fans across the world, but failed to win me over completely; it was their second album, "Дочь Лунного Света" ("Daughter of Moonlight") that did that, with a sound of their own (a style of driving Power Metal with touches of Gothic and Symphonic Metal thrown in) consisting of monster riffs, catchy melodies and well controlled vocals perfectly suited to the music, as well as unforgettable songs such as "Хранитель Мечей" ("Keeper of Swords") and the title track. "Грааль" ("Grail") followed in 2011, a four track EP that consolidated their style and showed progression at the same time (re-recording two of the highlights from "Маятник Жизни" for the EP as well), with vocalist, Yuliana Savchenko, showing a lighter side to her vocals to add to her potent Power Metal style. Continue reading »
6 color styles available:

Style switcher only on this demo version. Theme styles can be changed from Options page.