Browsing articles tagged with " prog"
Label: Generation Prog Records
Review by Tony Cannella
Effloresce is a progressive metal band from Germany. Back in 2009 the band released their independent 3-song EP "Shades of Fate". Effloresce now presents their full-length debut entitled, "Coma Ghosts". Musically this band is a mix of several different genres – most notably prog – but there is also a classic metal influence to their sound. I would describe them as a cross between Dream Theater and early Fates Warning with a singer who is reminiscent (at times) of Cristina Scabbia from Lacuna Coil and then at certain points she unleashes this guttural, extreme black metal style – which is surprising, to say the least. She doesn't use this technique often, but when she does it is quite effective. Continue reading »
Label: Midsummer's Eve
Review by Luisa Mercier
The Italian prog/pagan-folk metal band MaterDea has released their second full-length last year and it is inspired by Latin literature. "Satyricon" is a novel by Petronius, late Empire Age author, which we got incomplete. The title-track is the opener and it is a brilliant song: electronics mingles with hard rock and Simon's beautiful soft voice is mixed with female vocals. Not to mention the traditional instruments that cannot miss in a folk-tinged record. The following "Lady of Inverness" has a beautiful piano intro, but guitar riffs are present in a very good quantity. The strings, the percussion, the arrangement, everything is very well crafted. In "The Green Man" other special instruments appear such as pipes and help to see another aapect of Materdea musicality. I love the fact that they never lose their rock edge.  Continue reading »
Label: Svart Records
Review by Cristina Gregori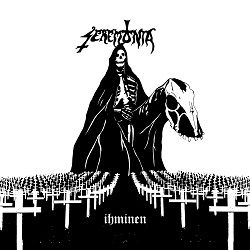 Seremonia is a Finnish band, they play heavy psychedelic rock sings in Finnish language. The band influence can rely on the Finnish punk and prog rock. The voice of Noora Federley preaches the dark gospel that takes us into the dark. "Ihminen" means "Human" in Finnish brought us like magic in a perfect dark ceremony. It start fast with the witch master "Noitamestari" where Noora fully display her scratchy vocals. The whole album continues with moments of progressive and psychedelic rock wheelies.
The guitar riffs are really good in particular on "Ovi" - that is one of the most appeling- but the best surely is "Suuri Valkeus" ("The Great Light") it's so energetic and it fits perfectly. Continue reading »
Label: Esoteric Antenna/Cherry Red Records
Review by Tony Cannella
My introduction to the UK prog/folk rock outfit Panic Room came via the excellent, "Satellite" album which was released in 2010. I came away with a very positive impression of the band. Now with their 3rd album, "Skin", Panic Room have upped the ante and released a solid follow-up to "Satellite".
While they are primarily lumped into the Prog genre, Panic Room is so much more. In addition to their prog leanings, they also offer influences that range from folk to pop or just straight rock. "Skin" contains over an hour's worth of lush, atmospheric compositions and Anne-Marie Helder's classy vocals. Continue reading »
Label : Massacre Records
Review by Tony Cannella
The Munich, Germany based melodic metal outfit Envinya formed in 2006. After releasing a demo in 2007 they released their debut EP "Beyond the Dark" in 2010. Envinya now returns with their full-length debut via Massacre records entitled, "Inner Silence".
Lead vocalist Natalie Perreira dos Santos has got a pretty diverse voice – that's the first thing that struck me. She sings in mostly a clean style but she also adds the odd bit of growly vocals too, which are quite impressive, especially when you consider that she is capable of such different styles. The band adds touches of symphonic, power and prog metal sprinkled throughout the album but is always maintain a great melodic base on the 10-songs offered here. The opener "Faceless" comes out of the gate like a shot of adrenalin. A fast up-tempo riff works hand-in-hand with some solid vocals and it is a great opener. The next track "Forlorn" has a heavy, rumbling riff and the first appearance of the growly vocal style is heard. This is another good one. Continue reading »
6 color styles available:

Style switcher only on this demo version. Theme styles can be changed from Options page.