Browsing articles tagged with " progressive"

Interview by Ed MacLaren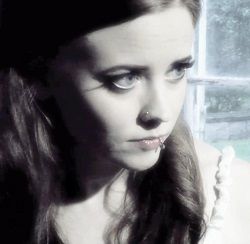 Portugal's Factory of Dreams is not a band to rest on its laurels. After releasing three consecutive prog-metal classics, producer/multi-instrumentalist Hugo Flores and vocalist Jessica Lehto may have surpassed them all with the sublime and sonic grandeur of "Some Kind of Poetic Destruction". An epic concept album of the highest caliber, "Some Kind of Poetic Destruction" weaves effortlessly between soaring melodies and savage riffs, tearing at the fabric of its musical universe with searing solos and breathtaking vocals. Hugo and Jessica took some time to talk to Femme Metal Webzine about the remarkable concept and development of "Some Kind of Poetic Destruction", how to out-epic an epic album and the strange and fascinating impact of lip piercings.
With the success of "Melotronical", expectations surrounding "Some Kind of Poetic Destruction" were understandably high but the new album has delivered another essential sonic experience and then some. Epic is becoming almost an understatement.
Jessica: I'm thrilled that you think so! Hugo has written such excellent music for this album. Of course that goes for all albums, but this is my favourite release so far. Every single track on "Some Kind of Poetic Destruction" has that special something, a nice atmosphere, lovely instrumentation and an interesting story to tell. Continue reading »
Interview by Miriam C.
"As The Truth Appears" marked, in 2011, the debut of this Melbourne-based progressive metal band, even if some time is passed (precisely 2 years) it was nice to know more about this band and the debut's reaction from the press. Seems also that the band recently undergone into a line up change (Jason Meracis is now the new bass player) and they are prepping up for the album #2. In the meantime, enjoy this interview….
Today Femme Metal introduces you Divine Ascension from Australia. Let's welcome Jennifer Borg, the lead singer of the band

Thanks, I appreciate the opportunity.
Welcome Jennifer. Let's immediately break the ice, talking about Divine Ascension, a "small" Australian music reality that slowly is moving its first steps in the metal music scene. What could you tell us about this? We're really curious to know the origin of this project…
The band now known as Divine Ascension was semi formed and looking for a lead vocalist, and I was looking for something interesting and challenging to keep me on my toes. As soon as I heard one of the instrumental demos "Garden on Evil", I knew that this was the right project for me. A whole new world of 'underground' music known as melodic metal opened up to me, and Robb and Luke commenced my education feeding me with Metal music from all over the world. Once we established our line up, we did our first gig in Melbourne in November 2007 and have kept moving forward ever since. Continue reading »
Label : Ravenheart Music
Review by Tony Cannella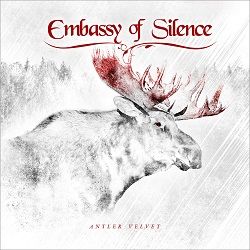 Finland's Embassy of Silence first burst onto the scene via their excellent debut album "Euphorialight" in 2010, impressive is an understatement when referring to that album, sonically; musically and melodically it was a stellar debut. Now, the band returns with their sophomore effort, "Antler Velvet".
From the opening track "Trickster Queen" it is obvious that Embassy of Silence has not lost any of their ability to write good hard driving, melodic heavy rock songs. This song reminded me what I loved about their debut. "Unconverted" is next and quickly became another huge favorite thanks to its barrage of heavy riffs and vocalist Ines Lukkanen's smooth delivery. Continue reading »

Year 2013…
After 2 years of creative silence, we are back in the studio recording our 3rd – yet untitled – official surrealistic album. The recordings are currently taking place in Athens (Greece) & Oslo (Norway). We have parted ways with the French company Pervade Productions/Manitou Music/Thundering Records, which released our albums ''No Light but Rather Darkness Visible'' (2008) & ''Esoterica'' (2010).
Karmic Link are also happy to announce & welcome Kim ''Kimbo'' Gustavsson (ex-System Shock, ex-Taketh, ex-Deviant Breed), a multi-instrumentalist musician, to their ranks. Kim, who hails from Sweden, performed with Karmic Link as a live session drummer in Scandinavia, back in 2010. He will record all guitars/drums/bass for the new Karmic Link album. Continue reading »
Independent Release
Review by Tony Cannella
Alhena is a progressive rock/metal outfit from Poland. The band formed in 2010 and here they are with their self-titled EP. Actually at 35-minutes it is more like an EP. Since the release of "Alhena" the band has switched singers, replacing Katarzyna Dziemianowicz with Natalia Bassak. The first five songs are with their previous singer and the final two tracks are re-recorded versions of two songs with their new vocalist. "Trial" gets us started and has a nice ethereal and melancholic vibe. The next track "Better" is a song that changes tempos several times and is really a complex track. It's got a nice guitar riff and the bands use of synths are well done and don't overwhelm anything. "You Lost Me" is a cool ballad that could be easily accessible if given the chance. "Breath" has a romantic, ethereal vibe and "Nemesis" is a pretty cool instrumental. Continue reading »
6 color styles available:

Style switcher only on this demo version. Theme styles can be changed from Options page.