Browsing articles tagged with " public"
Interview by Roberta Ilaria Rossi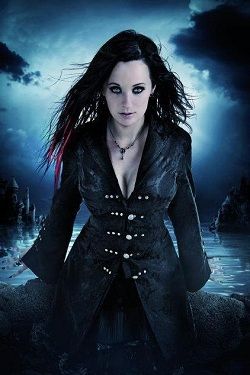 After so many years of silence, Xandria comes back in the metal scene with a masterpiece album, "Neverworld's End", showing the power and the new direction the band is going through. I had the chance to talk with the new singer, Manuela Kraller, which brought me into a magic world, explaining what is this new album for the band and for helself as well.
Hi Manuela, welcome to Femme Metal! New Xandria's album, "Neverworld's End" was released a few days ago, would you like to share something with us?
I was very excited before the release and about the reaction of the people. But all went well and until now we got a lot of good feedback from the fans, what shows us that we are on the right path

The record was released by Napalm Records and I know that it took long time to produce it and to create it. What can you tell about it? How long did the recording last?
The recording itself took a few months all in all. The recording has taken less time than creating and producing the album of course: The production and songwriting from beginning till the end took a few years… ….it was a lot of work, but it was worth the passion and time we put in it.
Last Xandria album, "Salomé – The Seventh Veil", has been released in 2007. What prompted you to "delay" the release and the creation of this new album? I know that some changes have been made: Lisa left the band, then Kerstin left as well… What can you tell us about it?
Of course there has been a delay because of the front woman changes and the searching for a new singer. For the Xandria boys it was hard to find a new singer after Kerstin has left, but finally they found me

You have a sort of opera singing and listening to the album, I've found so many references to Tarja Turunen. Some fans that had the chance to listen to "Valentine" have thought the same thing. Do you agree with this statement? Do you see yourself like the heir of the great Tarja?
No, I don't see myself as a heir of Tarja and I don´t want to be a second Tarja. I am Manuela and I am an individual woman with my own voice. Of course people compare us, because we both sing classical and have a dark timbre, but everything else is different. And everybody who listens closely will recognize this. Some people also think I want to sound like Tarja, but that´s not correct. My voice sounded like this already before I have ever listened to Tarja. My voice is like this, not because of Tarja, but because of myself. Well, don´t understand me wrong: It is not a bad thing being compared with Tarja, but I really hope that once people will stop this comparison and say: "This is Manuela's voice" and not saying "She sounds like Tarja". That´s my aim, to develop my voice more and more and get my own unique voice.
I think that this album will finally make the history for Xandria and it will bring you lots of great surprises. Now Xandria is a symphonic band, to all intents and purposes. What do you expect from yourself and from the band?
With "Neverworld´s End" we laid down the basis for a new beginning. And now it is time to go forward and upwards, step by step. I expect a lot from Xandria and from myself. I am a kind of perfectionist concerning singing, so I will always try to make my voice grow and to give my best on stage. My wish for Xandria is that we will make music that enthuses people, give as many concerts as possible and perhaps once make a world tour, I think this must be amazing!

Listening to the record, I've found similarities that recall albums like "Once", "Century Child" and, why not, "Wishmaster" by Nightwish as well. What is your thought about this? Have you ever thought of proposing yourself as the new Nightwish singer?
Many don't know it, but I really applied in 2006 as new Nightwish singer!;) But at this time I didn´t have any possibilities to make a demo, so I just send some live recordings of me when I sang in church, not a very good way to make an application

But I tried and that´s the most important thing for me, even if they didn´t take me as new singer. But Xandria did and now I can make real symphonic metal, yeahh! Many people compare us with Nightwish, we expected this, because we make symphonic metal with opera voice and if you do this it is normal that people make this comparison, because Nightwish is the most known band in this genre and people always compare with something that they know. The comparison is ok for me, but I think that Xandria nevertheless has its own style! For example do we have much more progressive style in our music than Nightwish had in further times, we have our own catchy melodies and I use my voice in a much more different way than Tarja does. I also use rock voice sometimes (f.e. in "Soulcrusher") or a very fragile not very classical voice in the verses of "A 1000 letters…"
Personally, I think that now Xandria can consider itself as "Old Nightwish at the Age of Tarja". Many similitaries have been found and I think that you've "stolen" something from Nightwish, in order to explore some new "lands". Do you agree with this statement?
We surely wanted to explore new lands, but don't want to "steal" anything from anyone, though I know you don't mean this in a way of plagiarism but of spirit in the music. Yes, we share a lot of this spirit with Nightwish, I think we have some similar visions and it's great to realize that people enjoy our music because of this vision. But we would not reduce this to a certain era of another band, we surely want to originate much of a similar spirit but create our own music with it.
Talking about the sound, a change is so evident, a sort of an evolution, as if the band wanted to experiment a new sound. You are more metal-oriented, more symphonic metal and you've "left" the gothic genre, as experienced in the first albums. What did cause such choice?
With "Salome" you can say the music of Xandria hasn't had a real development anymore, they went in a kind of blind alley in my opinion. It was time to decide in which direction Xandria wanted to go and Marco and the others found their consent in focus on the symphonic and metal elements. Marco also wanted a coherent sound for Xandria and the music and this was the way for a new beginning.
We can say that Xandria has been brought to life again: after a possible split in the years, Xandria found a new singer, worthy of this role, a new sound, a metal-oriented one. It will be a successful year for you. What are you expectations for this news adventure?
As I said before: We expect that our way leads now upwards step by step and we are working for this with passion. What the future will bring for us nobody can tell, but hopefully it will bring only good things to us

How do you see yourself in 10 years?
I'll see myself in my red wooden house on a lake, with a golden record on my wall

and as someone that made a living from singing (it´s not about the money, but about the opportunity making music everyday and everytime

, someone who still tours around the world and gives concerts…
What does it represent "Neverworld's End" for you?
It's my fantasy world. The world that I loved as a child and when I sing the songs, I have the feeling I am reviving my childish dreams again…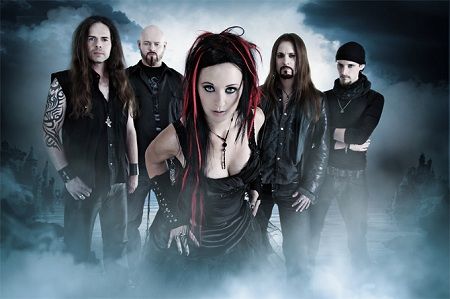 What is Xandria for you,for your personal and artistic growth?
Since I am in Xandria I learned a lot, also personally. I grow with every step on our way and I have the feeling I find more and more myself as a person. Artistically it gives me the possibility to develop my voice and to make the music I always wanted to make…
We've talked about bands, I know that you've worked with Haggard. What is the most beautiful memory related to this experience?
We had a concert in front of 100.000 people in Colombia, that was quite amazing! I also made wonderful experiences on tour, got to know many great people and countries and learned a lot. But the most beautiful memory stays the very first concert with Haggard. It was the first time that I sang in front of a few thousand people at the Masters of Rock festival. It was an amazing feeling to stand there on stage, because in this moment I knew that I want to be a singer and that this is the right profession for me.
Had you worked with some other bands before?
Before Haggard I have never worked with any band before. Haggard was my first band, second band was Nagor Mar (now Forty Shades) of switzerland.
Now you've joined Xandria and you're the female singer, replacing that role that once was Lisa's. how do you feel to be in her shoes, now? I know that you and Lisa have a beautiful friendship. Will we ever see the both of you in a duet, someday?
Well, I think I brought my own shoes with me

I don´t want to step in somebody's footsteps, I want to leave my own on Xandria's way. To be honest, I don´t know Lisa very much, we've met only twice in life…I don´t know if there'll be a duet one day, we'll see

Ritual question: what do you think was the impact of the fans when they heard about your entrance in Xandria?
From the first moment on the reaction of the fans was very positive. They supported me from the very beginning. Of course some fans will always say: "We want Lisa back!", but that´s ok. Everybody has its own opinion and own taste concerning voices. I try to concentrate on the positive critics and feedback, that´s what counts for me

At the first public event, Classic Meets Pop, where the band officially introduced you to fans, you've performed live the song called "Ravenheart", as you have sung several famous songs at Out of the Dark Fest, like "Now and forever", "India", "Save My Life". In my opinion, your voice makes perfectly what the song wants to convey to the listener. How did you prepare yourself to sing these songs?
I tried not to copy Lisa, but do give in my own voice into the songs. I thought a lot about the meaning of the lyrics and tried to express the content of the songs with my voice. It wasn't very hard to sing the songs. For the new songs I had to practise a lot more, cause they are much more complex.
Is there a song, among the ones I've named, or among the most famous Xandria songs, that you like the most or you feel more connected to? If so, why?
I can almost not choose just one song of the new album, every song fascinates me and I love to sing everyone of them! Of the older songs I like "India" and "End of Every Story" a lot…
A videoclip for "Valentine" will be out very soon, in particular it will be released for St Valentine's Day. Would you like to share something with us? From a small taste, I was under the impression that it seems a very particular videoclip…
Well, it is not about love

It´s about an artist that sells his soul and heart to a higher instance. Outside he laughs, but inside he is very sad. The harlequin represents the artist….
Talkin' about live experience: after a long time, Xandria embarked on a short tour in Europe, and as I was saying earlier, you've been the long- awaited protagonist for Out of the Dark Fest, along with Serenity, Amberian Dawn, Van Canto and Tristania. What was it like for you to scale back on stage with your new band, feeling the chills down your spine given by fans that were there, all the emotions, giving the people what they wanted to convey? I guess it was a truly remarkable experience for you…
It was a great feeling to stand finally with Xandria on stage and sing a full set with them! The fans were amazing and we really had a great time on tour also with the other bands! It was a wonderful time!
The audience has witnessed the power of your voice and how much drama, energy and versatility you will be able to give. How do you train your voice? How do you prepare yourself before a show or a particular event?
I make some voice practices every day, 2 times a week I go into a rehearsal room near my home, where I practice the Xandria songs and sing to the instrumentals. Because it is not possible to practice every week with Xandria: We are living about 800 kilometers away from each other, so I have to practice also on my own. Next to that I do sports: Swimming, jogging and I also go to fitness (Pilates, Zumba). My body is my instrument so I try to take care of it as much as I can

According to what you wrote in your "biography", you've been introduced in the music scene at 23. What could you tell about it? What has been your Art Education?
That's right, I started singing very late. In my family no one made music, so it lasted a long time until I found music on my own. In a choir in Finland I discovered classical singing for me and back home I started to take singing lessons. I have never studied singing, I had 6 years of private classical singing lessons. Now I practise on my own….
How did you discover your own passion for metal music? Is there any band that has inspired your way of singing or that you like to listen to/to sing of?
When I started taking singing lessons, I haven't been inspired by female fronted metal bands or Tarja. After two years of singing I started to listen to Nightwish's "Once" and that was the point when I recognized by myself in which direction I wanted to go as a singer. Tarja was for sure an inspiration when I started singing.
2012, as I was saying, will be very rich and full of surprises. We've seen you around Europe last year. What will happen this year? Are you going to plan a new tour? I know that you will support Epica for a few dates…
Yes, we'll support Epica in March and in April! I am really looking forward to this! And we want to play as many festivals as possible. There is not another tour planned yet, but there'll be one for sure this year…
Which is the most beautiful memory related to the band and to the music itself? Maybe I realize that it's too early to ask for this question…
That's difficult, because there have been so many wonderful moments. For example at concerts. But when I saw our CD "Neverworld's End" in a record store between all the other Metal CD´s, I was very proud:) It was like a kind of present for all the hard work we've done. It was a wonderful feeling…and of course every single concert, when I see in the people's face that they love our music and that we bring joy to them with what we do. That´s the biggest present of all

Thanks so much Manuela for having allowed us this interview. Waiting for the release of new Xandria album, the editorial staff wishes you lots of happiness and we wish you all the best. Is there something you would like to tell Xandria's fans and to our readers as well?
Thank you! It was a pleasure for me:) To all the fans: Thank you sooooo much for the support and for the positive reactions and comments related to our new CD!! It makes me very happy to see that you love our music…Love you!! Kisses, Manuela.
Links
MySpace * Facebook * Twitter * Site
Latest Multimedia

Interview by Miriam "NocturnalConcerto"
Talking via Skype with a legend of the heavy metal is not one of your regular day, believe me but we're able to track down Federica "Sister" De Boni, the legendary singer of the Italian defenders White Skull share with us some infos about the new album "Under This Flag" and a small chit chat about coming back in Italy and personal tastes. Hail on!
First of all Federica, welcome back in Italy!
Thank you dear!
How's coming back in Italy after so much time and what's the thing that you missed so much when you were in America?
It is amazing. Me and my family loved it here and were missing the Italian life. I think I missed my friends and metal the most. We lived in a State where country music rules.
A curiosity, what state?
Georgia.
I was saying Tennessee I was close hahah
Yeah …. just southern where the bible belt runs the place.
I totally got it.. I'm just wondering now one of those places with a wood bar all drinking beer and dancing country songs.. how you endure this, I mean your're a real defender in the midst of some lousy rockers…
Ha ha ha I felt just like you said… just staying in my porch with hubby and kids listening to "House of Hair" (Dee Snider Heavy Metal Radio Show) part.
Well, I must say that it was a great choice for endure all that stuff, something to clutch on hahaha…
Yeah, pretty muche THE ONLY choice and a few occasional concerts of local metal bands but very few oh and also we used to watch "That Metal Show" on TV so well we had some choice.
Luckily you have had that too, in Italy (I mean nowadays) except maybe for Virgin Radio we haven't nothing like that.. you're away 10 years but from that point of view nothing changed unfortunatly…
I realized that when I came back but we can still go online and look for those shows, we need to be flexible and get what we can find, right?
Exactly.. the Italian TV and the radio are only good for commercial music sadly. There are so many HM bands here in Italy and deserve to be recognized, we need to go to concerts and support them.
It's totally a good thing to do, support italian metal underground, in this case the HM genre.You know if the media is not supporting HM in Italy we have to stand up and support our way.
And I'm not to saying pleasentries now, I prefer to support underground instead of the big acts I mean the big big acts has already the right following of fans sometimes we need to look inside our country and give our support to this little bands but way back to us and if you are back in Italy, it's natural that you're back in White Skull. How's was the first meeting with the guys, how's after so much years (I remember to the readers that you left the band in 2000) being back in the White Skull squad?
I agree. I love big bands myself but just love to listen to what local (italian) bands come up with. It was just like it wasn't that long… I mean, since the first rehearsal we connected immediatly. We wrote the new album in no time. That really blew my mind how simple and natural the return has been.
You know, for the startest when I have read the news that you were back in WS I was really happy and yes kind of surprised I must admit it, yesterday that I was nailing down some questions I was thinking about it "Damn, after 10 years that she didn't record anything, would very hard for her" instead you tell me it easy maybe after all those years you still have had the "fire" burning inside you..
It comes natural for me. First I have known metal for 20 years or more, then I do have experience in song writing and most of all I do live Metal as my life style.
Everything helps.. well I've listened a little bit to the album congratulations.. it's very clear and an HQ production, what you can tell me about its genesis? Despite the fact as you have stated before that come out in a natural way…
WS is known for the concept albums. This time we wanted to get away from the past and talk about something modern and close to us. Therefore we had close experience with the wars around us and wrote about it. I've been a soldier wife and had a lot to say about the warfare and here comes "Under This Flag"… fight for everything you care for.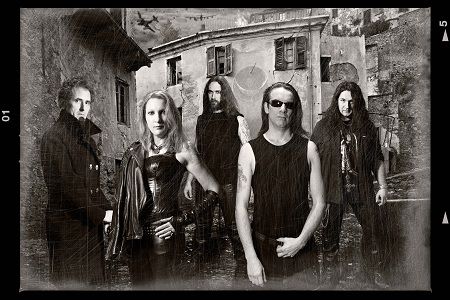 And for this is reason that the cover album, if we compare to "Public Glory, Secret Agony" or "Tales from the North", is more straight-in-your-face and very simply? Probably more direct but very powerful maybe means also "if we reunite us under a flag we can fight this wars (or evil) together".. when I saw I thought this interpretation, can be right?
Damn right. We want to get the Metal headbanger to join us and fight for Metal. We will say it as loud as we can and for as long as we can. WS flag is really a stand to reunite what is left of metal…
Well, talking about gather around and female solidarity I'm curious to know how was being a woman singing in a heavy metal band in the 90s? It was difficult or haven't had a model to follow? For what I know closest rode model that you have had at the times were Doro, Girlschool and Sabine Classen.
I was really lucky Tony believed I could do the job, in 1990 a woman singing Metal was sort of a "odd thing" even if Doro and Girlschool, Lita Ford and so on was around.
Maybe if we go deep deep in the italian underground we have Morgana, I don't know if you know her she was singing in the 80s/first 90s.
I do know Morgana and she did really challanged the Metal scene, I am really proud of having been around since the 90s and back now.
You are a national heritage, I mean also if the media won't promote the scene you're one of the Italian precursor female singer..comes really hard to think (at least for me) a closest singer to confront with you.
Thank you. I feel I am just one of many that are here living what they believe.
Many CDs of your discography are sold out since ages, there are any planes to re-released them without spending a lot of money on eBay? I know that the Polish Metal Minds Production has re-released years ago (in 2008 to be precise) in a limited number of copies "Tales From The North" and "Public Glory, Secret Agony" but the stocks are gone, really really gone and for the young fans that are trying to collect and buy the first albums is a problem, are really hard to find and it's kinda become utopistic have your entire discography.
I heard about it but this is the market and WS is unable to have a say about it. Sad but true YouTube helps this out by publishing the songs for free.
But if you face the truth you cannot earn anything from that…it's not fair! I mean is disrespectful towards you, the musicians.
I know but as far as WS music is broadcasted we will be all right.
So you count that all that people that listen WS on YouTube will support at live concerts and buying the last releases?
YouTube will spread the word, get us more opportunities and maybe some CDs sold but as we said Metal is not the TREND right now but who cares, we will get our message through.
Maybe I'm talking the wrong person (I'm imagine that you collect a lot of vinyls/CDs) but do you think about the digital music stores like Itunes?
Sure Itunes can sell the music. But this will be our label sale policy to decide it.
But now I put the question in a more personal way, as music lover what do you prefer the CD format or the digital one?
Right now in a digital world it would make more sense to get it out via internet I just do love the CD with pictures and lyrics.
Because you can "feel" them right? I mean when I see my collection I still cannot believe it have it and collect them everytime I listen to them and have the booklet in my hand I feel very proud of myself..
Yes, it does become a personal matter, you have it and can ask the musician to autograph it just like your own treasure, so much worth it m/
Hahahah that's true!! Well, we're near the end what are the next planes talking live gigs and promotions? I hope you come again near where I live 'cause some years ago with the old band members WS played a gig!!
We have a lot of gigs on schedule and I do really hope we will have the chance to play in your area as well…I am sure we will meet someday! Keep the Metal on and since then … if it ain' t Metal, well it's crap!!!!!!!
That's for true! As a final question I'll asking you to greet freely you fans and our readers and thanks for this awesome interview, Sister!
To all the metal heads: have a blast !!! WS is back and ready to kick ass just come out and play!!! Thank you for this opportunity I've really enjoyed the interview.
Links
MySpace * ReverbNation * Facebook * Site
6 color styles available:

Style switcher only on this demo version. Theme styles can be changed from Options page.